Simple Healthy Guacamole is an incredibly fresh and flavorful Mexican dip. Authentically made with chunky avocados and tomatoes. Perfectly spiced with cilantro, jalapeño and garlic. This recipe will spoil you for all other guacamoles.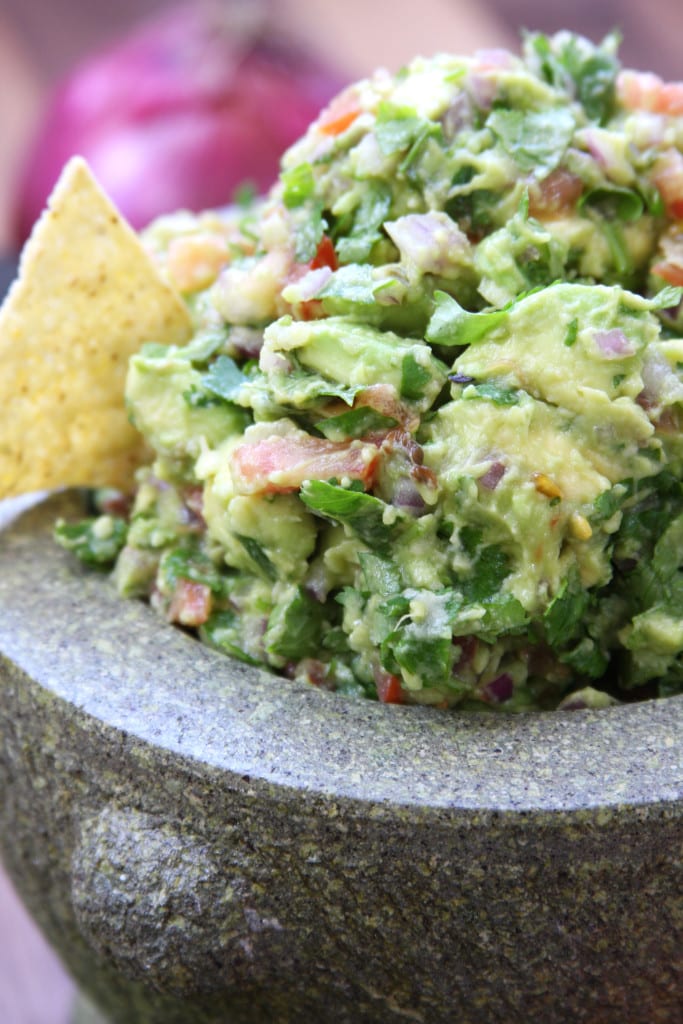 There are certain fruits and veggies that we always have on hand at our house and avocados are definitely one of them. We eat them in salads and sandwiches, on top of eggs and sometimes just by themselves. We absolutely love avocados not only for the creamy, nutty taste but also the health benefits. The only dilemma, when you buy a bag of avocados and they all ripen at the same time. This was the challenge I faced when I recently bought a bag from Costco and I had several very large and very ripe avocados. Much to my husband's delight, it was time to make this Simple Healthy Guacamole.
Paul absolutely loves this Simple Healthy Guacamole and I love his little-boy like reaction when I tell him I am going to make it. One of the many blessings of marriage is when something so simple makes your loved one's face light up. In addition to having a very happy husband, I love the incredibly fresh ingredients. It is what sets this recipe apart from the rest.
Cutting the avocados in half, into squares and then scooping with a spoon, is an incredibly easy and fast way to prep the avocados. Do a little dicing, roast a jalapeño and this wonderfully fresh and flavorful Simple Healthy Guacamole comes together.
We had ours along side carne asada tacos from my post, How to Make Grass-Fed Carne Asada.
***PRO TIPS- If the avocados are extra large you will only need 4-5. Best way to tell if an avocado is rip is by the bright green color of the flesh when removing the stem. If it is a dull green, the avocado is over ripe. We love garlic so I always use 3 large cloves but you will need to adjust according to taste preferences. I also use about 1- 1/2 tsp sea salt or pink himalayan salt and about 1/4 tsp black pepper. For kid-friendly version remove jalapeño seeds.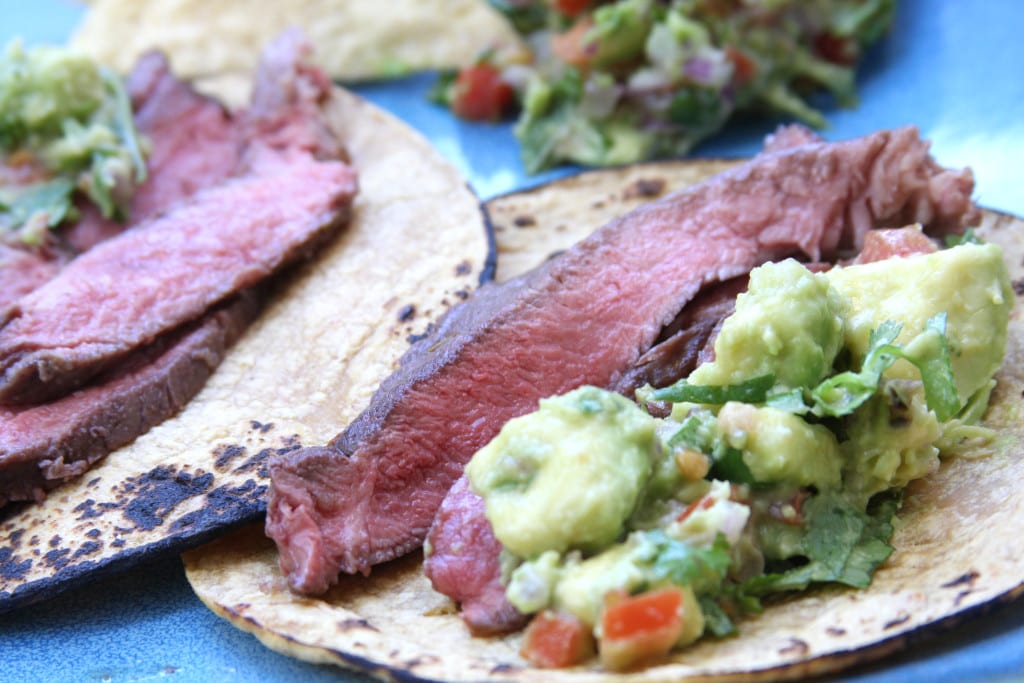 For a few other popular Mexican feasts check out:
Simple Healthy Guacamole
Fresh, flavorful and chunky authentically made guacamole.
Ingredients
8 ripe medium avocados *see pro tip above
1-2 limes *juiced
1 jalapeno *roasted and diced
½ medium red onion *diced
2-3 medium cloves of garlic *minced or crushed
2 roma tomatoes *diced
2 small or 1 large bunch cilantro *chopped
salt and pepper to taste
Instructions
Cut Avocados in half and remove seed. With a small knife, cut squares in flesh of avocado, making sure to not cut through skins. With a soup spoon, remove squares into a mixing bowl by scraping with edge of spoon between skin and avocado flesh.
Squeeze lime juice over avocado squares.
Roasting jalapeno is an optional step but adds a wonderful smoky taste and mellows the heat a bit. To roast, place jalapeño over open flame using tongs and turning once skin begins to darken and pop, roasting all sides. Dice and add to avocado.
Cut and dice remaining ingredients, add to avocado. Stir to incorporate veggies well.
Serve with chips or along side any Mexican meal.
Notes
*Please use as many organic ingredients as possible.*