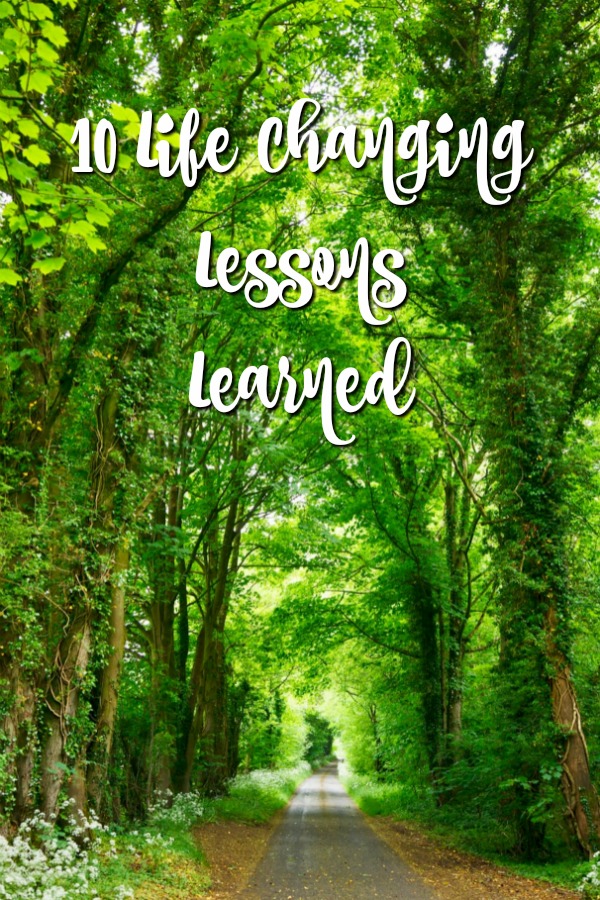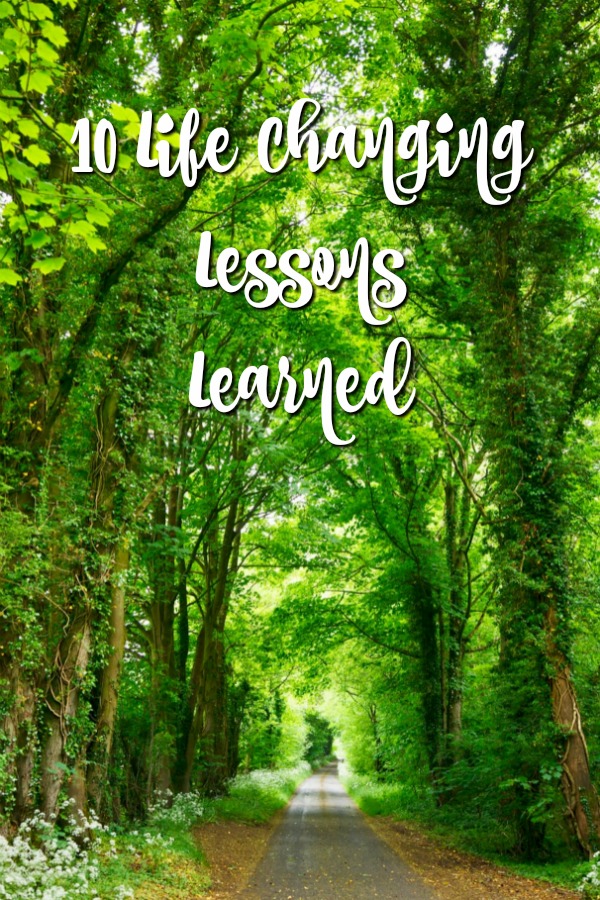 Tomorrow is New Years Eve 2019 and coming up on the end of a decade has made me nostalgic to reflect on all the lessons I learned these last 10 years. Because of this I am doing something I rarely do, showing you a peek behind the curtains. The lessons I have learned have had huge impact on my life and I know there is at least one other person out there who will hopefully, find value too. So without further ado, here are my top 10 lessons learned this last decade.
This post may contain affiliate links which I earn a small portion in sales if a purchase is made. Rest assured though, it is never at any additional cost to you.
The No's Were The Biggest Blessings
I am not going to lie, there are definitely some no's that have happened over this last decade that have not only deeply hurt, but have also left me not understanding why. The passing of my mom at such a young age and my husband and I not being able to conceive are a few of those. The answers to these no's I will not understand until I one day meet my maker.
However, I have lived long enough to see first hand that when met with a no, I was actually being spared for a bigger blessing down the road. My husband is a perfect example of this. There is not a day that goes by that I am not reminded of how much I appreciate this man. Yes, he drives me crazy at times but we truly make each other better. He understands me, has patience for me, cares for me, challenges me and loves me in a way that I need. The areas where we are not the strongest as a couple have made me more compassionate and a better communicator. I believe with my whole heart that the reason my past relationships never worked was because I was being spared for a man that would walk hand in hand with me loyally, while encouraging me to be the best version of myself.
Other examples, had I not been told no at my place of employment I would have never quit and would never know the thrill (and many days of total frustration too) of being an entrepreneur. Jobs that I thought I wanted would have stood in the way of finding a business that I deeply love.
Positive Is As Positive Does
Want to know the #1 thing that will cause me to slow down and proceed cautiously? The statement "Be Positive"!
We live in a society that wants to throw rainbows and affirmations at anything that has a hint of challenge connected to it. Just look at the number of self help books and gurus where the heart of their message boils down to "Think positive and it will all be ok."
Please don't get me wrong, I, like most people, love to feel positive emotions like love, happiness, acceptance, joy, etc. But the problem is that we are becoming a society falling short of eloquently knowing how to handle the emotions that are viewed as negative. Such as disappointment, anger, grief, depression, jealousy, etc. You know, natural normal human emotions. How positive is it to always go around smiling when inside you are overwhelmed with grief? How positive is it to bottle up anger for fear of being judged, only to have it come out like a typhoon?
This lesson is for me more of one of self acceptance. You see, I have always been a person to call a spade a spade and as a result I have been labeled negative more times than I can count. However, I cannot tell you how many times over this last decade my ability to accurately identify emotions or call out bad behavior has spared me an immense amount of heartache.
I have finally reached a place in my life where I am at peace with being labeled negative for going against the social norm. In my heart I know that I am being honest with myself and that will always serve me well. I have also learned that if someone is not giving weight to what I am saying and quickly defaults to "be positive", that I need to proceed with caution with this person.
It Is Ok To Have Emotions
This is strongly tied to the previous lesson. I can't tell you how many people I have encountered who hold an immense amount of guilt for having certain emotions. Guilt will overwhelm them if they are sad, or cry, or feel jealous… But my friends listen carefully, it is ok to have emotions. Let me repeat that for those in the back row, IT IS OK TO FEEL SAD or ANGRY or JEALOUS or DISAPPOINTED or VULNERABLE or SCARED!
Let me clarify, I am not in any way shape or form saying that these emotions should be put on display for everyone to see. In fact, quite the contrary. There is a time and place for everything. What I am saying though is it is ok to feel these emotions and they can be enormously clarifying.
One such example is the emotion of jealousy that yes, even plagues me from time to time. This one particular emotion is viewed as being highly dangerous and just flat out wrong by almost everyone. To me however, it is like a lighthouse house calling me home. Anytime I feel this emotion I try to understand why exactly I am feeling jealous. Sometimes the answer is that I am comparing my beginning to someone else's middle. Other times it is because I realize that the person I am jealous of holds a quality that I desire to have. That is usually a sign that I have some work to do fine tuning the skill I desire. Also, it is a signal to remember to celebrate others success with gratitude.
There Is a Reason For the Season
When my mom was sick and going through all the radiation, chemo, dr appointments, etc. my whole family had moments of feeling compleltey overwhelmed. One of the hardest parts of going through such a significant health battle is that the world outside is still spinning. Bills still have to be paid, dishes still have to be washed and grocery shopping still has to be done. Trying to find the new normal when you feel like your life is falling apart is so extremely challenging. In hindsight, I can see very clearly that those struggles were training ground for the second scariest thing I have ever done, start a business. Finding the new normal through all that turmoil strengthened me and taught me strategies I may have never learned otherwise.
Another season that literally made no sense to me at the time was just before my dad's passing. At the time I was spitting angry at him. So angry that I was completely fed up and said things that although true, caused him pain. What he failed to see was that his behavior was causing us an immense amount of pain and so we were at an impasse. This was one of those moments where I had no clue how to resolve the issue. My heart wanted to honor my dad but the situation forced me to lay a boundary.
It was a horrible situation to be in especially because in the back of my mind I instinctively knew something was wrong with him. That instinct led me to know that the night the nurse called, he was dying. She couldn't tell me over the phone but I knew with every ounce of my being. My husband and I drove to the hospital and the entire way over I was preparing myself for the worse. When we arrived to the emergency room we were quickly whisked away to the "quiet room". You know, the room where they deliver the worst possible news about your loved one. After a few minutes of the doctor preparing us to expect that my dad was in grave condition and probably would never awaken from the coma, we were taken back to see him. Upon arriving, the nurse with huge wide open eyes said, "he just woke up". His doctor turned to me with complete amazement written all over his face and said, "well, there is your miracle" and gestured for me to go to his side.
At that moment by my dying fathers bedside I was able to tell my him how much I, my brother and niece loved him. I told him how happy my mom was going to be to see him again. He cried and nodded his head. Literally, once we had our goodbyes my father's heart started to give out and soon there after he went home to be with my mom.
It was that night that I saw God's love in the most powerful way. His reminder that he was still there and was in control. He allowed my dad and I to make peace and to say our goodbyes. That season of loosing my dad and seeing God's love has carried me over in some of the scariest moments since. I am also still compleltey humbled when I remember the faces of his family and friends on the day of his funeral and how they soaked up my every word. The story of my dad's passing was as healing and miraculous to them as it was to me.
Pay Attention to the Little Things
Having gone through such significant loss this last decade has brought the realization to the forefront of my heart that beauty lies in the little things. The little things that my niece says or does that reminds me so much of my mom. Sitting with my hubby drinking morning coffee and dreaming together. A simple word of gratitude from a reader. It is the little things that truly bring me joy. When life gets crazy and chaotic I often have to whisper to myself, "Hey dummy! Pay attention to the little things. That's the important stuff!".
Protect Your Health
Honestly, who doesn't know this one. We hear this over and over again from healthcare professionals, the media and quite frankly, everywhere we turn. Also, did you know that this is one of the most common regrets reported of the dying? They wished they had taken better care of their health.
How is this connected to one of the biggest lessons of the decade for me? Because I feel like I failed. Between the sickness and passing of my parents, the start of my business and everything in between, I have failed some aspects of my health miserably. But here is what I have learned. As long as you are still breathing, there is hope and there is still potential for change. For me it has been incredibly important to define what my definition of healthy means to me. My definition is gaining back the flexibility that I have lost, having clear skin again (damn adult acne that came out of the blue) and having defined muscles. I chose each of those for very specific reasons. Having these under control will be a sign of a deeper level of health that will impact more than what is on the surface.
Small Changes Can Make the Biggest Difference
When you have a plate full of responsibilities it can be so easy to blow off goals with the justification that there is always tomorrow. I can exercise tomorrow, I can read tomorrow, I will learn that skill tomorrow, etc. etc. But what do you do when tomorrow turns into a year and then a decade?
A huge lesson that both my husband and I have learned in the last year is that even doing 10 mins a day of activities like reading, skill building and exercise can add up to big results over a years time. Whenever I catch myself justifying not doing what is important to achieving my goals, I remind myself of the fact that small consistent daily changes can add up to big results in the end. So my friends, what are you putting on the back burner and what would life look like a year from now if you worked on it for just 10 mins everyday?
Rest
I have learned that when faced with an emotional situation that feels overwhelming in the moment, to rest before reacting. Usually 24 hours and a good night sleep puts me in a more prepared position to act more accordingly to my values. Have I done this perfectly all the time? No, but I try.
After working for what feels like endless hours I often need to give my brain a rest. If I don't, I hit a creative slump that can last for days. So what does resting my brain look like? A nap, a walk outside, time to let my mind wander on whatever it likes or honestly, a day watching movies on the couch. One important aspect of resting my brain involves me not having to focus on anyone else's problems or struggles. Truly what I need in those moments is to let my mind be free of obligations. When I do this, I come back prepared to take on the next creative hurdle.
Last but not least, I need quality sleep. I have always needed quality sleep or I do not function well at all. Do I always get it? No, not at all. However, I work hard to get a solid 8 hours every night.
Learning Will Never Stop
At the moment of writing this article I am 4 1/2 years into operating The Fed Top Foodie. I have made huge strides in a business that I created virtually from nothing. Here is the deal though, I feel like I have more to learn now than when I started. The beauty of first starting out in business is you really have no clue how much you have to learn. I can safely say that I know the act of learning will be a life long process rather than a one and done.
What Does Your Soul Want?
One of the reasons I am so huge about paying attention to emotions is because they can be a beacon of light directing you to what your heart wants and who you truly are. Too often people don't want to take the time to process through why they feel a certain way. They brush aside what they call the "negative emotions" to force happiness and joy on themselves. In doing so, what they miss along the way is the clarity of who they really are and what lights their soul on fire. Want to feel like a robot just going through the motions of life? Then never take the time to evaluate your emotions and feelings. In contrast though, taking the time to listen to your thoughts and feelings and then objectively asking questions like, "Why did that upset me?" "What I am scared of loosing?" "What does this say about my values?"can make a huge difference in clarity. Making a habit of evaluating emotions is one of the most powerful ways to not only find your purpose in life, but also to light your soul on fire.
Ready to not miss out on another moment of clarity? Both books Emotional Agility and High Performance Habits are excellent guides on this path.
Thank You
Friends, I want to take a moment to thank you and to say that I appreciate you! If you have taken the time out of your day to read through this very long winded article, thank you. If you show up every week taking the time to see what new recipe I have posted, thank you! If you have tried one of my recipes, thank you! If you have rated one of my recipes (even the not so great ratings), thank you! It is because of you that I am able to do what I love, making wholesome delicious cooking easy and attainable.
My hope is that you were able to find at least one nugget that will be a support for you in this next decade. Now it is your turn, what lessons have you learned that would support others?
All My Love!
Heather