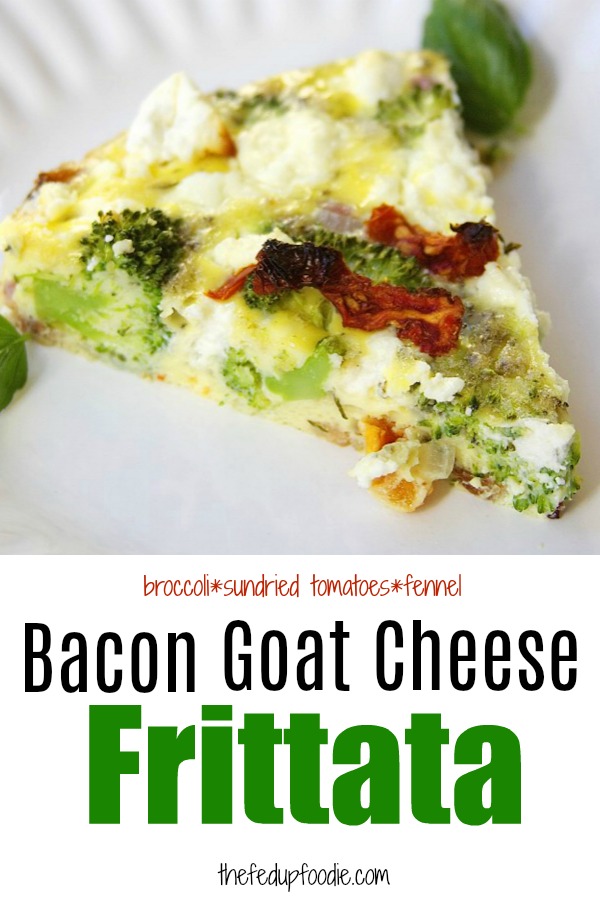 Creamy and delicious, this Bacon Goat Cheese Frittata is a quick meal perfect as a make ahead breakfast or lazy dinner.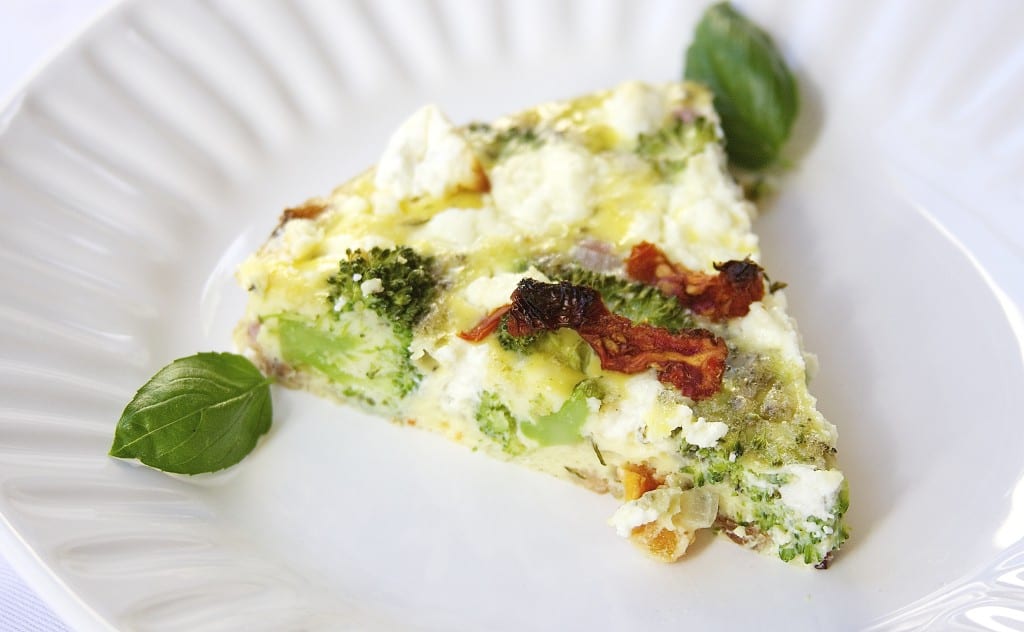 This post may contain affiliate links which I earn a small portion in sales if a purchase is made. Rest assured though, it is never at any additional cost to you.
I love lazy weekend mornings with my husband. He travels for a living so when he is home on a weekend it feels so wonderful to sleep in late, watch home improvement shows and have a leisurely breakfast. I made this Bacon Goat Cheese Frittata this last weekend and it felt so nice to have breakfast already made when we woke up. This is a perfect dish to make ahead when you are short on time, but still want to have something special that has a ton of nutrition.
Eggs have been given such a bad rap over the last couple of decades. This is such a shame because they are a powerhouse of nutrition. Just do a quick google search for "health benefits of eggs" and you will be given over 10 million articles explaining the health benefits.
Tips about Bacon Goat Cheese Frittata:
Not all eggs are nutritionally equal. My all time favorite egg to buy is the pasture organic egg. The chickens who produce these eggs are out wondering the fields, eating like a chicken should (hands placed on ears for the squeamish), insects, seeds, plants and organic grains. I love that a majority of grocery stores are starting to carry pasture raised eggs but not all farms that label their eggs as pasture raised are truly following that standard. The best way to ensure you are bringing home the highest quality egg is to do a little research or check out Organic Egg Scoreboard.
The secret ingredient that makes this frittata the best is the roasted fennel seed (I bet you thought I was going to say bacon). I roasted the fennel lightly in a stainless steel frying pan and then crushed it with a mortar and pestle. (affiliate)
This is the perfect dish to make up ahead of time for a lazy weekend morning and the leftovers pack up beautifully for lunch.
Top with sliced avocado, salsa, sour cream or plain Greek yogurt.
It looks so colorful before going into the oven,
and so mmm, mmm good coming out.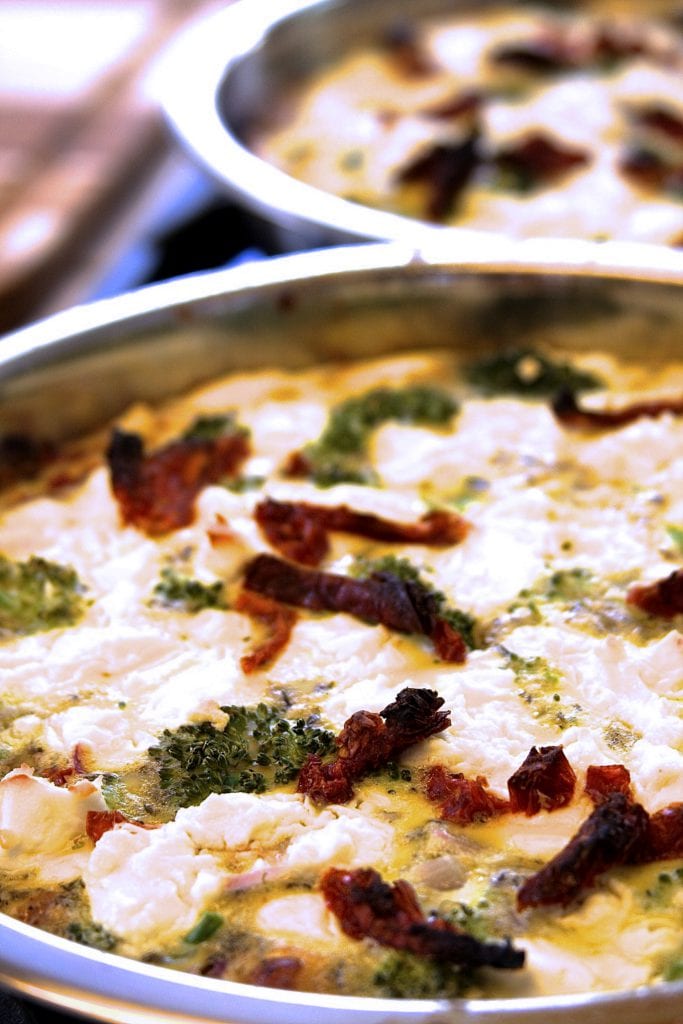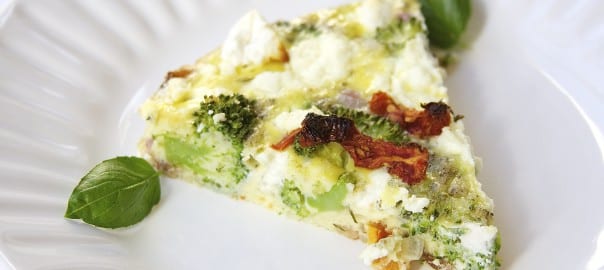 Bacon Goat Cheese Frittata
This dish tastes great out of the oven or perfect cold for the no hassle breakfast/brunch.
Print
Pin
Rate
Ingredients
5

jumbo eggs

2

tbsp

half and half

1 1/4

cups

broccoli florets

1-2

oz

sun dried tomatoes in a bag

*I used Trader Joe's

6

oz

bacon

*fried

3-4

oz

goat cheese

1

sm

red onion

1/2

tsp

fennel seed

1/2

tsp

thyme

2

tsp

olive oil

olive oil spray

salt and pepper to taste

sliced avocado

*optional
Instructions
Preheat oven to 350 degrees.

Fry bacon and set aside to cool on paper towel to absorb excess grease.

Dice onion and lightly sauté in olive oil. Set aside.

Toast 1/2 tsp fennel seed in frying pan and finely grind in a mortar and pestel.

Crack eggs and place in large bowl. Whisk in half and half. Add a pinch of salt pepper. Add fennel and thyme.

Chop bacon and add to egg mixture. Add sautéed onion and stir.

Spray a 9 inch round baking pan with olive oil spray and pour in egg mixture.

Evenly distribute broccoli florets, sun dried tomatoes across egg mixture.

Crumble goat cheese and evenly distribute across egg mixture.

Bake at 350 degrees for 18-20 mins or until egg mixture congeals. Cooking time may vary due to differences in ovens. Cool and garnish with avocado. Enjoy!
Notes
*Please use as many organic ingredients as possible. 
Nutrition
Calories:
247
kcal
|
Carbohydrates:
5
g
|
Protein:
12
g
|
Fat:
20
g
|
Saturated Fat:
8
g
|
Cholesterol:
163
mg
|
Sodium:
312
mg
|
Potassium:
335
mg
|
Fiber:
1
g
|
Sugar:
2
g
|
Vitamin A:
532
IU
|
Vitamin C:
19
mg
|
Calcium:
62
mg
|
Iron:
2
mg