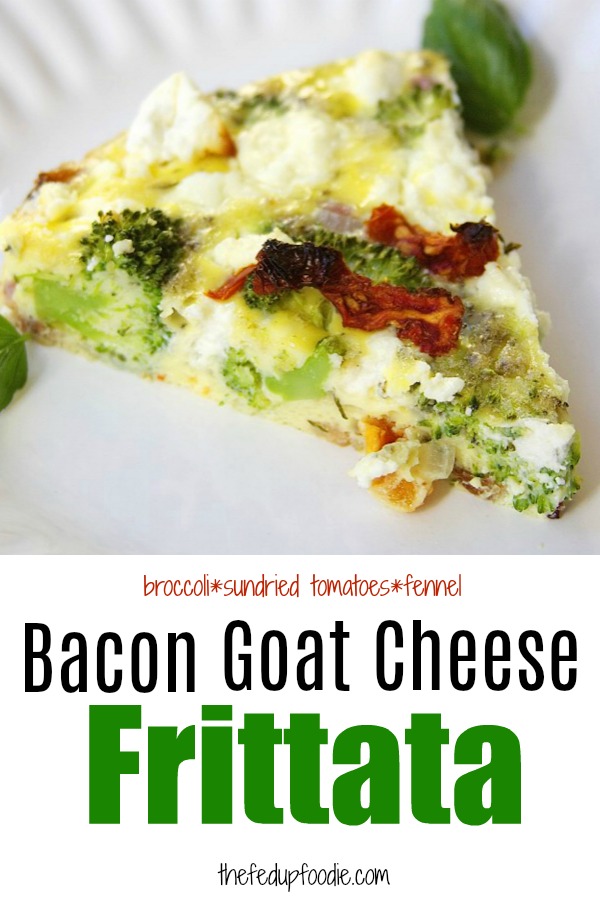 Creamy and delicious, this Bacon Goat Cheese Frittata is a quick meal perfect as a make ahead breakfast or lazy dinner.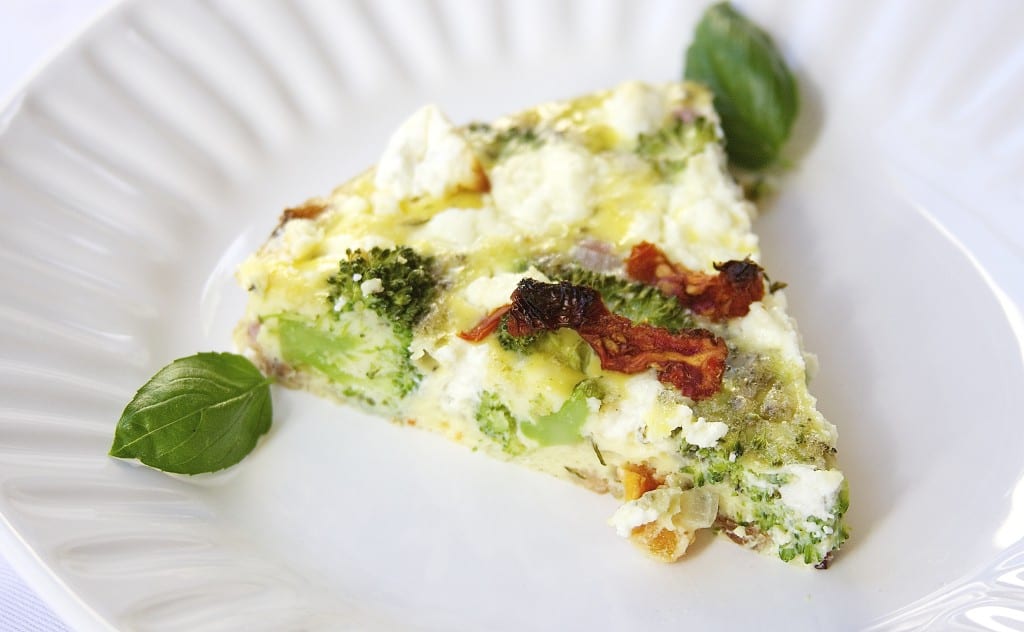 This post may contain affiliate links which I earn a small portion in sales if a purchase is made. Rest assured though, it is never at any additional cost to you.
I love lazy weekend mornings with my husband. He travels for a living so when he is home on a weekend it feels so wonderful to sleep in late, watch home improvement shows and have a leisurely breakfast. I made this Bacon Goat Cheese Frittata this last weekend and it felt so nice to have breakfast already made when we woke up. This is a perfect dish to make ahead when you are short on time, but still want to have something special that has a ton of nutrition.
Eggs have been given such a bad rap over the last couple of decades. This is such a shame because they are a powerhouse of nutrition. Just do a quick google search for "health benefits of eggs" and you will see over 10 million articles explaining the health benefits.
Origin of Frittata
A frittata is a type of Italian egg dish that is similar to an omelette or crustless quiche. Here are some details on what it is and its origins:
The word "frittata" comes from the Italian verb "friggere," which means "to fry." The dish originated in Italy as a way to use up leftover ingredients. Frittatas were often made by combining leftover vegetables, meats, and cheeses with beaten eggs and then frying the mixture until it formed a cohesive and flavorful dish.

Frittatas are typically cooked in a skillet or oven-safe pan and can be served hot or at room temperature.

They are known for their versatility, as they can incorporate a wide range of ingredients based on what's available or what suits the cook's preferences.

Frittatas have become popular in many parts of the world due to their simplicity, flexibility, and the fact that they can be enjoyed for breakfast, brunch, lunch, or even dinner. While the basic concept remains consistent, regional variations and creative ingredient combinations have led to numerous adaptations of the traditional frittata recipe.
Tips about Bacon Goat Cheese Frittata:
Not all eggs are nutritionally equal. My all time favorite egg to buy is the pasture organic egg. The chickens who produce these eggs are out wondering the fields, eating like a chicken should (hands placed on ears for the squeamish), insects, seeds, plants and organic grains. I love that a majority of grocery stores are starting to carry pasture raised eggs but not all farms that label their eggs as pasture raised are truly following that standard. The best way to ensure you are bringing home the highest quality egg is to do a little research or check out Organic Egg Scoreboard.
The secret ingredient that makes this frittata the best is the roasted fennel seed (I bet you thought I was going to say bacon). I roasted the fennel lightly in a stainless steel frying pan and then crushed it with a mortar and pestle. (affiliate)
This is the perfect dish to make up ahead of time for a lazy weekend morning and the leftovers pack up beautifully for lunch.
Top with sliced avocado, salsa, sour cream or plain Greek yogurt.
It looks so colorful before going into the oven,
and so mmm, mmm good coming out.
Variations of Goat Cheese Frittata
Vegetarian Version- Omit the bacon and use vegetarian-friendly alternatives like tempeh bacon or smoked tofu for smoky flavor. Increase the quantity of vegetables, such as adding bell peppers, spinach, or mushrooms for additional texture and taste.
Low-Carb Version- Replace the half and half with heavy cream or full-fat coconut milk for a creamier texture and lower carbs.

Omit the sun-dried tomatoes and possibly reduce the quantity of onion to further lower carb content.
Gluten-Free Version- Ensure that the bacon and goat cheese are gluten-free. Instead of fennel seed, use a gluten-free spice like cumin or coriander for added flavor.
Mediterranean Twist- Swap the bacon for chopped Kalamata olives and crumbled feta cheese. Add some fresh chopped herbs like oregano and basil to enhance the Mediterranean flavors.
Mexican Inspired- Replace the bacon with chorizo for a spicy kick. Incorporate diced bell peppers, black beans, and corn for a Southwestern flavor. Top the finished dish with salsa and a dollop of sour cream or Greek yogurt.
Herb and Cheese Blend- Mix various herbs such as rosemary, thyme, and parsley into the egg mixture for a more herbaceous taste. Combine different types of cheese, like cheddar, mozzarella, and parmesan, for a richer flavor profile.
Spicy Option- Add diced jalapeños or crushed red pepper flakes to the egg mixture for some heat.

Opt for a spicier variety of sausage, like spicy Italian sausage, instead of bacon.
Asian Fusion- Swap the goat cheese for crumbled tofu or chopped nuts like cashews. Incorporate Asian vegetables like bok choy, snap peas, and shiitake mushrooms. Add soy sauce, sesame oil, and ginger for an Asian-inspired flavor profile.
Vegan Version- Use a plant-based milk like almond milk or oat milk in place of half and half. Substitute tofu or a vegan cheese alternative for the goat cheese. Consider using scrambled tofu instead of eggs and adding nutritional yeast for a cheesy flavor.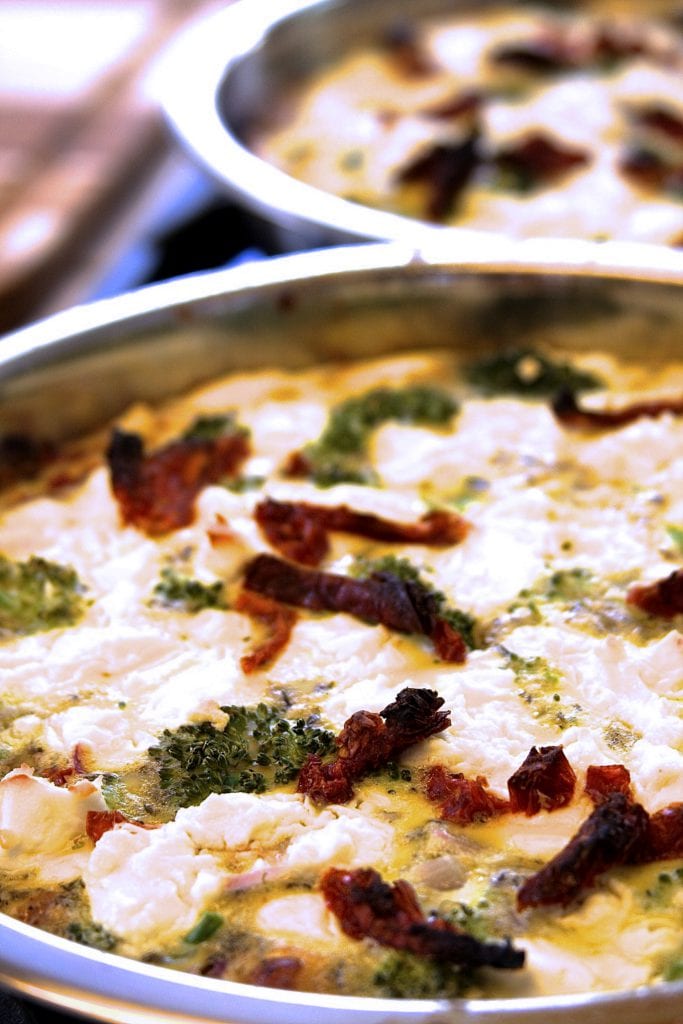 Frequently Asked Questions
How finely should I grind the fennel seed after toasting it?
When the recipe says to finely grind the toasted fennel seed, you'll want it to end up as a powder.
How will I know when the egg mixture has "congealed"?
Here are some tips:
It should be firm like a solid casserole, not soft or runny.
Insert a toothpick or knife into the center of the casserole. When it comes out clean with no wet egg clinging to it, this signals the eggs are fully cooked through.
When gently shaken, the casserole shouldn't jiggle much. It should move as one coherent mass.
How long should I let it cool before trying to remove it from the pan?
When baking egg casseroles like this, it's important to let them rest and cool a bit before trying to remove them from the pan. Here are some tips on cooling time:
Let it cool for at least 15-20 minutes on the counter after baking.

If you try to remove it too soon while still hot, it's more likely to break apart or stick to the pan.
Some gentle loosening around the edges with a knife after 10 minutes can help, but avoid flipping out onto a plate or cutting into it right away.
The egg mixture will firm up more and continue to set as it cools. This makes removing intact easier.
Gently slide a knife around the outer edge and it should release. Place a plate or cutting board over the pan and confidently flip over.
How should I store any leftovers?
Here are some tips for properly storing leftovers:
Let the casserole cool completely before storing. Don't store it while still warm.

Transfer the leftovers to an airtight container. Glass or plastic containers with lids work best.

Make sure the container is large enough – don't pack the casserole too tightly.

For longer storage, you can divide into smaller portions in individual containers.

Refrigerate leftovers promptly, within 1-2 hours of cooking.

Store in the fridge for 3-4 days maximum.
Can I freeze this recipe?
You can freeze leftovers for longer storage. Let cool completely then wrap tightly in plastic wrap and foil. Freeze for up to 2-3 months.
How do I reheat the frittata?
When reheating leftovers, cover and heat gently in the microwave or oven until warmed through. Avoid overheating.
What can I serve with this recipe?
A flavorful bread such as, Sourdough Garlic Bread along with a salad like, Heirloom Tomato Salad, Green Bean and Tomato Salad or Green Bean and Tomato Salad would all work very well with this Bacon Goat Cheese Frittata recipe.