If you need a tropical vacation, there is no need for spending thousands of dollars. This Coconut Lime Tequila Shrimp will transport you to the Caribbean within an hour. It is a creamy, zesty, sweet, and savory meal.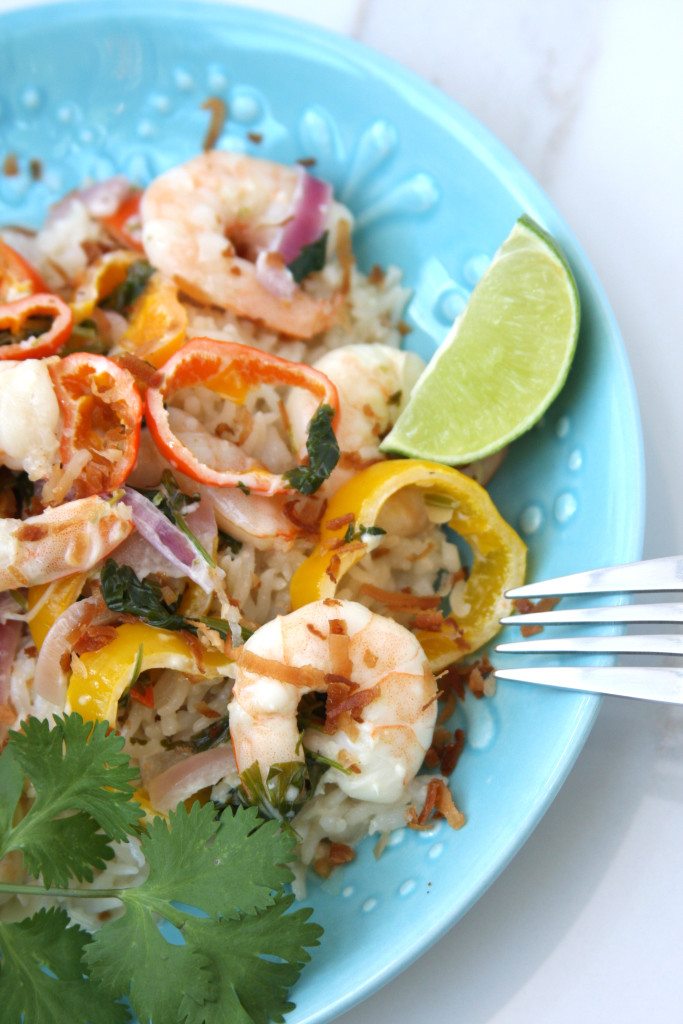 This post may contain affiliate links which I earn a small portion in sales if a purchase is made. Rest assured though, it is never at any additional cost to you.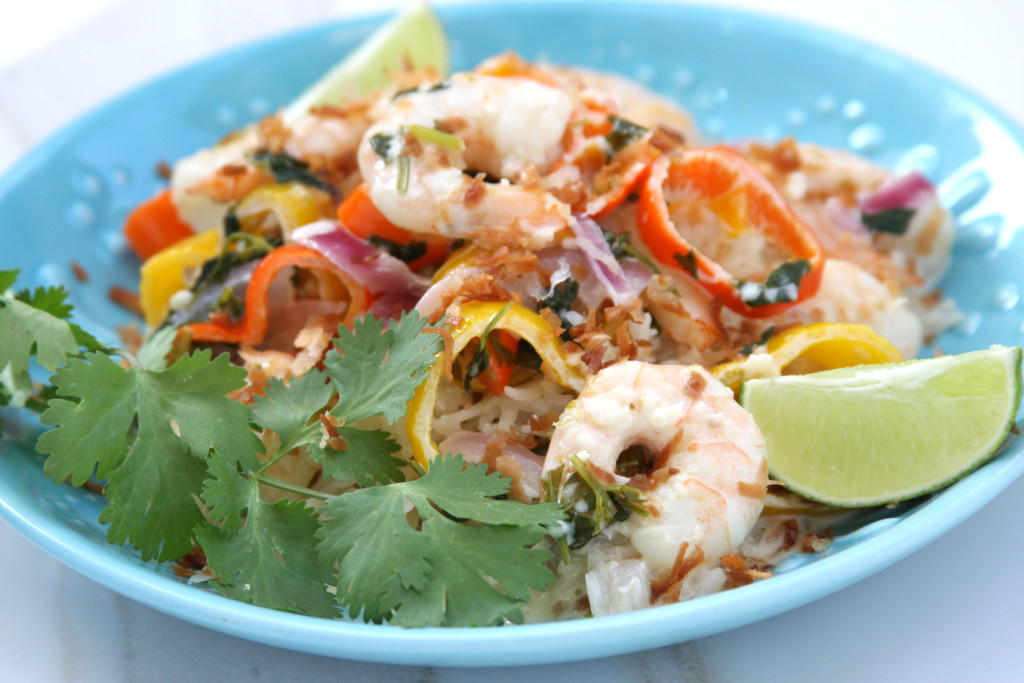 As I was enjoying this creamy Coconut Lime Tequila Shrimp last night with my husband, I was reflecting on how I came about it's creation. I was trying to remember where the idea of the coconut, lime and tequila combination came from. Beats me. I just knew this combo sounded phenomenal. I had a general idea in my head of how I wanted it to be. My first attempt at the dish was good, but you definitely could of had a nice buzz off of the amount of tequila I used. Both Paul and I knew it was going to be a really good dish, I just needed to balance the lime and tequila a little better and it was missing something. Paul suggested the missing element might be coconut flakes. He hit the nail on the head. The toasted coconut added a sweet crunchy nuttiness. When you make this dish at home the toasted coconut is definitely optional but highly recommended.
Coconut oils, milks and creams have become highly popular in recent years but there are still many people who are concerned about the saturated fat content. So here is my personal opinion backed up with just a few of the sources that have led me to that opinion. Coconut oil is one of the few sources that contains Medium Chain Triglycerides (1). MCT's contain carbon chains that have wonderful health advantages, of which lauric acid is the most predominant carbon chain (2). Lauric acid has anti microbial properties (3) (4) and has shown to help raise HDL (good cholesterol) along with LDL (5) thereby improving the LDL/HDL ratio (6). I could go on and on siting sources showing the array of health benefits that come from the consumption of coconut oil, milk and cream. I personally feel that incorporating dietary organic coconut products in moderation has numerous benefits. Even though this dish may be higher in fat because of the coconut, you can let go of the guilt.
When I made this Coconut Lime Tequila Shrimp, I used rice for the pretty factor in photographing it. Granted the basmati rice tasted fabulous but for anyone looking for higher nutrition levels, making this recipe in a similar fashion with quinoa is a great way to maintain flavor but utilize complex carbohydrates instead. Basically you would prepare the quinoa according to the instructions on the package but replace the liquids with half organic coconut milk, half chicken broth and 3 tbsp lime juice.
The best way I can describe the cooking process is like doing a tropical stir fry.
This Coconut Lime Tequila Shrimp recipe is perfect for individuals needing either a gluten or dairy free meal.
Enjoy this Coconut Lime Tequila Shrimp!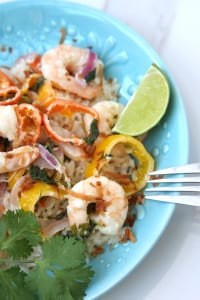 Coconut Lime Tequila Shrimp
A sweet and zesty meal that will transport you to the tropics.
Print
Pin
Rate
Ingredients
Rice
1 1/2

cup

basmati or jasmine rice

1 13.5-14

oz

can light coconut milk

3

tbsp

lime juice

1

cup

chicken broth

*liquids should equal 3 cups

1/2

tsp

lime zest

2

tbsp

toasted coconut flakes

*optional
Main Dish
1

lb

large or jumbo raw

*deveined, cleaned shrimp (preferably wild caught)

2

tbsp

coconut oil

1

med red onion

4

garlic cloves

*peeled and crushed

1

lb

tri colored mini sweet peppers

*cut into rings

2

tbsp

lime juice

1

tsp

lime zest

5

tbsp

good tequila

1

med bunch cilantro

*roughly chopped

1

14 oz can

extra thick coconut cream

toasted coconut for garnish

*optional

chopped cilantro for garnish

*optional
Instructions
Before starting the cooking process it is best to have all items cleaned, cut and measured.

For the Rice-Measure rice and rinse thoroughly in a fine mesh colander. Drain well. Heat coconut oil in a medium size frying pan over medium high heat. Add rice and fry stirring frequently, for about 4-5 minutes or until some of the rice grains start to become lightly golden brown. Add coconut milk, broth, lime juice, lime zest and toasted coconut. Bring to a boil on med/high heat. Once boiling lower the flame to lowest setting. Cover with a tightly fitting lid and DO NOT stir. Cook until all broth is absorbed. Cooks for about 17-20 minutes depending on cookware.

For the Coconut Lime Tequila Shrimp- In a large frying pan heat coconut oil over med/high heat. Once pan is hot, sauté onions until softened, about 2 mins. Add garlic and sauté for another min. Add peppers, stirring frequently continue to cook for another 4-5 mins or until softened. Add tequila, lime juice and lime zest. Cook until liquid is reduced by half. Add cilantro and continue stirring until cilantro is wilted, about 1 to 2 mins. Add shrimp, cook until just starting to turn pink. Once shrimp is slightly pink add coconut cream. Stir well and continue to cook for another 3-4 mins. Remove from heat. Will be a creamy broth when serving over rice. Garnish with toasted coconut and cilantro.
Notes
*Please use as many organic ingredients as possible.*
If replacing quinoa for the rice, prepare according to instructions but replace the liquids with half coconut milk, half chicken broth and 3 tbsp lime juice.
Nutrition
Calories:
420
kcal
|
Carbohydrates:
48
g
|
Protein:
20
g
|
Fat:
12
g
|
Saturated Fat:
10
g
|
Cholesterol:
191
mg
|
Sodium:
795
mg
|
Potassium:
357
mg
|
Fiber:
3
g
|
Sugar:
4
g
|
Vitamin A:
2389
IU
|
Vitamin C:
108
mg
|
Calcium:
138
mg
|
Iron:
3
mg