If you are looking for an easy, low-carb, gluten free and incredibly flavorful veggie recipe, this Crockpot Spaghetti Squash with Chimichurri Sauce is for you. You will feel like you are indulging while eating so healthy.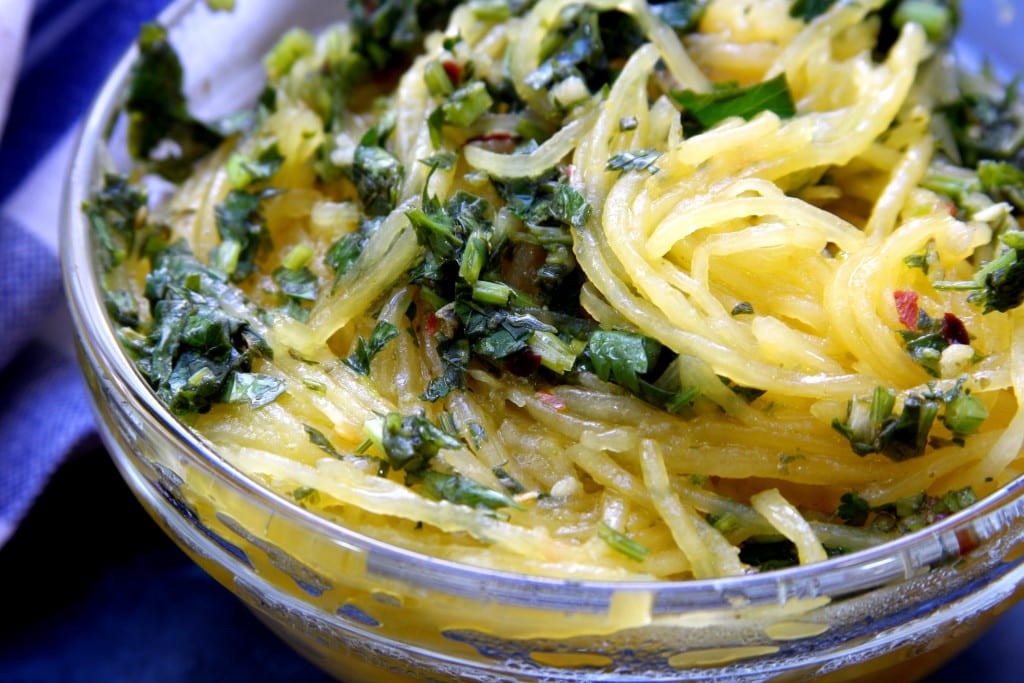 Alright, so here is a little secret that only my email subscribers know. I am on day 5 of the elimination diet. Yep, I am eliminating gluten, soy, dairy, eggs, corn, peanuts, sugar and artificial flavors for 21 days. UGGGG…. Can you feel my pain? Well to be honest, it hasn't been as bad as I thought it would be. Granted, day 1 was not my happiest day. I took my time waking up that morning, not looking forward to not having half and half in my coffee. When I did wake up and drag myself out of bed, I was walking around like a depressed teenager, shoulders shrugged while taking deep sighs over all the "I can't haves" Somehow, I pulled myself up by the boot straps, put a smile on my face and starting creating recipes that I can not only eat, but enjoy in this season of "I can't have that". (For a small glimpse behind why on earth I am subjecting myself to this check out my post, Harvest Turkey Salad with Orange Sherry Vinaigrette. More will be revealed in upcoming posts.) I fell in love with Chimichurri Sauce a few months ago and since then I kept thinking how wonderful it would taste with spaghetti squash. The union of the two was perfect timing for my diet and for the creation of this Crockpot Spaghetti Squash with Chimichurri Sauce recipe.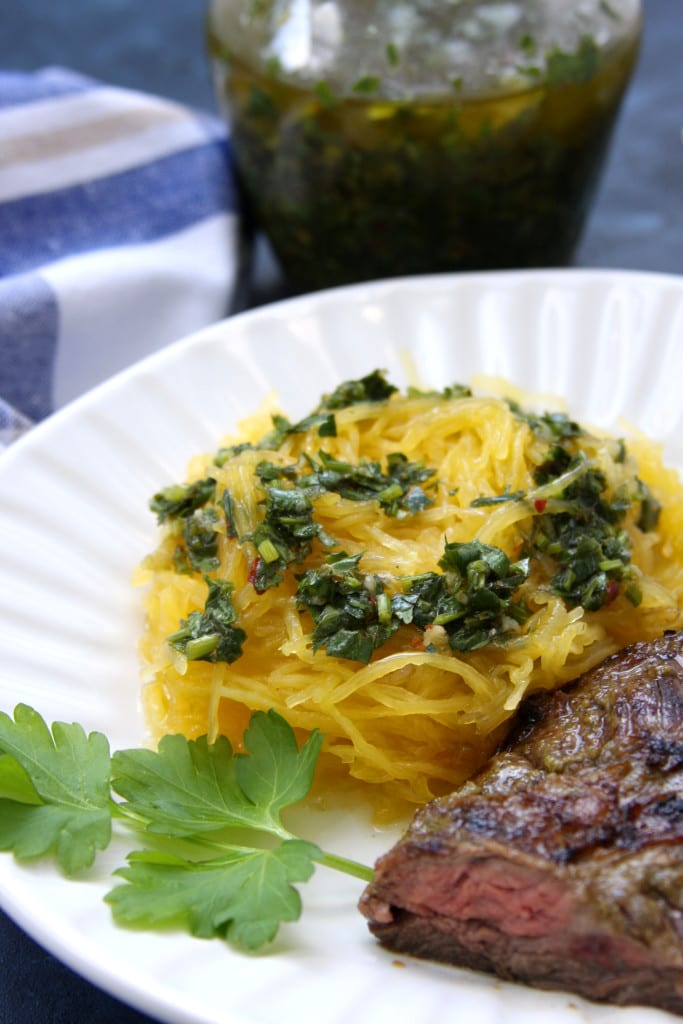 One of the first things I recognized while being on the elimination diet, as long as I have tasty filling foods, it was sooooooooo much easier giving up some of my favorites. This has started me on a creative world wind with creating recipes. I am so excited to share what I have in store in the coming weeks but in the meantime, I will continue singing the praises of this Crockpot Spaghetti Squash with Chimichurri Sauce.
I have seen spaghetti squash baked with water, baked without water, microwaved and cooked in the crockpot. However you decide to cook yours one thing is for certain, adding Chimichurri Sauce to spaghetti squash is bound to become one of your new favorite veggie dishes. What I love about cooking it in the crockpot is it frees up time. Your hands will thank you also because cutting the squash after it cooks it so much easier than trying to cut the hard pumpkin like surface.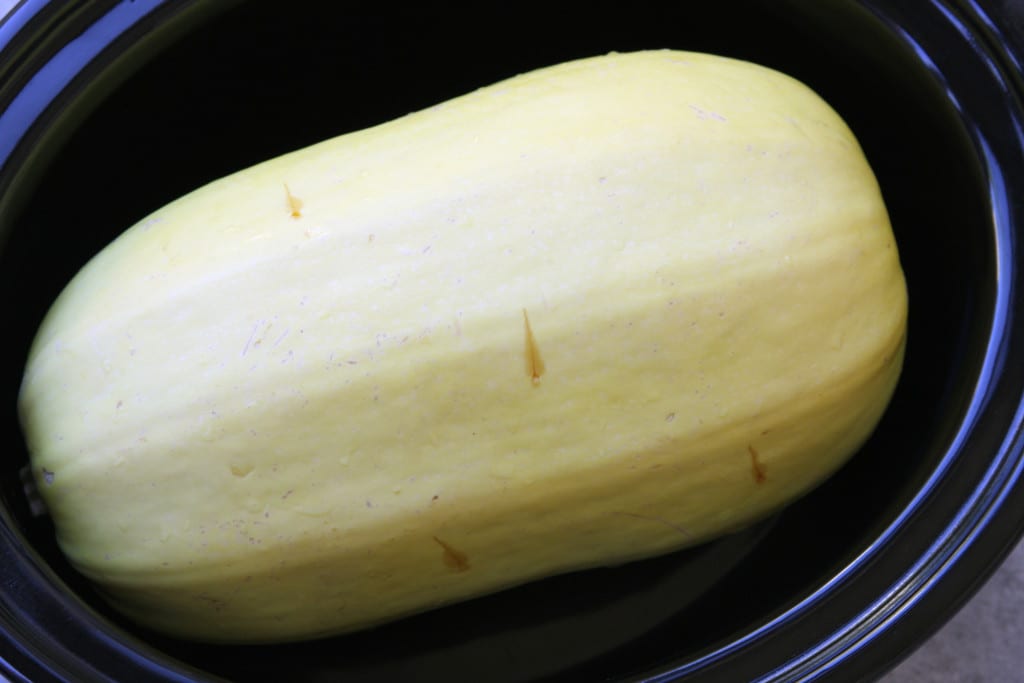 The Simplicity of Crockpot Spaghetti Squash with Chimichurri Sauce
How simple is this veggie dish? I am so glad you asked.
Rinse the surface of a medium spaghetti squash.
Poke a few holes in it and place inside crockpot.
Add water to bottom of crockpot, cover with lid and cook on high for 4 hours.
Spend 10 minutes making Chimichurri Sauce and refrigerate until needed.
Once squash is cooked, cut open, scrape seeds out and scoop out strands.
Pour the decadent goodness of the Chimichurri Sauce over the strands and enjoy!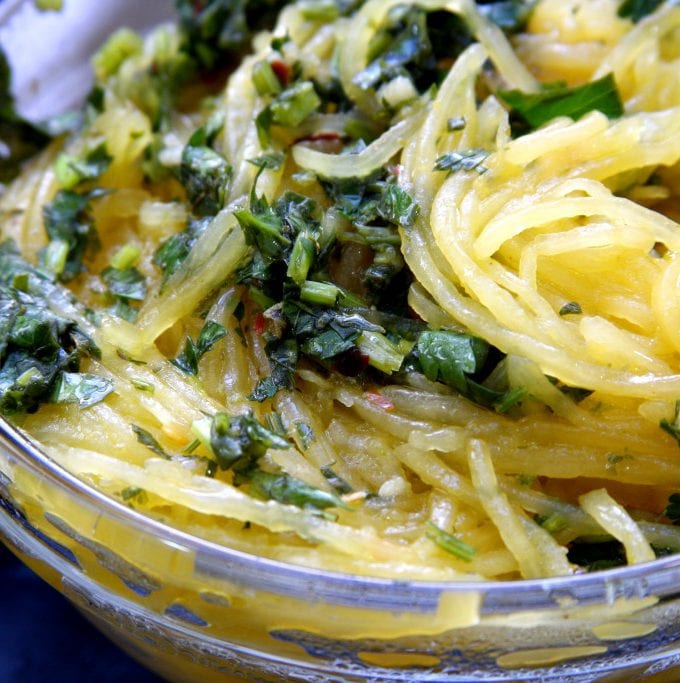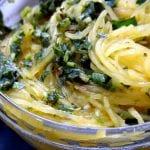 Crockpot Spaghetti Squash with Chimichurri Sauce
An easy, fresh and flavorful veggie dish that is gluten free and perfect for the elimination diet.
Total Time
4
hours
10
minutes
Ingredients
1

med-med/large spaghetti squash

1/2- 1

cup

water

3/4- 1

cup

Chimichurri Sauce *see link above
Instructions
Rinse off spaghetti squash, removing sticker. With a large knife poke about 6 deep holes. Place squash in crockpot and pour water into bottom. Cover and cook for 4 hours on high or 7-8 hours on low. Cooking times may vary depending on size of squash. Check regularly at about 3/4 cooking time. Squash will be tender to the fork when done.

Once cooked remove from crockpot. Cut open length wise and scrape out seeds. Scoop strands of squash with a large spoon into a large serving bowl. Once strand are completely removed pour about 3/4- 1 cup of chimchurri sauce over the top (see link above for recipe). Toss gently and enjoy!
Recipe Notes
*Please use as many organic ingredients as possible.* See link above for my Chimichurri Sauce recipe.