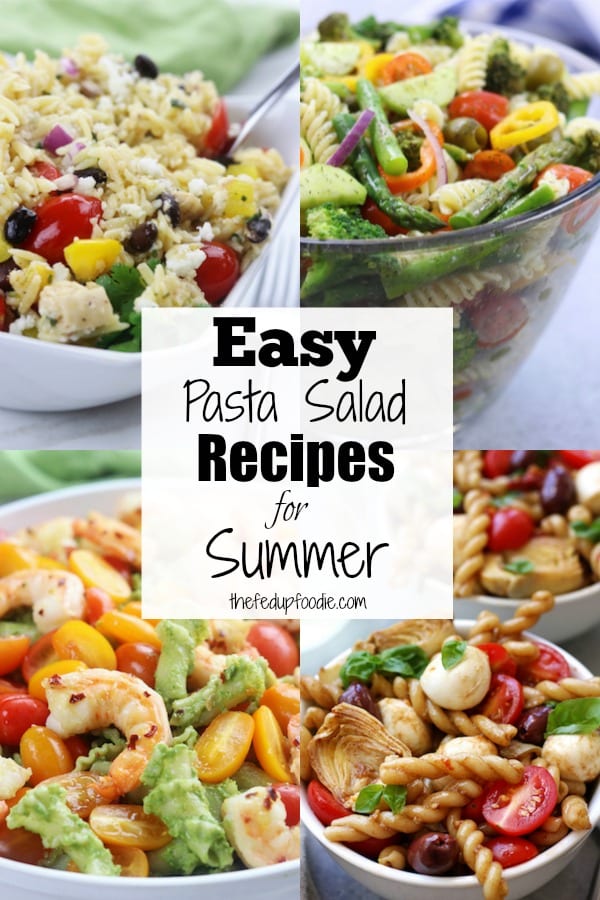 There is nothing better than cold pasta salad on a hot summer day for lunch or dinner. What's even better is when you get a hold of crowd-pleasing easy pasta salad recipes for summer potlucks, parties and cookouts. These are my family's favorite pasta salads that are sure to bring everyone back for seconds.
This post may contain affiliate links which I earn a small portion in sales if a purchase is made. Rest assured though, it is never at any additional cost to you.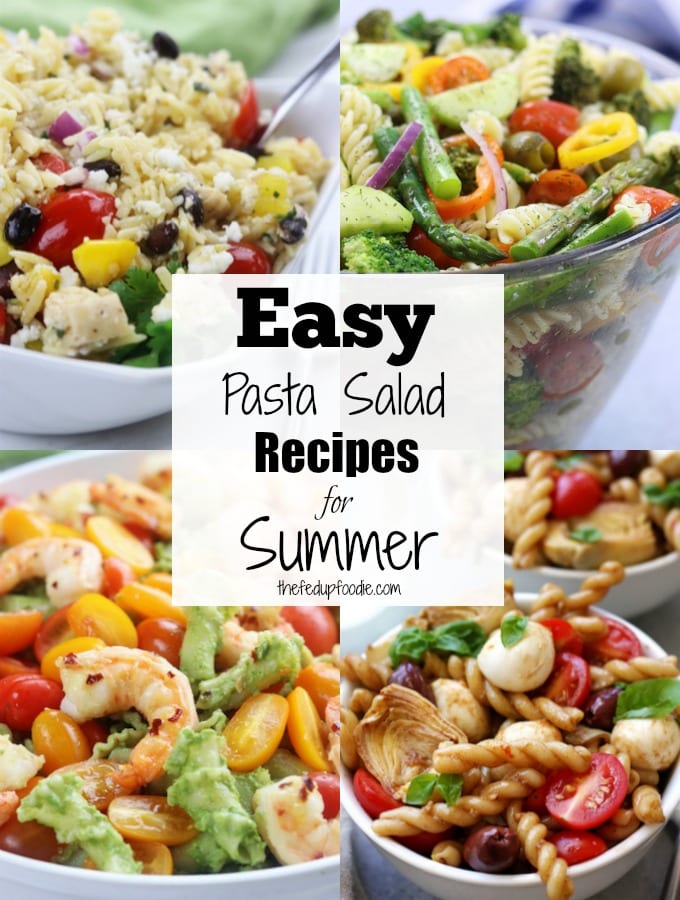 This post may contain affiliate links which I earn a small portion in sales if a purchase is made. Rest assured though, it is never at any additional cost to you.
Crowd-Pleasing Easy Pasta Salad Recipes for Summer
We are a huge pasta salad loving family and have been for decades. Partially because with being Italian, loving a good Italian pasta salad is in our genetic code. We also adore them because they are so incredibly easy to make and can be so flavorful with many fun variations. Thirdly, living in Southern California, cold pasta salad is one of the BEST things on earth on a hot summer day. I have rounded up some of my most tried and true family favorite pasta salads that I have literally seen people go crazy for time and time again. Whether you need a good vegan pasta salad or are in love with a caprese pasta salad, you will find what you need for your cookout, party or easy dinner/lunch.
Best pasta for making Gluten Free Pasta Salad
I am not going to lie to you. In my opinion there will never be a pasta that comes close to how glorious a good Italian pasta made with semolina flour can be. I am, however, very sensitive to the gluten free needs of so many and the desire to have a gluten free pasta that doesn't taste like cardboard. Whether you are looking for a more nutritionally dense noodle or need gluten free, Banza pasta made from chickpeas is an excellent choice. It is high in fiber, high in nutritional density and taste great. CLICK HERE for a great price on Banza Pasta. (affiliate)
Tools for Making Crowd-Pleasing Pasta Salad
Before perfecting the art of making classic pasta salads you will need a few basic tools that are a must. Here is a list of those tools, where you can find them at a great price and why they are a must have tool for your kitchen.
Sturdy Whisk– Having a sturdy whisk is so important if you make salad dressing from scratch to emulsify the oil and vinegar. Here is a set of three whisks that are even more affordable but not as sturdy. (affiliate)
Stainless Steel Bowls– We use our stainless steel bowls literally everyday for everything from pasta salads, salads, popcorn, salad dressings, etc. (affiliate)
Garlic Press– My Italian heart cringes every time I watch food videos that use chopped garlic from a jar. I know, I know…it is so much easier. I am telling you though the $12 purchase and the 5 mins it takes to peel and crush the garlic is so worth it. The taste is just so much better. (affiliate)
Large Mixing and Serving Spoon– When making a large bowl of pasta salad a large mixing spoon makes the job of mixing so much easier. (affiliate)
Beautiful Serving Bowl– Not a necessity but a beautiful bowl always add the perfect touch to your table scape and summer festivities. (affiliate)
Pasta Salad Recipes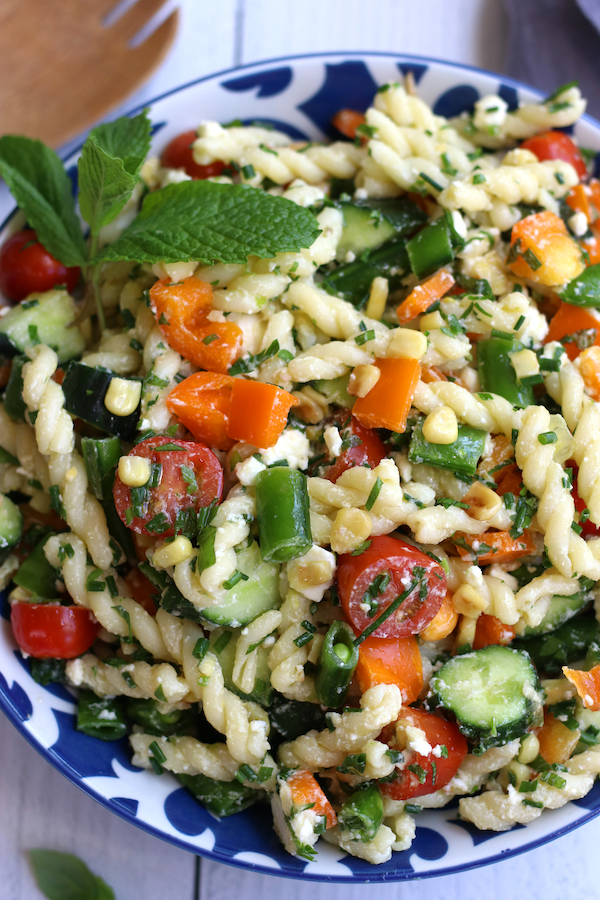 Irresistible Summer Pasta Salad has pan roasted corn, crisp sugar snap peas, savory feta and fresh herbs in a bright homemade lemon vinaigrette. A healthy summer side dish that is very easy to make and is always a hit.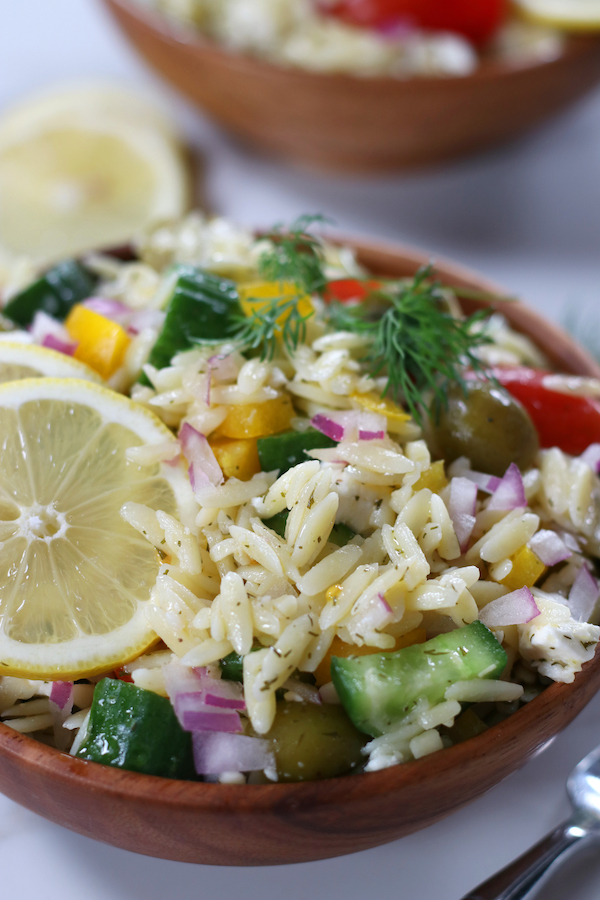 Mediterranean Risoni Salad (aka Lemon Orzo Pasta Salad) has the flavors of lemon, dill and feta. Quick and easy, this salad is wonderful as a side dish or as a light lunch or dinner with the addiction of your favorite protein.
My most popular and absolutely addictive pasta salad is easy, light, refreshing and yet such a satisfying recipe with a simple lemon vinaigrette, olives and fresh veggies. It is the perfect make a ahead dish for company, potlucks or cold lunches during the week. A vegan pasta salad but add a little shrimp or chicken for a complete meal.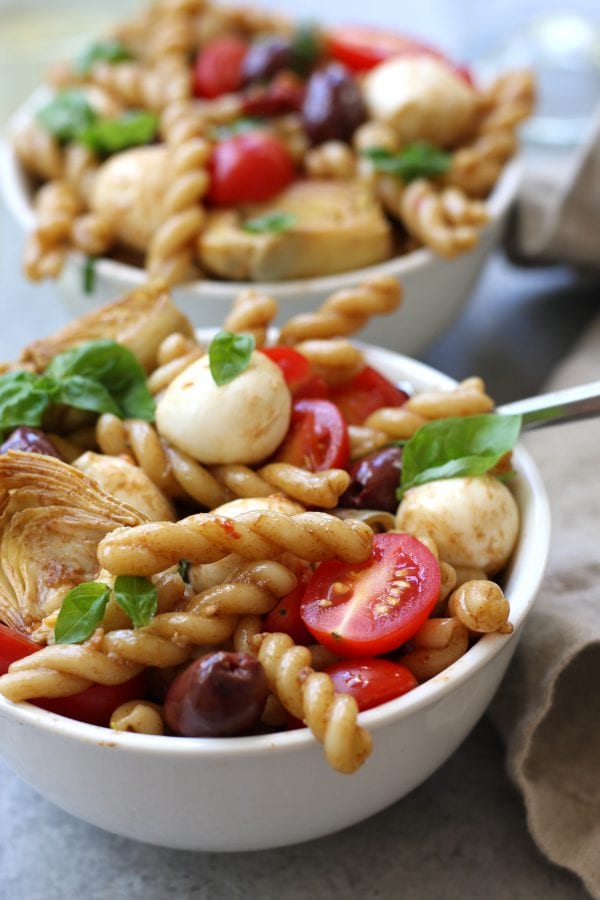 MEDITERRANEAN DELIGHT PASTA SALAD
Mediterranean Delight Pasta Salad (or in other words Caprese Pasta Salad) is an absolute crowd pleaser with a balsamic vinaigrette, creamy mozzarella, kalamata olives and artichoke hearts. A light meal that is great for diners or work lunches. Beware, stopping at one bowl is almost impossible.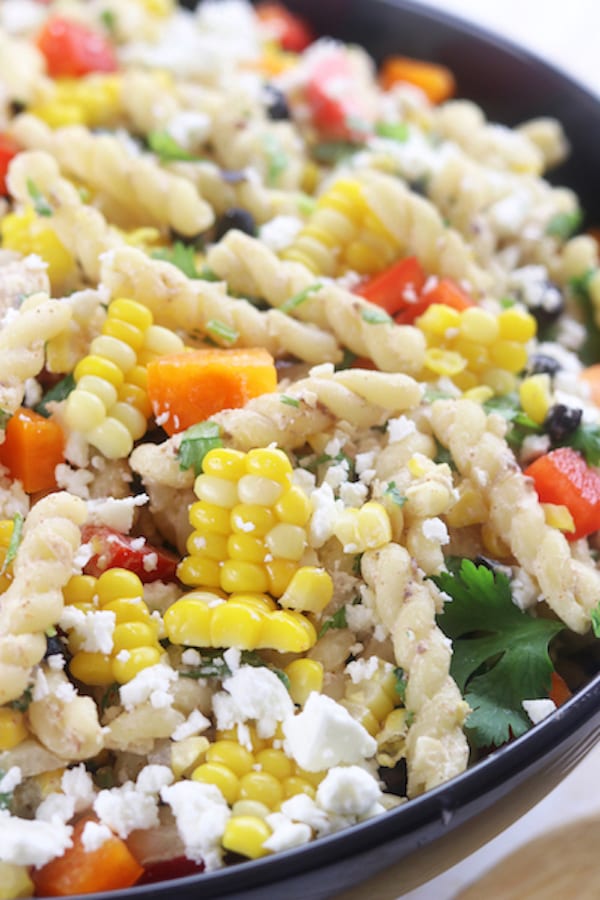 SOUTHWEST PASTA SALAD
Southwest Pasta Salad recipe is like a clean eating version of Mexican street corn pasta salad. With fresh cooked corn, black beans and a creamy Greek yogurt dressing. This pasta salad is perfect for summer parties or dinners.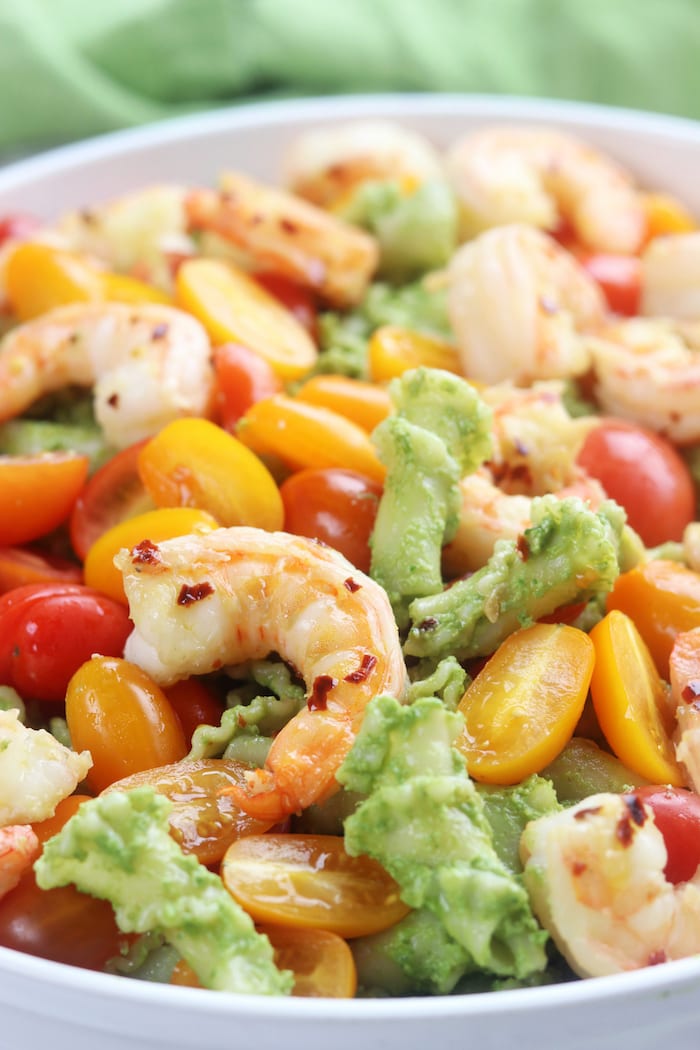 AVOCADO PESTO PASTA WITH GARLIC SHRIMP
Perfect for the dairy free crowd, Avocado Pesto Pasta with Garlic Shrimp is beyond delicious. Easy, delicious and packed with good for you fats, this recipe is sure to satisfy at your next get together or summer dinner.
This is for all the cilantro lovers out there. Cilantro Lime Confetti Orzo recipe unites the comfort of pasta with the fresh citrusy flavors of summer. A perfect make ahead dish for potlucks, lunches or hot summer nights.
BE CAREFUL, this one is crazy addictive. Pea Prosciutto Pasta Salad is a super simple and incredibly delicious recipe for a quick spring or summer meal. With thyme, creamy mozzarella and a red wine vinaigrette you may just have your new family favorite meal.
Creamy Pesto Vegetable Pasta recipe is a quick Mediterranean dinner and delicious way to eat veggies that are in season. Made with roasted veggies, pesto and goat cheese, it is a perfect solution for healthy lunch meal prep. My family devoured the first batch and I immediately made more.
Zesty Chicken Pasta Salad has a subtle balance of tang to spice with red chili pepper flakes, feta, onion and garlic. Simple, fresh and easy to make, this pasta salad is perfect anytime of year and works beautifully with rotisserie chicken.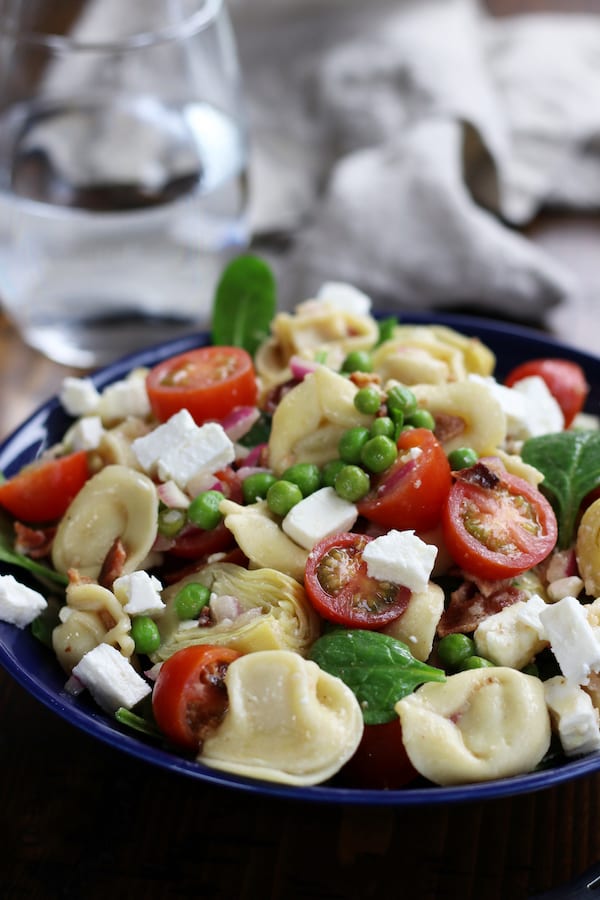 BACON BELLY BUTTON PASTA SALAD
Bacon Belly Button Pasta Salad is just beyond fun with tortellini, bacon, feta and artichoke hearts. Great for potlucks or to make packed lunches just a bit happier.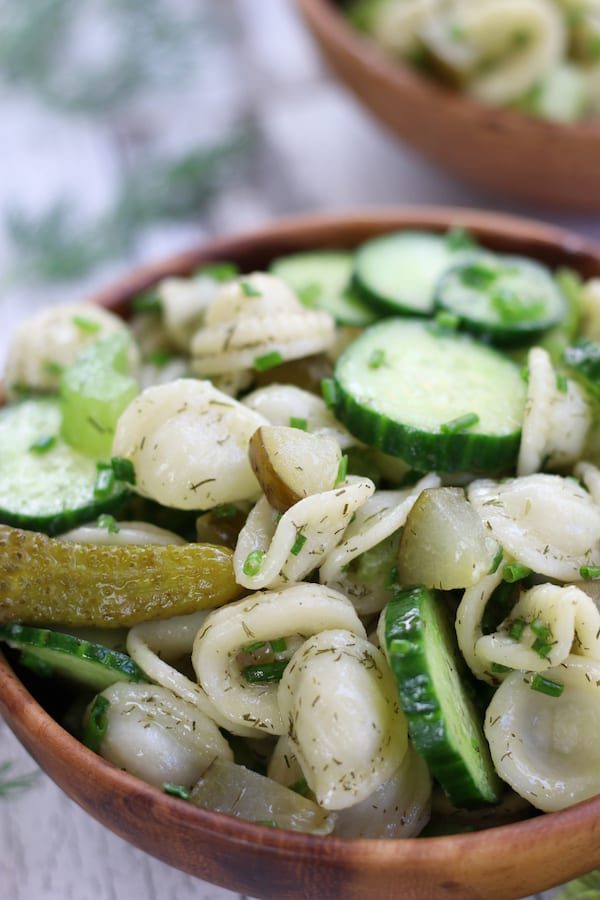 DILL PICKLE PASTA SALAD
Bright and crisp, this Dill Pickle Pasta Salad is mouthwateringly addictive. With absolutely no dairy, loads of chives and dill pickles makes it perfect for your summer cookout.
Don't forget to follow along on Facebook and Pinterest for more savory inspirations.