Living in San Diego means beautiful weather almost all year long, a plethora of Mexican restaurants to choose from, and incredibly fresh produce. It can be a world of fun to dine out here listening to a mariachi band while crunching on chips and salsa and sipping giant sized margaritas. San Diego knows Mexican food.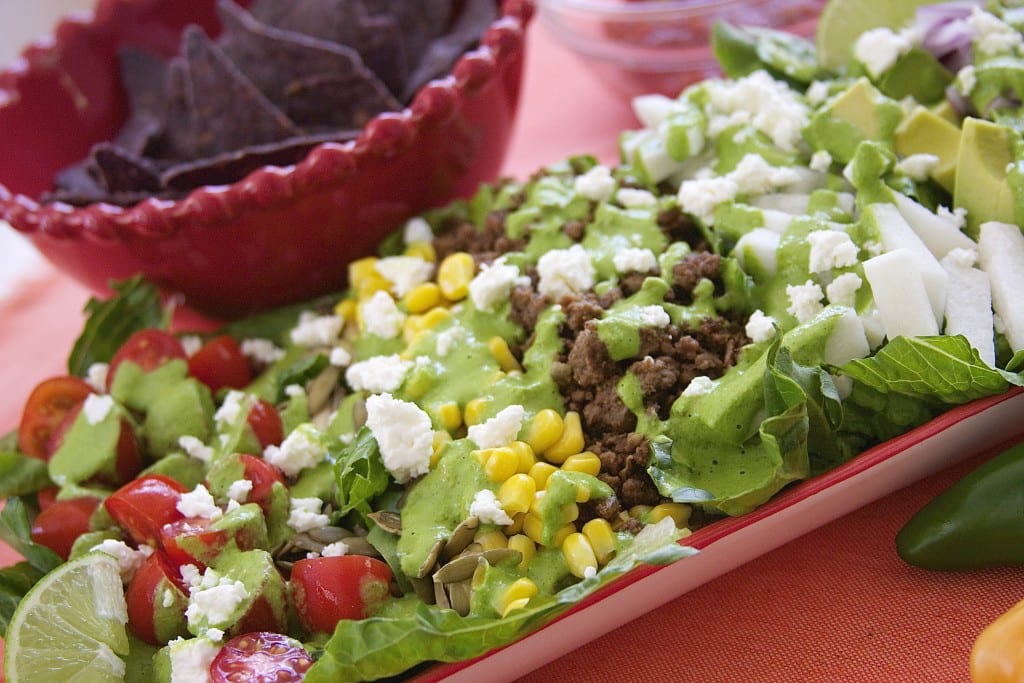 As wonderful as our Mexican restaurants are, I cringe every time I dine at one of them. When you are trying to eat clean, in addition to limiting carbs and gluten, it can be somewhat stressful trying to narrow down the best choices. On one hand, you have the soft tacos made with GMO corn and on the other hand, you have the flour tortillas made with GMO canola oil and gluten. Now don't get me wrong, I still allow myself an occasional treat of dining out and crunching on those yummy chips, as GMO as they may be. I try to do it sparingly, but it does feel like a bit of a sacrifice saying no to those festive restaurants. Making salads like this Flavor Explosion Mexican Salad with my Cilantro Lime Salad Dressing helps me to not feel left out.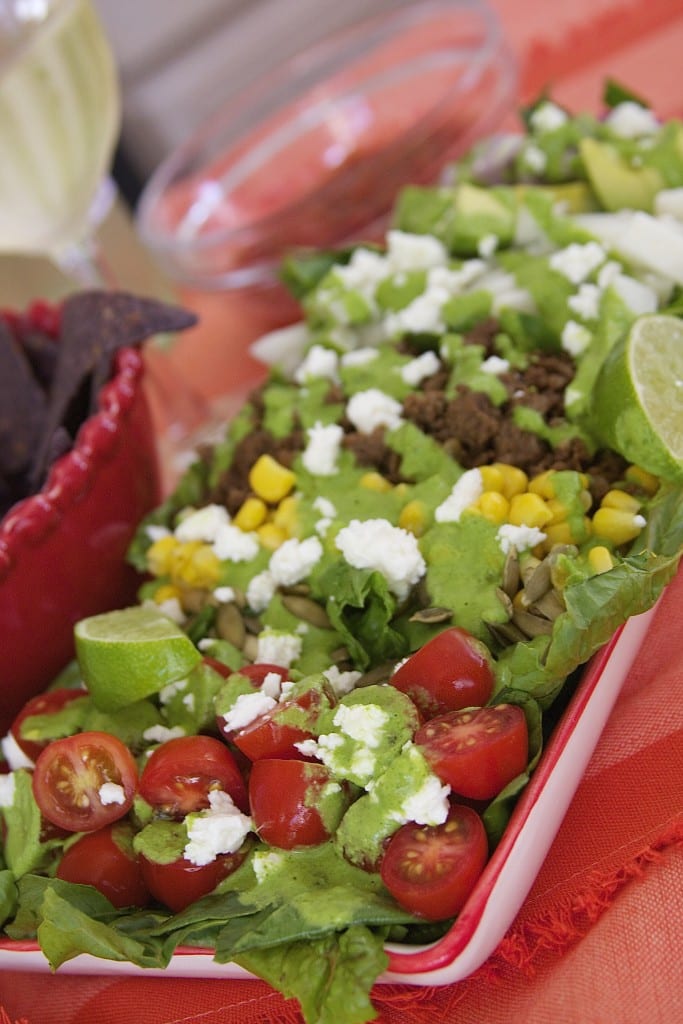 I have made this salad many times and have used various meats. That is the beauty of this recipe, is it works great with shrimp, chicken, top sirloin, ground beef or ground bison. Basically just add your favorite meat or go vegetarian. This Flavor Explosion Mexican Salad is literally so tasty that it could fit the bill for meatless Monday. The day I photographed this, I was in the mood for bison.
What I?most about this Flavor Explosion Mexican Salad:
The marriage of lime and cilantro flavors!!!!???
Perfect dish for my lazy girl days. Make the Cilantro Lime Salad Dressing in advance, defrost shrimp, wash and cut lettuce. Assemble all the yummies and you have a quick & healthy dinner that my inner lazy girl just loves.
Lots and lots of flavorful nutrition.??
If you decide to make this for guests, I suggest not tossing the salad right away. Instead I recommend laying the toppings out in rows. The reason is, it is just not as pretty.
See what I mean? It just doesn't have as much of the pretty factor going on but it definitely has the yum factor.
If you decide to use sautéed meat with Mexican spices, a great trick is to add 2 Tbs of lime juice to your almost done meat and cook for 1 additional minute. It does a great job of deglazing the pan of the savory spices that would have been left behind. The recipe makes enough meat for 5-6 salads but the amount of veggies are for enough for about 1 salad. Buy extra veggies because you will be so happy to have leftovers for lunches during the week.
Updated 9/21/16- Want to know something funny? This recipe is actually the one I am most embarrassed by. Two reasons: 1) Every time I look at the photography I cringe and 2) I thought I was being oh so creative by using ground bison instead of a grilled steak. Now to my defense, I was a brand new blogger when I created this post. You have to admit though that the salad dressing is a bit neon and the orange slaps you in the face. To set your mind at ease the ground bison (or beef) tastes great in this recipe, it just doesn't have the pretty factor. This salad really is incredibly tasty, just don't stare at the pictures too long.
Enjoy this Flavor Explosion Mexican Salad with Cilantro Lime Salad Dressing.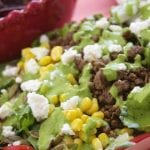 Flavor Explosion Mexican Salad
A savory Mexican Salad perfect for busy days or simply when you are craving Mexican food.
Ingredients
1/4

cup

Cilantro Lime Salad Dressing *see link above

For Sautéed Mexican Meat

1 1/2

tbsp

olive oil

1/2

lg. yellow onion diced

2-3

garlic cloves

1

tsp

cumin

1 1/2

tsp

coriander

1 1/2

tsp

chili powder

1

tsp

sea salt

1 1/4

lbs

ground bison or any organic meat of your choosing

2

tbsp

freshly squeezed lime juice

For the Salad

2-3

cups

romaine lettuce *washed and torn

10-15

grape tomatoes

1/4

cup

roasted pepitas

pumpkin seeds

1/4

cup

corn

1/2

cup

jicama peeled & sliced

1/2

avocado diced

1/4

red onions diced

1/4

cup

cojita cheese

Mexican cheese crumbled

garnish with sliced limes and organic tortilla chips
Instructions
For Sautéed Meat- If using whole cuts of meat, cut into strips. Pour olive oil into a lg frying pan over a medium/medium high heat. Dice onion, add to frying pan and sauté until slightly translucent. Add meat and stir into onion mixture. Peel and crush garlic and add to pan. About halfway through cooking add cumin, coriander, chili powder and salt. Sauté until well browned.Towards the very end of sautéing the meat add 2 tbsp of freshly squeezed lime juice. Continue cooking for 1 additional minute.

For the Salad-Wash and prepare all veggies. Lay out romaine lettuce on plate. Place rows of meat & veggies to look aesthetically appealing. Drizzle Cilantro Lime Salad Dressing (link above) over meat and veggies. Crumble cheese and scatter over top. Garnish with limes and tortilla chips.
Recipe Notes
*Please use as many organic ingredients as possible.*
1) The meats proportions are enough for about 5 salads- perfect for leftovers.
2) Jicama is a root vegetable and is similar to a cross between an apple and a turnip. Is it slightly sweet and has a great crunch. To prepare wash, peel with a vegetable peeler and then slice into either sticks or dice. Google the nutrient content of jicama and you will want to include it in your diet on a consistent basis.