Once you have Garlic Studded Slow Cooker Carnitas Tacos you will never look back. The studded garlic permeates the pork with its aromatic taste while the oregano, chipotle, orange and lime intertwine in a perfect marriage of tastiness.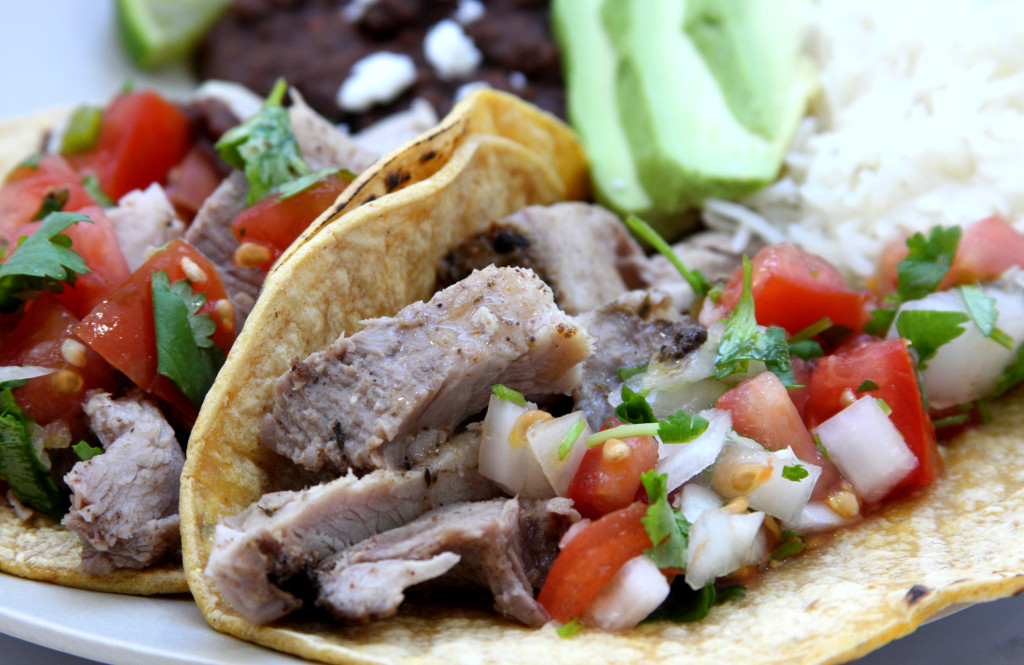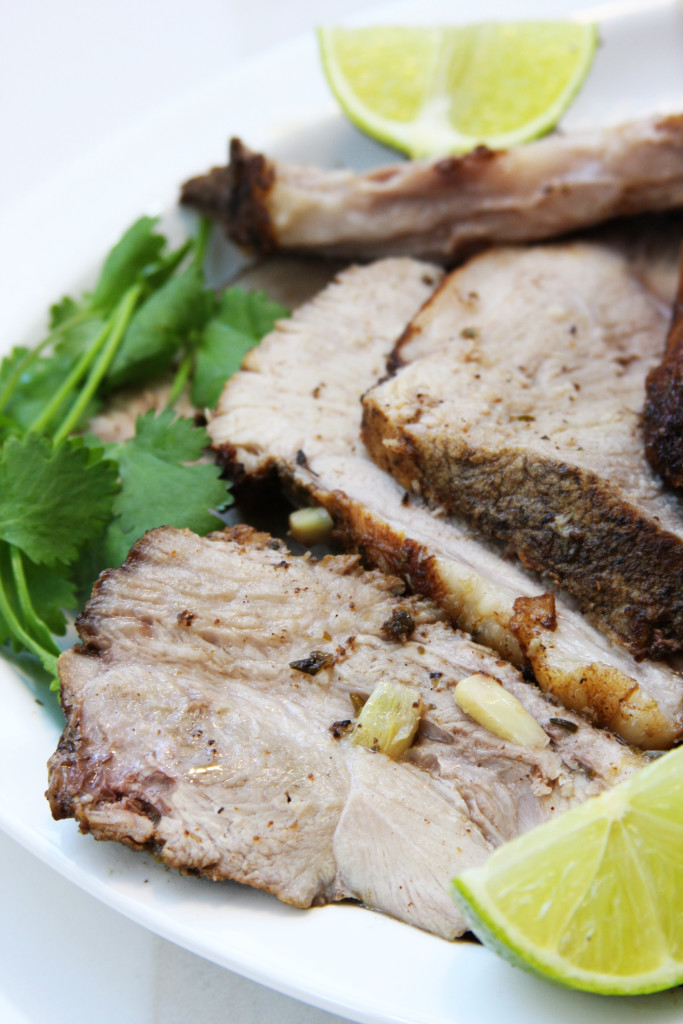 I do believe that it's a rule, if you live in San Diego, you have to LOVE tacos. There pretty much isn't a Tuesday that passes that I don't see a Taco Tuesday post from at least one of my friends dining at one of our local Mexican eateries. Is it the burst of spices that makes us love them so much? Maybe it's how creative you can be when making tacos. Whatever it is, we adore our tacos. The best part of making tacos at home are the wonderful leftovers. I can literally eat them for breakfast the next day, but hey, I can also eat ice cream for breakfast (shhhh….don't tell anyone). What makes this Garlic Studded Slow Cooker Carnitas Tacos recipe special is the beautiful chunks of garlic nestled in the pork that accompanies the spices and citrus.
My parents have been studding their cuts of meat for longer then I can remember and it has been one of the secrets of achieving incredibly tasty meat. If you have never studded meat before, then you will need to prepare yourself if you are a little squeamish. Not only will you be touching raw meat but also putting your finger inside the cut of meat. Yes, you read correctly.
Granted, if you are not a garlic lover then just skip this step. If you are like me and garlic pulsates through your veins, then you will absolutely fall in love with this method. Not only does the meat become infused with the aromatic garlic, but the garlic picks up the flavor of the pork. An absolute win win in my book.
For this Garlic Studded Slow Cooker Carnitas Tacos recipe I did a rub with the mixture of dried herbs, spices, sea salt and pepper.
Searing the roast is an optional step. Personally I love meat that is seared before cooking because of the extra depth of flavor it creates by caramelizing the meat.
This Garlic Studded Slow Cooker Carnitas Tacos recipe goes perfectly with my Pico de Gallo and is so perfect anytime of year. Serve with beans and rice, or chips and guacamole. Whatever you serve it with, your taste buds will be content.
PRO TIP: For crispy authentic meat skip the resting period and slice meat right away. Place slice meat into pan, pour juices over top and broil for 3-5 minutes.
Enjoy!!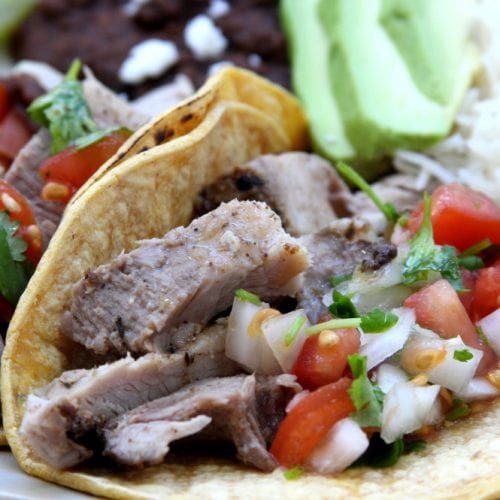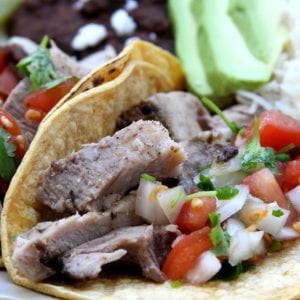 Garlic Studded Slow Cooker Carnitas Tacos
A slower cooker carnitas meat bursting with flavors of garlic, herbs, spices and citrus. Perfect anytime of year.
Print
Pin
Rate
Cook Time:
4
hours
30
minutes
Total Time:
4
hours
55
minutes
Servings:
16
-20 servings
Ingredients
For the Roast

4- 4 1/2

lb

pork roast *picnic

loin or shoulder cut

1-2

tbsp

frying oil *I used coconut oil

1

extra lg brown onion

6-7

cloves

garlic

3/4

cup

orange juice *juice of 2 oranges

1

lime

For the Dry Rub

1

tbsp

chili powder

1/4

chipotle powder *optional

1- 1 1/2

tbsp

dried oregano *depending on taste preferences

1

tsp

thyme

1 1/2

tsp

sea salt

1/2

tsp

ground black pepper

For the Tacos[/b]

20

corn tortillas

favorite salsa
Instructions
Let roast sit at room temperature while preparing rub and other ingredients.

Cut onion in half, then into strips and then line bottom of slow cooker with cut onions. Set aside.

In a small bowl mix together chili powder, chipotle, oregano, thyme, sea salt and pepper. Set aside.

Peel and cut garlic cloves into slivers, yielding at least 20 pieces of garlic. Puncture roast with a medium knife and insert garlic into roast with finger. Insert about 5-6 garlic slivers for larger sides of roast and about 3 to 4 for smaller sides of roast. Once roast is studded with garlic, sprinkle on dry rub and then rub onto all sides.

Searing the roast is an optional step that adds an extra layer of flavor by caramelizing the meat. Heat a large frying pan over medium high heat. Add oil. Once oil is heated, sear each side of roast for approximately 2-3 mins or until browned.

Add roast to slow cooker. Pour orange juice onto the side of roast. Cut lime into wedges and squeeze by hand into slow cooker. Add squeezed lime wedges to roast.

Cook Times- 4 1/2 hours on high or 7-8 hours on low for sliced pork- internal temp about 150℉. 5 1/2- 6 hours on high or 10-11 hours on low for shredded pork- internal temp approximately 175℉.

Once roast is done cooking, remove from slow cooker and let rest for about 15 mins. After resting either slice meat or shred with two forks.

For the Tacos- Heat corn tortillas over gas burner for about 30-45 secs per side. Fill with carnitas meat and favorite fillings.
Notes
*Please use as mush organic ingredients as possible. This cut of meat was pasture raised, purchased from a local farmer.*