What is more fun on a Friday or Saturday night than having family night, playing games and eating sliders, fries and dip? This is the kind of meal that all ages of the family can enjoy and making it at home gives you complete control over the ingredients. This Garlic Sweet Potato Fries with Herbed Ranch Dip recipe is a perfect way to celebrate family time during the Fall.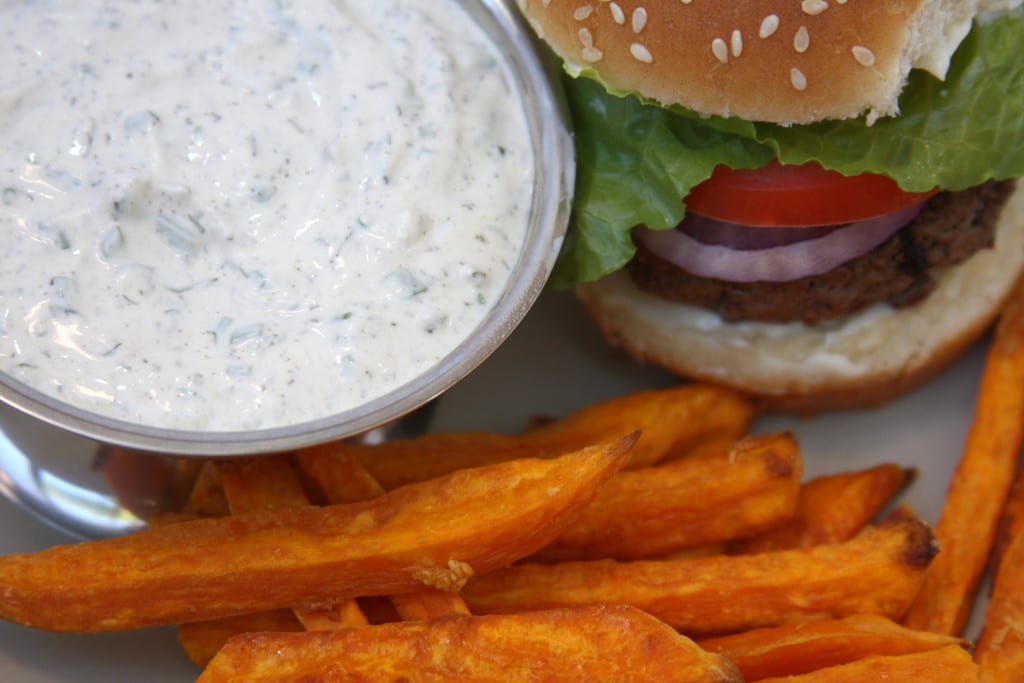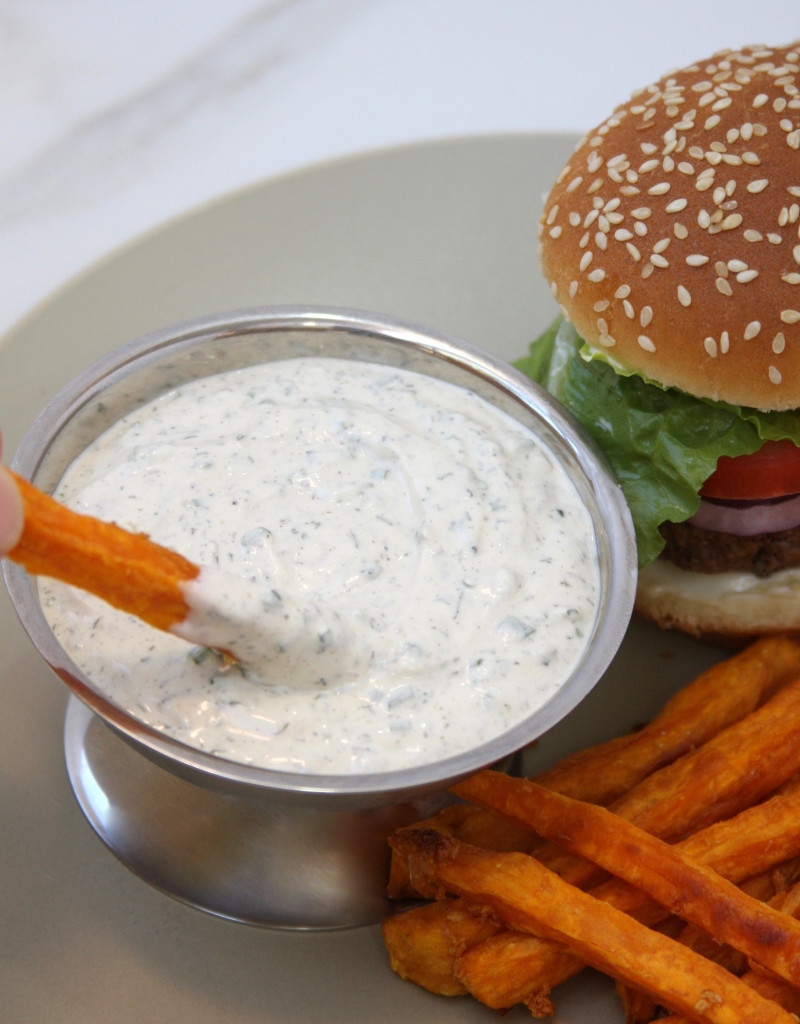 A few weeks back I came across Andrew Wilder's blog Eating Rules and his October Unprocessed Challenge. I absolutely love the idea of dedicating a month to changing diet. I do know that trying to go unprocessed can feel like a daunting experience for many people. Trying to figure out where to start, worrying about how much it will cost, the time required and finding meals that actually taste good are all common feelings that many have. The beauty of our current technical age is that there are so many bloggers and websites, like Eating Rules, dedicated to helping with the transition. That is my hope is for this site. That you will walk away with not only tasty recipes but tips and tricks along the way that will make eating real food a little easier.
When I made the switch over to making my own salad dressings, creating a ranch dressing that I loved as much as the store bought versions, was the most challenging. Creating the different vinaigrette's was a breeze for me. Finding a caesar dressing I enjoyed was fairly easy but the ranch version was definitely the hardest. I have to say I have never completely duplicated the taste of the store bought ranch version but what I did create, I love even more. The chives, dill and background herbs make this Herbed Ranch Dip extremely refreshing and soul satisfying. It is a fast and easy recipe and best of all, there is no high fructose corn syrup, preservatives, artificial flavors, trans-fat or MSG. When you start thinking about all the extras that come with the store bought dressings and what it could possibly being doing to your heart, kidneys, liver and thyroid, cooking from scratch all of a sudden sounds very appealing.
Anyone who has been following me knows that I am huge on flavor and eating organic. When cooking at home one of the easiest ways to pump up flavor is with herbs and spices. A huge frustration for so many though, is the cost of buying those herbs and spices in the organic versions. I completely understand the frustration. When you are looking at spending another two or three dollars just so your dill weed will be organic, it feels like you are throwing your money away. For a very quick run down covering the differences between conventional herbs and spices and organic versions, check out Food Babe's article. Also, for the answer to why is organic food so expensive, Robyn O'Brien's article is a must read. The way I found making the transition much more palatable for my wallet, was to buy 1 or 2 organic versions every time I went to the grocery store. Over a relatively short period of time I had a cabinet full of organic spices. It does a world of good for your mindset to only spend $5 at one time rather than $200 at one shot. Now that my cabinet is full of organic spices, dill weed, cumin, coriander and chill powder are the ones I have to replace most often. Keeping my organic spice cabinet full, has become very simple.
Tips about Garlic Sweet Potato Fries with Herbed Ranch Dip:
Make sure to place parchment paper under the sweet potato fries when baking. It helps them not to stick to the pan and makes clean up so much easier.
Don't over crowd your fries. Giving these little beauties some personal space will help them to crisp up beautifully.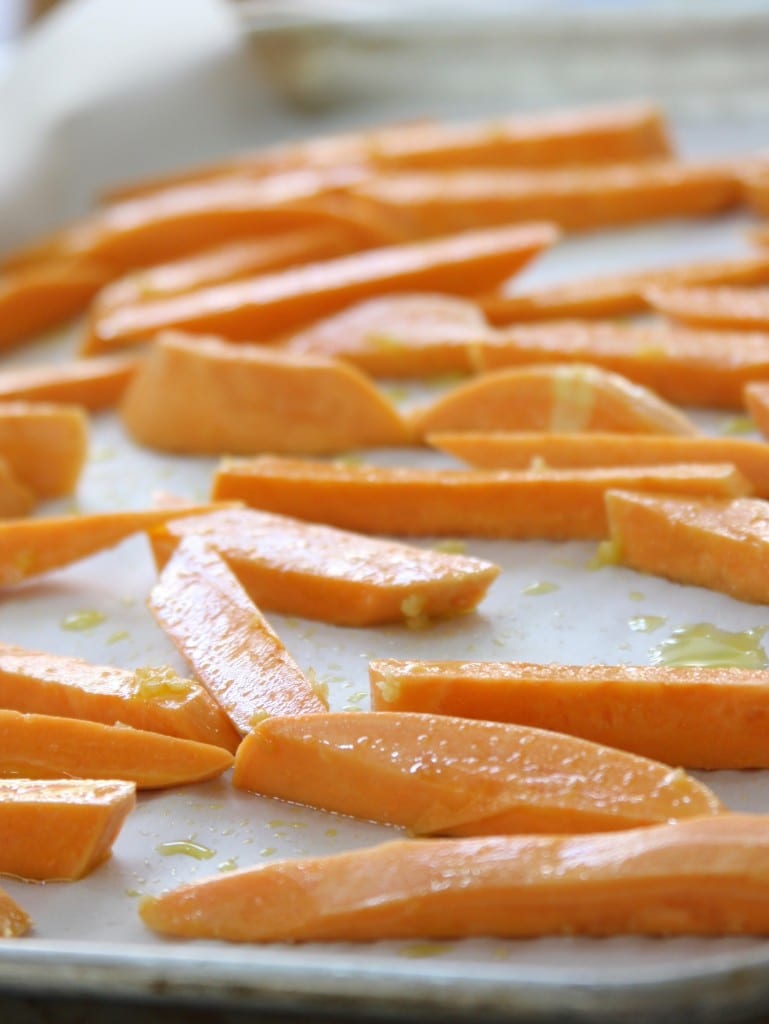 Sprinkle the salt on the fries once they are on the parchment paper before cooking. It is easier to control not over salting. (affiliate)
To make the Herbed Ranch Dip into a salad dressing, add 1 tbsp of buttermilk at a time until you have the consistency you prefer.
Here are some of my favorite spices for the Herbed Ranch Dip: garlic powder, onion powder, dill, basil and marjoram. (affiliate)
Family night just became a little less worrisome with this Sweet Potato Fries with Herbed Ranch Dip recipe. Lots of flavor and fun minus all the harmful extras.
Enjoy this Garlic Sweet Potato Fries with Herbed Ranch Dip!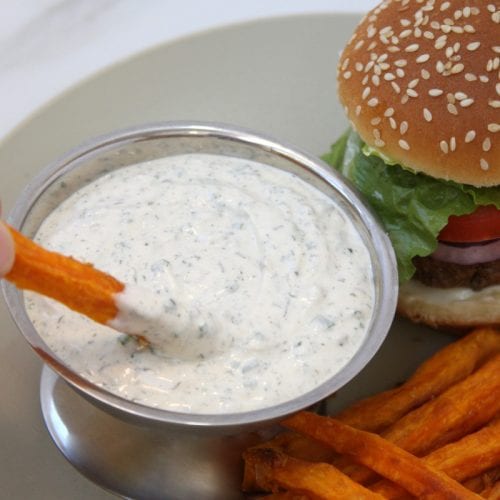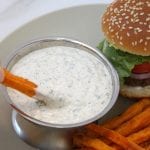 Garlic Sweet Potato Fries with Herbed Ranch Dip
An refreshing real food dip for savory Garlic Sweet Potato Fries.
Ingredients
For the Fries

8

small sweet potatoes

4

tbsp

extra virgin olive oil or organic coconut oil

6-8

med cloves of garlic

salt & pepper to taste

For the Dip

1 1/2

cups

plain greek yogurt *use nonfat if trying to lower calories

1/2

cup

mayo

1

tbsp

worcestershire sauce

1/2

tbsp

red wine vinegar

1/4

tsp

garlic powder

1/4

tsp

onion powder

2

tsp

dill weed

1

tsp

basil

1/2

tsp

marjoram *optional

1/3

cup

chopped chives

salt & pepper to taste
Instructions
For the Fries- Preheat oven to 400 ℉. Wash and peel sweet potatoes. Cut into 3/8 of an inch steak slices and then into 1/4 of inch fries for a smaller fry or 1/2 inch for a larger fry. Place into large mixing bowl. Measure and add olive oil. Peel and crush garlic over fries. Stir thoroughly so oil and garlic covers uncooked fries evenly. Place parchment paper over top of 2 cookie sheets and spread fries over paper making sure to not over crowd fries. Sprinkle Salt & pepper to taste. Bake for approximately 40 mins or until desired crispness. Let cool for a few mins before eating.

For the Dip- In a medium size mixing bowl, measure all ingredients and mix well. Refrigerate until needed.
Recipe Notes
*Please use as many organic ingredients as possible.*
To make dip into a ranch dressing, add 1 tbsp of organic buttermilk at a time until desired thickness.