Thanksgiving is almost here and with it comes lots of leftovers. I can feel the food coma already. If you are looking for a creative way to use your turkey outside of the traditional turkey sandwich, this Harvest Turkey Salad with Orange Sherry Vinaigrette is a perfect fit. Full of nutrition and flavor but minus all the guilt of the Thanksgiving feast.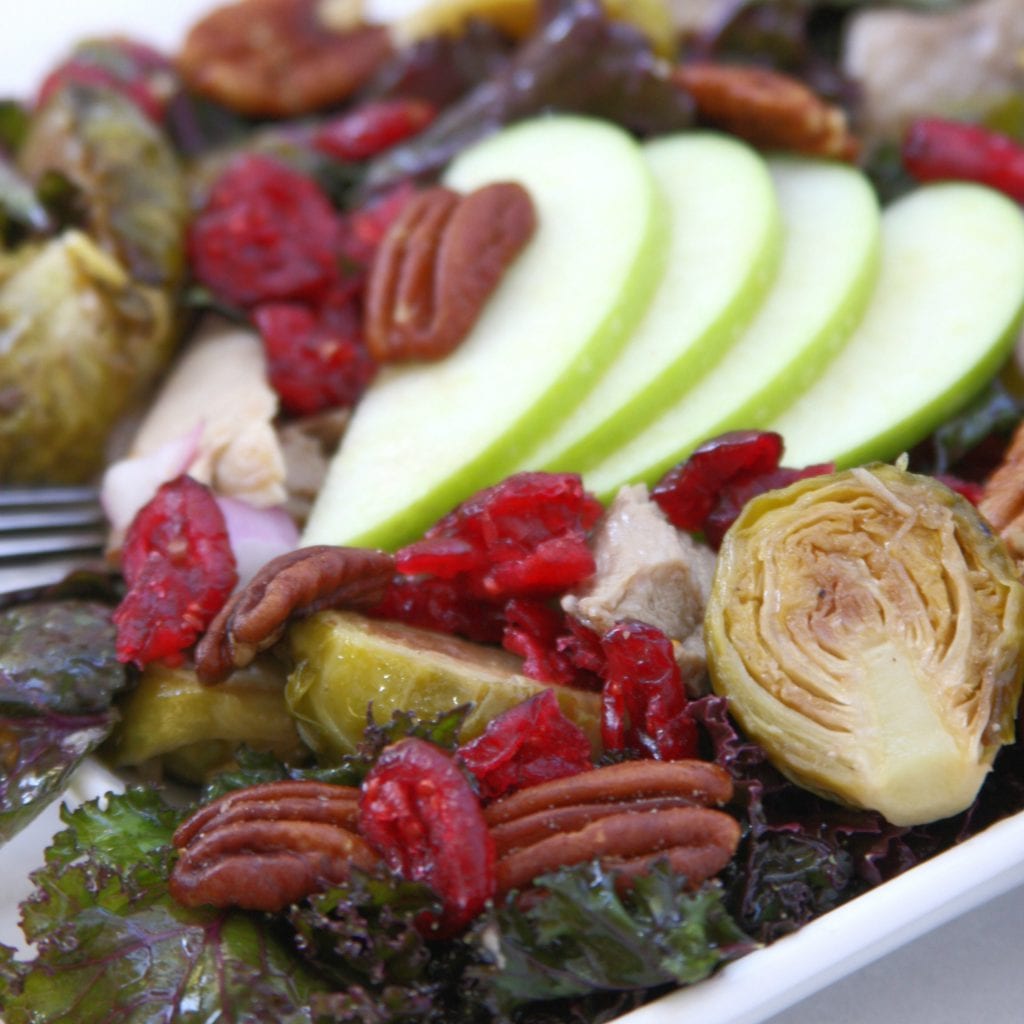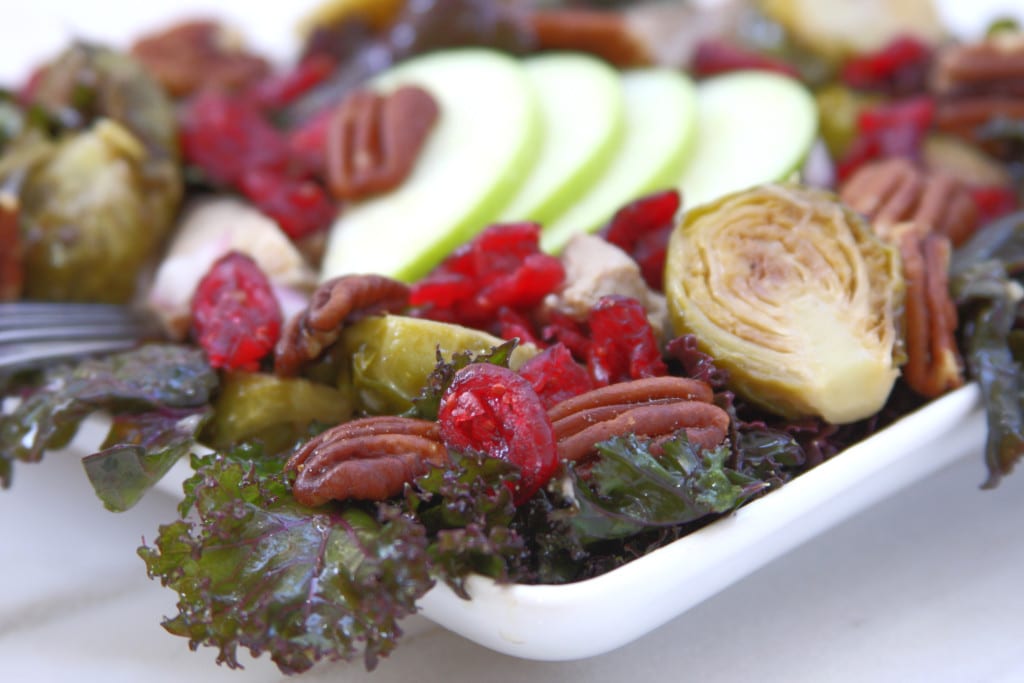 This last week I was highly honored to have a guest post on Andrew Wilder's site Eating Rules as part of his October Unprocessed Challenge. I am one of the new kids on the block in the blogging world and to play with the big kids was exciting, to say the least. The main reason why it was so important to me to be apart of the challenge, I whole heartedly believe in the quest of supporting readers towards a more unprocessed life. Why am I so passionate about this whole eating healthy thing? Well let me share with you a bit of the back story.
The day my mom went into surgery for what was supposed to be a routine hysterectomy, she was only supposed to be under for a very short time. Hours passed while I sat nervously with a rock in my stomach, knowing something was desperately wrong. My father and husband played cards trying to pass the time while I ran every possible scenario through my head. When the Dr finally poked his weary head out into the waiting area, I was the first out of my seat, sprinting to his side. In my typical fashion I wanted to get to the heart of the matter right away, "Is she still alive?" His reply, "Yes, but barely." By the end of his sentence my husband and father joined us in the private 'break the bad news room'. "She has kidney cancer and…" he proceeded to tell us the details of the size of the tumor, what he saw and how she almost died on the table. My mind was racing with thankfulness that she was still alive, anger that they misdiagnosed her so horribly, concern with how much pain she was in and what were the steps we needed to take next. Paul and I comforted my grieving father and we moved forward as best as we could.
The first couple of weeks after the surgery were spent just helping her to cope with the horrible pain. I can't speak for other daughters, only myself as a daughter, but I always wanted the absolute best for my mom. You can imagine the heart break I felt watching the pain, the coming metastasized brain tumors taking over, the loss of hair, the frequent 911 calls and long trips to the ER. Never once did any of her many Dr's talk to her or us about nutrition with the exception of telling her not to take a multi vitamin and "there are a few studies that show cancer patients taking probiotics causes an overgrowth of bacteria". This didn't ring true to us but when you are in the midst of cancer treatment, dealing with the side effects of the treatment and aggressive cancer, you are in survival mode.
Throughout my my mom's illness, her passing and even up until a few months ago when I resigned from my position at work, I was under extreme, varying, amounts of stress. As most people do going through similar stress, I stopped exercise and focused all my free time on my mom in addition to eating way too much comfort food as a means of coping. My body paid the price. Through this journey I was having all kinds of weird symptoms and gynecological issues. Some where about a year after her passing, I had many signs pointing in the direction that I had a condition called Polycystic Ovarian Syndrome or PCOS for short. Those closest to me knew that I had dug deep and educated myself throughout this whole journey. By the time I was getting different test results back indicating what I was struggling with, I put the breaks on using the traditional medical approach. I did not let a diagnosis happen because I did not feel the standardized conventional medical approach was right for me. A majority of Dr's will very openly admit that they know very little about PCOS. The approach is usually metformin to control blood sugar issues and the birth control pill to mask symptoms sprinkled with a few other pharmaceuticals. This was not for me. Thank God, in my avid search for information, I found an incredible blogger, PCOS Diva. For anyone suffering with this condition I highly recommend becoming familiar with her site as she shares phenomenal information. She often interviews Dr's that have an integrative medical approach. So you may ask, what is integrative medicine? I would personally define it as an approach that looks at the whole person, getting to the heart of what caused the medical condition rather than just treating symptoms. Integrative medicine uses both conventional medicine along with alternative medicine. The idea that nutrition falls within the alternative medical approach is infuriating to me, however the tides are very slowly changing. For a better idea of what integrative medicine looks like, check out Andrew Weil's site, as he is one of the most popular leading M.D's in integrative medicine.
As I dug deeper into becoming healthier from this hormone imbalance that is called PCOS, I learned of the profound impact certain supplements have, the powerful role of nutrition, exercise is crucial and how controlling stress is essential to becoming healthy. I also learned that the chemicals in our food and high amounts of pesticides act as xenoestrogens. Xenoestrogens are endocrine disrupting chemicals that mimic estrogen (1) (2) and science is highly aware of the correlation of xenoestrogens and development of disease (3). Going even deeper I learned that the food we were eating, namely Genetically Modified Organisms (GMO's), are becoming saturated with these xenoestrogens's due to the use of glyphosate, the primary ingredient in Roundup (4).
Upon learning about the current state of our food system I had a world of mixed emotions stirring in me. I was disappointed in myself that I succumbed to the comfort foods that were heavy in the GMO crops during my mom's battle with cancer. I felt unprotected that I had unknowingly been eating these xenoestrogens. I was angry at the FDA. I felt scared that maybe that I was dealing with cancer after watching what my mom had been through. I was frustrated in the prospect of going organic and that the cost of doing so was definitely higher. I desperately wished I had this knowledge much earlier in life. Among all these mixed emotions I mostly felt empowered by such incredible women as Robyn O'Brien, Food Babe and 100 Days of Real Food and the road they were paving for a cleaner food system.
I am not the end all, be all resource on GMO's, however I am fairly well informed and want to express my opinion. What is happening today is we basically have a civil war going over the safety of GMO's and the interesting element is scientists are split down the middle with a 'he said she said' type of science (5) (6) . The pro GMO side reiterates that correlation does not equal causation. In other words, even though our society is seeing ever increasing signs of disease (7), we can not say that GMO's are a culprit. As much as I love that America has an 'innocent until proven guilty' approach in our justice system, I do not believe it belongs in our food system. When it comes to chemically induced changes to our food, I feel we need a guilty until you can prove invariable innocence. The general public was eating GMO's long before we had the knowledge of them and there is still a battle going on today to keep us in the dark by not labeling products (8). When learning of the history of the induction of GMO's, it feels very much like the best interest of the public's health was not taken into consideration, regardless of the 'feed the world' mentality (9). I feel for me personally that my struggles happened because of the comfort food (riddled with xenoestrogens and antibiotics) I ate while my mom was sick, the incredibly high amounts of stress, the lack of exercise and just the general not taking care of myself during the time my mom's illness.
So where is the silver lining in all of this? We are starting to become much more involved in our food system then I have ever seen before. We are asking questions and debating with each other . We are signing petitions, letting our voices be heard and voting with our purchases. Food companies are listening (10). Ultimately this means that we are heading down a road of transparency over what is in our foods.
For me personally I am doing so much better today than I had been during the onset of issues I was having. I have learned so much of the body's miraculous ability to heal if given the right tools and everyday is a healing opportunity for me. I am passionate and so excited about sharing not only sharing soul satisfying meals but also helping people to make a transition to foods that are cleaner all while providing higher levels of nutrition.
So come along on this journey with me. This Harvest Turkey Salad with Orange Sherry Vinaigrette could be a great first step. It has highly nutritious kale and brussels sprouts along with the comfort of pecans and cranberries. The Orange Sherry Vinaigrette will bring a little sunshine into your chilly Fall day. This Harvest Turkey Salad with Orange Sherry Vinaigrette is sweet, tangy, and has a satisfying crunch. A perfect use for the leftover Thanksgiving turkey.
Enjoy!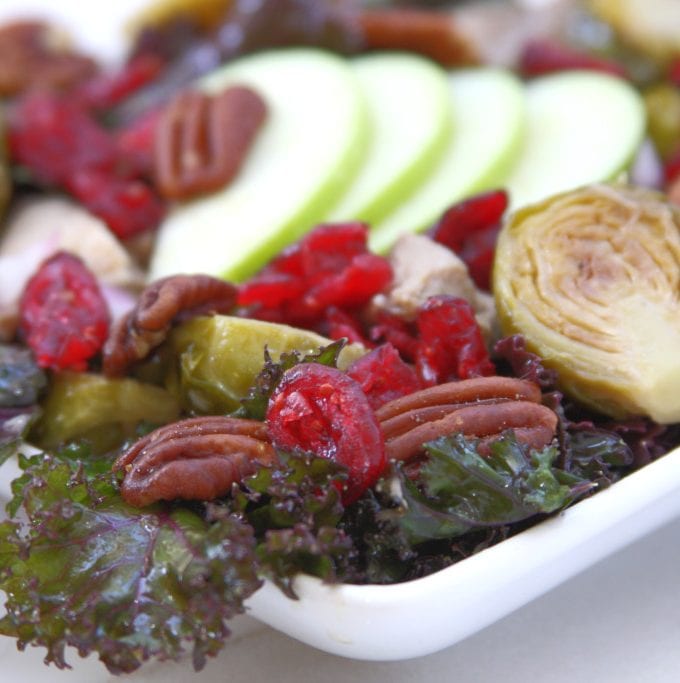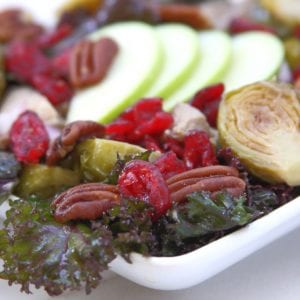 Harvest Turkey Salad with Orange Sherry Vinaigrette
A Fall salad using a sherry orange vinaigrette, Thanksgiving turkey, seasonal vegetables and fruits.
Print
Pin
Rate
Total Time:
1
hour
5
minutes
Ingredients
For the Brussels Sprouts

1 1/2

lbs

brussels sprouts

2

tbsp

tbsp extra virgin olive oil

1/4

tsp

sea salt

pepper to taste

For the Vinaigrette/b]

1/2

cup

extra virgin olive oil

1/2

tsp

orange zest

2

tbsp

fresh squeezed orange juice

1/4

cup

sherry vinegar

3

cloves

garlic

2

tsp

honey

For the Salad

2- 2 1/2

cups

large diced turkey meat

1

bunch red kale

1/2

red onion

1

small granny smith apple

1/3- 1/2

cup

dried cranberries

1/2

cup

roasted & salted pecans
Instructions
For the Brussels Sprouts- Preheat oven to 350℉. Wash, cut brussels sprouts in half placing into mixing bowl, drizzle with olive oil. Sprinkle with salt and toss well. Lay sprouts evenly on cookie sheet and bake for approximately 45 minutes. Larger brussels sprouts will take a bit longer.

For the Kale- While the brussels sprouts are baking, wash and tear kale into bite size pieces, discarding of the tough center core and making sure to shake off excess water. Place kale into large mixing bowl. As soon as brussels sprouts are done baking transfer to top of kale. Cover with alundum foil and let sit for about 20 minutes. The heat from the brussels sprouts will slightly cook the kale and make it more tender for eating.

For the Vinaigrette/b]- While sprouts and kale sit, measure olive into a small mixing bowl. Zest orange and add. Whisk in orange juice. Whisk in sherry vinegar and honey. Peel and crush garlic, add to vinaigrette and stir well.

For the Salad- Once brussels sprouts and kale mixture has sat covered, pour vinaigrette over top of veggies. Dice turkey, add to bowl. Roughly dice red onion and dice apple leaving on skin but removing seeds, add to kale mixture. Measure cranberries and pecans, add to bowl. Toss well.
Notes
*Please use as many organic ingredients as possible.*
This salad can be made and dressed the day before. Tastes great cold and chicken can be substituted for turkey meat.