Cold winter evenings call for a heart warming meal like a warm bowl of soup. If you love broccoli and you love potatoes, than you will fall in love with this Hearty Crockpot Broccoli Soup.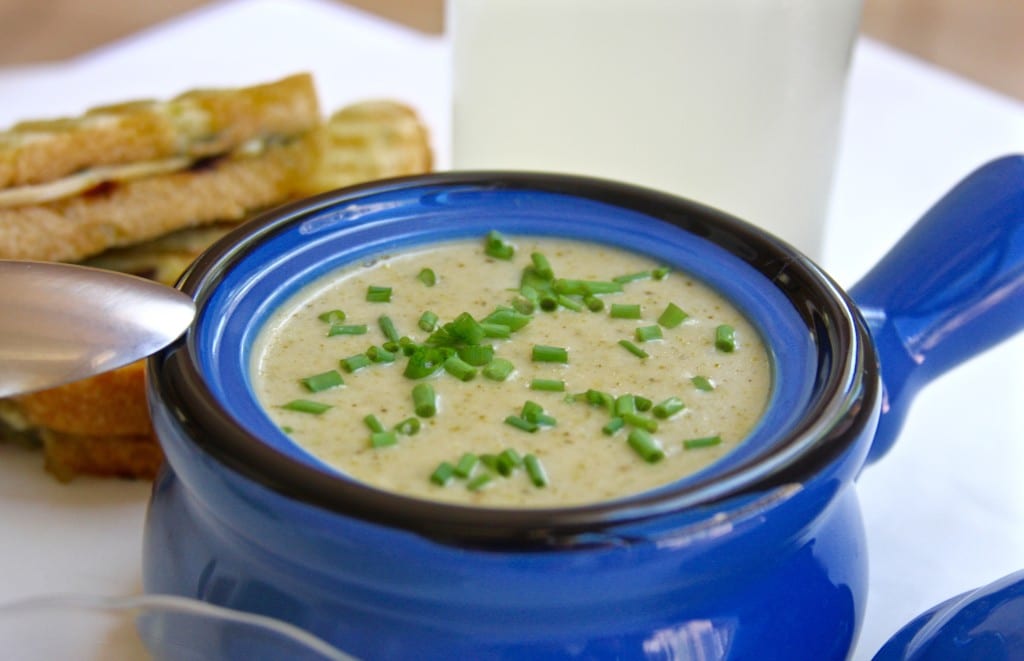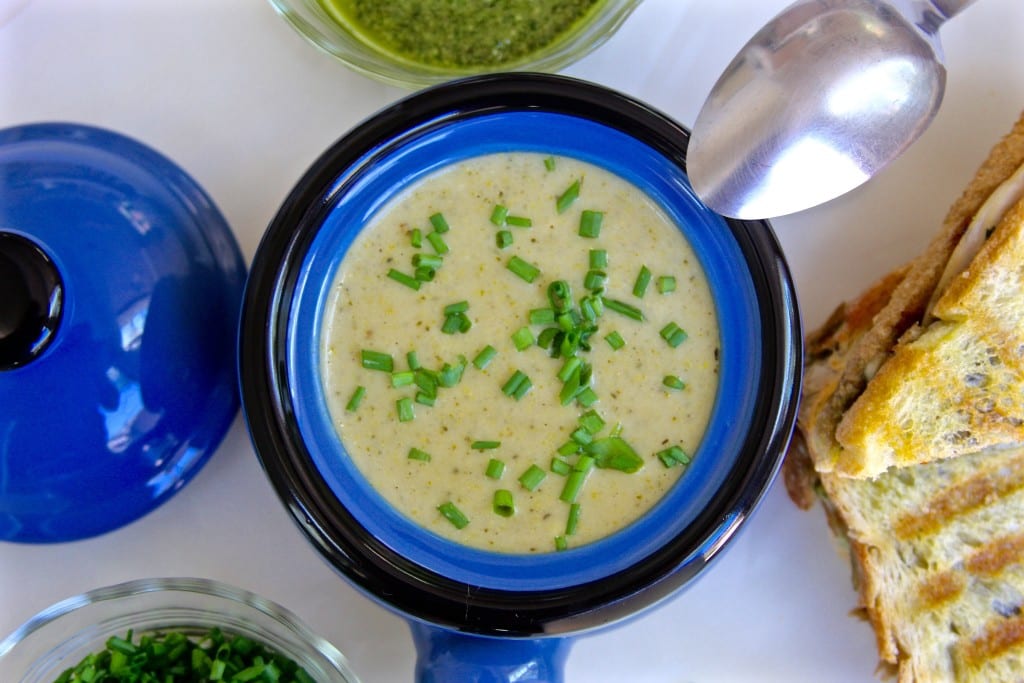 Soups tend to be a comfort food for me. I am so excited for the weather to cool down enough to start making a variety of these heart warming meals. It has been HOT here in Southern California lately. So hot, that I enjoyed a bowl of this yummy Hearty Crockpot Broccoli Soup, but right into the freezer it went. It will be a perfect meal once the nights start to cool down. This is something I recommend doing with many of the recipes I post. Make a larger portion and freeze half of it. It makes life so much easier during crazy hectic weeks. The beauty of this recipe is that it is rather low maintenance. It takes about 20-30 mins to prep the soup at the beginning of the day and then another 5-10 at the end of the cooking process. What you will have is a healthy and creamy soup that is void of all the chemicals that come in the processed soups.
When I was creating this recipe had two agendas. One was to make a soup worthy of comfort food. It was also very important to me to not use highly processed ingredients like Velveeta, that many recipes use. My brother reminded me of a similar soup my mom use to make that had potato as part of the thickening agent. Once he reminded me of that, this soup came together beautifully. If you are not a potato lover, than this soup will just be ok. If you are a potato lover, you will adore this soup.
In keeping with with freshest and most minimally processed ingredients I could, I used fresh organic broccoli over frozen. I started the base of the soup with an onion Roux. I sautéed the onion in butter and then added the garlic.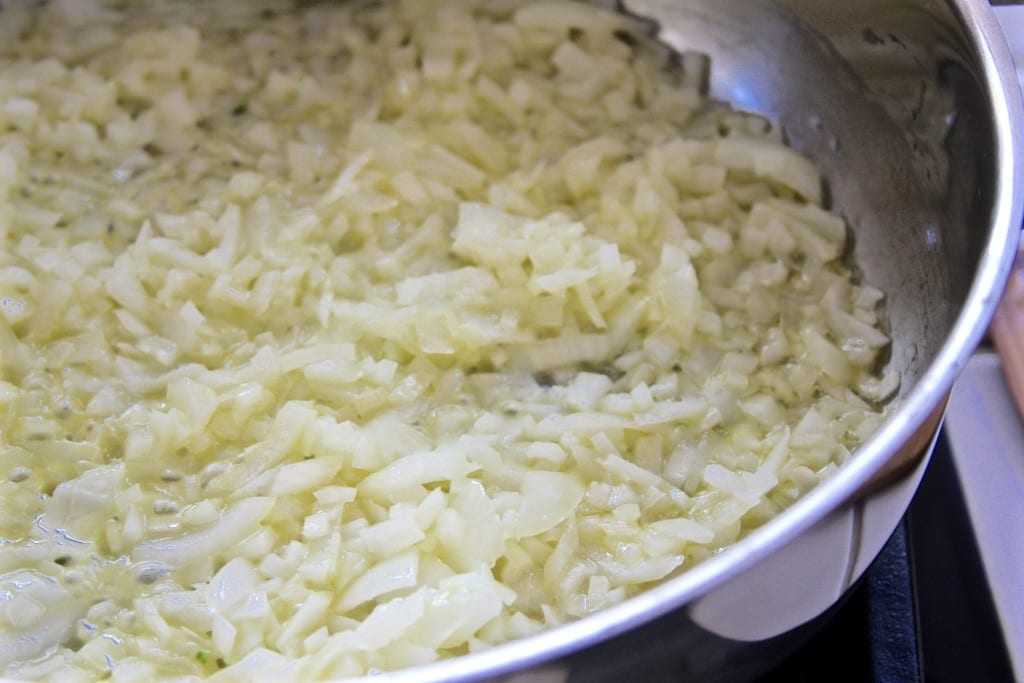 The next step is adding the flour and cooking for about 2 minutes.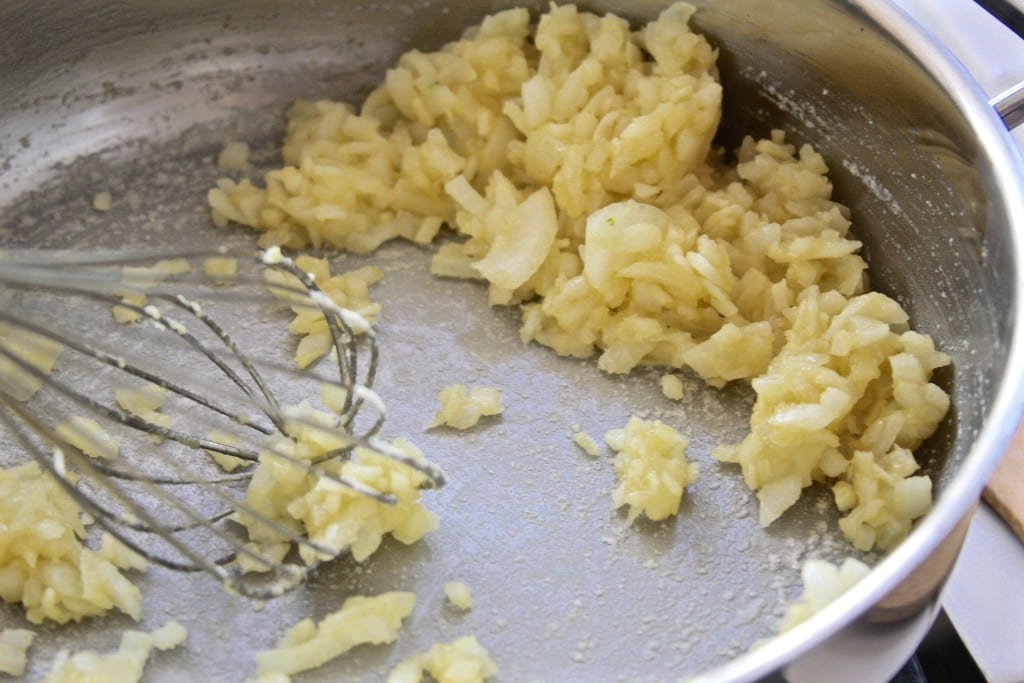 After flour has cooked, slowly whisk in milk and cook for approximately 5 minutes or until the roux begins to thicken.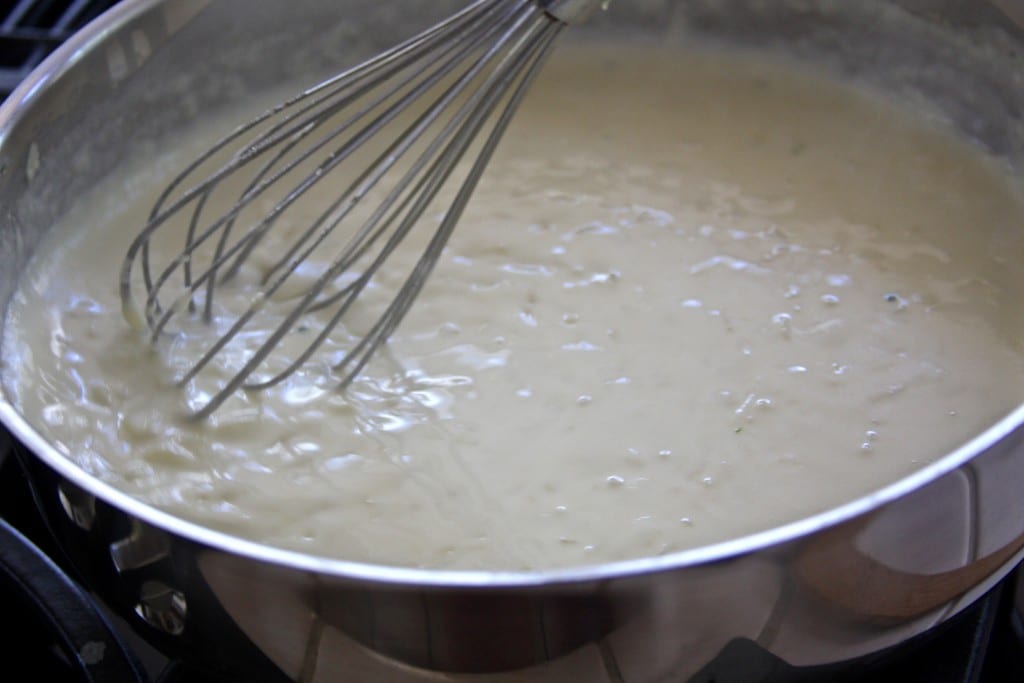 Once the roux is made, add all the ingredients with exception of the cheeses and simmer away.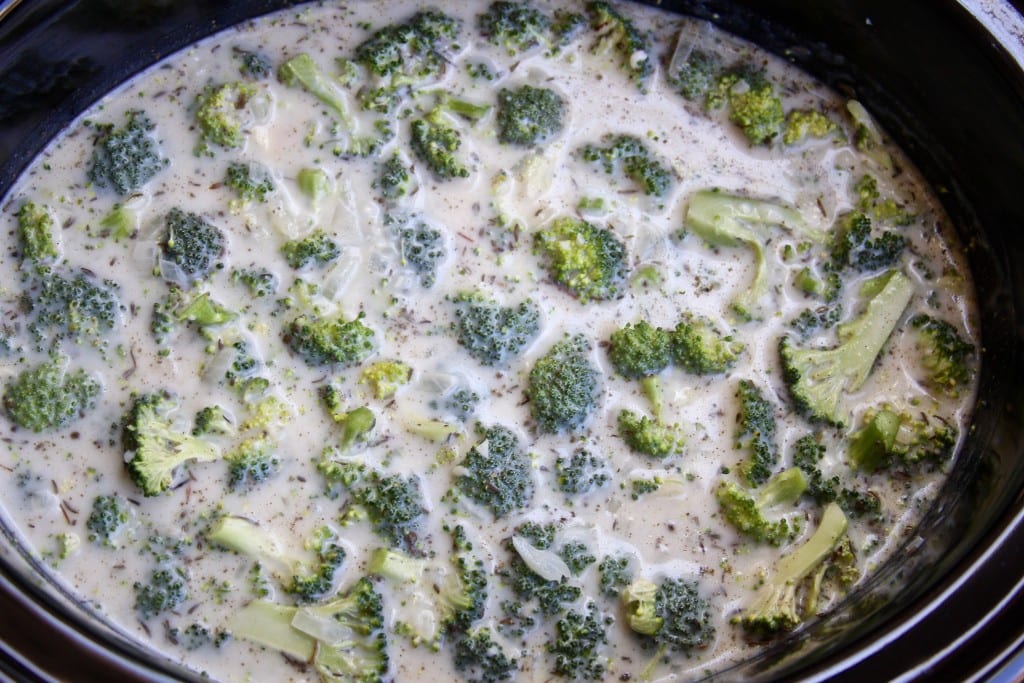 The soup will cook on high for 6 hours or on medium for 9 hours. The next step is optional. I blended the cooked ingredients with an immersion blender. Some may want a chunkier soup. If so, you would skip this step, but personally I think it may for a richer soup. The very last step is to add the cheeses. Cook for another 10 minutes or until the cheeses are melted. You will have a comforting bowl of Hearty Crockpot Broccoli Soup and it goes great with my Turkey Pesto Panini.
Enjoy!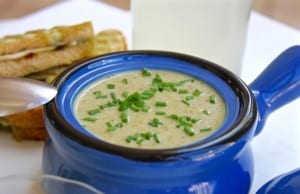 Hearty Crockpot Broccoli Soup
A creamy soup thickened with a roux and potato. Full of flavor and perfect for cold nights.
Print
Pin
Rate
Total Time:
6
hours
30
minutes
Ingredients
5

tbsp

butter

6

tbsp

all-purpose flour

4

cups

whole milk

4

cups

chicken broth

1

med onion *diced

5

cups

broccoli florets

3

lg garlic cloves *minced

1

lg russet potato *shredded

1

tsp

thyme

1

tsp

ground marjoram

2 1/2

cups

cheddar cheese *shredded

1

cup

mozzarella *shredded

salt and pepper to taste
Instructions
Wash and cut broccoli into florets. Add to crockpot.

Measure herbs and add to crockpot.

Dice onion and mince garlic. Set aside. Melt butter in a large frying pan over a med to med/high heat. Add onions and sauté for 3 to 4 minutes or until softened. Add garlic and sauté for an additional minute. Add flour and cook for 2 minutes, stirring frequently. After 2 minutes, Slowly whisk in milk, as to not form clumps. Cook until it begins to thicken, about 5 minutes, whisking consistently. Once cooked add to crockpot.

Wash, peel and shred potato. Add to crockpot.

Add broth to crockpot and stir. Cook on high for 6 hours or on medium for 9 hours.

After cooking, use an immersion blender and blend cooked ingredients until thoroughly incorporated.

Shred cheeses and add. Cook for an additional 10 minutes or until cheese is melted.
Notes
*Please use as many organic ingredients as possible.*
Wait until third step to shred potato. If done earlier, it will start to turn pink.
This recipe is part of Meal Plan Monday.