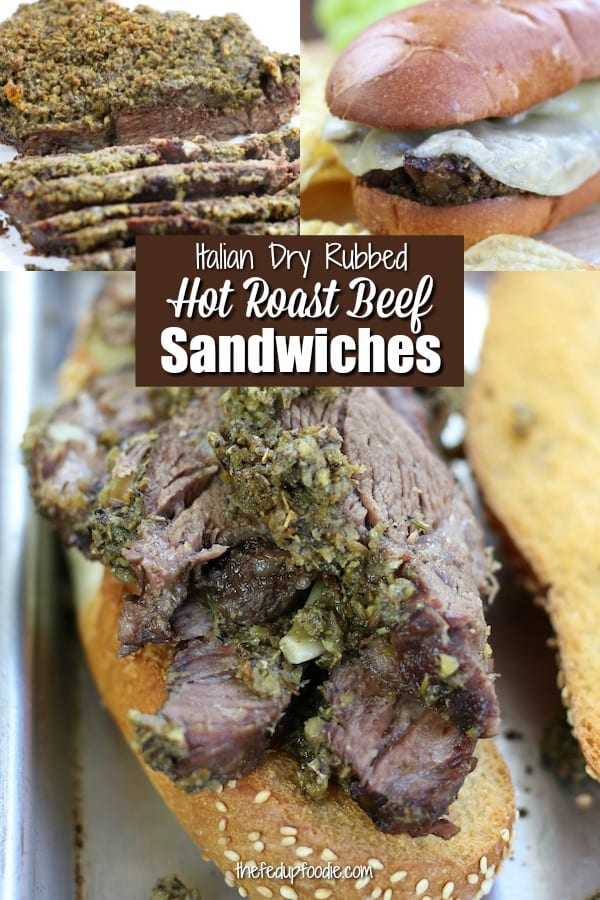 Italian spiced slowed cooked beef in a toasted hoagie roll with melted provolone makes this Hot Roast Beef Sandwich insanely scrumptious.

This post may contain affiliate links which I earn a small portion in sales if a purchase is made. Rest assured though, it is never at any additional cost to you.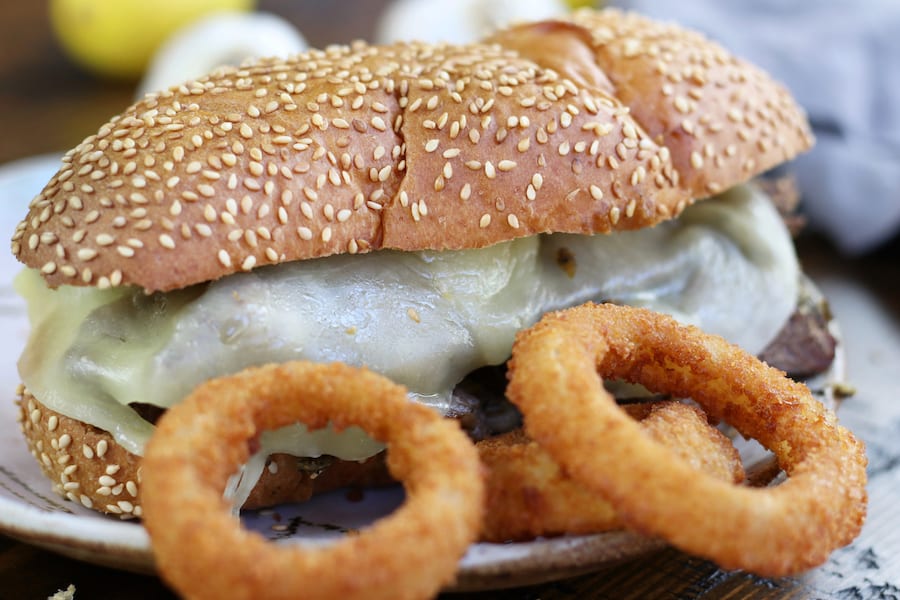 Guys!!! I am not even going to lie to you. Although these Hot Roast Beef Sandwiches truly are beyond heavenly tasting, the first set of pictures I took are horrible!
I mean so bad that when my husband saw them, he was able to cough out that they looked like a snake sticking it's tongue out in-between bursts of laughter.
He also became very excited at the prospect of making them again so I can redo the photos.
Despite the fact that these may not be strikingly gorgeous, these Hot Roast Beef Sandwiches are one of those cozy comfort meals that is such a plain 'good for the soul meal' to have at the end of a long hard week.
They are fragrant, zesty and bursting with flavor.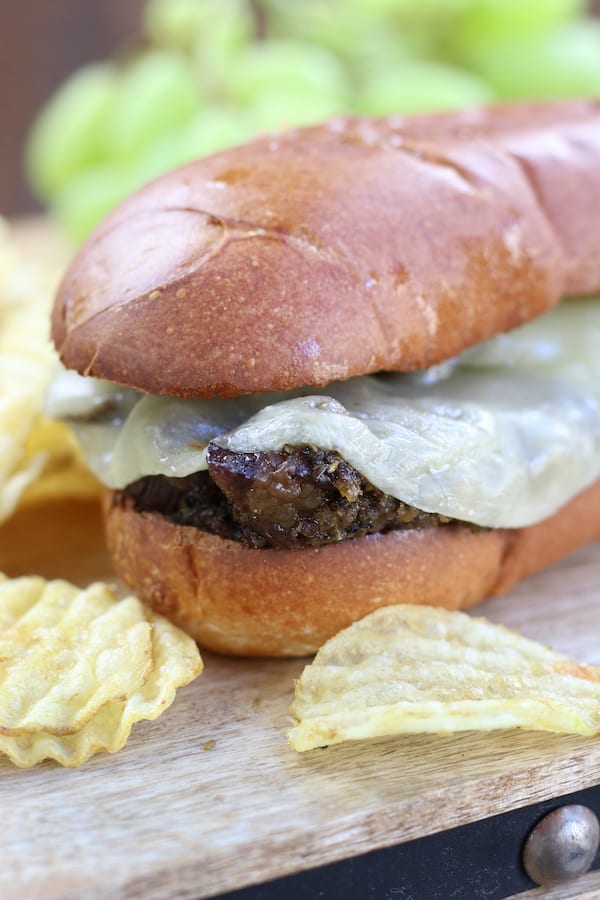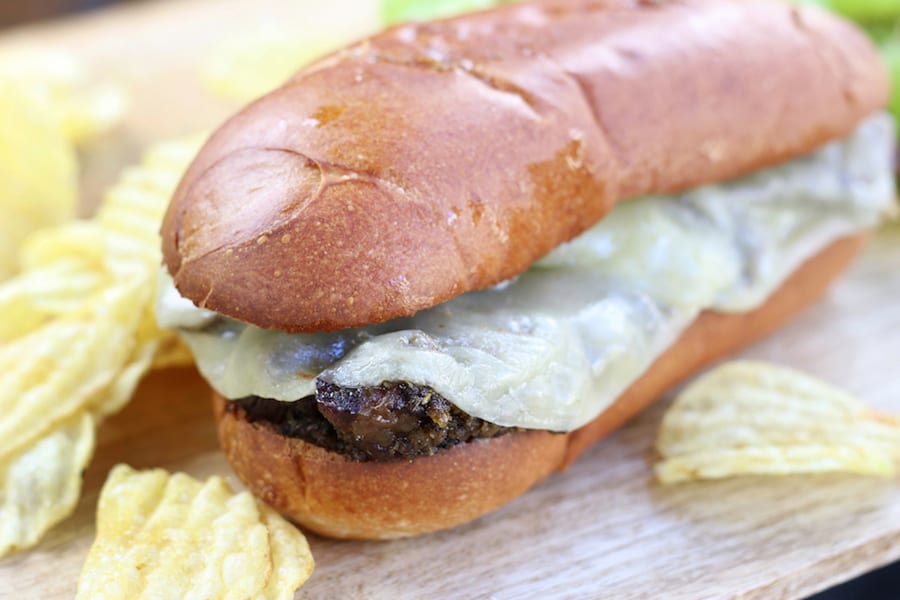 Roast Beef Seasoning For Sandwiches
If you are a lemon lover you will be beyond thrilled with my Italian Roast Beef Rub. It has a mixture of Italian herbs, lemon zest and spices. It's aromatic, fragrant, zesty and so incredibly delicious.
Garlic Studded Beef
Garlic lovers listen up! This cooking technique is for you. Garlic studded meat creates the most amazing garlic infused flavored meat and it is so easy to do.
Peel and slice 6 large garlic cloves into larger slivers using a paring knife.
With the same knife poke holes in the top of the roast with about 1 inch inbewteen. Holes may need to be made larger by poking your pointer finger or pinkie into the hole.
Push the slivered garlic into the holes. That's all there is to garlic studded meat.
Roast Beef Sandwich Calories
This sandwich, depending on the type of hoagie roll chosen, if mayo is used and how many slices of provolone cheese are added, will run from 500- 700 calories per sandwich.
Best Beef For Hot Roast Beef Sandwich
I have found that Boneless Chuck Roast to be the best for this Hot Roast Beef Sandwich Recipe. This variation of roast tends to be uniform in thickness, allowing for similar sized slices of meat. It also does extremely well with the low and slow cooking method. Plus combined with my Italian Roast Beef Rub, it is Too Die For Tasty!
Tools Needed For Hot Roast Beef Sandwiches
Reheating Roast Beef
If you have any of the roast beef leftover there is one trick to keep in mind. Save a little bit of the juice from the dutch oven with most of the fat removed and pour it over the meat slices before reheating. To reheat either place on a microwave safe plate in the microwave for 3-4 minutes on power level 8 or in a 350℉ oven on a cookie sheet for 15-20 minutes.
Best Sides With Roast Beef Sandwiches
More Comfort Classic Recipes
These are some of my favorite recipes perfect for weekend eating with family for friends.
Dry Rubbed Grilled Chicken Sandwich
Country Style Pork Spare Ribs and Sauerkraut
Best Dry Rubbed Ribs of Your Life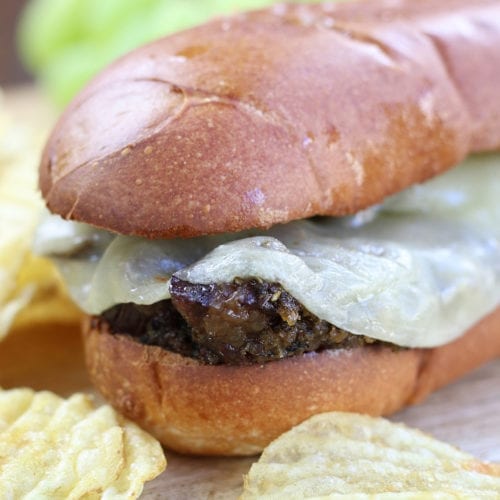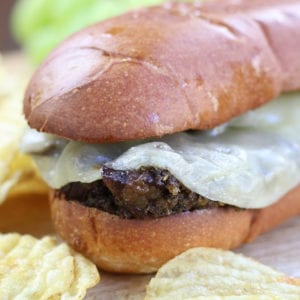 Hot Roast Beef Sandwiches
My husband and I drool over these sandwiches! Italian spiced slowed cooked beef in a toasted hoagie roll with melted provolone makes this Hot Roast Beef Sandwich insanely scrumptious.
Print
Pin
Rate
Ingredients
2 1/2-3

lb

boneless chuck roast

6

large

garlic cloves

6

hoagie rolls

6-12

provolone cheese slices

mayonaise

*optional
Instructions
Preheat oven to 300℉. Prepare Italian Roast Beef Rub and set aside.

Peel and slice garlic into larger slivers. With a pairing knife carefully poke holes into the surface of the roast and insert garlic slivers as deeply as possible into the holes.

Cover the topside of the roast with the rub and transfer to a dutch oven. Bake for 1 hour and 45 mins-2 hours. Remove from oven and let roast rest for 10-15 mins.

Meanwhile increase oven temperature to 450℉. Cut hoagie rolls in half and place on a large cookie sheet. Toast in oven for 3-5 mins or until a lightly toasted.

Cut roast into slices against the grain. Layer toasted hoagie rolls with roast beef slices, a small amount of juice from dutch oven and 1-2 provolone slices. If tops of rolls are toasted enough, do not oven toast again. Place rolls back into oven until cheese is melted, about 4-5 mins.

Spread top of hoagie with mayo and serve with your favorite sides.
Notes
*Please use as many organic ingredients as possible. 
Nutrition
Calories:
610
kcal
|
Carbohydrates:
32
g
|
Protein:
49
g
|
Fat:
32
g
|
Saturated Fat:
15
g
|
Cholesterol:
150
mg
|
Sodium:
709
mg
|
Potassium:
740
mg
|
Fiber:
1
g
|
Sugar:
1
g
|
Vitamin A:
271
IU
|
Vitamin C:
1
mg
|
Calcium:
303
mg
|
Iron:
6
mg