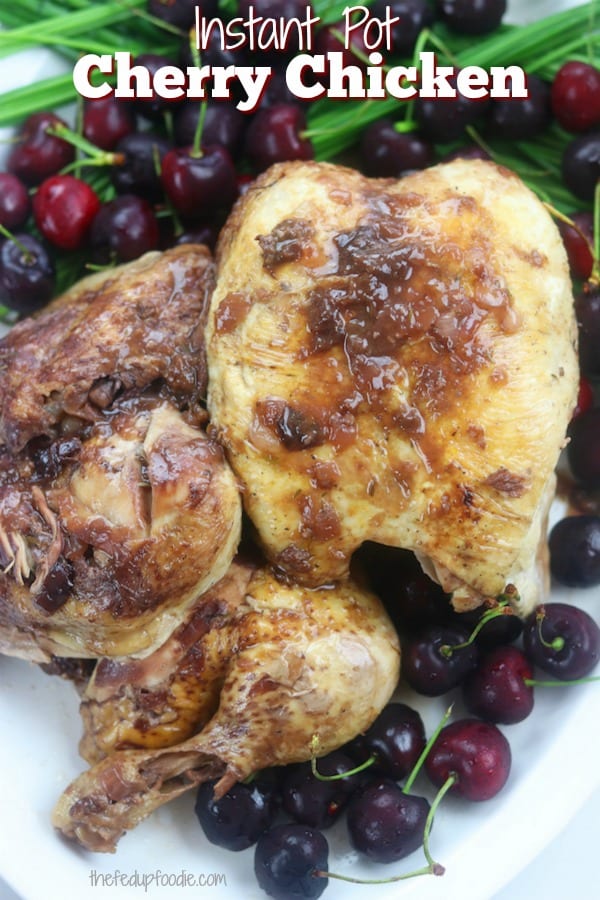 Instant Pot Cherry Chicken recipe creates extremely tender, fall of the bone, chicken meat with a luscious savory cherry sauce. So perfect for Sunday dinner with the family.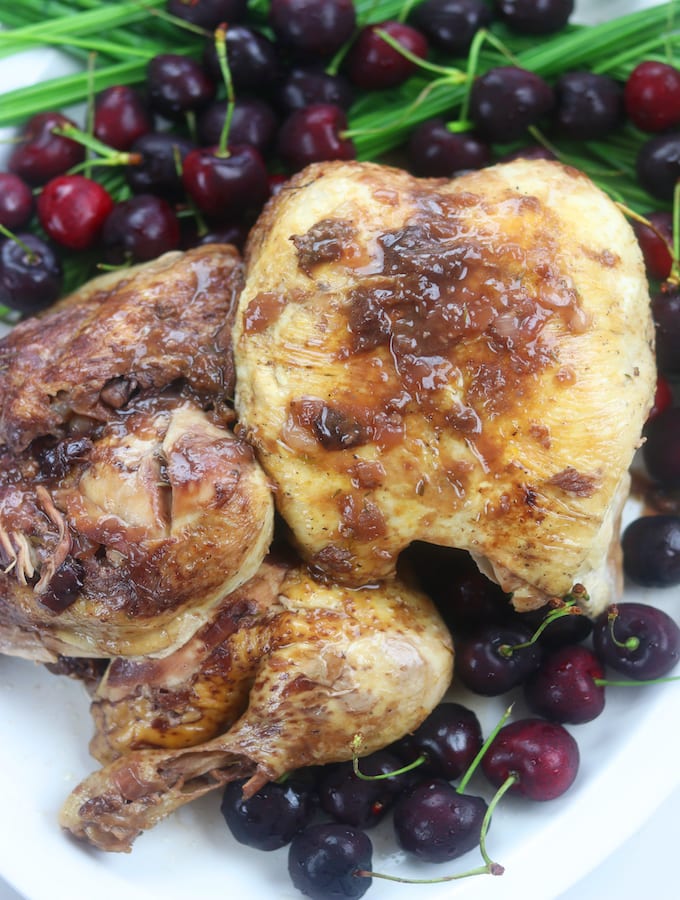 This post may contain affiliate links which I earn a small portion in sales if a purchase is made. Rest assured though, it is never at any additional cost to you.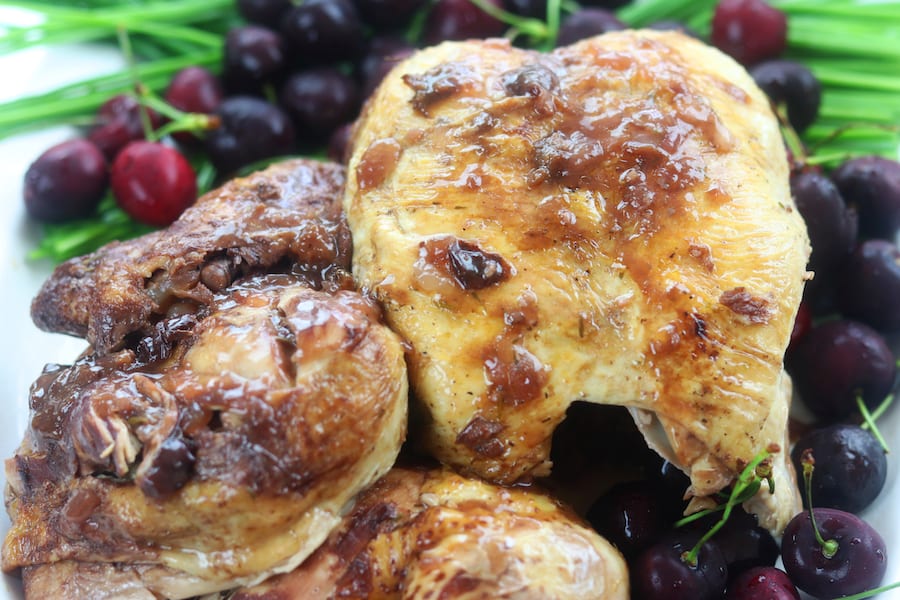 Mom's have a way of being one of the greatest inspirations on our lives even years after they have left this world.
I know my Mom has been for me.
The picture of us cooking side by side with her teaching and guiding me in my youth is so ingrained into my memory. It warms my heart to think of it.
Two classics, Mom's Chicken Gumbo Soup and Mom's Lemon Butter Bundt Cake may reference her in the title, but let me reassure you, every recipe I have ever created or shared has had her influence in the foundation.
Growing up my mom swore by pressure cooking. My parents, who loved to cook together, were always coming up with pressure cooker meals or trying out new pressure cooker recipes.
Interestingly though, I never learned.
I may have helped her prepare the ingredients for whatever glorious recipe was in the works but I never touched the pressure cooker.
Honestly, that thing with it's little jiggly weight, intense noise and steam pouring from its orifices looked like an angry volcano ready to erupt.
Simply put, it was just too intimidating for my young soul.
Fast forward to present day and pressure cooking with the Instant Pot is all the rage.
Much like my teenage self, I have stubbornly held off on jumping into this method of cooking. Well, held off until recently.
I can thank my sweet friend Kristen of A Mind "Full" Mom for her guidance in teaching me how to use the Instant Pot. I first tried her Instant Pot Greek Yogurt recipe and fell in love. It was so rich, creamy and absolutely AMAZING!
Next I cooked beans using her method and then I did her Instant Pot Baked Potatoes. Can I just say that I have never had a baked potato that I have loved more and cooking beans in the Instant Pot is such a major time saver.
Instant Pot is my new best friend!
This Instant Pot Cherry Chicken was both influenced by my sweet mom and my sweet friend. The flavors reflect what our Sunday dinners looked like growing up.
If you adore cherries and tender juicy fall off the bone chicken than this Instant Pot Cherry Chicken recipe is for you!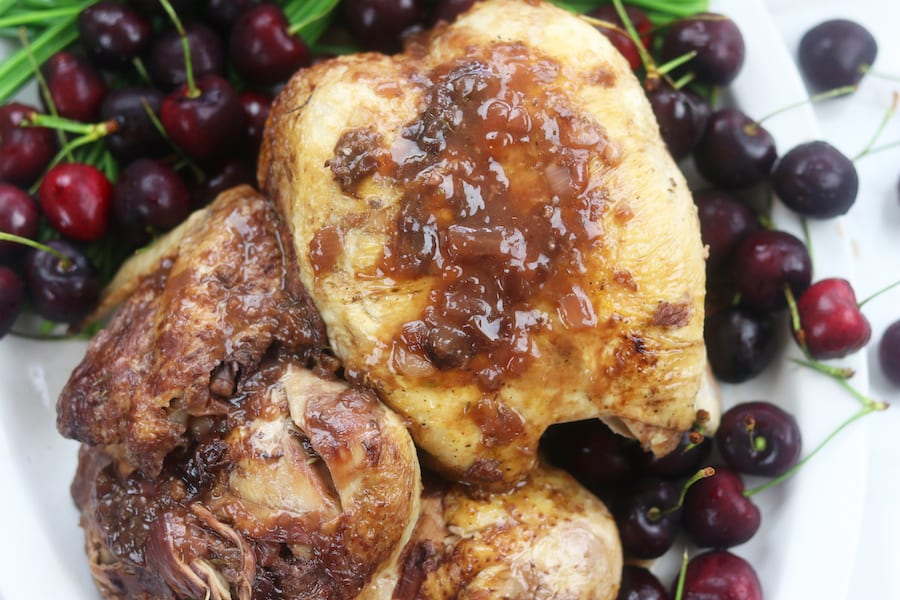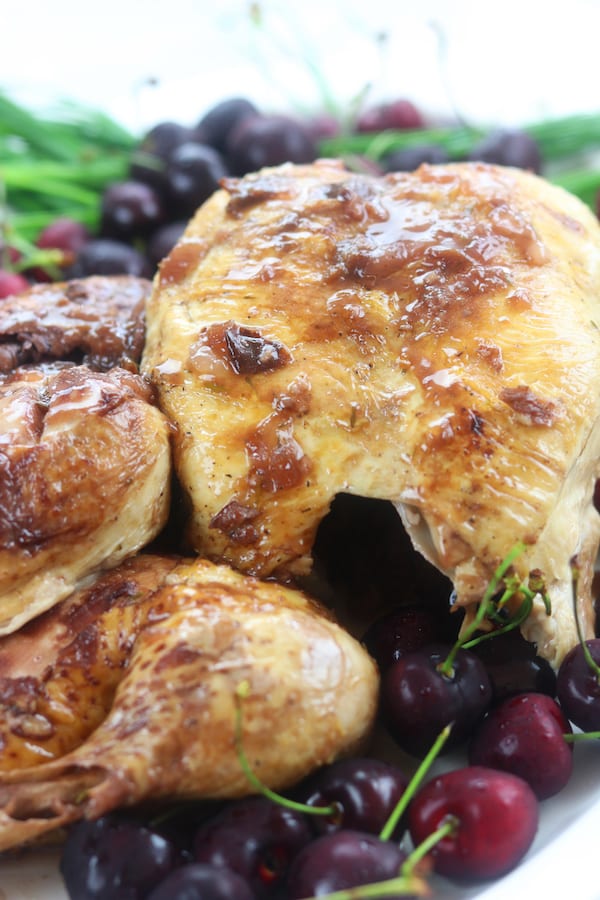 Why Make Instant Pot Whole Chicken with Cherry Gravy?
It is not uncommon to be intimidated by your Instant Pot and to wonder if it is even worth getting it dirty. Let me reassure you, yes it is worth it! Check out the answers to these frequently asked questions about Instant Pot that will help you to feel more confident. Here is what I love about this tool:
Using the Instant Pot prevents having to heat the house up during the hotter months of the year.
The searing mechanism has great temperature control and does such beautiful job with searing meat.
The brown bits on the bottom of the liner, after searing the meat, helps to create a rich and flavor packed gravy.
Cooking a whole chicken in the Instant Pot creates tender and flavorful, fall-off-the-bone meat.
Using Instant Pot is a quick way to create a restaurant quality dinner all in one-pan.
If you love cherries than this dish is a must have!
Now that I have gotten you all excited about making this Instant Pot Whole Chicken recipe there is one very IMPORTANT element to take note of. You will need at least the 6 qt sized Instant Pot to cook a whole chicken. Anything smaller will not be big enough. If you haven't purchased an Instant Pot yet and are in market, I highly recommend the 8 qt IP for anyone who cooks from scratch often. I would be lost without the larger version myself. (affiliate)
Commonly asked question in making this Instant Pot Cherry Chicken.
What type of cherries did you use?
For this Instant Pot Cherry Chicken recipe I used Costco's frozen Organic Dark Cherries. Make sure to defrost the cherries either the night before or a few hours before cooking.
Should I rinse the whole chicken before cooking?
Honestly, the culinary community seems to be divided on whether you should rinse your chicken before cooking. I personally feel you don't need to. However, these are the steps to help prepare the chicken for cooking.
Remove chicken from bag and drain any excess juice. Make sure to remove the gizzards, neck and/or organs that may be in the cavity of your chicken and discard.
Place the raw chicken, breast side up, on a double layer of paper towels that are folded for extra absorbency and pat the chicken dry.
Turn the chicken over and repeat the pat down. Salt and pepper the backside side of the chicken. Once the chicken is searing you will salt and pepper the opposite side.
How do I sear a whole chicken using the instant pot pressure cooker?
The Instant Pot does such a fabulous job searing meat but there is a trick!
With your Instant Pot plugged in and your liner inserted press the sauté button. Once the display panel reads HOT, add oil and carefully place the chicken back side down (salted side) into the pot with long handles tongs. (An additional set of tongs or larger spoon may be needed to comfortably transfer larger birds.)
Searing the backside of the chicken will take approximately 5-7 minutes per side. While the first side sears, salt and pepper the breast side of the bird. Here is the trick to searing, the chicken is ready to flip when the skin no longer sticks to the bottom of the pan.
Once the chicken is no longer sticking and the first side is golden brown, carefully turn chicken over and repeat the searing process. Once your chicken is done searing remove from Instant Pot and follow steps for making cherry gravy.
Why is searing the chicken necessary for this Cherry Chicken recipe?
Long story short, this step really is all about FLAVOR. It adds a rich caramelization to the meat and the brown bits left behind with searing adds in another wonderful layer of flavor to the gravy.
Why is the trivet not used for this recipe?
Very simply, cooking the chicken in the cherry gravy mixture, rather than on the trivet, imparts even more flavor into the bird and creates meat so tender it literally falls off the bone.
How long should I cook the chicken in the pressure cooker if I don't have the actual weight?
The rule of thumb is 6 minutes per pound however you can safely cook a 4 lb chicken on high pressure for 30 minutes using this recipe. Important Note: Once the chicken has cooked allow the Instant Pot to naturally release for 10 minutes and then carefully do a quick release.
Your recipe calls for cornstarch or arrowroot. What is arrowroot and where can I buy it?
Arrowroot is a starch that can be used interchangeably with corn starch to thicken gravies and sauces. Many clean eating approaches prefer using arrowroot over cornstarch. Health food stores across the country often carry arrowroot and fortunately the major grocery chains are starting to carry it also. If in a pinch though, I highly recommend using this to thicken the gravy. (affiliate)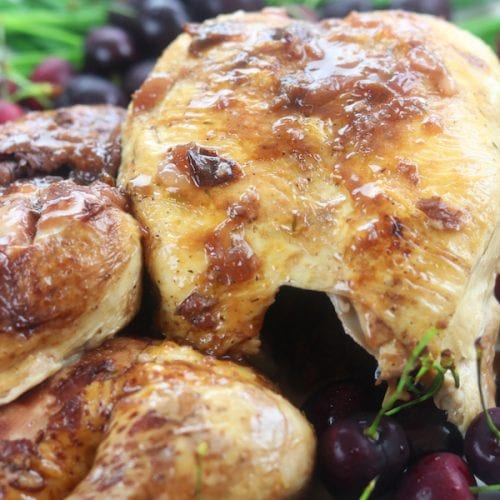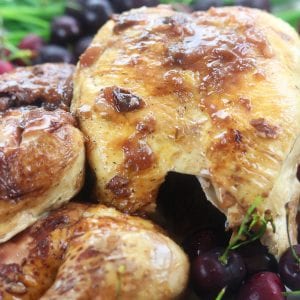 Instant Pot Cherry Chicken
Instant Pot Cherry Chicken recipe creates extremely tender, fall of the bone, chicken meat with a luscious savory cherry sauce. So perfect for Sunday dinner with the family.
Print
Pin
Rate
Ingredients
1

3 1/2-4 lb

whole chicken

*innards removed

3

tbsp

cooking oil like avocado oil

salt & pepper to taste

4

cups

frozen cherries (I used Costco's frozen Organic Dark Tart Cherries)

*defrosted

1

med

brown onion

*diced, about 2 cups

4-6

cloves

garlic

minced or crushed, about 2 tbsp

1/2

tsp

thyme

1/4

tsp

marjoram

1/4

cup

port wine

*marsala, merlot, shiraz or chianti may also be used

1/4

cup

lemon juice

*about 1-2 lemons

2

tbsp

butter

1/2

cup

chicken stock

2 1/2

tbsp

arrowroot or cornstarch

*see notes above
Instructions
Remove chicken from bag and drain of any excess liquid. Place the raw chicken, breast side up, on a double layer of paper towels and pat dry. Turn the chicken over and pat dry backside.

Salt and pepper backside of chicken.

With Instant Pot plugged in, hit sauté button. Once display panel reads hot place whole chicken back side down into pot and sear for 5-7 mins per side. Chicken will be ready to flip once skin is no longer sticking.

Once searing of both sides of chicken is completed remove from pot and set aside.

Hit sauté button once again. Add onions and butter. Sauté for approximately 4 mins making sure to remove browned bits on button of pan with spatula.

Add herbs and garlic. Continue sautéing for about 1 min and add lemon juice.

Add wine, cherries and chicken broth. Stir well.

Turn off sauté feature and place seared chicken breast side up in pan (no trivet). Place a few spoonfuls of sauce over chicken.

Place lid on pressure cooker and secure valve to sealed. Hit poultry feature (high pressure) for 6 mins per lbs.

Once cooking time has elapsed allow pressure to release naturally for 10 mins.


Carefully removed cooked chicken from pot and return pressure cooker to sauté function.

In a small bowl make a slurry of arrowroot with a small amount of cherry liquid (about 2-3 tbsp). Pour slurry into pot and cook stirring constantly until thickened, about 2-3 mins.

Carefully remove inner pot and pour the cherry gravy into a serving container.

Slice chicken to desired thickness and serve with gravy and favorite side dishes.
Notes
Chicken should reach an internal temperature of 165℉. If chicken does not reach final cooking temperature, cook another 1 min per lb at high pressure and let natural release for 7-10 mins. 
*Please use as many organic ingredients as possible.*
Nutrition
Calories:
266
kcal
|
Carbohydrates:
14
g
|
Protein:
32
g
|
Fat:
11
g
|
Saturated Fat:
4
g
|
Cholesterol:
9
mg
|
Sodium:
39
mg
|
Potassium:
168
mg
|
Fiber:
1
g
|
Sugar:
8
g
|
Vitamin A:
106
IU
|
Vitamin C:
7
mg
|
Calcium:
12
mg
|
Iron:
1
mg
Follow along on Facebook and Pinterest for more savory inspirations.
Check out these delicious and fun chicken recipes: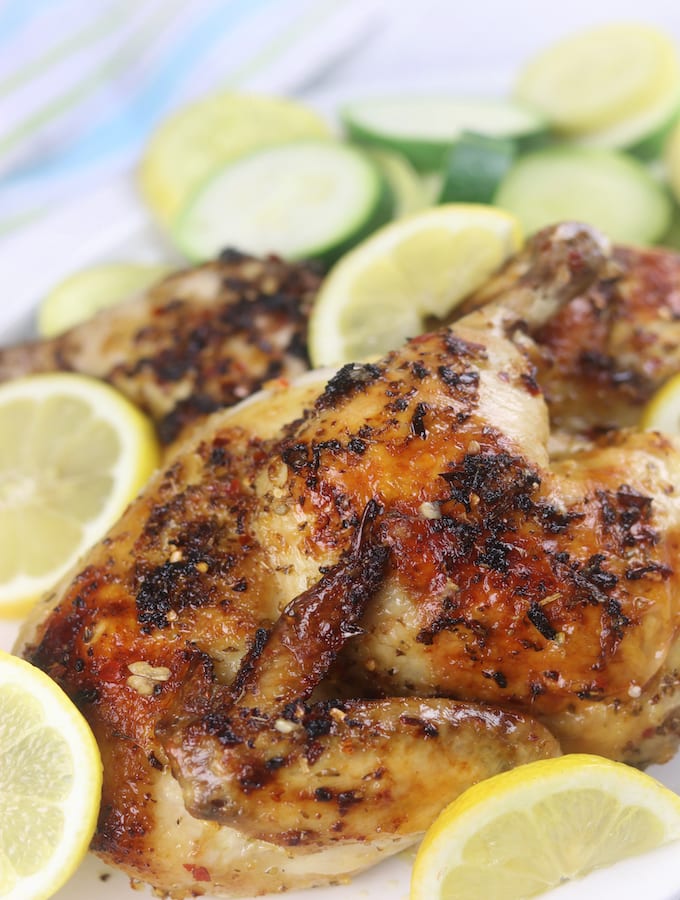 Easy Greek Chicken Marinade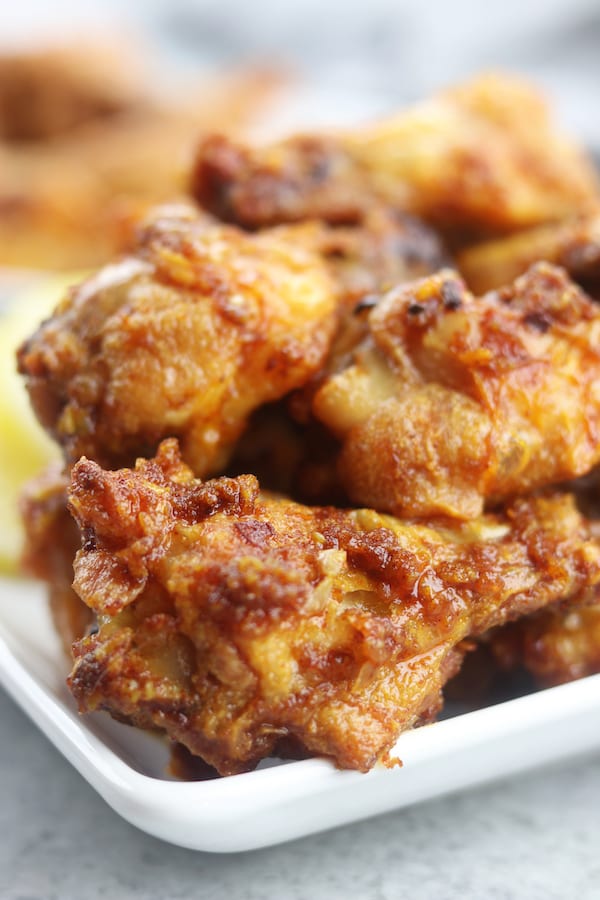 Smokey Lemon Garlic Wings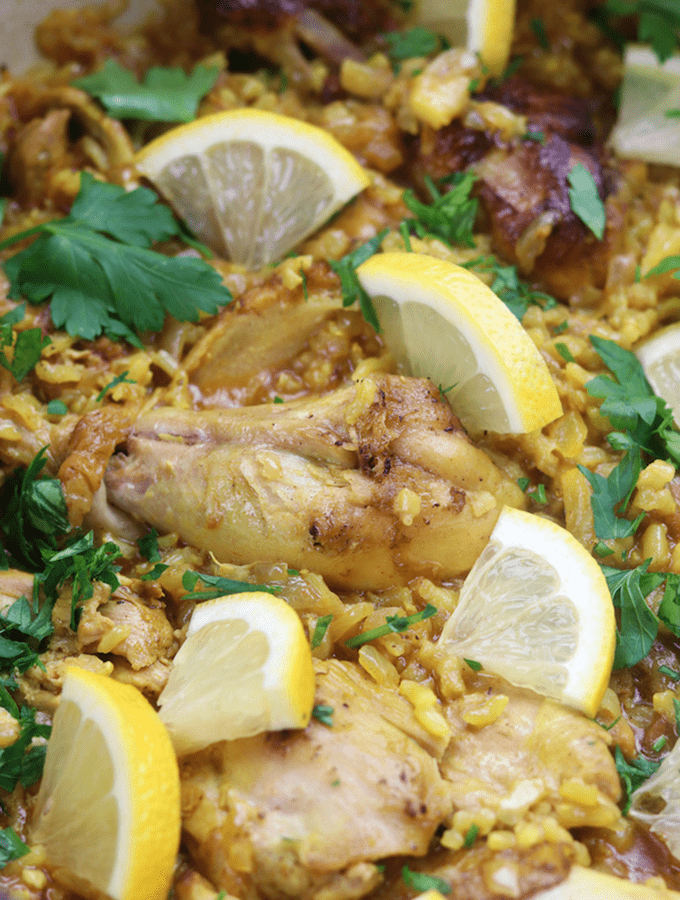 One Pot Lemon Chicken and Rice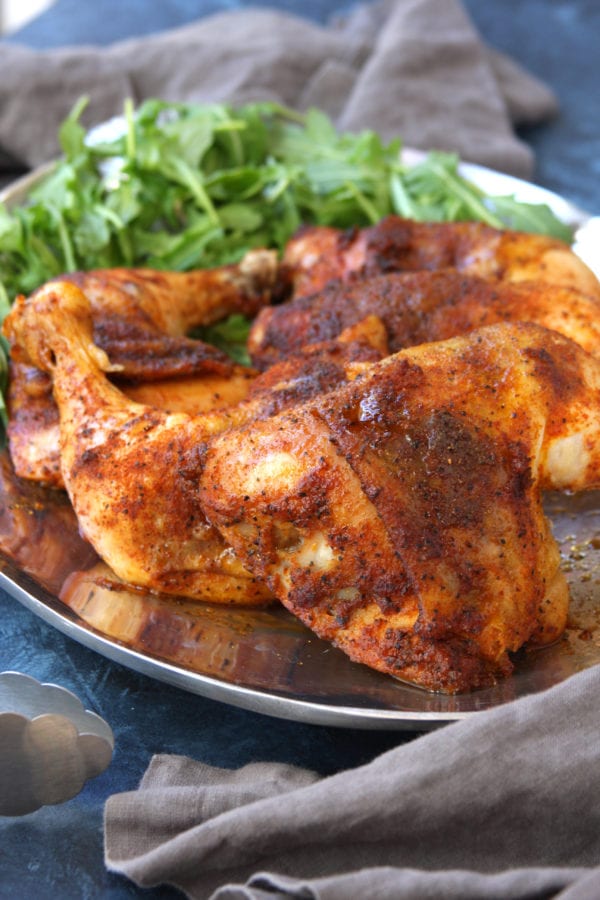 Husband Approved Dry Rubbed Chicken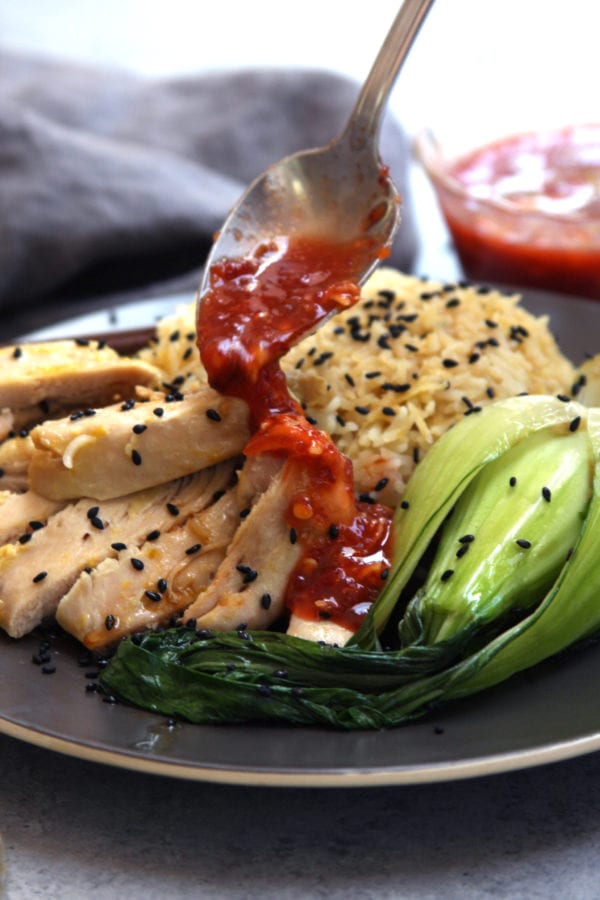 One-Pot Asian Chicken and Rice