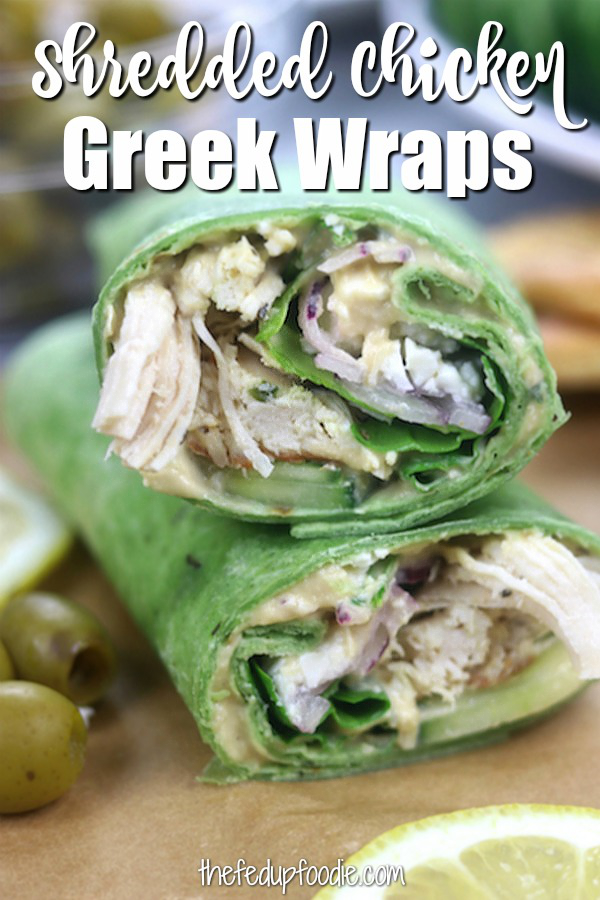 Instant Pot Greek Chicken Wraps are a healthy and delicious meal great for packed work lunches or as a quick dinner. Tender shredded chicken with all your favorite Greek fixings.
The Fed Up Foodie is a participant in the Amazon Services LLC Associates Program, an affiliate advertising program designed to provide a means for sites to earn advertising fees by advertising and linking to Amazon.com at no additional cost to you. This post may contain affiliate links.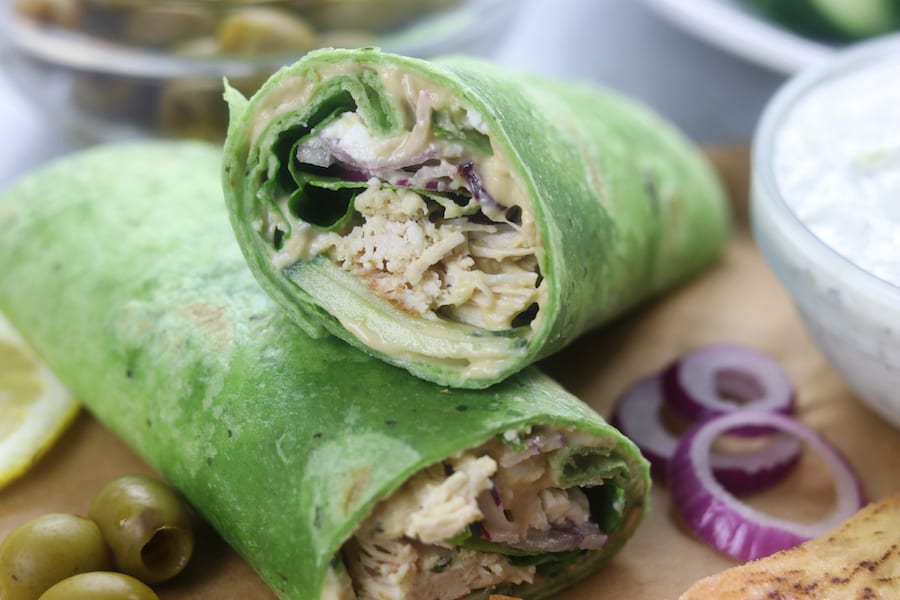 My husband recently told me as he was nibbling off of the platter of freshly shredded chicken breasts, "Hmmmmm, Yummy! It's been a long time since I was this excited about chicken!"
That made me both happy and was a huge relief.
Why you ask?
Honestly, being the one who is in charge of the menu planning can be fun, challenging and excruciating all at the same time.
I love coming up with creative meals that taste great and makes everybody happy.
I also hate when I hit a wall in the creativity department and overdo the same meals to the point of redundancy.
Recently though, my Instant Pot has been a huge support in keeping our family meals fun and delicious.
One of the biggest supports the Instant Pot has provided me is making super flavorful, easy and healthy shredded chicken meals like this Greek Wraps recipe.
I adore that I can cook chicken breasts so quickly using the Instant Pot and the cooked breasts are very easy to shred.
It has made meals like Zesty Chicken Pasta Salad, Lightened Up Salsa Verde Enchiladas and Lazy Day Chinese Chicken Salad a breeze to make on busy nights.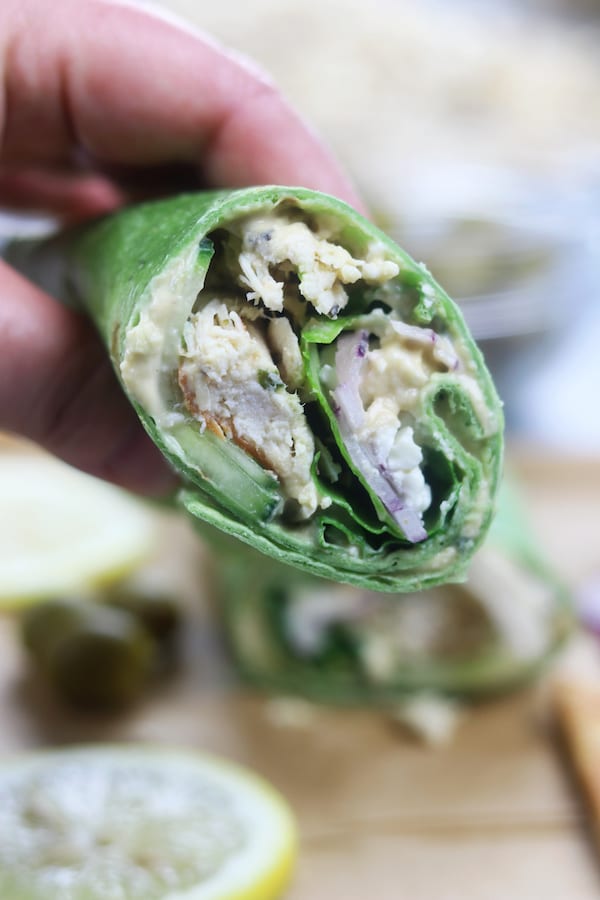 Instant Pot Cooking Times for Chicken Breasts
If you are new to the Instant Pot and have spent any time researching cooking times of chicken breasts, you may be ready to pull your hair out. One person says longer time with a quick release and another person says a shorter time with a natural release…Aye Yai Yai!!!!
I trusted my sweet friend Kristen from A Mind "Full" Mom with her guidance of cooking times. 3 chicken breasts cooked on high pressure for 6 mins and then a natural release for 5 mins. Make sure to check out her article though because she gives the break down for cooking frozen chicken breasts also.
How to easily Shred Cooked Instant Pot Chicken Breasts
Chicken breasts cooked in the Instant Pot and then shredded have become the new staple in our house. Because of this I have experimented with multiple ways of shredding. My husband and I tend to like larger chunks of shredded chicken and I have found the easiest way to do this is using just one fork and tearing/cutting the meat with the side of your fork as soon as the lid is opened. Using the traditional two fork method works also but I noticed it put a little more strain on my hands.
If you tend to like smaller strips of shredded chicken then save yourself some hassle and use A Mind "Full" Mom's hand mixer tip.
Variations of Ingredients for Shredded Chicken Wraps
The beauty of healthy wraps like this, you can create fun flavor combinations or just use your favorite fixings. Here are some possible variations on ingredients:
Healthy tortilla
Naan bread
Spinach
Shredded lettuce like Romaine, red or green leaf
Arugula
Sprouts
Jalapeno
Feta
Pepper Jack cheese
Hummus
Favorite herbs (mint, cilantro, basil)
Olives
Cucumbers
Onions
Avocado
Tomatoes
Shredded carrots
Red, orange or yellow bell pepper slices
Shredded Red cabbage
Dried cranberries
Sautéed kale
As you can see the possibilities of flavors or combinations are practically endless in making healthy wraps recipes. I personally love the ingredients I chose for this Instant Pot Greek Chicken Wraps but just pick and choose from the list above to personalize your healthy wrap.
How to Prepare Chicken for Healthy Wraps in Oven
No worries if you don't have an Instant Pot. Simply preheat your oven to 350℉. Place the chicken breasts in a roasting pan (I would be lost without these nontoxic pans. They are durable and long lasting making them a great value.)
Drizzle chicken with a few tablespoons of olive oil. Sprinkle with salt, pepper and Greek seasonings. Lemon slices can be laid on top of chicken. Bake until the internal temperature reads 165℉ or approximately 35 minutes. As a note, this method will not infuse the Greek flavors into the meat the way the Instant Pot will.
Once cooked, let rest for 15 minutes and then slice into strips into a suitable size for wraps.
How to Make Hand Pulled Chicken by Boiling.
Place chicken breasts into a larger pot. Add lemon zest, juice and spices. Add just enough water or chicken broth to cover the breast by 1 inch. Place on a medium heat and bring to a gentle boil. Once boiling, cover with a lid and lower temperature to low. Cook for 12-16 minutes or until internal temperature reads 165℉. Remove from pan onto plate and cool chicken until it is easy to handle. Using two hands, pull chicken apart into pieces.
Other Fun Recipes with Shredded Chicken
Slow Cooker Vietnamese Shredded Chicken– Reluctant Entertainer
Slow Cooker Barbecue Chicken Melts– Aggie's Kitchen
Citrus Garlic Chicken with Coconut Lime Rice– Dinners, Dishes & Desserts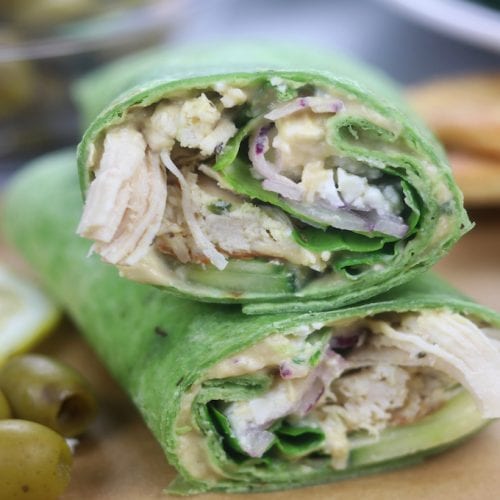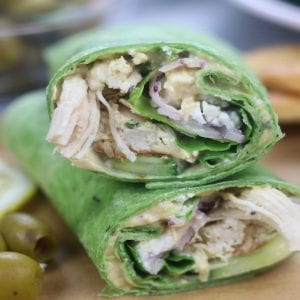 Instant Pot Greek Chicken Wraps
A delicious, quick and healthy meal with tender juicy shredded chicken. Great for dinners on busy days or for packed work lunches.
Print
Pin
Rate
Ingredients
For the Instant Pot Shredded Chicken
3

chicken breasts (boneless skinless)

*about 2.5 lbs

1

tbsp

lemon zest

*2 lemons

1/2

cup

lemon juice

*juice of about 2 lemons

1/2

cup

chicken broth or water

1/2

tsp

oregano

1/2

tsp

basil

1/2

tsp

red chili pepper flakes

*optional

salt & Pepper to taste
For the Wraps
6

large

healthy tortilla wraps

1

10-11 oz

hummus package

*2 tbsp per each wrap

1

large

English cucumber

*sliced thinly

5

oz

baby spinach

1

small

red onion

*sliced thinly

12

oz

package feta

*about 1 oz per wrap

Tzatziki

*about 1- 2 tbsp per wrap
Instructions
To Cook Chicken
Place chicken breast (fresh, not frozen) in bottom of Instant Pot and sprinkle with lemon zest, oregano, basil and chili pepper flakes.

Pour in lemon juice and broth (liquid should equal 1 cup). Place lid on, close and turn vent to sealed.

Cook on poultry or high setting for 6 mins. Let natural release for 5 mins and the do a quick release.

Immediately remove chicken and shred using one of the shredding methods mentioned above.

Place tortilla on a flat service and spread with 1-2 tbsp of hummus. Add desired amounts of sliced cucumber, 1-2 tbsp Tzatziki Sauce, 5-6 oz chicken, spinach, onion slices and about 1 oz of feta. Roll tightly and serve with your favorite Greek sides. We loved having it with pita chips, olives and Tzatziki.
Notes
*Please use as many organic ingredients as possible.*
Nutrition
Calories:
258
kcal
|
Carbohydrates:
22
g
|
Protein:
20
g
|
Fat:
10
g
|
Saturated Fat:
6
g
|
Cholesterol:
61
mg
|
Sodium:
648
mg
|
Potassium:
361
mg
|
Fiber:
2
g
|
Sugar:
3
g
|
Vitamin A:
1320
IU
|
Vitamin C:
11
mg
|
Calcium:
235
mg
|
Iron:
3
mg
If you love chicken sandwiches or wraps then you will love these: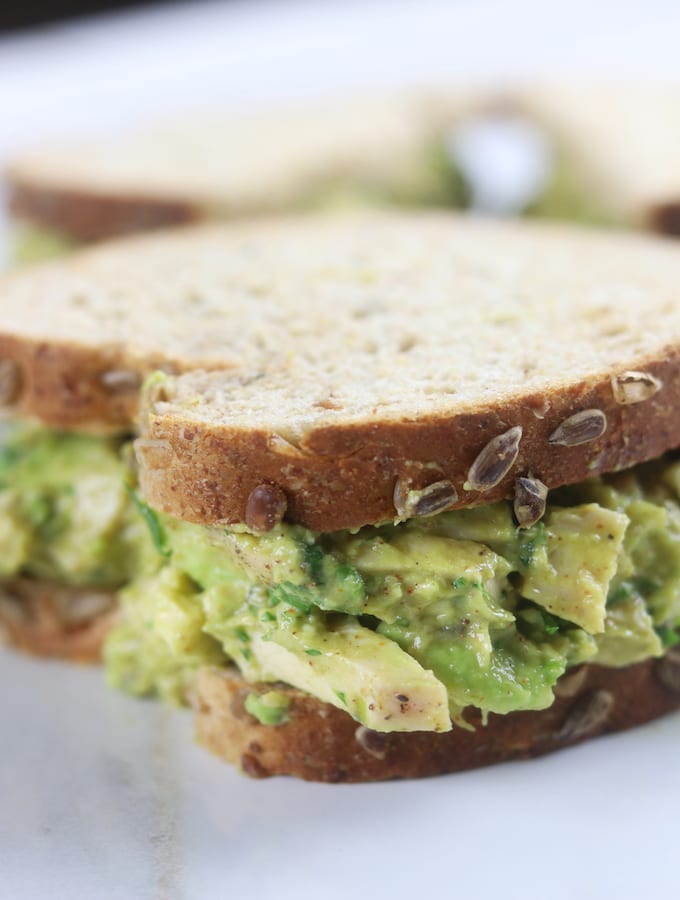 Mexican Chicken Avocado Sandwich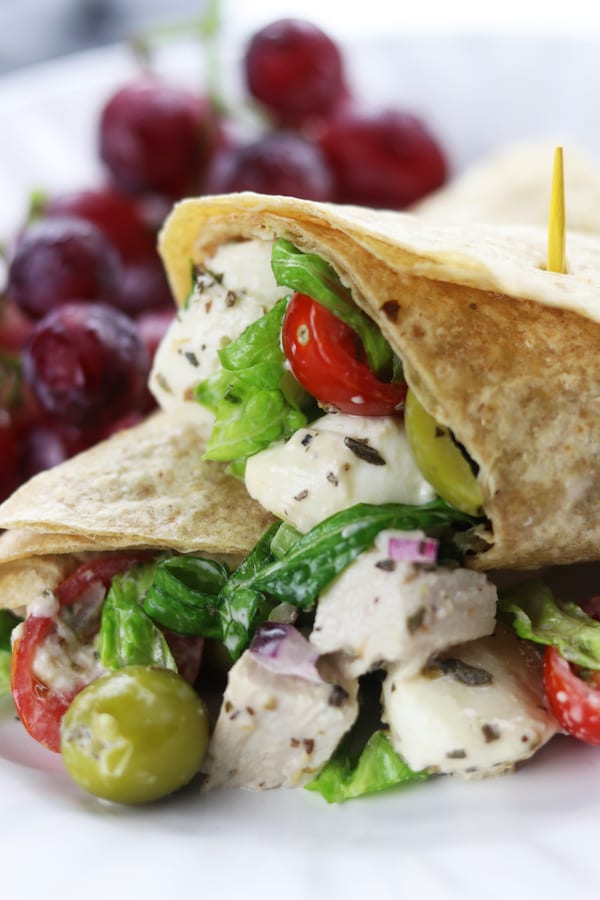 Creamy Italian Chicken Salad Wrap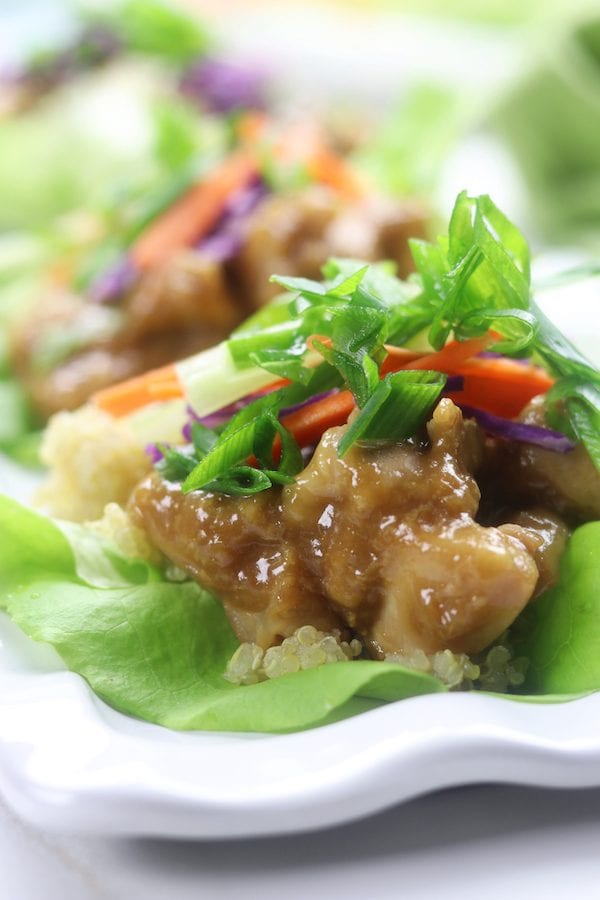 Wasabi Ginger Asian Lettuce Wraps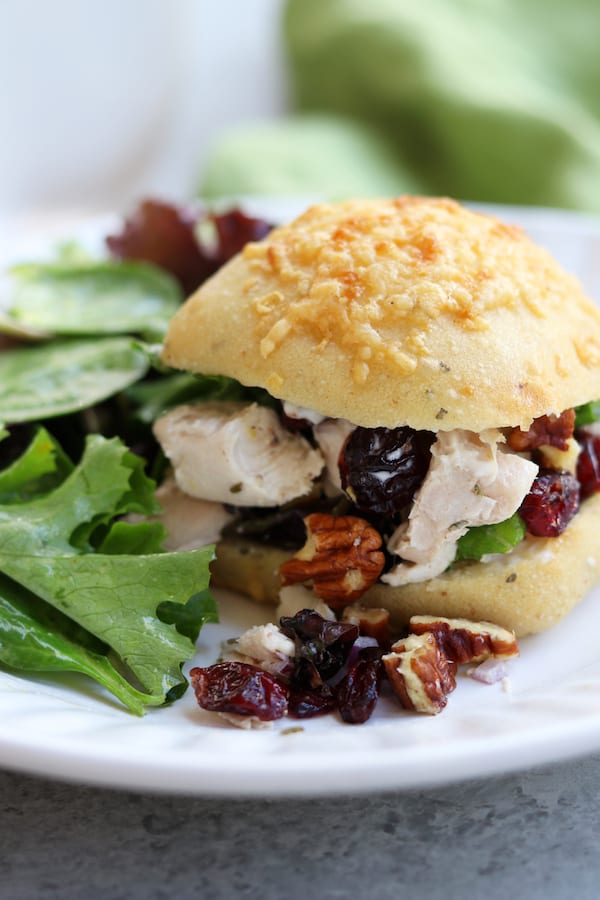 Pecan Cranberry Chicken Salad Sandwich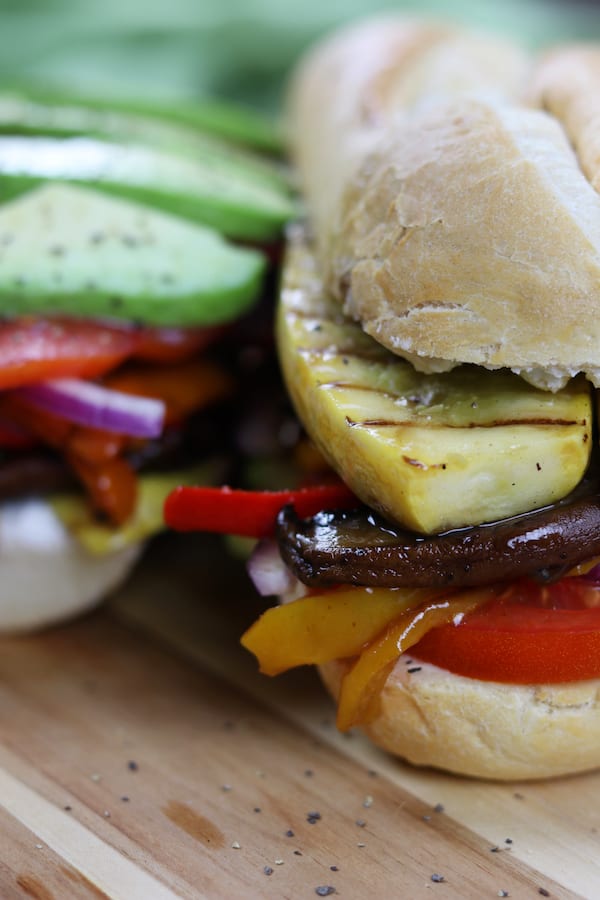 Grilled Veggie Sandwich
SaveSave