One Pan Panko Chicken and Green Bean Salad recipe is a sheet pan dinner with herby panko chicken and baked green beans that are easily dressed into a salad. Light and healthy, a perfect week night dinner.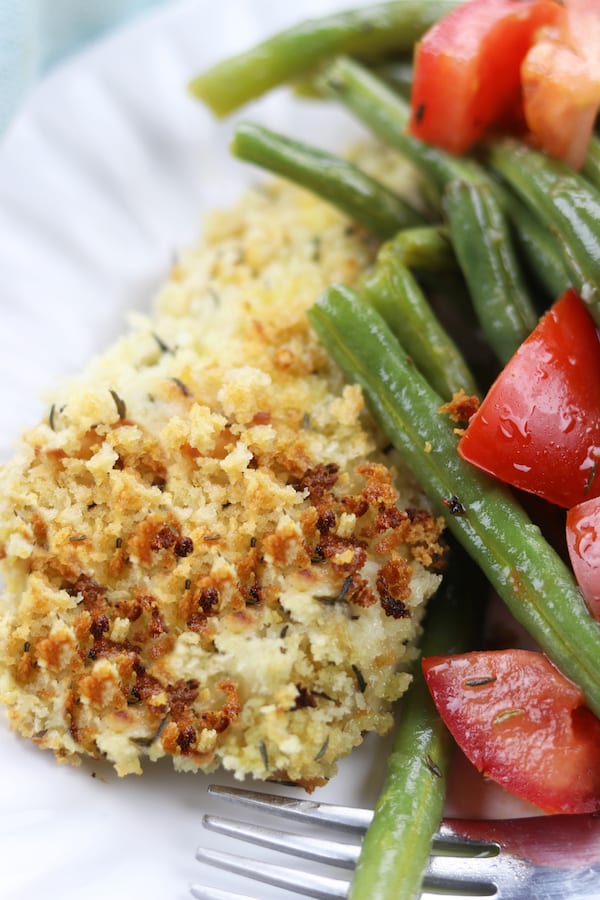 This post may contain affiliate links which I earn a small portion in sales if a purchase is made. Rest assured though, it is never at any additional cost to you.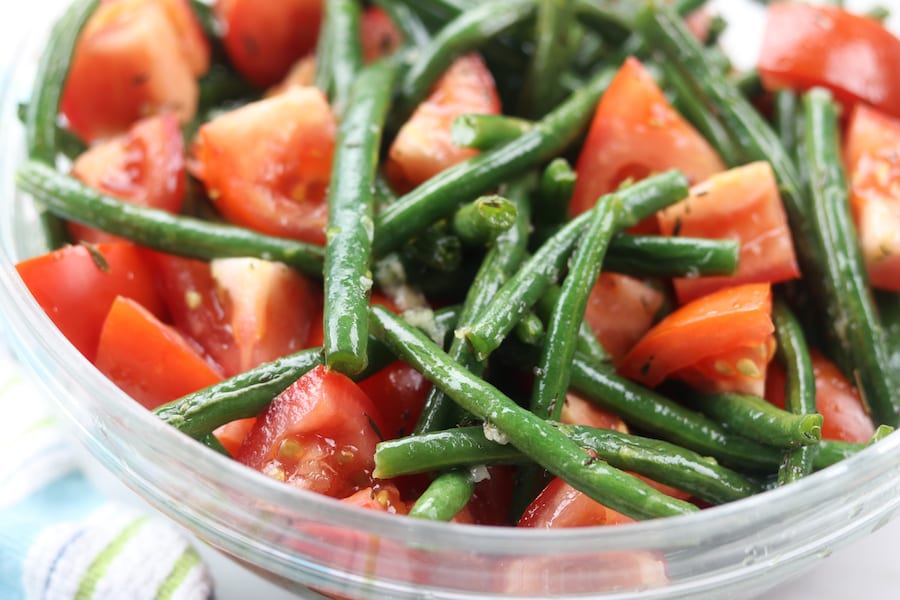 My husband recently came home from being on the road working and let me tell you, the last thing you want to do after not seeing your honey for awhile is cook. Really all I want to do when Paul gets home is go on date nights, but real life is still happening and we still need to eat. That is why I love meals like this One Pan Panko Chicken and Green Bean Salad. It is very simple, incredibly flavorful and delicious. I have for awhile been drooling over Skinnytaste's Baked Chicken Parmesan with it's breaded chicken breasts but I have really been wanting a green bean salad. So I combined my cravings and the need for simplicity to create this easy one-pan meal. Paul loved it, I loved it and it is sure to be a repeat multiple times the rest of summer and fall.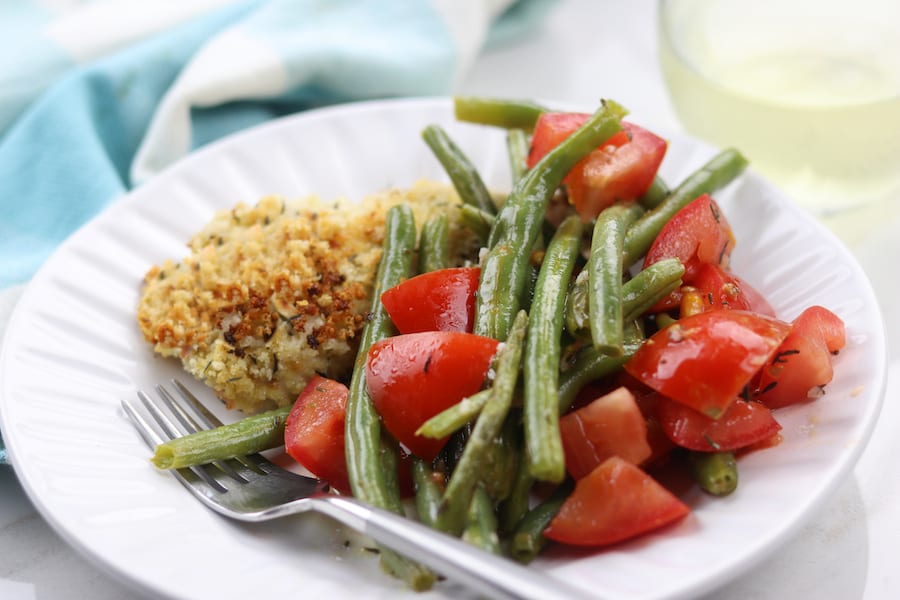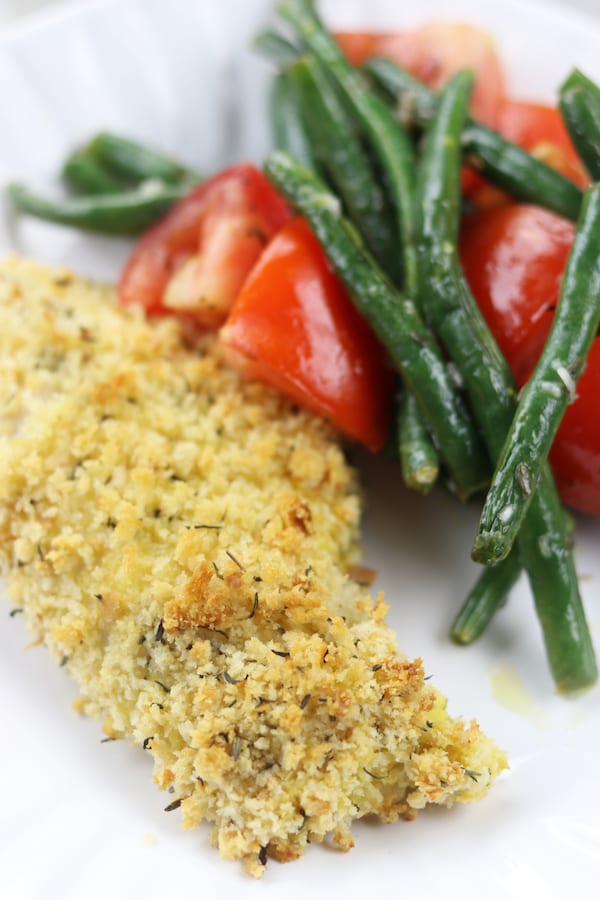 One Pan Meals, a way to simplify dinner!
I really should say one pan, one bowl and three plates but the bottomline is one pan meals are a wonderful way of getting dinner on the table in a much easier way. With everything being cooked on one pan, clean up is a breeze. Cooking times are usually fairly quick, giving you a delicious home cooked meal without spending hours slaving in the kitchen.
What is Panko and why use it?
Panko in a nutshell is basically bread crumbs but with a lighter, flakier texture. It gives the chicken in this One Pan Panko Chicken and Green Bean Salad dish a beautiful crispy crust without having to be fried. Because of Panko's flaky texture I prefer it over regular bread crumbs for this recipe. Don't skip adding the thyme to the Panko, salt and garlic powder to the flour because Panko can lack a little flavor.
How to butterfly chicken for One Pan Panko Chicken and Green Bean Salad:
To butterfly chicken for this recipe place the boneless skinless chicken breast on a cutting board. Place your hand on top of breast and using a sharp knife (like a chefs knife) cut horizontally, starting with the fatter side, until you have equally sized chicken breasts. Normally with a butterfly cut you would not cut all the way through the breast so that you would end up with a larger cut of meat for stuffing. If the end cutting does not result in butterflied breasts that are an even thickness, place chicken between plastic wrap. Pound thicker areas with a rolling pin or the flat side of meat tenderizer until desired thickness is met. (affiliate)
Tips about One Pan Panko Chicken and Green Bean Salad:
Doing the flour and egg coating before the Panko helps the Panko to adhere to the chicken. Just make sure to add garlic powder and salt to the flour and thyme to the Panko for flavor packed chicken. (affiliate) P.S. Sprouts Farmers Market had a great deal on organic Panko.
Using a large stainless steel cookie sheet with sides will ensure your green beans don't slide everywhere plus there will be no worries of aluminum getting into your food. (affiliate)
For easier cleanup, line the cookie sheet with parchment paper.
After cooking the green beans and chicken remove green beans and spray with cooking spray. This is one of my favorite high heat sprays. (affiliate)
One of the easiest and fastest ways to to trim the ends of green beans is to line them up on a cutting board so that the ends match. Use a chefs knife trim the knobby end off and then repeat on opposite side. (affiliate)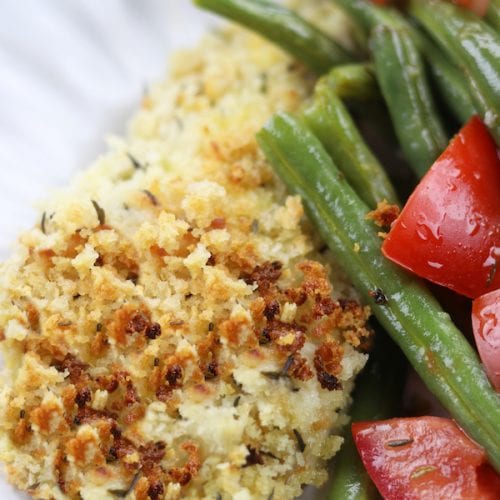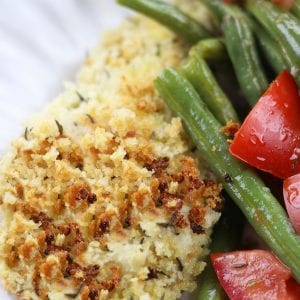 Ingredients
Chicken
1 1/2

lbs

boneless skinless chicken breast *2 large breasts

1/3

cup

flour

1/2

tsp

salt

1/2

tsp

garlic powder

2

eggs

2

cups

Panko

2

tsp

thyme

cooking spray
Green Bean Salad
1 1/4

lb

green beans

1

lb

roma tomatoes *about 4-5 tomatoes

1/4

cup

extra virgin olive oil

zest of 2 lemons

1/4

cup

lemon juice *about 2 small lemons

1/2

tsp

sea salt

1

tsp

thyme

2

med cloves garlic *minced or crushed
Instructions
Preheat oven to 400℉. Line a large cookie sheet with parchment paper.

Wash and trim ends off of green beans. Set aside to let drain.

Using either pie plates or 3 large shallow bowls/plates place flour, salt & garlic powder in first bowl. Mix well. In second bowl crack two eggs & beat well. In third bowl combine Panko and thyme.

Slice chicken breasts in half using a butterfly cut making 4 even thickness cuts of meat (see tips above in post).

Dredge breasts in flour mixture on both sides, egg and then Panko mixture. Place breasts down the center of cookie sheet. Divide green beans evenly on either side of chicken breasts. Bake in a 400℉ oven for 20 mins.

Meanwhile whisk together ingredients for dressing. Set aside.

Once the 20 mins have passed remove pan from oven. Add green beans to dressing mixture. Spray chicken with cooking spray and continue cooking for an additional 7-10 mins for an extra crispy crust.

Meanwhile roughly chop tomatoes into large chunks. Add to green bean & dressing bowl and toss.
Notes
*Please use as many organic ingredients as possible.*
Nutrition
Calories:
575
kcal
|
Carbohydrates:
46
g
|
Protein:
48
g
|
Fat:
22
g
|
Saturated Fat:
4
g
|
Cholesterol:
192
mg
|
Sodium:
797
mg
|
Potassium:
1322
mg
|
Fiber:
7
g
|
Sugar:
10
g
|
Vitamin A:
2111
IU
|
Vitamin C:
42
mg
|
Calcium:
142
mg
|
Iron:
5
mg
If you love easy delicious meals then check out these recipes: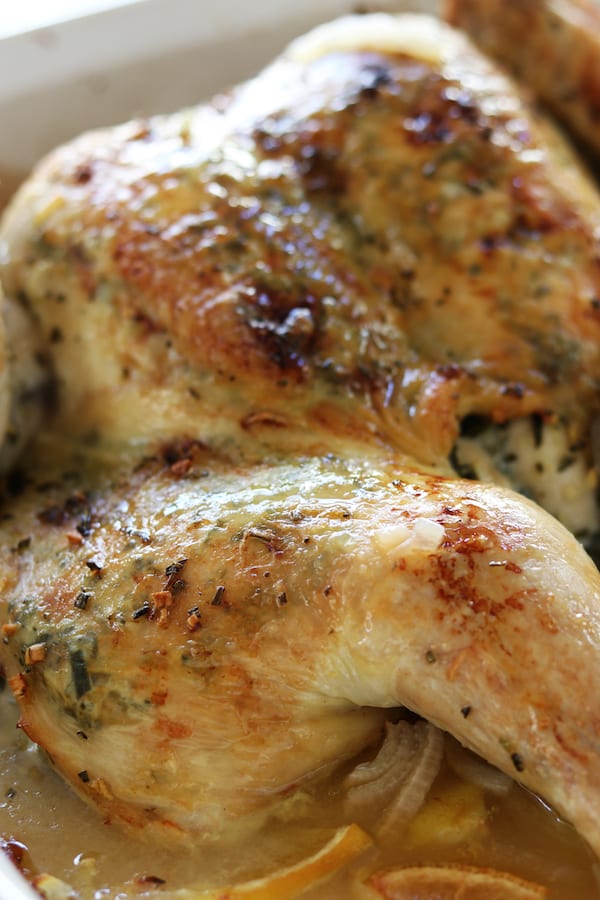 Rosemary Lemon Garlic Chicken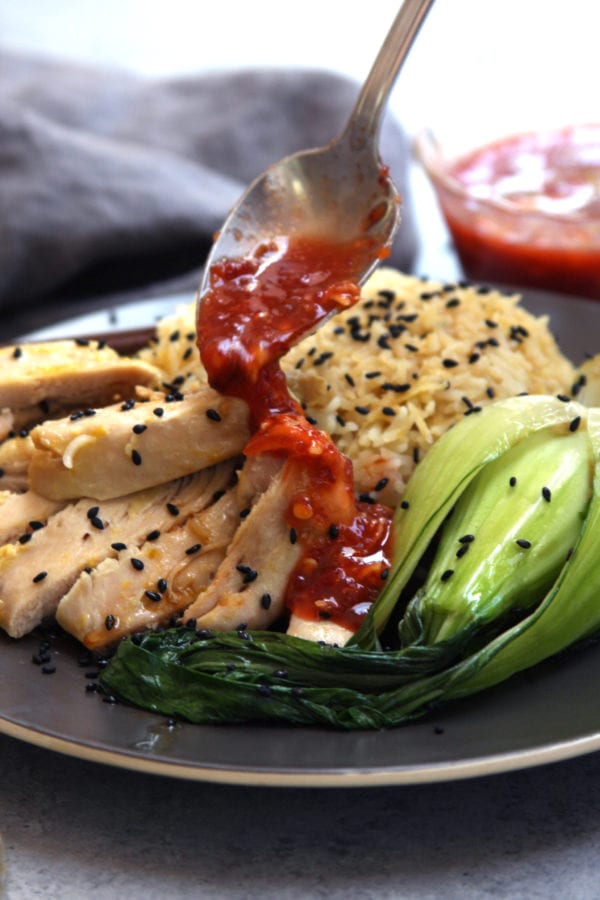 One-Pot Asian Chicken and Rice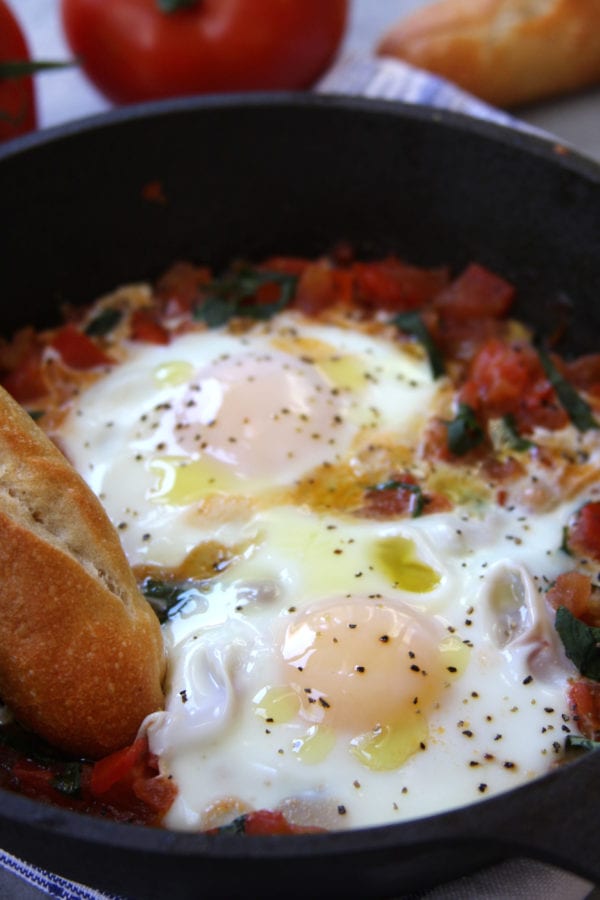 Italian Tomato and Eggs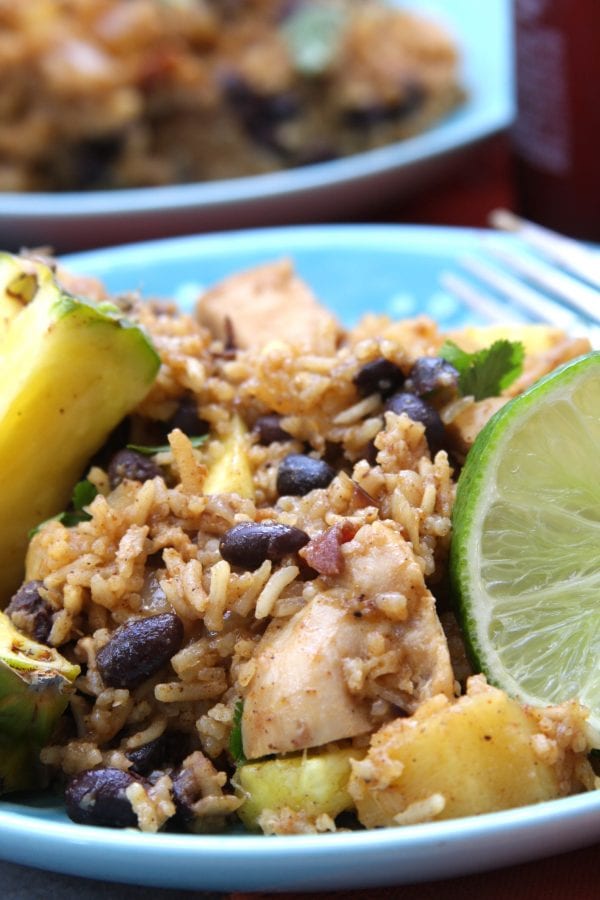 Caribbean Chicken & Rice