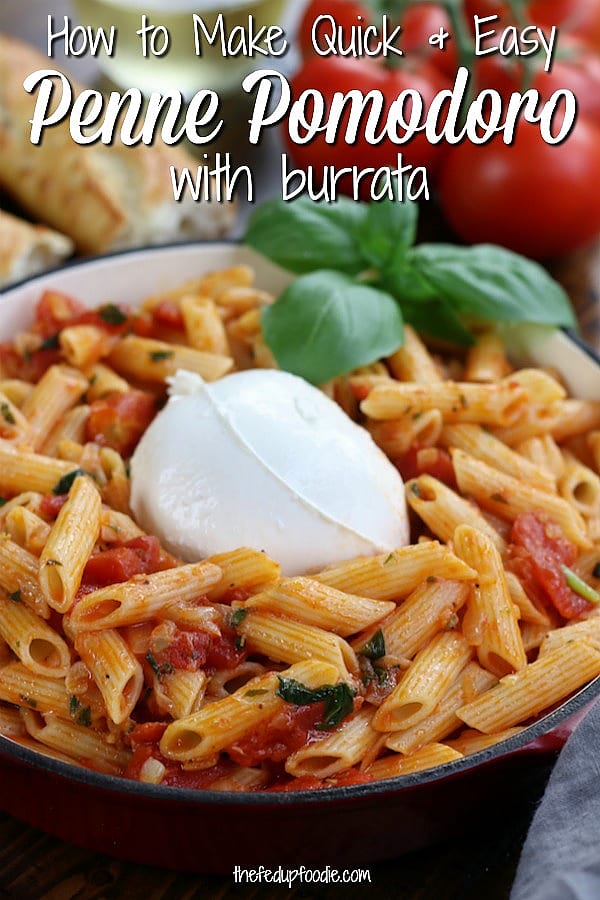 Homemade Penne Pomodoro with Burrata is a quick, light and authentic Italian meal that the whole family will adore. So easy and delicious, this will become your new favorite go-to meal.

This post may contain affiliate links which I earn a small portion in sales if a purchase is made. Rest assured though, it is never at any additional cost to you.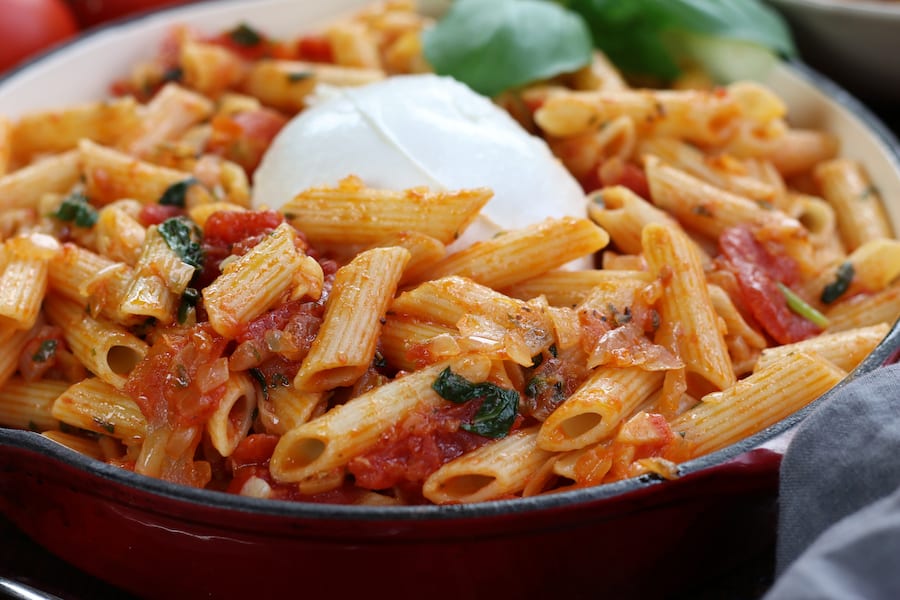 Today I woke up with a crick in my neck and a to do list a mile long.
I am literally walking around like Quasimodo trying to cross off as much as possible on the list without loosing my mind.
It's days like today that make me so happy that I have a list of go-to meals that are incredibly simple and delicious.
Meals that I can throw together quickly and everybody loves.
This Penne Pomodoro with Burrata tops that list along with my Mediterranean Veggie Sandwich, Egg Roll In a Bowl, Easy Weeknight Spinach Pesto Gnocchi and One Pan Panko Chicken and Green Bean Salad.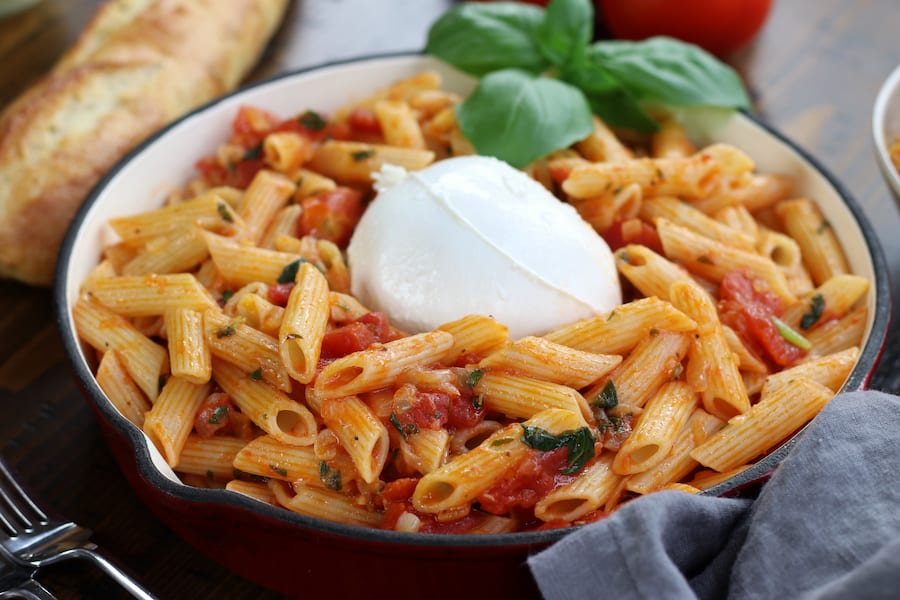 What is Pomodoro Sauce?
Pomodoro is an Italian word that simply means tomato. Pomodoro Sauce is a tomato sauce that is quick, light and very easy to make. It is traditionally made with olive oil, tomatoes, garlic and herbs.
Pomodoro Sauce with Fresh Tomatoes
To make enough sauce for 1 lb of pasta follow these steps:
Bring a large pot of water to a boil and prepare a large bowl of ice water. The ice water will shock tomatoes after being boiled to stop the cooking process.
Score the bottoms of 12 large Roma tomatoes (15-18 if small) or vine ripened tomatoes. Place tomatoes into boiling water for 1-2 mins or until skin starts to become loosened.
Remove tomatoes from boiling water and place directly into ice bath using this tool. Let tomatoes sit in ice bath long enough to cool completely, approximately 5 minutes.
Remove from ice bath, peel skin and dice tomatoes.
Follow remaining steps of recipe below.
Pomodoro Sauce with Canned San Marzano Tomatoes
The beauty of making this authentic Italian sauce is that it can be made with San Marzano tomatoes. If you have never had a San Marzano tomato you really should try them as soon as possible. They are rich in flavor, slightly sweet and low in acidity due to be grown in a region of Italy know for its volcanic soil. Just an all around phenomenal tomato.
What is Burrata?
Burrata is a soft, creamy cheese made from mozzarella and with a fresh cream filling. It literally melts in your mouth and accompanies this pasta dish extremely well. For this recipe I used an 8 oz Burrata ball but I highly recommend using up to 16 oz (or 2- 8oz balls) if members of your family adore mozzarella.
Where to Buy Burrata Cheese
Larger grocery stores will carry burrata in their gourmet cheese section where other fine cheeses and meats are sold. If you live in a smaller community, your best bet would be to find an Italian deli. Amazon does sell it, however it is extremely expensive to order through them.
How to Serve Penne Pomodoro with Burrata
Once the pasta is added to the sauce, stir well and then add to either a large pasta bowl or deep skillet. Nestle the burrata cheese into the pasta (as seen in above pictures). Serve with a large serving spoon allowing guests or family members to segment a section of cheese that they desire.
Additional Add Ins for Pasta Pomodoro
Authentic Pomodoro Sauce is essentially made with 5-6 ingredients. However, it is important to tailor this recipe to your taste preferences. Here are some additional add ins that you may find appealing.
clams
mussels
shrimp
chicken
butter
Parmigiano Reggiano
Commonly Asked Questions About Pomodoro
How well does Pomodoro Sauce freeze?
Since Pomodoro Sauce is so easy to make and tastes amazing when freshly made, I personally do not recommend freezing. However, if necessary, make sure to let the sauce cool completely before adding to a freezer bag and remove excess air. Freezing for no longer than 3 months is advisable.
Can Pomodoro Sauce be used on pizza?
Yes, it tastes absolutely amazing on homemade pizza. Just make sure to sauté the tomatoes long enough to remove excess moisture if using fresh tomatoes.
Can dried herbs replace fresh herbs?
Above all, you want to approach this dinner in the most convenient way possible. When fresh herbs are not available, dried herbs can absolutely be used. Just know though, fresh herbs taste beyond amazing in this recipe.
What other types of pasta does Pomodoro sauce work well with?
This sauce works well with any pasta that is your favorite. Penne noodles are a very accessible pasta and loved my most people.
More Authentic Italian Cuisine
Bruschetta with Balsamic Reduction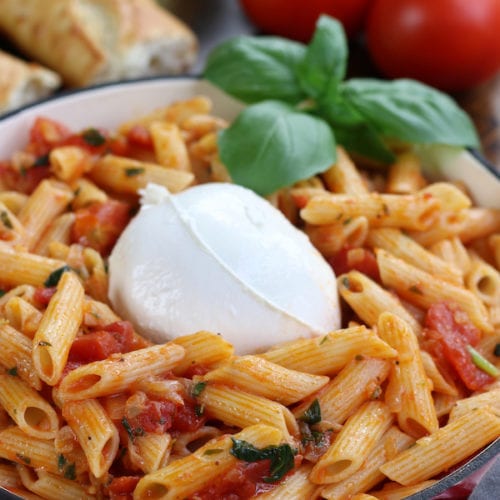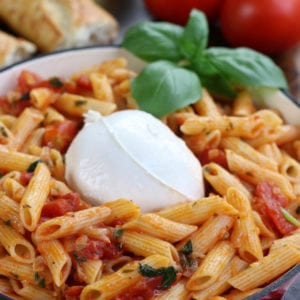 Penne Pomodoro with Burrata
Quick and simple, Penne Pomodoro with Burrata is a meal the whole famiy adores. We love eating this with crusty baguette and blanched broccoli.
Print
Pin
Rate
Ingredients
For the Pasta
1

lb

penne pasta

5-6

quarts

water

1/3

cup

sea salt
For the Pomodoro Sauce
1

med

brown onion

*diced, about 1 cup

2

tbsp

minced garlic

*about 4-6 garlic cloves

4

tbsp

extra virgin olive oil

*divided

1

28 oz can

whole San Marazano tomatoes

*roughy chopped with juice

1/2

cup

fresh oregano

*roughly chopped

3

springs

fresh basil

*roughly chopped or torn, about 1/2 cup

salt & pepper

*to taste

2

8oz

Burrata balls
Instructions
For the Pasta
Bring a large pot of water to boil. Once boiling, add in salt and pasta. Cook to al dente following instructions on package making sure to stir occassionally. Drain and set aside.
For the Pomodoro Sauce
Meanwhile, heat a large frying pan over medium high heat. Add 2 tbsp oil and sauté onions until softened, about 3 mins. Add in garlic and continue sautéing until onions reach semi-translucent stage, about another 2 mins.

Raise heat to high and stir in chopped San Marazano tomatoes along with juice. Sprinkle in salt and pepper. Stirring frequently, cook until tomaotes have softened, about 7-8 mins. Within the last few minutes of simmering add in last 2 tbsp of olive oil and fresh herbs.

Take off heat and stir in pasta. Add burrata. Serve desired amount of cheese per portion.
Notes
*Please use as many organic ingredients as possible. 
Nutrition
Calories:
386
kcal
|
Carbohydrates:
62
g
|
Protein:
11
g
|
Fat:
11
g
|
Saturated Fat:
2
g
|
Cholesterol:
1
mg
|
Sodium:
6334
mg
|
Potassium:
256
mg
|
Fiber:
4
g
|
Sugar:
3
g
|
Vitamin A:
94
IU
|
Vitamin C:
2
mg
|
Calcium:
118
mg
|
Iron:
3
mg