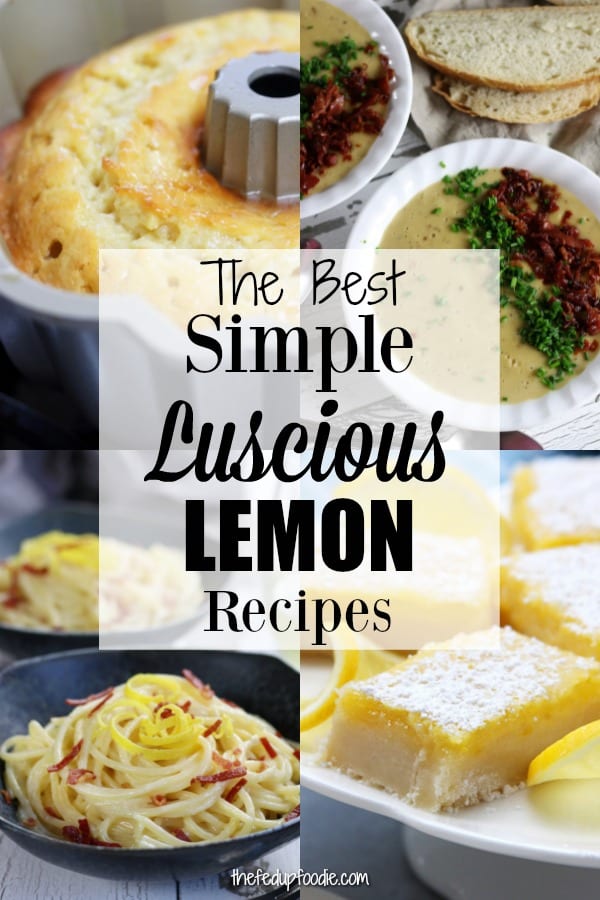 Lemon lovers, this one is for you! A collection of the Best Simple Luscious Lemon Recipes around. All of these recipes are tried and true. A sure fire way to bring ultimate joy to the lemon lover's heart.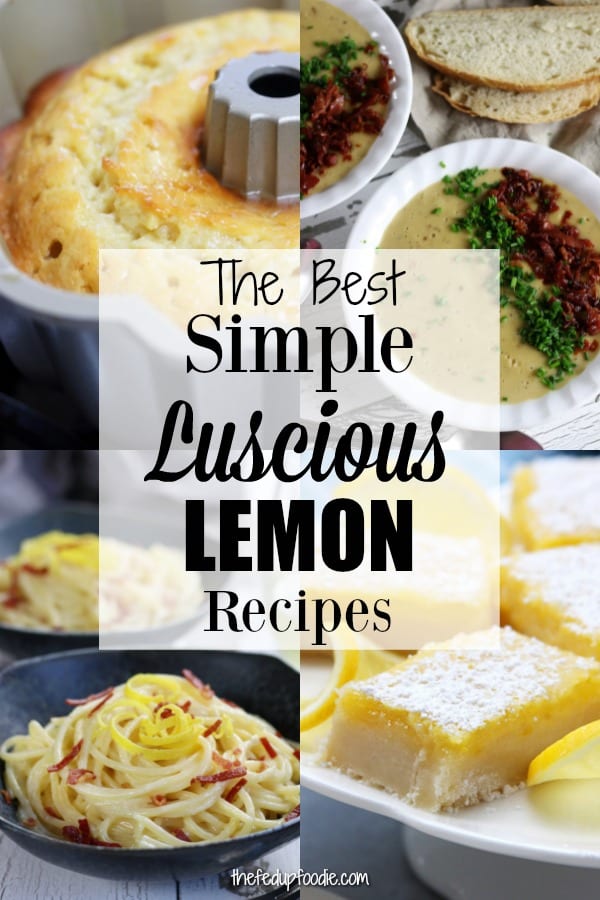 I say, when life gives you lemons, you've won the freaking lottery my friend! If you can't tell by now, I am a bona fide, hard core lemon lover. Not only do I adore the refreshing and zingy taste of lemons, but I am head over heels in love with the health benefits that they provide. Because of my love of lemons I have learned a thing or two about this glorious citrus fruit. Also, you will find all kinds of heavenly lipsmackingly luscious lemon recipes below.
This post may contain affiliate links which I earn a small portion in sales if a purchase is made. Rest assured though, it is never at any additional cost to you.
Commonly Asked Questions About Cooking and Baking with Lemons
How much juice do you get from one lemon?
Home grown lemons, from healthy trees, tend to be extremely juicy providing up to approximately 1/4 cup of juice. Store bought lemons on the other hand, will provide about 2 tablespoons of juice.
Why are lemon peels sometimes bitter and how do you fix it?
What makes a lemon peel bitter is the pith, the white spongy area just below the yellow skin. The best way to eliminate the bitterness is to avoid that area of the lemon. When zesting, use either this tool or this one to avoid the pith.
Also, you can use a vegetable peeler to make lemon strips with the same approach of avoiding the white pith. To do this, run the blade of the peeler along the zest, making sure to only apply a moderate amount of pressure. I use this method to make my Homemade Limoncello, Lemon Roast Beef Rub and my Lemon Rosemary Crockpot Potato Soup.
Can lemon juice cook meat and/or fish?
It is a general rule of thumb that lemon juice does not safely cook poultry and red meats, even though the acid does have a somewhat similar effect to cooking.
On the other hand, lemon and lime juice is the base used in cooking the fish and or shrimp in authentic ceviche.
Do lemons slices freeze well?
Yes and no. Lemon slices do freeze, however the quality of the lemon will diminish when frozen whole or in slices.
How do you preserve fresh lemon juice?
My best advice, juice the lemons and freeze in ice cube containers. Once the juice is frozen, remove into a freezer container and store in the freezer. I have used lemon ice cubes to make salad dressings, lemonade, in my hot tea, or to add to soups.
Can fresh squeezed lemon juice go bad in the refrigerator?
Yes, fresh squeezed lemon juice can go bad even when kept in the refrigerator. Here is my approach, I buy large bags of lemons and squeeze each individual lemon when needed. As soon as the lemons look like they are aging, I will juice them and store the juice in the refrigerator in an airtight container. The first week the juice is still bright and full of citrus flavor. The second week the juice will start to loose some of its lemony taste. I will generally discard any lemon juice that has sat in the refrigerator past 10 days. Honestly though, that rarely ever happens.
What are the signs of a bad lemon?
Generally, a lemon that has gone bad will start to mold. This is seen most often with organic or homegrown lemons. In contrast, store bought non organic lemons do not always mold when they are bad. They often will develop extremely soft spots or the lemon skin will become hard with brown spots.
What can you make with lots of lemons?
Oh my goodness, you are in for a treat. All of these recipes have lemon as the main ingredient and/or one of the most predominant flavors. Check back often because my lemon loving heart has just gotten started with these luscious lemon recipes.