The Black Bean Burrito recipe is an organic and budget friendly way to satisfy appetites and taste buds alike. Rich, zesty black beans with creamy and tangy cheddar cheese makes for many healthy freezer meals while delighting your checkbook.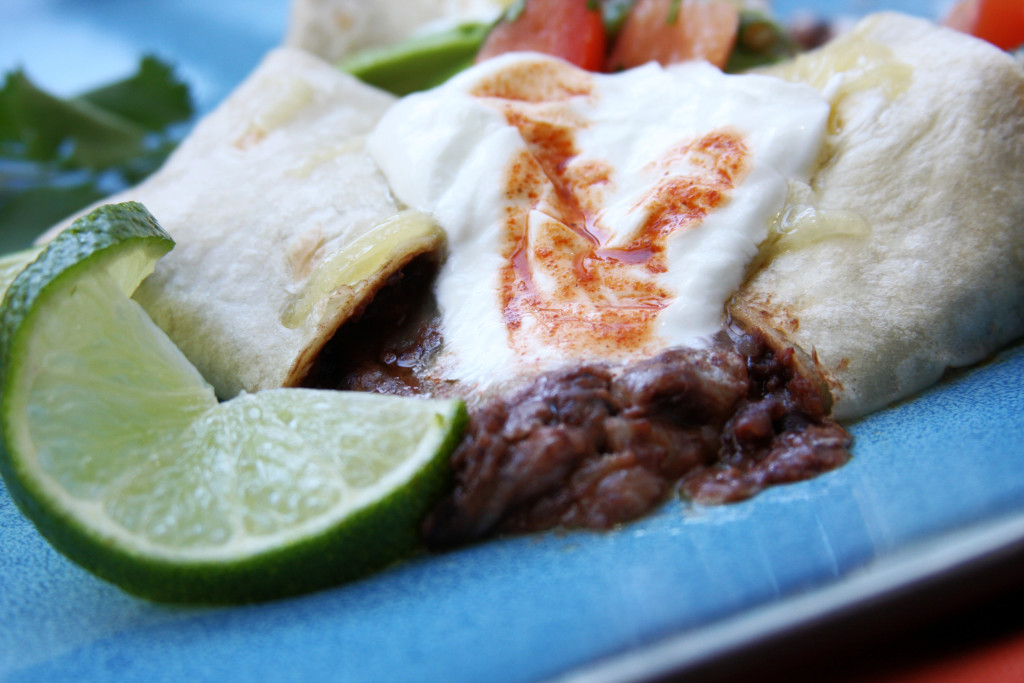 This post may contain affiliate links which I earn a small portion in sales if a purchase is made. Rest assured though, it is never at any additional cost to you.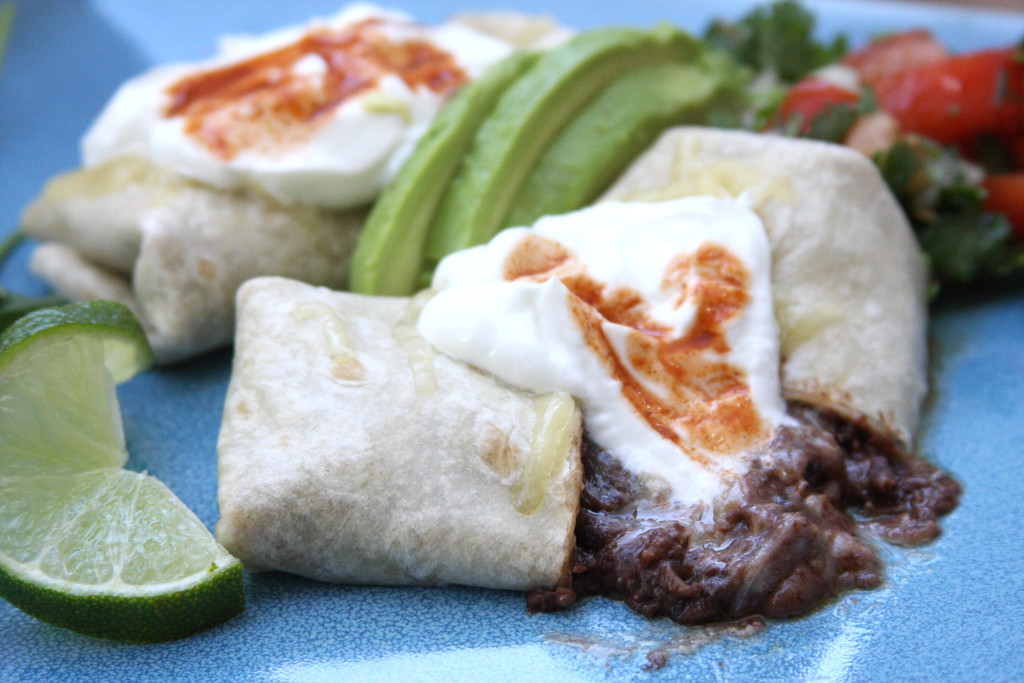 We have all been there, spent a little too much during the holidays or on vacation and now money is a little tighter than what we would like. Or maybe it is that dream vacation your saving for that has your pocket book singing the blues. Everyone at one time or another has had the thought, 'if I only spend $5 a day on food I could do such and such with the extra money". Then visions of eating Ramen morning, noon and night parade through your head in a "Gingham Style" dance. The idea may sound appealing at first, but much like watching the dance, it will leave you with a head cocked to one side, crumbled up and scrunched facial expression.
I will admit, I do enjoy a good organic Ramen noodle with plenty of veggies, so I will stop poking fun at Ramen and tell you about glories that is The Black Bean Burrito. On a recent visit to my cousin's house she showed me her freezer full of homemade burritos she keeps on hand for her teenage son. I immediately thought, "Oh hey, you do that too?" It always amazes me when my cousins and I eat the same fundamental foods, which is so silly because we are from the same family. My parents have been making homemade freezer burritos for longer than I can remember. I was practically a burrito baby and remember fondly enjoying them as a teenager. In fact, I do believe it was one of my favorite foods as a teenager. Making homemade freezer burritos was one of many ways my parents keep plenty of food on hand while keeping the budget down.
Fast forward to the present and The Black Bean Burrito hasn't failed me yet. My husband has fallen in love with the taste, I love what a quick and easy organic lunch or dinner it can be and our pocket book is as happy as a purring cat. I love the taste of black beans but specifically use them for there high level of nutrition.
In my opinion the best part of this, The black bean burrito weighs in at 56 cents per burrito. The burritos I made were used with smaller tortillas, so many adults may need to eat 2 as a meal. Even so, when was the last time you had a organic meal totaling $1.12? Doesn't happen very often these days. Costco was a huge help in keeping the cost down as I purchased some of the more costly items there, cheese, tortillas and salsa.
My biggest recommendation when making The Black Bean Burrito recipe is to have a helper heating the tortillas while you form the burritos. It makes for quick and easy assembly having two people on the job.
Once The Black Bean Burrito recipe is assembled, you have dinner ready for that night and several go to meals. Garnish with avocado, plain greek yogurt (in place of sour cream) and my Pico de Gallo. Your taste buds and pocket book will rejoice.
For other incredibly tasty Latin inspired feasts check out:
Garlic Studded Slow Cooker Carnitas Tacos
Crockpot Shredded Chicken Tacos
Enjoy!!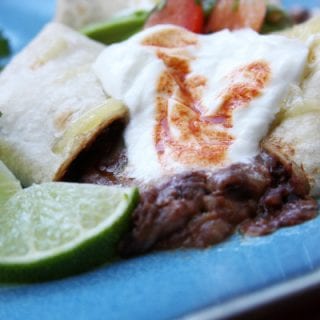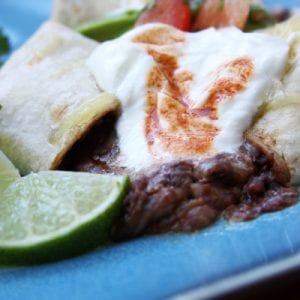 The Black Bean Burrito
Zesty black bean burritos with creamy and tangy cheddar cheese. Organic budget friendly freezer meals that will make your pocket book and taste buds happy.
Print
Pin
Rate
Servings:
40
lg or 75 small
Ingredients
2

lbs

dried black beans

2

tbsp

extra virgin olive oil

1

lg

onion

*diced

5-6

lg

garlic cloves

*minced or crushed

3

tbsp

coriander

3

tbsp

cumin

3

tbsp

chilli powder

2

lbs

salsa

*I used Costco organic jarred salsa

salt & pepper to taste

40

lg

burrito size tortillas or 75-80 taco size tortillas

2 1/2-3

lbs

cheddar cheese

*grated
Instructions
For the Beans- Place dry beans in colander and rinse well with cool water. Place beans in a large stockpot. Cover with water, about 2 inches above the bean level. Bring to a boil on high heat. Once boiling, stir, cover and lower heat down to lowest setting. Cook for approximately 2 -3 hours or until black beans are tender and fully cooked. Stir occasionally during cooking, adding more water if necessary. Cooking times of the beans may vary depending on stove tops. For slow cookers, no need to boil first. Cook on low heat for 6-9 hours, depending on slow cooker. Once beans are fully cooked take off of heat, drain and set aside.

In your largest frying pan sauté diced onion in olive oil over med/high heat until soft and golden brown, about 7-8 minuets. Stir occasionally. Add garlic and spices, sauté for an additional minute. Add beans and salsa. With an immersion blender or potato masher, process beans until fairly smooth. Continue cooking beans over medium heat until thickened, approximately 30 mins. If beans are too dry add more salsa. If too wet, cook down a little more.

For the Burritos - Grate cheese and place in a large bowl. Heat a medium sized stainless steel frying pan over medium heat. Add a tortilla to heat, spinning with hand so as to not let the tortilla stick. Heat for 30 secs on first side, with tongues turn over and heat for an additional 30 secs. Place heated tortilla on a plate. Add approximately 1/4 cup beans onto bottom-middle portion of small tortilla, slightly off center (1/2 cup for larger tortillas). Be careful to not over fill. Place approximately 1/8 cup grated cheese on top of beans. Fold bottom half of tortilla over beans. Fold in sides of tortilla and then roll tightly. Repeat steps for all burritos and stack prepared burritos in a roasting pan. *Having one person heat the tortillas and one person forming the burritos makes for quick assembly. Once all burritos are formed, place in a single layer inside of gallon sized freezer bag. As an option, burritos can also be wrapped individually parchment paper before being placed in freezer bag also. Place in freezer making sure to lay on flat service.

Heating Frozen Burritos- Heat 2 burritos in microwave at 50% power for 2 mins to defrost and then full power for 2 mins. For multiple burritos, place burritos in a baking pan and then in a 350℉ oven for 30 mins or until heated through. Serve with avocado, salsa or plain greek yogurt.
Notes
*Please use as many ingredients as possible.*
Taco size tortillas will yield small burritos, perfect child size or for a light lunch. Adding salsa to beans makes for an incredibly flavorful burrito.
Nutrition
Calories:
211
kcal
|
Carbohydrates:
17
g
|
Protein:
13
g
|
Fat:
11
g
|
Saturated Fat:
6
g
|
Cholesterol:
30
mg
|
Sodium:
355
mg
|
Potassium:
456
mg
|
Fiber:
4
g
|
Sugar:
2
g
|
Vitamin A:
588
IU
|
Vitamin C:
1
mg
|
Calcium:
248
mg
|
Iron:
2
mg