Print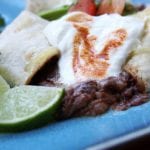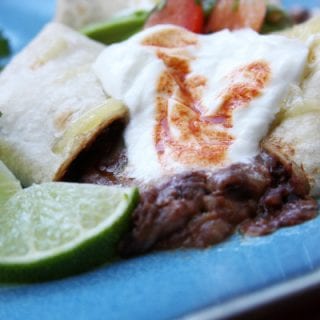 The Black Bean Burrito
Zesty black bean burritos with creamy and tangy cheddar cheese. Organic budget friendly freezer meals that will make your pocket book and taste buds happy.
Cook Time
3
hours
40
minutes
Total Time
4
hours
25
minutes
Servings
40
lg or 75 small
2

lbs

dried black beans

2

tbsp

extra virgin olive oil

1

lg onion *diced

5

lg garlic cloves *minced or crushed

3

tbsp

coriander

3

tbsp

cumin

3

tbsp

chilli powder

2

lbs

salsa *I used Costco organic jarred salsa

salt & pepper to taste

40

lg burrito size tortillas or 75-80 taco size tortillas

2 1/2-3

lbs

cheddar cheese *grated
For the Beans- Place dry beans in colander and rinse well with cool water. Place beans in a large stockpot. Cover with water, about 2 inches above the bean level. Bring to a boil on high heat. Once boiling, stir, cover and lower heat down to lowest setting. Cook for approximately 2 -3 hours or until black beans are tender and fully cooked. Stir occasionally during cooking, adding more water if necessary. Cooking times of the beans may vary depending on stove tops. For slow cookers, no need to boil first. Cook on low heat for 6-9 hours, depending on slow cooker. Once beans are fully cooked take off of heat, drain and set aside.

In your largest frying pan sauté diced onion in olive oil over med/high heat until soft and golden brown, about 7-8 minuets. Stir occasionally. Add garlic and spices, sauté for an additional minute. Add beans and salsa. With an immersion blender or potato masher, process beans until fairly smooth. Continue cooking beans over medium heat until thickened, approximately 30 mins. If beans are too dry add more salsa. If too wet, cook down a little more.

For the Burritos - Grate cheese and place in a large bowl. Heat a medium sized stainless steel frying pan over medium heat. Add a tortilla to heat, spinning with hand so as to not let the tortilla stick. Heat for 30 secs on first side, with tongues turn over and heat for an additional 30 secs. Place heated tortilla on a plate. Add approximately 1/4 cup beans onto bottom-middle portion of small tortilla, slightly off center (1/2 cup for larger tortillas). Be careful to not over fill. Place approximately 1/8 cup grated cheese on top of beans. Fold bottom half of tortilla over beans. Fold in sides of tortilla and then roll tightly. Repeat steps for all burritos and stack prepared burritos in a roasting pan. *Having one person heat the tortillas and one person forming the burritos makes for quick assembly. Once all burritos are formed, place in a single layer inside of gallon sized freezer bag. As an option, burritos can also be wrapped individually parchment paper before being placed in freezer bag also. Place in freezer making sure to lay on flat service.

Heating Frozen Burritos- Heat 2 burritos in microwave at 50% power for 2 mins to defrost and then full power for 2 mins. For multiple burritos, place burritos in a baking pan and then in a 350℉ oven for 30 mins or until heated through. Serve with avocado, salsa or plain greek yogurt.
*Please use as many ingredients as possible.*
Taco size tortillas will yield small burritos, perfect child size or for a light lunch. Adding salsa to beans makes for an incredibly flavorful burrito.