Print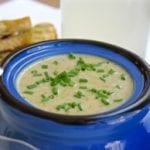 Hearty Crockpot Broccoli Soup
A creamy soup thickened with a roux and potato. Full of flavor and perfect for cold nights.
Total Time
6
hours
30
minutes
Wash and cut broccoli into florets. Add to crockpot.

Measure herbs and add to crockpot.

Dice onion and mince garlic. Set aside. Melt butter in a large frying pan over a med to med/high heat. Add onions and sauté for 3 to 4 minutes or until softened. Add garlic and sauté for an additional minute. Add flour and cook for 2 minutes, stirring frequently. After 2 minutes, Slowly whisk in milk, as to not form clumps. Cook until it begins to thicken, about 5 minutes, whisking consistently. Once cooked add to crockpot.

Wash, peel and shred potato. Add to crockpot.

Add broth to crockpot and stir. Cook on high for 6 hours or on medium for 9 hours.

After cooking, use an immersion blender and blend cooked ingredients until thoroughly incorporated.

Shred cheeses and add. Cook for an additional 10 minutes or until cheese is melted.
*Please use as many organic ingredients as possible.*
Wait until third step to shred potato. If done earlier, it will start to turn pink.