Print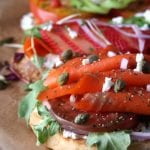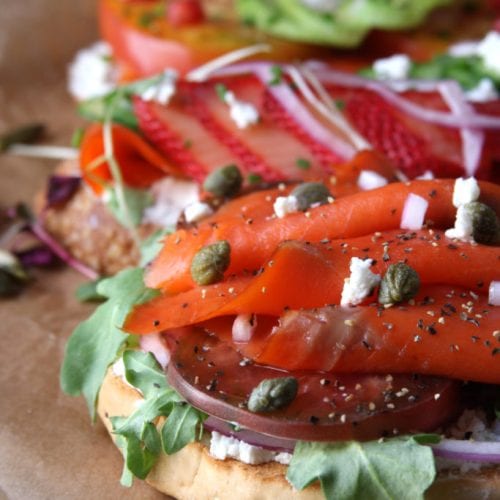 Summer Smoked Salmon Sandwiches
Sandwiches that look like pieces of art but are extremely fast an easy to make. A perfect meal for hot summer nights or Sunday brunch.
For the Breads- Choose 4 servings from your favorites listed below or your favorite breads.

Everything Bagels

Cracked Wheat Sourdough Bread

Ezekiel Sesame Bread

Cheese Toppings/b]

8

oz

cream cheese or

8

oz

goat cheese

1

lemon for lemon dill cream cheese*optional

1

tsp

dried dill for lemon dill cream cheese*optional

Other Toppings- Choose from your favorites or follow combinations from pictures above. Ingredients amounts may vary depending on popularity.

4

oz

lox or smoked salmon *preferably wild caught

1-2

ripe avocados *peeled & sliced

8

oz

strawberries *sliced

1/2

cup

pomegranate seeds

1

small eggplant

1

bunch asparagus

sm. container fresh chives *chopped

1

small english cucumber *cut into coins

1-2

cups

arugula

1-2

heirloom tomatoes *sliced

1

sm red onion *thinly sliced

1

cup

favorite sprouts or micro greens

1/4- 1/2

cup

capers *drained

2-4

over easy eggs or

2-4

hard boiled eggs
If making Lemon Dill Cream Cheese- Let cream cheese soften for about 10 mins on counter. Place into small mixing bowl. Add dill, about 1 tsp lemon zest and about 1-2 tsp lemon juice. Mix well with either hand mixer or by hand with fork.

If grilling eggplant & asparagus- Slice eggplant into about 1/4 in. steak slices. Lay on cookie sheet and lightly salt to remove extra water. Let sit for about 15 mins. With a paper towel absorb water. Turn slices over and repeat. Once eggplant slices have sweated, spray both sides with an olive oil spray and grill over med/high heat for 4-5 mins per side.

For the asparagus, clean & cut off bottom tough portion. Lay spears on plate and either drizzle with olive oil or spray with olive oil spray. Lightly salt. Grill over med/high heat for approximately 5 mins, turning every min or so.

For hardboiled eggs- Place eggs in small saucepan and cover with cold water one inch above eggs. Place over high heat and bring to a rolling boil uncovered. Cover and turn off heat. Let the eggs sit in the hot water for 6-15 mins. The longer the time, the firmer the egg. Once the time is met, drain and pour cold water over to stop the cooking process. This may need to be done a few times. On the final drain place in refrigerator until ready to peel.

Prepare all other ingredients, toast breads to personal preference and assemble.