Print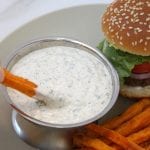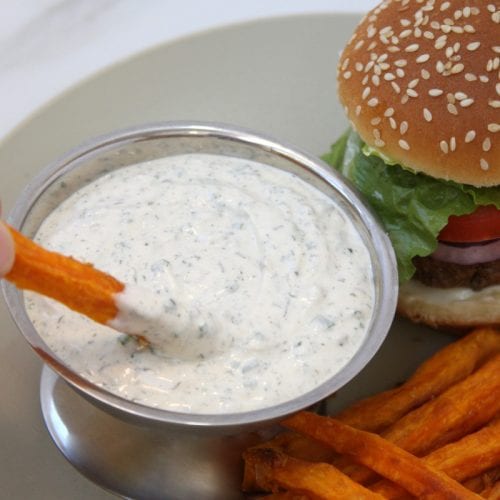 Garlic Sweet Potato Fries with Herbed Ranch Dip
An refreshing real food dip for savory Garlic Sweet Potato Fries.
For the Fries

8

small sweet potatoes

4

tbsp

extra virgin olive oil or organic coconut oil

6-8

med cloves of garlic

salt & pepper to taste

For the Dip

1 1/2

cups

plain greek yogurt *use nonfat if trying to lower calories

1/2

cup

mayo

1

tbsp

worcestershire sauce

1/2

tbsp

red wine vinegar

1/4

tsp

garlic powder

1/4

tsp

onion powder

2

tsp

dill weed

1

tsp

basil

1/2

tsp

marjoram *optional

1/3

cup

chopped chives

salt & pepper to taste
For the Fries- Preheat oven to 400 ℉. Wash and peel sweet potatoes. Cut into 3/8 of an inch steak slices and then into 1/4 of inch fries for a smaller fry or 1/2 inch for a larger fry. Place into large mixing bowl. Measure and add olive oil. Peel and crush garlic over fries. Stir thoroughly so oil and garlic covers uncooked fries evenly. Place parchment paper over top of 2 cookie sheets and spread fries over paper making sure to not over crowd fries. Sprinkle Salt & pepper to taste. Bake for approximately 40 mins or until desired crispness. Let cool for a few mins before eating.

For the Dip- In a medium size mixing bowl, measure all ingredients and mix well. Refrigerate until needed.
*Please use as many organic ingredients as possible.*
To make dip into a ranch dressing, add 1 tbsp of organic buttermilk at a time until desired thickness.