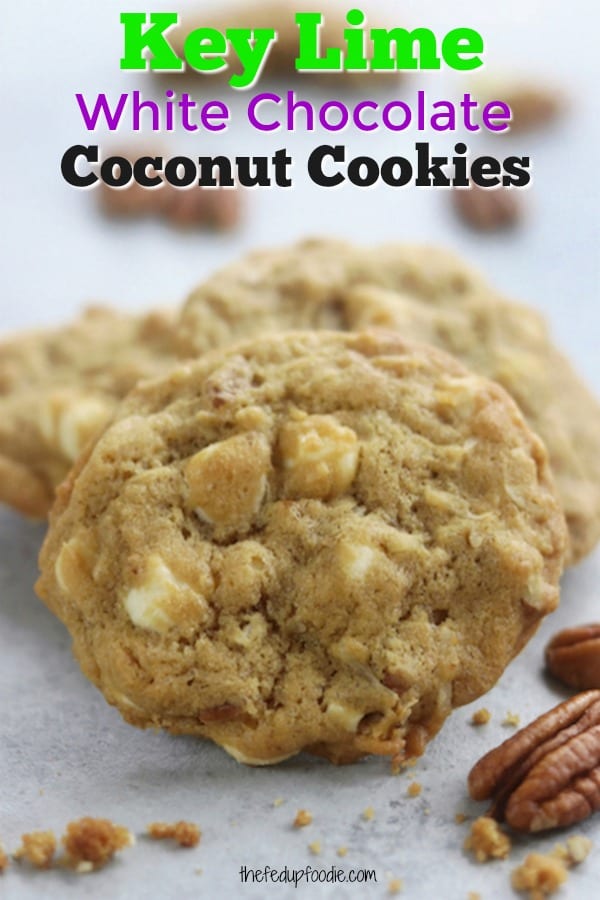 What's better than white chocolate chip cookies? Key Lime White Chocolate Coconut Cookies!!! With chopped pecans, shredded coconut, melt-in-your-mouth white chocolate chips and the bright citrusy key lime flavor, you will fall in love with the first bite.

This post may contain affiliate links which I earn a small portion in sales if a purchase is made. Rest assured though, it is never at any additional cost to you.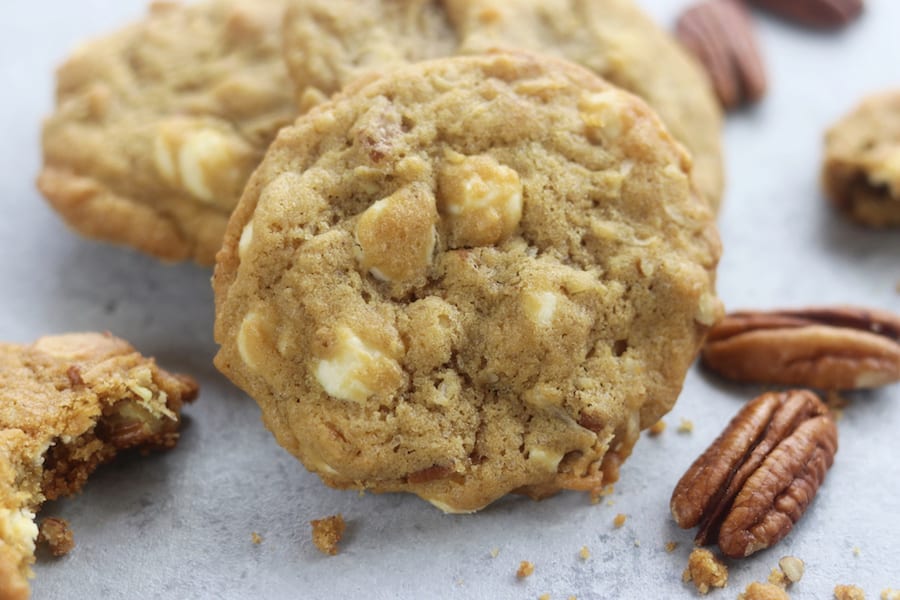 A few things have taken place over the last few days.
I have eaten my weight in these Key Lime White Chocolate Coconut Cookies. Thank God for yoga pants!
My heart also melted hearing the sweet baby voice and giggles while editing the video for this cookie recipe.
My cousin Niki, is a trained chef and seriously incredible baker, created this key lime cookie recipe a few years back.
At the time we were going to start a second baking blog but with all the craziness of life, it hasn't come into fruition.
Niki was kind enough to let me share these key lime cookies with all of you.
So while editing the video and hearing our sweet resident little one politely ask to help and then crack up laughing after she got to participate in the filming, my day was made.
I had to include parts of the audio in the video.
So not only do I hope the video brings as big of a smile to your face as it did mine, but I also hope you share these Key Lime White Chocolate Coconut Cookies because if you are anything like me, you won't be able to stop at one.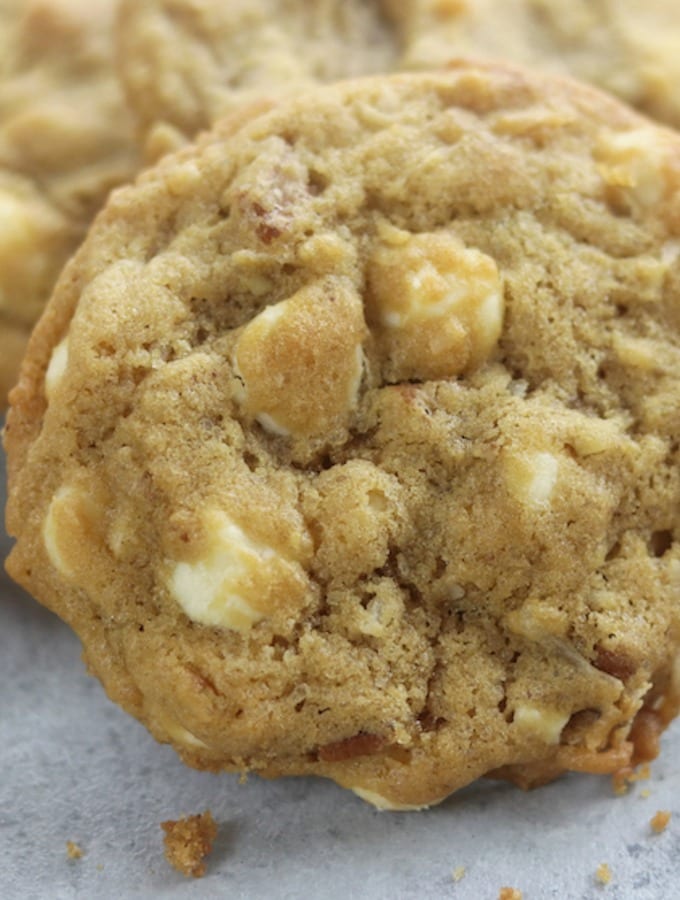 Commonly Asked Questions About TheseKey Lime White Chocolate Coconut Cookies
Where do I find key lime extract?
So here is a secret, you don't have to technically use key lime extract. A simple lime extract will work just as well. If you really do want one of the best key lime extracts this is the one I recommend.
Would these key lime cookies make a good Christmas cookie?
Absolutely!!! What I have noticed is that a majority of people tend to lean towards more traditional Christmas cookies at the Holidays. Adding in cookies, candies and desserts that have a citrus flavor is not only fun but hugely popular for those that love lemons, limes and oranges.
Can these cookies be frozen?
Yes, these cookies freeze very well after baking. I have used both a ziplock bag or stacked them in a plastic container layered between sheets of parchment. These Key Lime White Chocolate Coconut Cookies keep well frozen for about 2 weeks but I wouldn't recommend longer than a month.
Another option is dividing the batter into two portions and baking half while freezing the other half of the dough in a freezer bag. The dough will keep up to two months with a high success rate.
Pro Tip: Baking up these Key Lime Cookies and freezing them a few weeks before Holiday parties will make for much easier Holiday preparation.
Why does the recipe call for adding one egg at a time?
Adding wet ingredients slowly (or in the case of eggs one at a time) is a common method used to help the ingredients thoroughly mix. By doing this the eggs will emulsify with the butter.
How do I soften butter?
The easiest way to soften butter is to leave it out on the kitchen counter over night or a few hours before baking. If you forget to soften the butter here is a trick, run a larger bowl under the hottest water you can from your kitchen sink. Meanwhile, cut the butter into smaller cubes. Once the bowl has warmed up, dry off the water and turn it upside over the top of cut butter cubes and let sit for about 20 mins.
Why should I use softened butter?
Taking the extra step of softening the butter makes it easier for all the ingredients to mix well, thereby creating a better texture.
What are the best cookie sheets for baking cookies?
These are two of my favorite cookie sheets for baking cookies. Both are made of safe nontoxic stainless steel and extremely durable. If I had to choose an absolute favorite it would be the second photo because of the safety of stainless steel while utilizing the effectiveness of an aluminum center.
Click on Photo for Product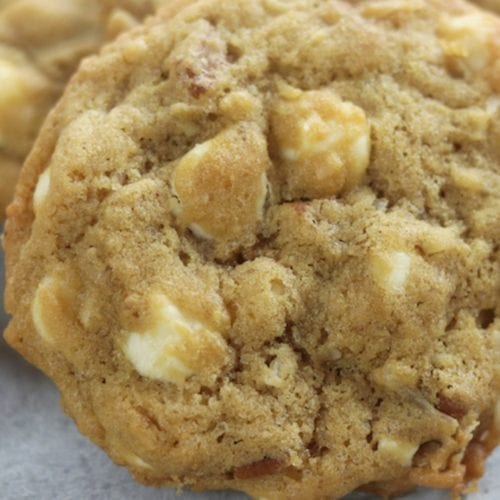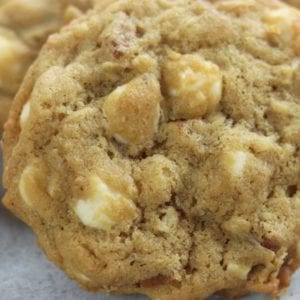 Ingredients
2 1/4

cups

all purpose flour

1

tsp

baking soda

1

tsp

salt

1

cup

unsalted butter

3/4

cup

granulated sugar

3/4

cup

packed brown sugar

2

tsp

lime extract

*see suggestions above

2

large

eggs

*added 1 at a time

2

cups

white chocolate chips

1

cup

chopped pecans

1/2

cup

shredded coconut
Instructions
Sift together flour, baking soda and salt into a medium sized mixing bowl. Stir well and set aside.

Using a stand mixer or hand held mixer, cream butter. Add in sugar and continue creaming until light and fluffy.

Add in key lime extract and continue mixing making sure to scrape down sides of mixing bowl.

Beat in one egg at a time.

Stir 1/3 of flour mixture at time making sure to scrape down sides of bowl in between additions.

Stir in chocolate, pecans and coconut.

Using a tablespoon or cookie scoop, drop rounded spoonfuls onto an ungreased cookie sheet.

Bake for approximately 9-12 mins or until cookies reach a light golden brown.


Remove cookie sheets from oven and let rest for about 2 mins. Carefully transfer cookies onto cooling racks to let cool completely.
Notes
*Please use as many organic ingredients as possible.
Nutrition
Calories:
116
kcal
|
Carbohydrates:
13
g
|
Protein:
1
g
|
Fat:
7
g
|
Saturated Fat:
4
g
|
Cholesterol:
17
mg
|
Sodium:
38
mg
|
Potassium:
41
mg
|
Fiber:
1
g
|
Sugar:
9
g
|
Vitamin A:
108
IU
|
Vitamin C:
1
mg
|
Calcium:
18
mg
|
Iron:
1
mg