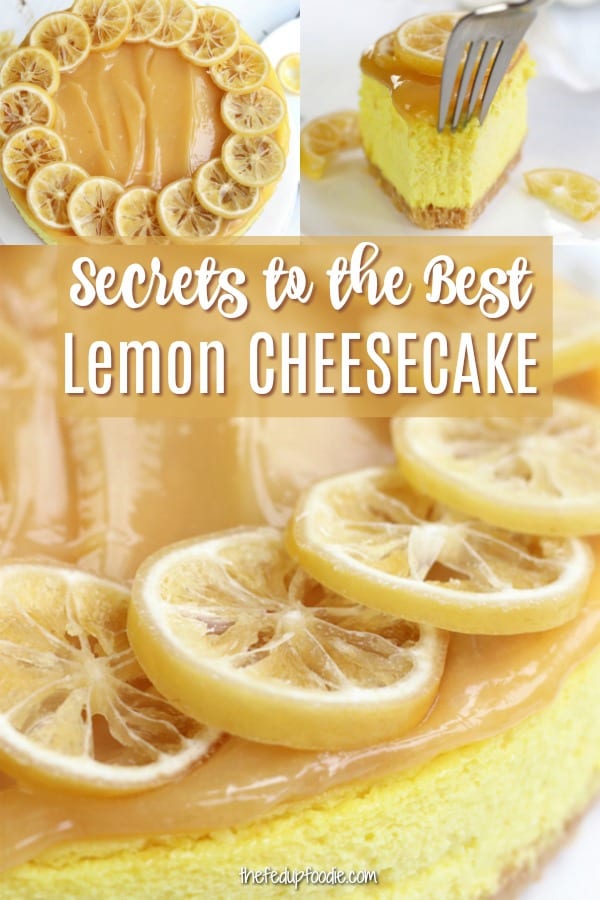 Ultra creamy, rich and bursting with lemon, this luscious Lemon Cheesecake recipe is incredibly popular among both cheesecake and lemon lovers. Follow these easy tips for the best lemon cheesecake around.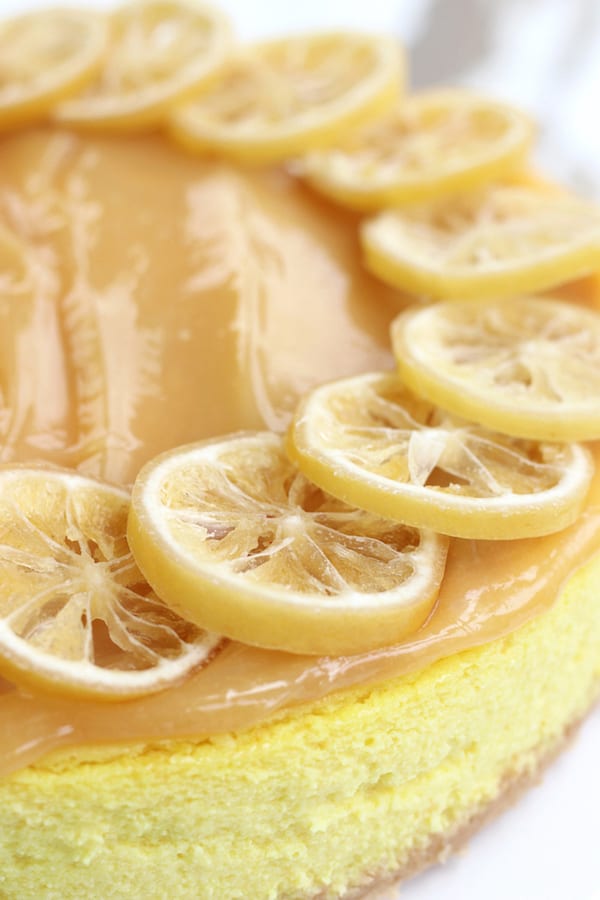 This post may contain affiliate links which I earn a small portion in sales if a purchase is made. Rest assured though, it is never at any additional cost to you.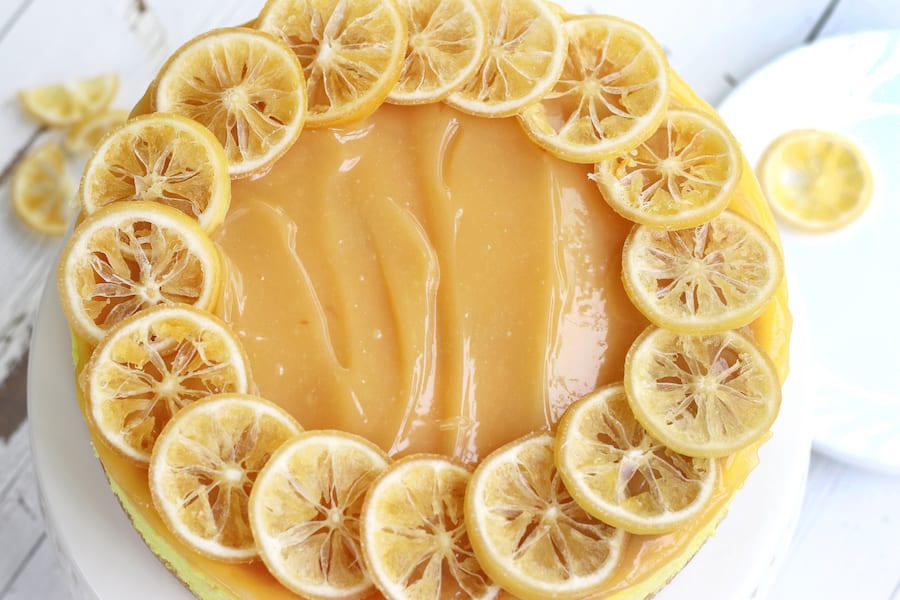 YOU GUYS… I may have died and gone to heaven with this cheesecake and I am not the only one either.
I was shocked to see my brother, who does not like cheesecake, couldn't stop eating it.
His fiancé who loves both lemons and cheesecake, barely got any because we kept snitching a piece here and there.
Because of how amazing it is, we all decided that this Lemon Cheesecake needs to be at holiday dinners moving forward.
It is extremely light and fluffy with an absolute luscious lemon flavor. It literally makes my mouth water just thinking of it.
Also, it looks like the happiest cheesecake in town with it being so bright and sunny.
If you love lemon and cheesecake, without a shadow of doubt, this is the recipe for you.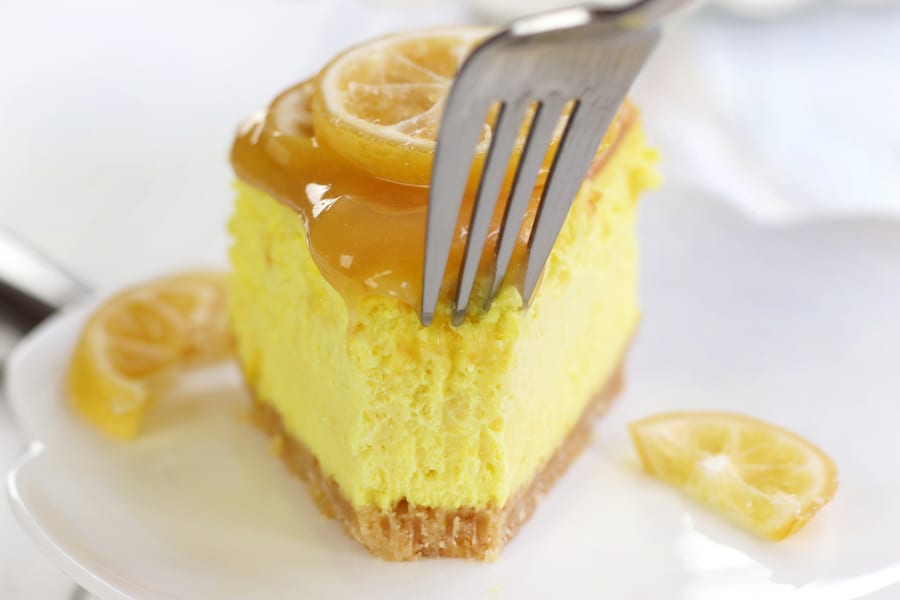 Secrets to Truly Luscious Lemon Flavor
There are four approaches to making this cheesecake burst with zesty lemon flavor.
Crust– Use Lemon Shortbread Cookies to make the crust rather than graham crackers for a zesty and crunchy bottom.
Batter– Adding lemon juice, lemon zest and lemon extract to the cheesecake batter will create a bright contrast to the cream cheese.
Lemon Curd– Buttery and rich, topping the cheesecake off with lemon curd adds an additional layer of creamy lemon texture.
Candied Lemons– Finishing the cheesecake with candied lemons creates a beautiful way to decorate the cheesecake. It also is an enjoyable treat for lemon lovers like myself. You can buy them pre-made here, or use a recipe like this.
Tips for Making the Best Lemon Cheesecake
For a gorgeous and ultra creamy smooth cheesecake make sure to follow these tips:
Use room temperature cream cheese and eggs. Letting the cream cheese come to room temperature softens the cheese allowing it to mix better with the other ingredients. In addition, cold eggs could cause the fat in the cream cheese to clump. This one step will help in creating a smooth and lump free batter.
A quality mixer will make creaming the ingredients much easier and this tool will help in making cookie crumbs.
When making the cheesecake batter, remember to scrape down the sides of the bowl often. Scraping down the sides after each addition of ingredients will ensure that there are no clumps in the batter.
Add only 1 egg at a time to ensure eggs are fully incorporated into batter.
I used 1/4 teaspoon of yellow from this Natural Food Dye to give the cheesecake a lemon luster. This is an optional step.
Lemon Cheesecake Crust
For a truly luscious Lemon Cheesecake I recommend using this Lemon Shortbread Cookies recipe and follow the directions in the recipe card for the Cheesecake Crust. However, if short on time, graham crackers can be used in place of the lemon cookies.
For a graham cracker crust blend 2 sleeves of graham crackers in a food processor until fine crumbs are formed. Transfer cookie crumbs to a medium sized mixing bowl and add 1/2 cup melted butter. Mix well and proceed with Cheesecake crust directions for baking found in recipe card.
How to Make Cheesecake in a Water Bath
Baking cheesecake in a water bath adds moisture to the oven helping to prevent the cheesecake from cracking. Also, it helps the cheesecake batter to bake slow and evenly as the water prevents the outer layer of cheesecake from baking too fast. Here are some important tips for an effective water bath.
The most important step is to make sure the Spring Form Pan is properly latched. This one can make a huge difference in ensuring that no water leaks into the cheesecake.
As a backup precaution in keeping the water from seeping into the cheesecake, wrap the bottom of the spring form pan in two layers of aluminum foil.
Once the cheesecake is ready to be baked, place the prepared pan into a large roasting pan and fill the roasting pan with warm water about 2 inches in depth. Carefully transfer to a preheated oven and bake according to instructions.
How to Know When Cheesecake is Done
As deceiving as it may be, the cheesecake will be done when the center is slightly jiggly and the top begins to lightly brown. As the cheesecake cools, the residual heat will continue to cook the center. Just make sure that the cheesecake has completely cooled to room temperature before placing in the refrigerator and then allow at least 6 hours of chilling time in the refrigerator before applying the curd.
Homemade Lemon Curd
Once the cheesecake has fully chilled, top with homemade (or store bought) lemon curd. If using Homemade Lemon Curd, make sure to prepare in advance of the cheesecake, giving the curd enough time to chill before topping the cheesecake. Here are additional tips for making superb lemon curd:
Use only a stainless steel pan and whisk or wooden spoon to make the lemon curd. Any other metal will cause a reaction, turning your curd green.
Similarly to the cheesecake, use room temperature butter and eggs.
Use a vegetable peeler to zest lemons making sure to avoid the white pith as much as possible. Once the lemons are zested, process with sugar in a food processor until zest is finely minced with sugar. From there cream butter with lemon zest/ sugar mixture and proceed with directions below.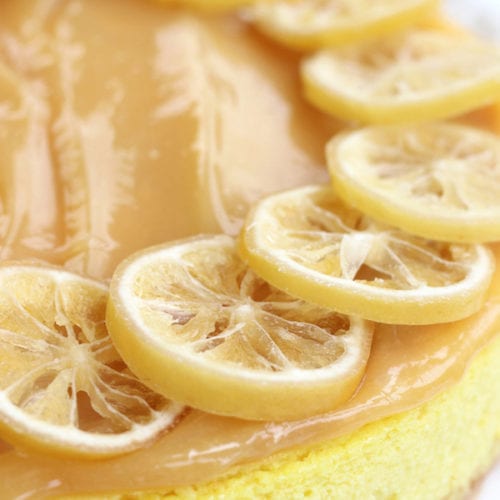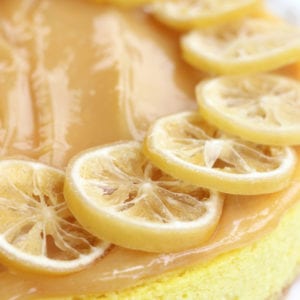 Lemon Cheesecake
This Lemon Cheesecake will make lemon lovers think they have died and gone to heaven. Ultra creamy with an incredible luscious lemon flavor. My family has requested that this cheesecake be at all holiday dinners moving forward.
Print
Pin
Rate
Ingredients
Lemon Cheesecake
4

8 oz

cream cheese

*softened to room temperature, 32 oz total

1 1/4

cups

granulated sugar

4

lg

eggs

*room temperature

1/2

cup

heavy whipping cream

1/4

cup

lemon juice

2

tbsp

lemon zest

*about 4-5 small lemons or 2-3 large lemons

1

tbsp

lemon extract

1/4

tsp

natural yellow dye

*optional
Lemon Curd
2

lg

lemons

*zested, or 4-5 small lemons

1/4

cup

lemon juice

3/4

cup

granulated sugar

4

tbsp

butter

3

lg

eggs

pinch of salt
Instructions
Lemon Cookie Crust
In a food processor, process about 12 Lemon Short Bread Cookies to achieve 2 cups cookie crumbs. Place crumbs in a medium sized mixing bowl and add melted butter. Stir well.

Press cookie mixture evenly onto the bottom of an ungreased 9 inch spring form pan.

Note: If using graham crackers increase butter to 1/2 cup, use 2 sleeves of graham crackers and grease spring form pan.

Bake for 10-15 mins or until golden brown. Remove from oven and set aside. Keep oven temperature at 350℉.
Lemon Cheesecake
Beat cream cheese in a stand mixer until light and fluffly, scraping down sides halfway through. Add sugar and continue mixing until smooth and well combined.

On low speed, add 1 egg at a time making sure to scrap down sides with each addittion.

Once eggs are incorporated keep mixer on low speed and add in whipping cream, lemon juice, lemon zest, extract and natural dye.

Wrap the bottom of springform pan in 2 layers of aluminum foil and pour batter over the top of cookie crust. Place prepared spring form pan into a large roasting pan and carefully pour warm water into roasting pan, reaching about 2 inches in depth.

Carefully transfer roasting pan to preheated 350℉ oven and bake for approximately 1 hour or until center is slightly jiggly and the top is lightly golden brown. Turn halfway through baking.

Remove from oven and let cool to room temperature. Once cheesecake is cool enough to touch, remove from water bath and continue to let cool to room temperature.

Chill in the refrigerator for at least 6 hours before applying lemon curd.
Lemon Curd
Using a vegetable peeler, zest lemons avoiding the white pith as much as possible.

In a food processor, process zest with sugar until zest is finely minced.

In a stand mixer cream butter with zest and sugar mixture. Add eggs once at a time and then lemon juice and salt.

Pour mixture into a stainless steel saucepan and cook over med/low heat, stirring constantly until sauce has thickened, about 10-12 mins. Do not boil the curd. It will thicken prior to simmering.

Remove from heat and chill.
Assembly
Once cheesecake has fully chilled, carefully remove from spring from pan and transfer onto platter. Top with chilled lemon curd and candied lemons.
Notes
*Please use as many organic ingredients as possible. 
Nutrition
Calories:
343
kcal
|
Carbohydrates:
49
g
|
Protein:
1
g
|
Fat:
17
g
|
Saturated Fat:
9
g
|
Cholesterol:
46
mg
|
Sodium:
151
mg
|
Potassium:
33
mg
|
Fiber:
1
g
|
Sugar:
42
g
|
Vitamin A:
474
IU
|
Vitamin C:
6
mg
|
Calcium:
16
mg
|
Iron:
1
mg