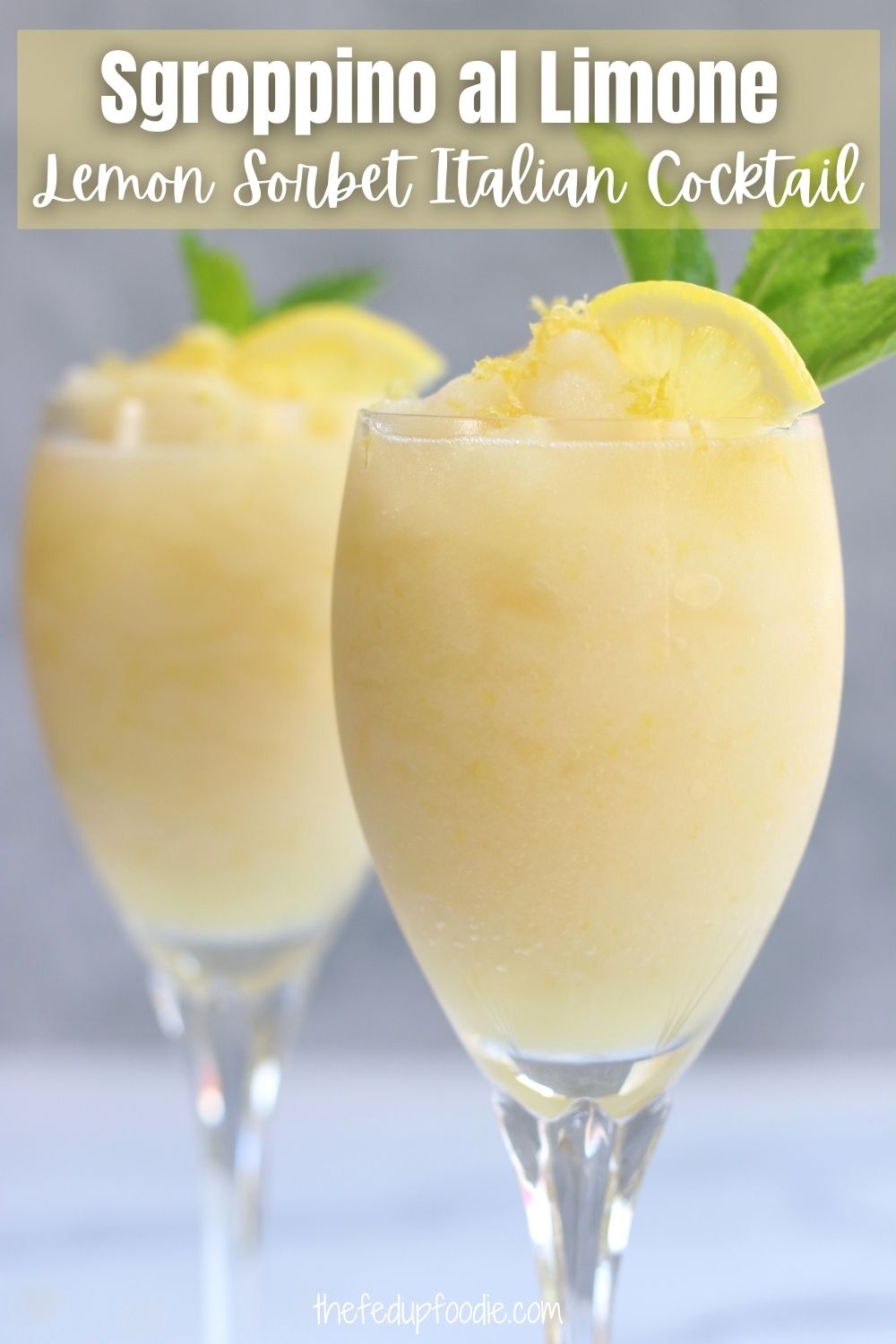 Made with Lemon Sorbet (or gelato), Prosecco and chilled vodka, Sgroppino is a heavenly after dinner cocktail that is extremely easy to make. This drink is perfect for celebrations, served after a heavier meal, as a dessert for lemon lovers or enjoyed at the end of a hot day.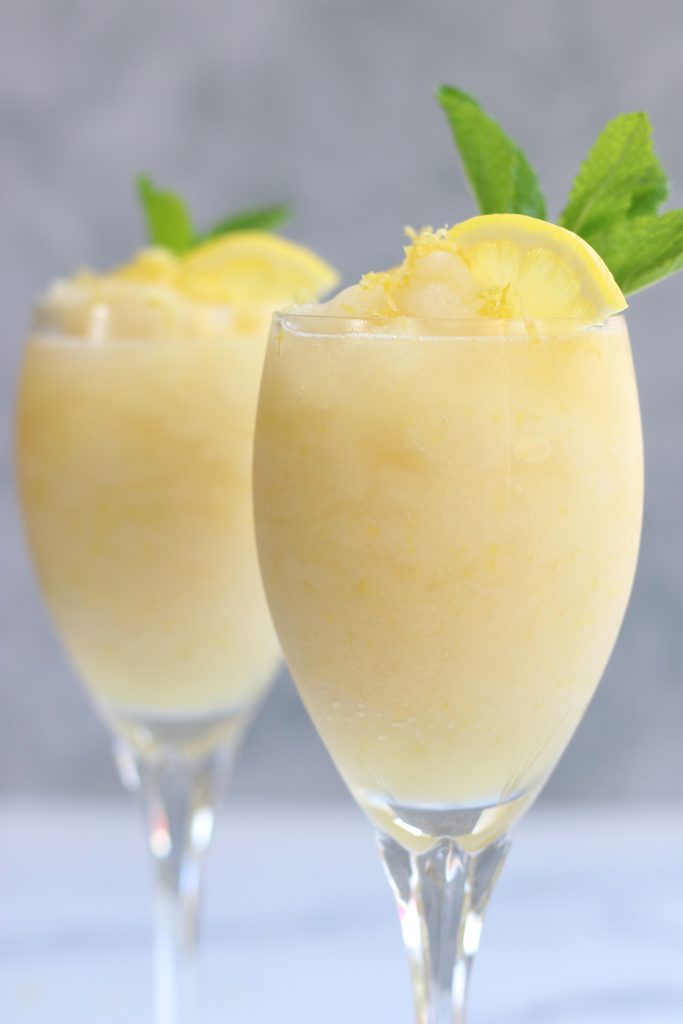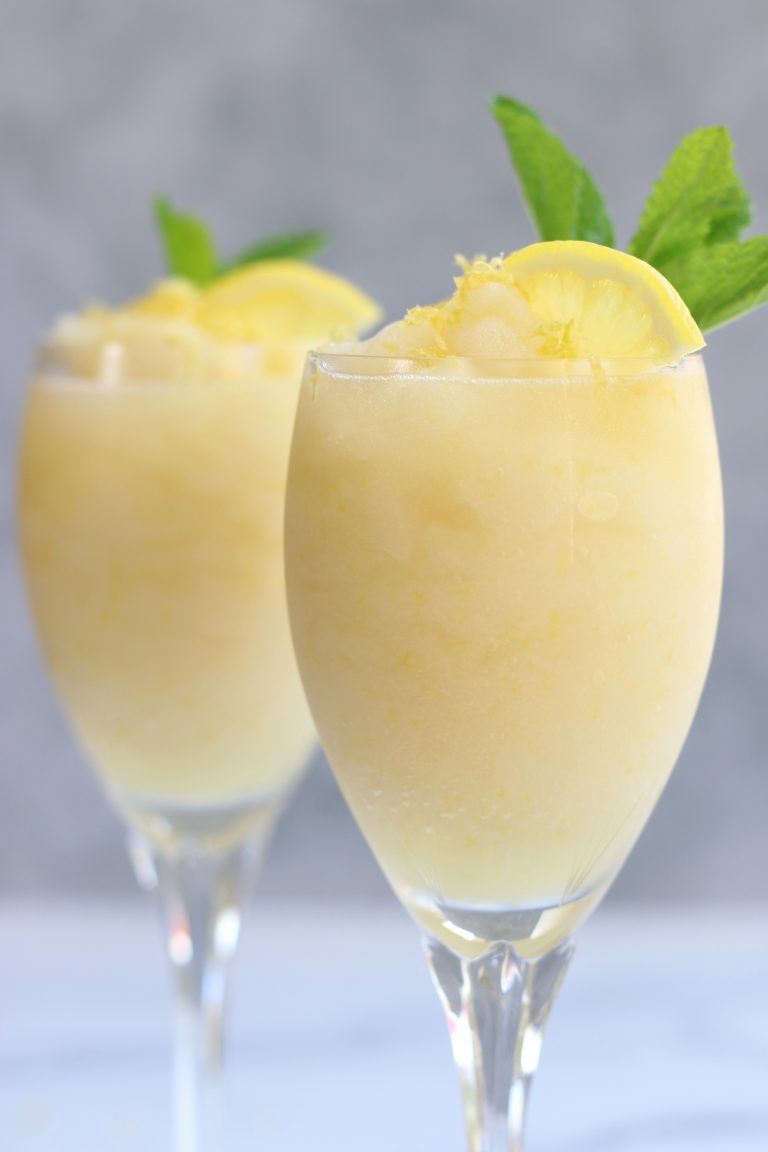 This post may contain affiliate links which I earn a small portion in sales if a purchase is made. Rest assured though, it is never at any additional cost to you.
Sgroppino (aka Dessert Cocktail or Digestif)
Of the many talents that Italians have, their mastery of alcohol and love of lemons are my favorite. (Admittedly, authentic Italian food ranks pretty high on my list also.) When the two talents combine, it is pure heaven. This sweet Italian cocktail is the perfect example of such. Sgroppino (pronounced skuroh-pee-no) originated in the region of Venice, Italy as a digestif, an alcoholic beverage served after a meal to aid with digestion. Because of its bright refreshing flavors, this cocktail has remained popular all throughout Italy over the years.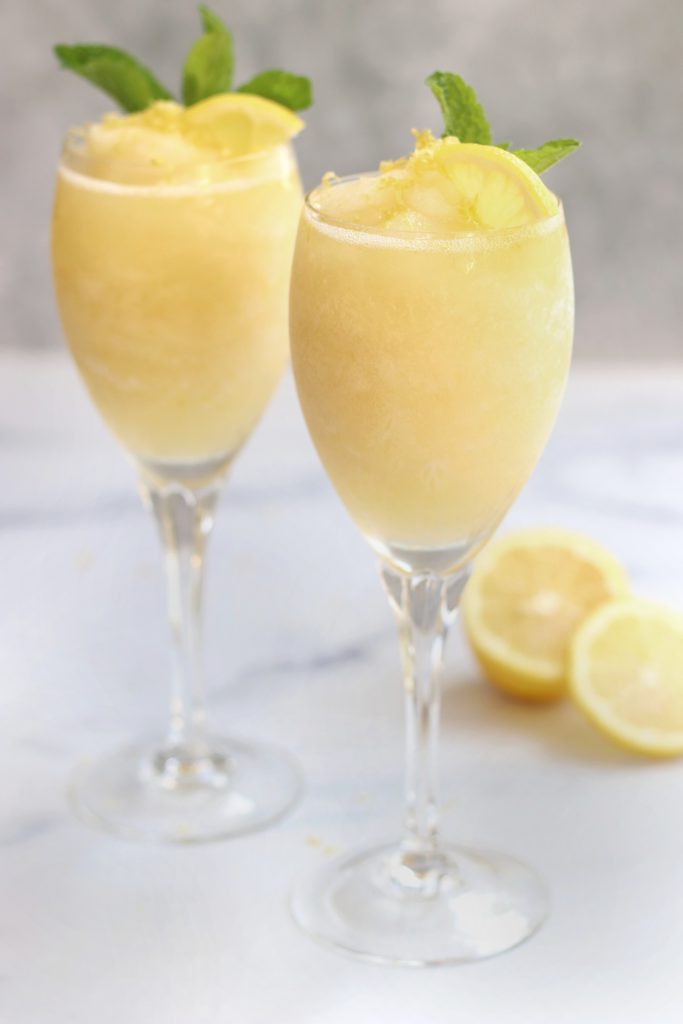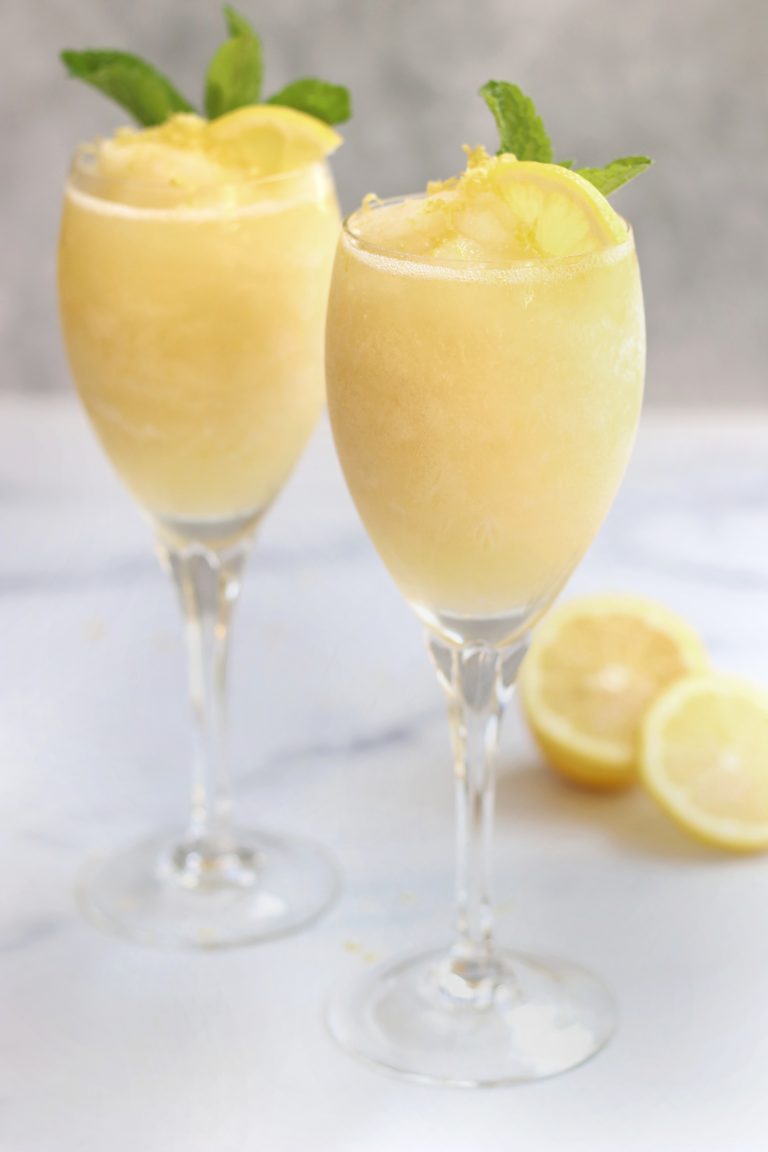 When and How To Serve
Sgroppino is a very easy recipe to make that is also extremely elegant. Because of this, serve in either champagne flutes or crystal wine glasses for fancier dinner parties or more casual glassware for less special occasions. Here are some of the best times to serve this Italian cocktail;
After a heavy meal.
As a refreshing dessert cocktail at the end of a hot summer day.
For New Years Eve celebration.
As a treat for lemon lovers.
Graduation parties.
In between courses as a palate cleanser when having an elaborate dinner party.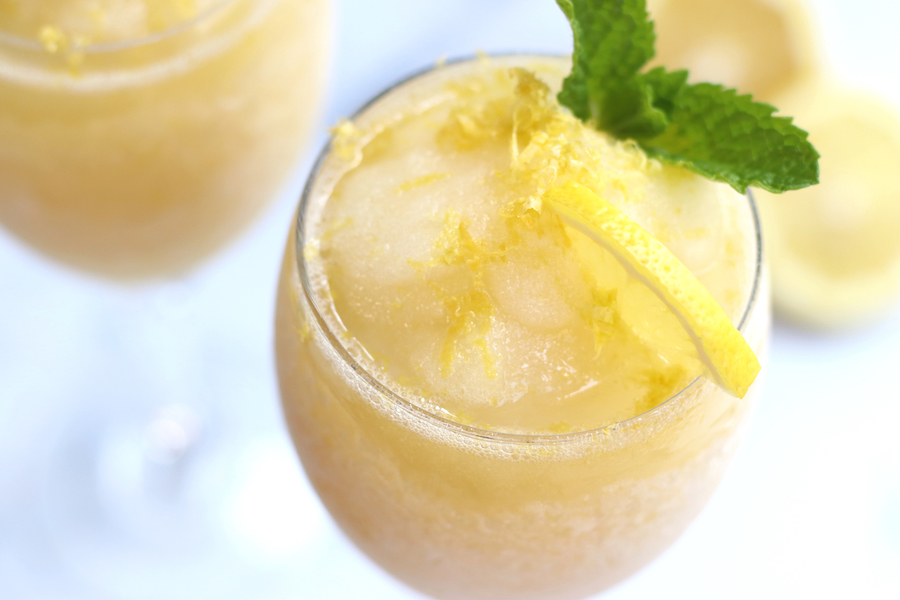 Ingredients Needed
Good Prosecco (or dry sparkling wine)
Chilled Vodka
Lemon Sorbet or Lemon Gelato
(Optional) Limoncello
(Optional) Lemon Juice
How To Make Sgroppino 3 Ways
In case you haven't noticed, Italians are extremely passionate people (I can safely say this because I am Italian). Their passion very much carries over into their beliefs on how this dinner drink should be made. I guarantee there will be conflicting opinions on the best approach. However, here are three different options for you to choose from.
The first option for this classic recipe (as seen in the recipe card below) is to place 1 quart of Lemon Sorbet with 4 oz chilled vodka and 8 oz cold Prosecco in a blender. Process until combined and slushy.
Many versions of this drink use gelato (either lemon or vanilla). So for the second option replace the sorbet with 1 quart of gelato. This will create a decadently creamy after dinner cocktail.
Lastly, for an individual portion add approximately 2 oz Prosecco, 1 oz cold vodka and a scoop of lemon sorbet into a fancy wine glass. (These three ingredients can also be added to a cocktail shaker and gently shaken.) Additionally, the larger quantities from the recipe below can be added to a pitcher and gently whisked until combined before pouring into glasses. This approach produces a semi slushy combination of lemon sorbet and the alcohols.
Pro Tip: If using vanilla gelato or ice cream rather than lemon sorbet, replace the vodka with 4 oz of Limoncello or add in 1/2 cup chilled lemon juice. This will help to achieve the bright lemon flavor. Additionally, lemon ice cream may be used as a replacement for lemon gelato.
Garnish Options
Garnishing Sgroppino for fancier dinner celebrations makes this sweet drink extra special. Use greenery such as fresh mint leaves or basil leaves. Also a lemon slice, lemon twist and/or lemon zest is a beautiful finishing touch. Here is a helpful tutorial with instructions on how to make different lemon twists.
Can Sgroppino be made ahead of time?
Ideally it is best to serve immediately after blending. However if time does not allow, blend the ingredients and place the blender bowl into the freezer until needed. Quickly blend once more before serving. The alcohol content will prevent the mixture from freezing solid and the additional blending will ensure the texture has a slushy consistency.
What to Pair Sgroppino With
Most importantly, this gorgeous Italian cocktail is perfect served by its self. However, here are a few suggestions that pair well with Sgroppino;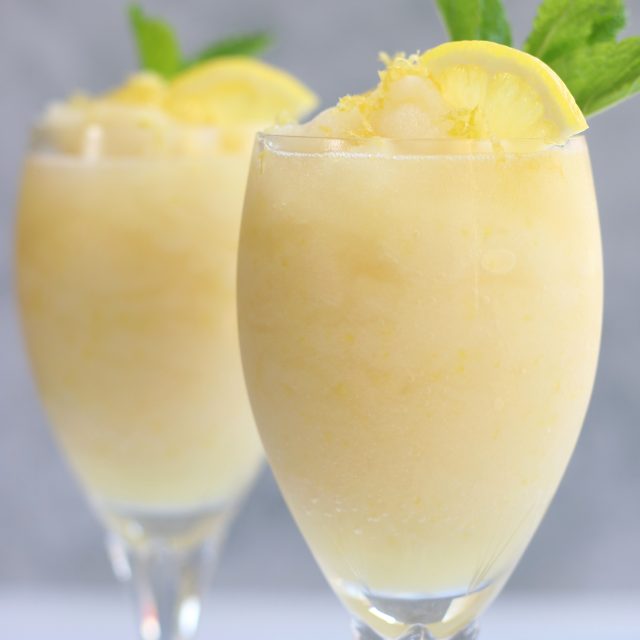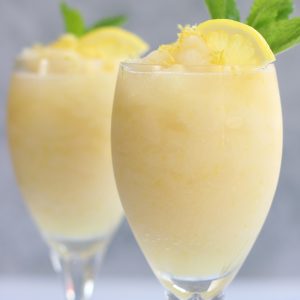 Sgroppino (Italian Lemon Sorbet After Dinner Cocktail)
Sorbet, Prosecco and vodka combine to create a divine after dinner Italian cocktail. Make this for celebrations, fancy dinner parties or as a treat at the end of a hot day.
Print
Pin
Rate
Ingredients
4

oz

vodka

*chilled, see Note #1 below

8

oz

Prosecco

*chilled, see Note #2 below

1

batch

lemon sorbet

*1 quart
Optional Garnishes
lemon zest

lemon wedges

lemon twist

fresh mint leaves

fresh basil leaves
Instructions
Place first 3 ingredients into a blender. Process until just combined and slushy. Serve in wine glasses or champagne flutes. See Note #3 below.
Notes
Pleas use as many organic ingredients as possible. 
Recipe Notes
Note #1- The easiest way to keep vodka chilled is by storing it in the freezer. The high alcohol content will prevent it form freezing solid. 
Note #2- Use a good quality Prosecco that is chilled in the refrigerator or dry sparkling wine. 
Note #3- This is the professional blender that I love. It can also be found at Costco for a fabulous price. 
Nutrition
Calories:
405
kcal
|
Carbohydrates:
83
g
|
Protein:
2
g
|
Fat:
2
g
|
Saturated Fat:
2
g
|
Sodium:
10
mg
|
Potassium:
151
mg
|
Fiber:
2
g
|
Sugar:
79
g
|
Vitamin A:
78
IU
|
Vitamin C:
39
mg
|
Calcium:
19
mg
|
Iron:
2
mg