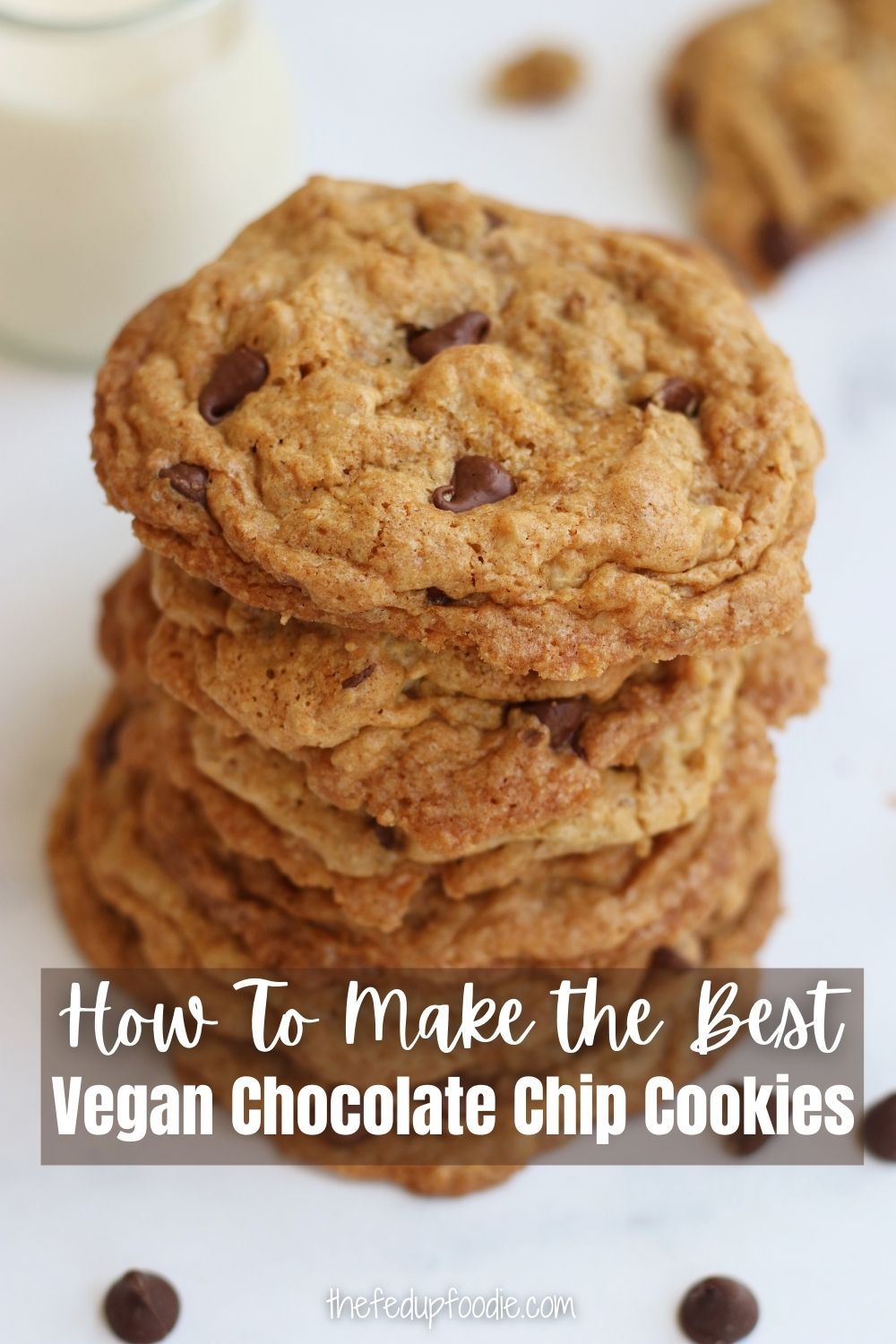 These Vegan Chocolate Chip Cookies are so amazing that my butter loving husband can't even tell that they are plant based. Made with ground oats, applesauce, vegan chocolate chips and walnuts. This recipe makes the best Chocolate Chip Cookies.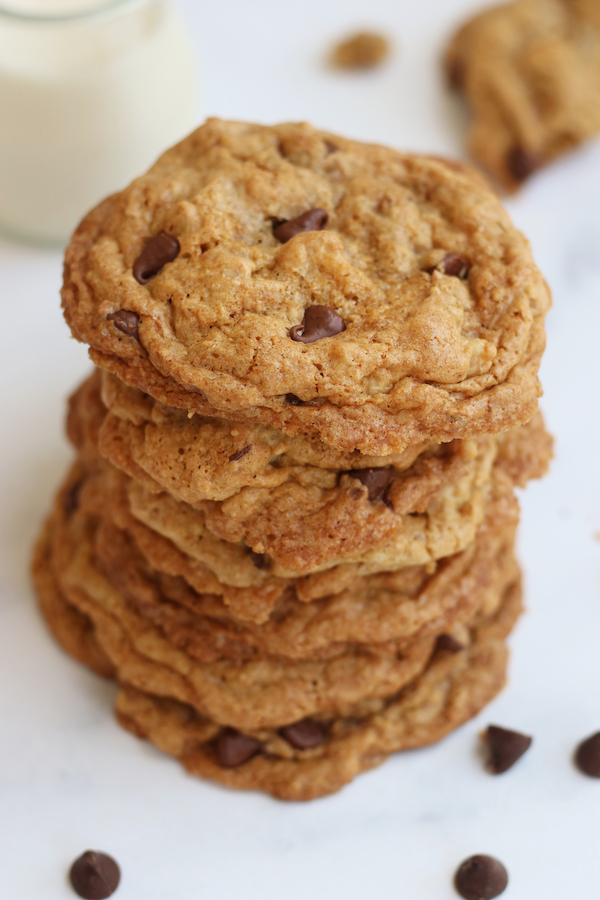 This post may contain affiliate links which I earn a small portion in sales if a purchase is made. Rest assured though, it is never at any additional cost to you.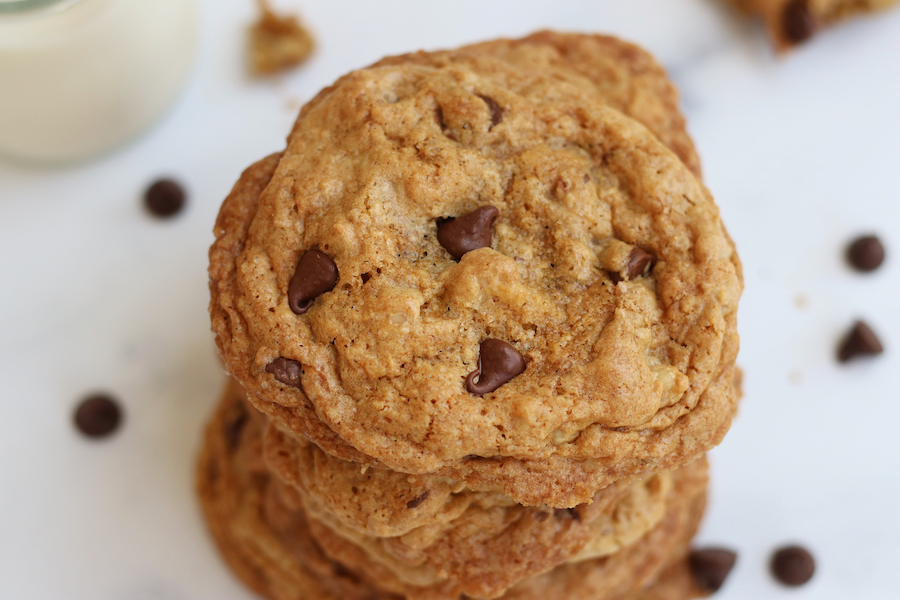 Why Make Vegan Chocolate Chip Cookies If You Are Not Vegan?
This Vegan Chocolate Chip Cookie recipe was created by my parents years ago when a family member was loosing too much weight due to stomach issues. At the time they were having a hard time digesting animal products. These cookies tasted very much like the classic chocolate chip cookies they were accustomed to and they sat very with them. Here are a few additional reasons why to make these cookies:
If you are watching your cholesterol levels and are craving a treat this easy recipe will hit the spot.
If you are struggling with cravings for a traditional cookie when being careful with iodine intake. (I have seen huge reduction with my symptoms from Hoshimotos in the last 3 months by lowering iodine intake with this plan.)
Last but not least, if you are vegan.
Simple Ingredients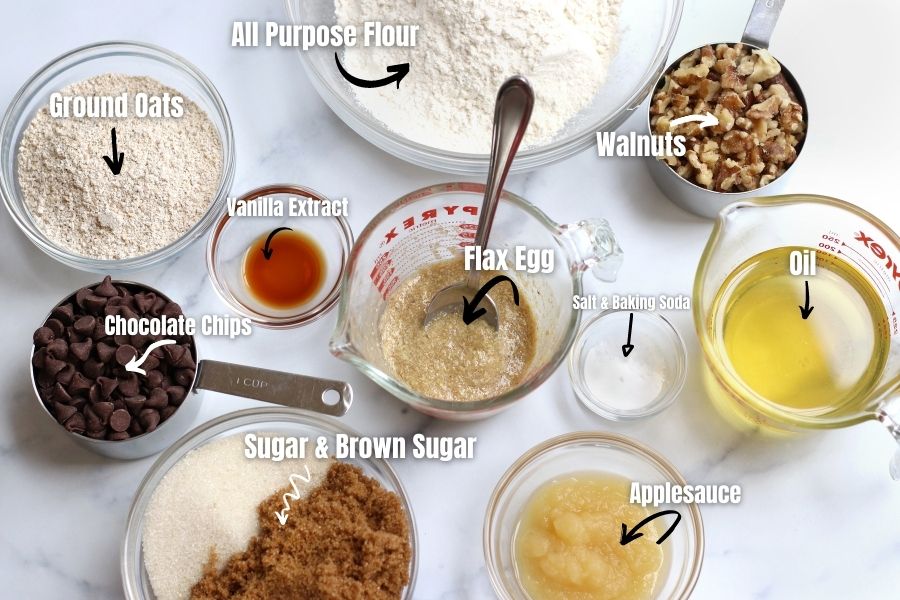 All Purpose Flour– Homemade Sourdough Baguettes are often made at our house. Because of this we keep a good stock of this all purpose flour on hand. Note: Whole wheat flour may be substituted for all purpose flour.
Ground Oats– Adding ground oats to cookies, pancakes and cake is an incredibly tasty and fun way to sneak in soluble fiber.
Salt– Ever since my Hoshimotos diagnosis I have used Maldon Sea Salt Flakes for cooking and baking due to its extremely low iodine levels. It is considered to be a finishing salt. However, I have not had any issues with using in for cooking and baking. Additionally, it is the best salt I have ever tasted.
Baking Soda
Oil– Avocado, coconut or olive oil many be used. However, this is my favorite oil to bake with in addittion to high heat cooking. (no vegan butter necessary)
Unsweetened Applesauce– Helps with the taste and texture.
Ground Flax Seed and Water– Is a substitute for eggs.
Cane Sugar (White Granulated Sugar)
Light or Dark Brown Sugar– See "Replacement Options for Brown Sugar" section below for options with lower iodine levels.
Vanilla Extract
Vegan Chocolate Chips- See "Best Vegan Chocolate Chips and Where to Buy Them" section below.
How To Make Vegan Chocolate Chips Cookies with Oatmeal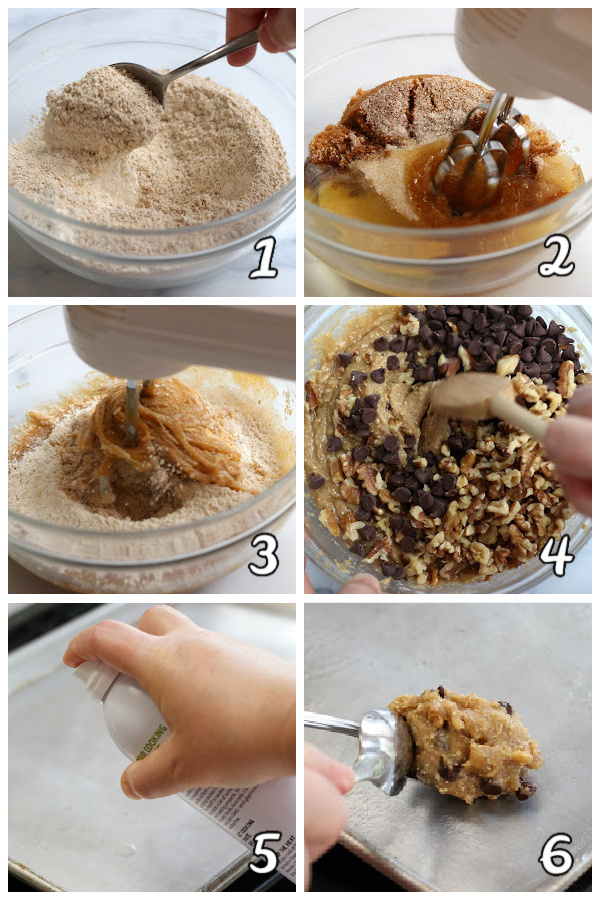 Mix together the dry ingredients (flour, ground oats, salt and baking soda)in a medium bowl.
In a separate large bowl beat the wet ingredients (oil, applesauce, flax egg, sugars and vanilla) until well combined.
Beat flour mixture into wet mixture a little at a time until just combined on medium speed of an electric mixer making sure to scrap down the side of the bowl with a rubber spatula. (For a stand mixer use the paddle attachment on medium speed.)
Stir in chocolate chips and walnuts and chill for 30 minutes in the refrigerator. Preheat oven to 375℉.
Spray cookie sheets.
Drop by rounded soup spoon onto prepared baking sheets with a few inches of space around each cookie. Bake for 10-12 minutes rotating halfway through baking. Let cool for 5 minutes and then transfer onto a wire rack to cool. (For small cookies use a rounded teaspoon and bake for 8- 10 minutes.)
Pro Tip: If using coconut oil blend the sugars with the coconut oil first and then add the remaining wet ingredients to the sugar mixture for best results.
Are Chocolate Chips Vegan?
Chocolate in its natural form, or cacao as many know it, is vegan. However, most chocolate chips sold in grocery stores have the additional ingredients of butter, milk or cream and other various ingredients that makes them non-vegan.
Best Vegan Chocolate Chips and Where to Buy Them
Many of the larger health food stores in the U.S. such as Sprouts, Wild Oats and Whole Foods will carry at least a few different varieties of vegan chocolate chips. Additionally, Amazon is a great place to turn to for vegan chocolate chips. Here are a few different options of the best chips.
Cacao Nibs (Not sweet like traditional chocolate chips but very tasty.)
Pro Tip: Chocolate chunks made from vegan chocolate bars may also be substituted for chocolate chips.
Chilling the Cookie Dough
For many chilling the cookie dough for 30 minutes feels like an unnecessary step, especially when you just want a cookie already. However, taking the extra time will yield a better finished product.
Here are the 2 main reasons for chilling your cookie dough before baking.
Chilling helps the ingredients in the cookie dough to set. In other words, to look like a cookie should and not have the flattened crispy edges (aka flattened frisbee).
It also will help create a better textured cookie. This is because the cookies are not flattening, thereby also not over baking.
Freezing the Cookie Dough
Freezing the cookie dough is one of the best ways to easily have fresh baked cookies in an extremely short amount of time at a later date. There are two main methods for freezing the dough.
Freeze as a Log– Roll the dough into a log wrapped in parchment paper and then place the log into a freezer bag. When it is time to bake the cookies defrost in the refrigerator for a few hours before baking and then slice. This method is best when wanting to bake several cookies.
Freeze as Cookie Dough Balls– After making the cookie dough, refrigerate for 30 minutes and then roll into balls. Place balls onto cookie sheet and freeze for approximately 30 minutes. Move frozen balls into a freezer bag and keep in freezer until ready to bake. For baking simply remove frozen balls from bag, place onto cookie sheet and bake for an additional 1-2 mins longer than the recipe calls for. This method is perfect when you just want to bake a few cookies.
Pro Tip: Cookie dough that has a lot of butter or fat can last up to 3 months in the freezer. However, since these Vegan Cookies have less fat their freezer life will be shorter, approximately 4 weeks.
Storing Baked Cookies
Once baked these cookies will stay fresh in an airtight container at room temperature for approximately 3-4 days. Additionally, baked cookies can be frozen for up to a month.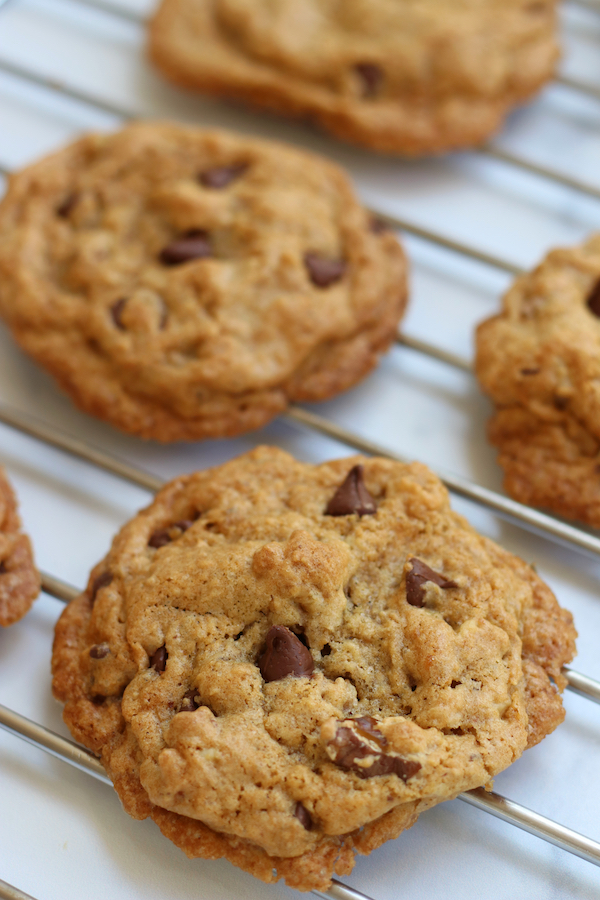 Tips For Making The Best Vegan Chocolate Chip Cookies
How To Make Soft Cookies
The easiest way to make soft chewy cookies is to under baked them by 1-2 minutes and then let them sit on the cookie sheet to cool completely.
How To Make Ground Oats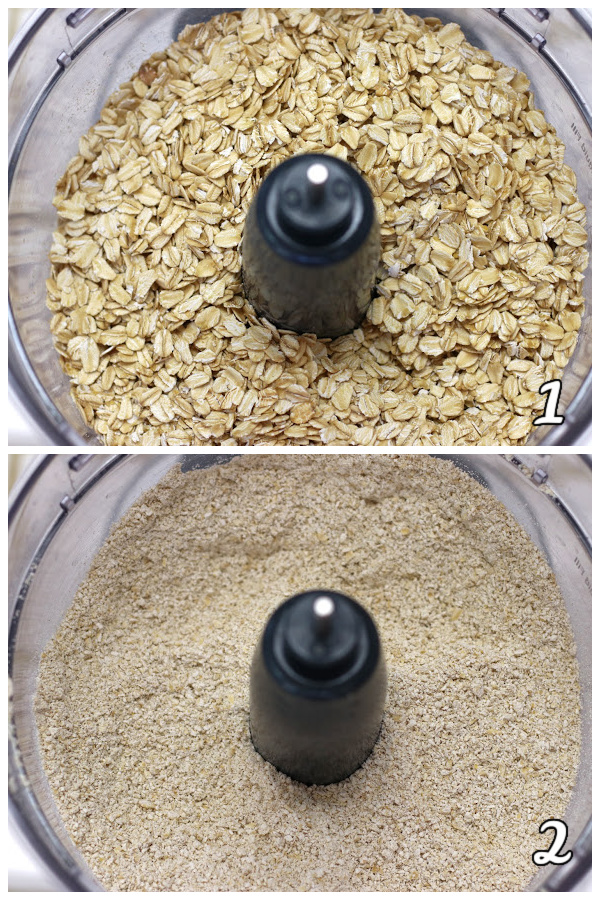 Making ground oats (aka oat flour) is incredibly simple with a food processor.
Place rolled oats into food processor with chopping blade attachment. Pro Tip: Steel cut oats are much more challenging to grind so it is recommended to stick with rolled oats.
Process on high speed until oats are well ground. This will take approximately 2-3 minutes.
Pro Tip: If purchasing store bought oat flour lower the amount of all purpose flour by 1/2 cup. This is because store bought oat flour is very finely ground compared to home ground oat flour and the additional 1/2 cup may not be needed. The final texture of the cookie dough should not be runny or lose its shape when spooning onto the cookie sheet. If it does, add the 1/2 cup all purpose flour.
Replacement Options For Light or Dark Brown Sugar
For those actively trying to lower iodine levels (due to Hypothyroidism or Hoshimotos), brown sugar can be a culprit of additional dietary iodine. This is when a brown sugar replacement can be incredibly valuable when you just want a treat. Additionally, these replacements are helpful when you run out of brown sugar and do not want to take the extra time to run to the store.
Option #1– Mix 1 cup of granulated sugar with 1 tbsp of real maple syrup. Pro Tip: For those trying to lower iodine levels this is the preferred option.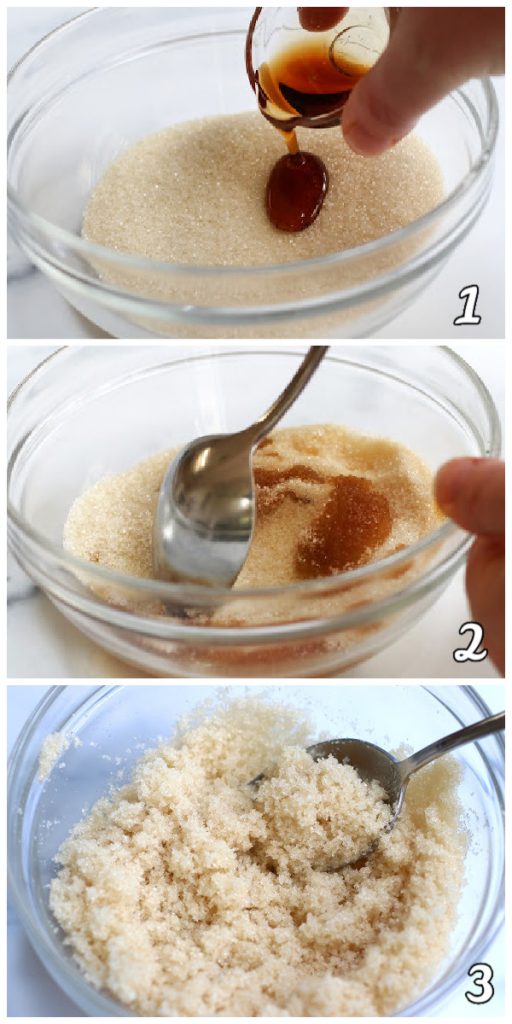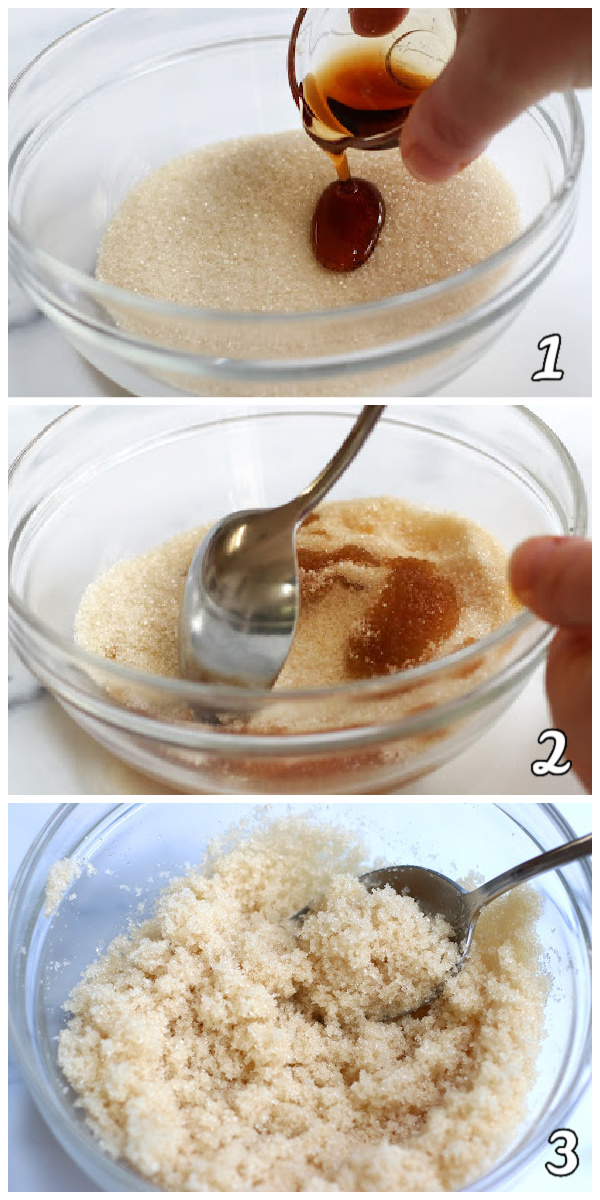 Option #2– Mix 1 tbsp of molasses with 1 cup granulated sugar. Mix until well incorporated.
Pro Tip: If using a brown sugar replacement when making these cookies, make the brown sugar replacement first and then measure the amount for the cookies.
Additional Add In Options
Here are some fun additional add ins. Add 1 or 2 options but no more than 2 cups of the additional ingredients.
Raisins (1 cup)
Dried Cranberries (1 cup)
Dried Cherries (1 cup)
Chopped Dates (1 cup)
Chopped Dried Apricots (1 cup)
1 cup extra chocolate chips
Shredded Coconut (1 cup)
Replace walnuts with cashews, pecans, peanuts, pistachios
1/2- 1 tbsp orange zest
1 -1 1/2 tsp ground cinnamon
Top with a small amount of flaky sea salt.
Egg Replacement Options
Depending on your dietary needs here are a few different options for the egg and/or egg replacement that are both vegan and non-vegan for these cookies.
2 whole eggs
1/3 cup egg whites
2 tbsp ground flaxseed mixed with 6 tbsp water. Let sit for 10-15 minutes to become gelatinous for the best cookie dough consistency.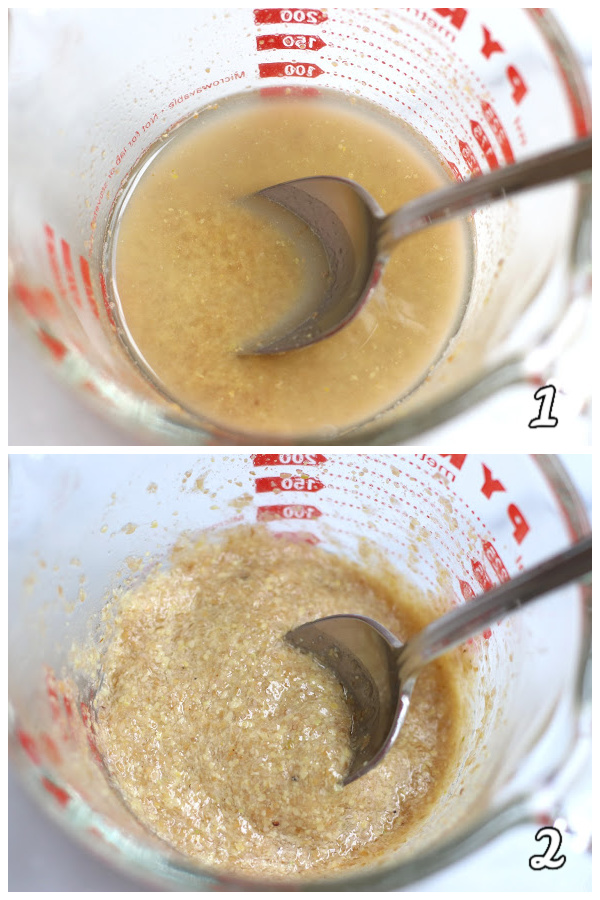 Pro Tip: Whole flax seeds can be ground easily in a coffee grinder. However, it is best to have a separate coffee grinder that is not used on dried herbs. This will prevent your cookies from tasting like rosemary.
Greasing the Cookie Sheet
Since these cookies are lower in fat, greasing the cookie sheets with some form of a fat source will help in preventing the cookies from sticking. This is my favorite vegan cooking spray (if you have a Costco membership many of them have it at a much more affordable price).
More Popular Vegan Recipes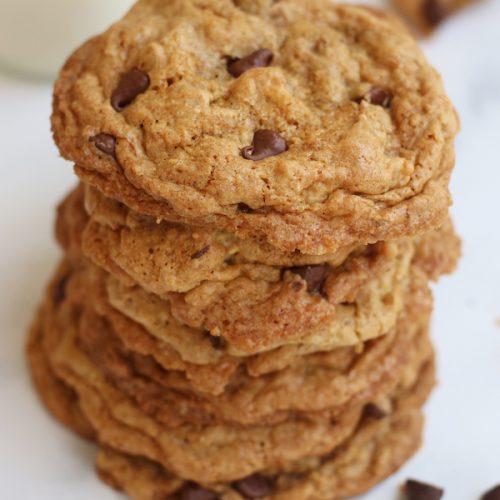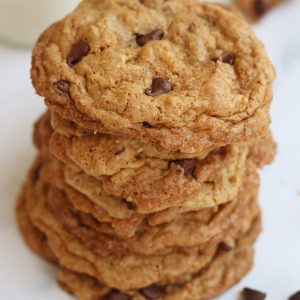 Vegan Chocolate Chip Cookies
My butter loving husband absolutley adores these Vegan Chocolate Chip Cookies. These cookies are a perfect healthy alternative for anyone craving a treat and also needing to lower cholesterol or iodine levels. Additionally, these cookies are for anyone following a Vegan dietary approach.
Print
Pin
Rate
Ingredients
1 3/4

cup

all purpose flour

*See Note #1 below

1

cup

ground oats

*See Note #2 below

1

tsp

salt

1

tsp

baking soda

3/4

cup

oil

1/4

cup

unsweetened applesauce

2

tbsp

ground flax seed + 6 tbsp water

*See Note #3 below

3/4

cup

granulated sugar

3/4

cup

packed brown sugar

1

tsp

vanilla extract

1

cup

vegan chocolate chips

1

cup

walnuts

*roughly chopped
Instructions
In a medium sized mixing bowl mix together flour, ground oats, salt and baking soda.

In a seperate bowl beat oil, applesauce, flax seed mixture, sugars and vanilla until well combined.

Beat flour mixture into wet mixture a little at a time on medium speed until just combined.

Stir in chocolate chips and nuts.

Chill uncovered in the refrigerator for 30 mins.

Preheat overn to 375℉. (340℉ for convection ovens)

Drop by rounded soup spoon onto greased cookie sheet. See Note #4 below.

Bake for 10- 12 mins rotating trays halfway through baking. Let cookies cool for 5 mins and then transfer onto a cooling rack to completely cool. Store in an airtight container for 3-4 days or frozen for up to 1 month. See Note #5 below.
Notes
*Please use as many organic ingredients as possible.
Recipe Notes
Note #1– Whole wheat flour may be used in place of all purpose flour.
Note #2– Grind rolled oats in a food processor first and then measure.
Note #3– Mix together ground flax seed with water and let sit to thicken for at least 10 mins. For those not following a vegan dietary approach but needing to lower iodine 1/3 cup of egg whites may also be used.
Note #4– Leave a few inches in between cookies since these are larger cookies and have a tendency of spreading a bit more than regular chocolate chip cookies.
Note #5– For soft chocolate chip cookies under bake by about 2 mins or when the center of the cookie still looks gooey.
Note #6- The recipe yields approximately 25 larger cookies
Nutrition
Calories:
223
kcal
|
Carbohydrates:
27
g
|
Protein:
3
g
|
Fat:
13
g
|
Saturated Fat:
2
g
|
Trans Fat:
1
g
|
Sodium:
139
mg
|
Potassium:
57
mg
|
Fiber:
2
g
|
Sugar:
16
g
|
Vitamin A:
2
IU
|
Vitamin C:
1
mg
|
Calcium:
24
mg
|
Iron:
1
mg