Springtime Pasta Salad is an easy, light, refreshing and yet such a satisfying recipe with a simple lemon vinaigrette, olives and fresh veggies. It is the perfect make a ahead dish for company, potlucks or cold lunches during the week.
This post may contain affiliate links which I earn a small portion in sales if a purchase is made. Rest assured though, it is never at any additional cost to you.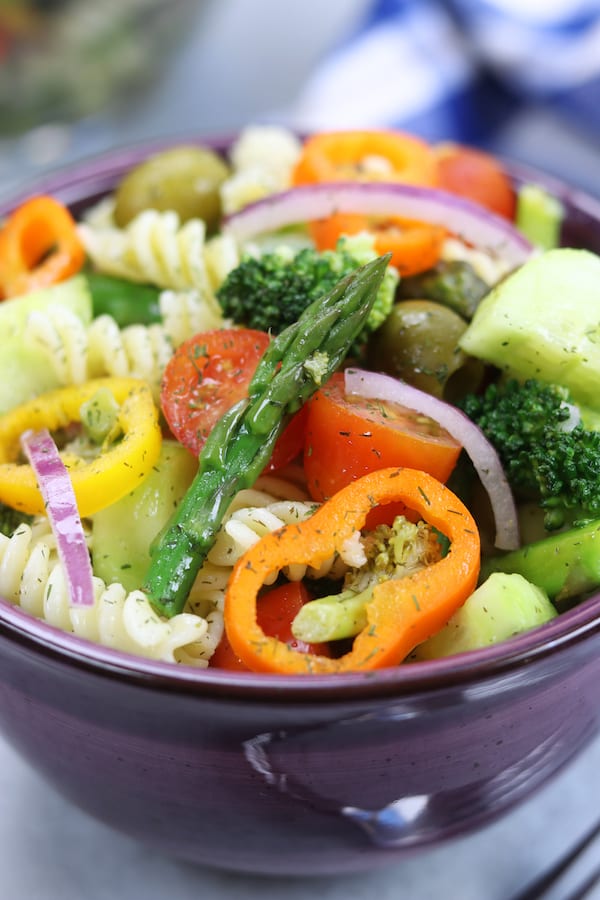 In all my years working as a weight loss counselor I could always tell which clients were going to have success and get to where they wanted to be, or very close to their goal.
There were certain key attributes that always gave it away, such as, being willing to change behaviors, planning ahead and focusing on eating a TON of veggies.
I would always cringe when I would hear a client tell me that they hated veggies and were not going to eat them.
In the politest way I could, I would share that weight loss success is very minimal when veggies are not involved.
Sometimes I could persuade these veggie hating people to at least give them a try and others it was a flat out, "nope, not gonna do it".
I could almost predict what I would hear from the group that would dig in their heals.
"I am so hungry!!! You don't understand, I am so hungry that I want to eat my foot off."
We would laugh and then come full circle back to how important those veggies are.
But let's be honest, sometimes it is easier said then done getting in those veggies every single day.
They can get boring and labor intensive after awhile.
Some of the reasons I love this Springtime Pasta Salad is it is far from boring, I LOVE making a big bowl and to eat off of for a few days and it has never failed to be a hit at potlucks.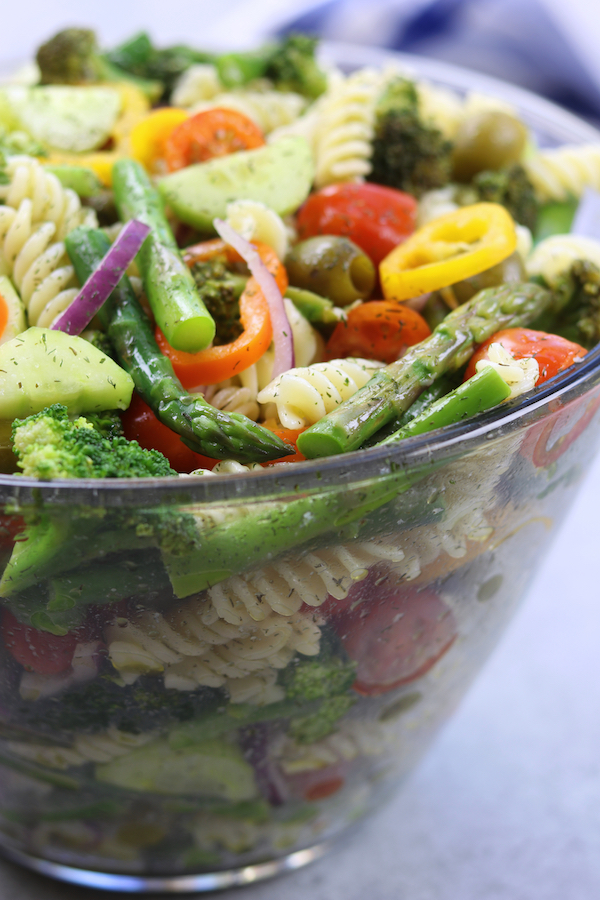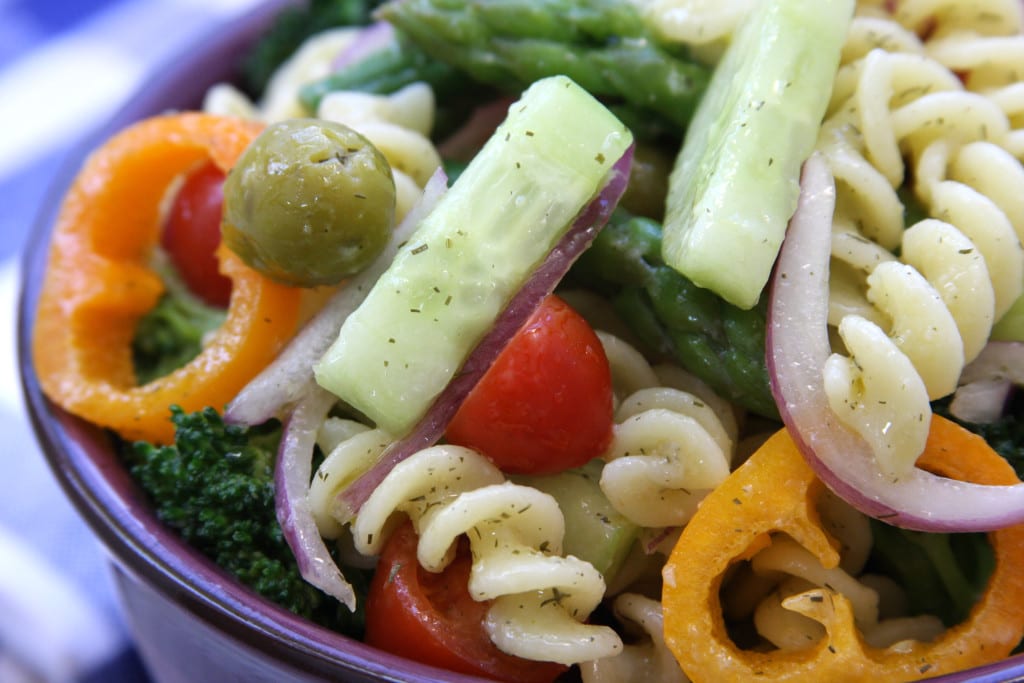 How to cook asparagus
Asparagus is a wonderfully versatile vegetable that can be roasted, steamed, blanched stir fried and sautéed. The thickness of the asparagus will play a large part in the cooking times but my personal preference is a medium thickness. When asparagus are too thick they can be very woody in texture. Any of the above methods will work for this recipe however my favorite is blanching. Boil your water, make sure to cut off tough ends and cut asparagus spears into 1/2's or 1/3's. Once water in boiling turn off heat and add asparagus. Let sit in the hot water for about 2-4 minutes, drain and add to vinaigrette.
Tips for Springtime Pasta Salad:
This ingredient will make an even healthier version of this Springtime Pasta Salad. (affiliate)
Not as excited about the veggies choices in this Springtime Pasta Salad? No problem, mix and match your favorite veggies, just remember it will be about 12-13 cups of veggies in total.
If your not a lemon lover or are allergic to citrus, substitute your favorite vinegar in place of the lemon.
My favorite part of this recipe aside from the lemon and garlic is the dill. I am absolutely in love with Simply Organic Dill because it tastes so unbelievably fresh. (affiliate)
When making this Springtime Pasta Salad make sure to keep the cold veggies apart from the hot noodles until they have cooled down a bit. This step keeps the tomatoes, cucumbers, sweet bell peppers, etc. beautifully crisp.
Add a little protein and you have a great cold lunch for packing during the week.
If you have 2 perfectly ripe avocados, then they go great in this recipe. Dice them in large chunks and stir them in.
This may seem like a large amount of pasta, but trust me, if you have 3 or more hungry adults eating, it goes really fast. Plus it makes great left overs that are actually fun to eat.
I would be lost without this set and this kitchen tool as often as we make salads and pastas in my house. (affiliate)
I used Trader Joe's Ripe Medium Green Olives. They have a wonderfully mild flavor and are a favorite at our house.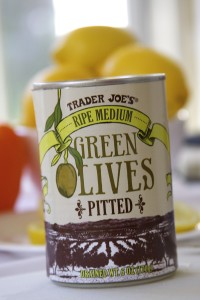 One last tip that is a complete time saver. Place the broccoli florets in the colander and pour the cooked noodles over the top. It blanches them perfectly for the pasta salad and saves you about 15 mins. (affiliate)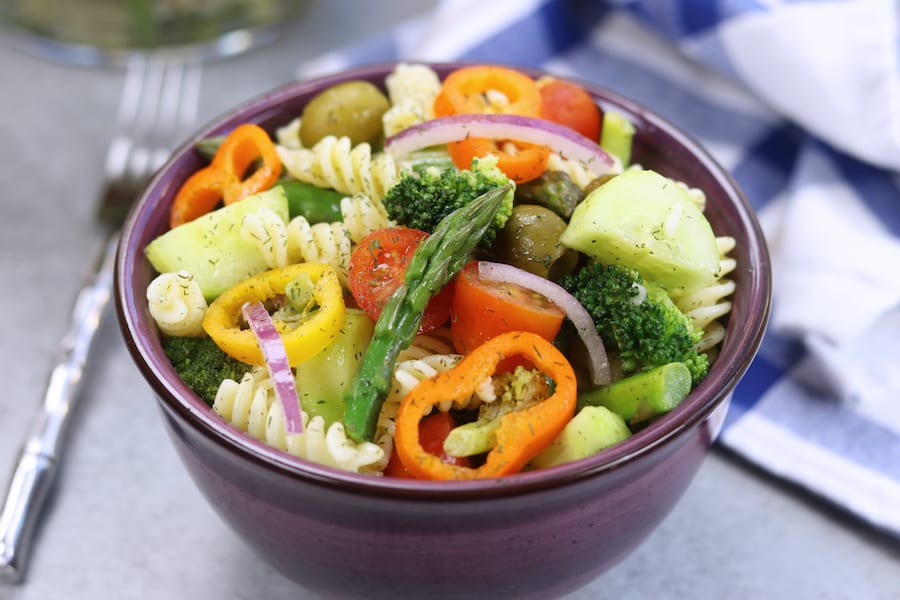 Love pasta? There are more Awesome pasta recipes waiting for you HERE!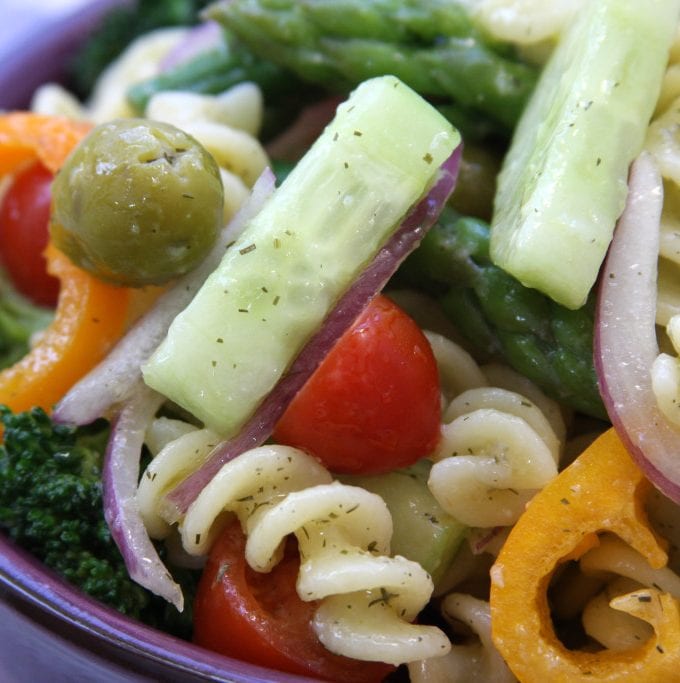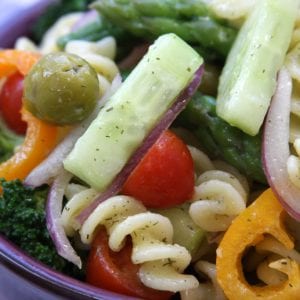 Springtime Pasta Salad
An easy, simple, light and refreshing pasta salad that both little ones and adults will love. Perfect way to get your veggies in.
Print
Pin
Rate
Ingredients
Salad
1

lb

spiral pasta of choice

2

tbsp

sea salt

*for boiling noodles

1

lg

English cucumber

*peeled & cut into half coins

3

cups

tear drop tomatoes

*cut in half

1

can whole olives

*drained

3/4

cup

red onion

*cut into small strips

1

cup

mini sweet bell peppers cut into rings

*about 4

5

cups

broccoli florets

*about 2 broccoli crowns

1

bunch asparagus

*ends cut off & cut into thirds
Vinaigrette
3/4

cup

extra virgin olive oil

3

lemons juiced

*little over 1/2 cup

3-4

lg

garlic cloves

*minced or crushed

1

tbsp

dill

*dried dill

2

tsp

salt
Instructions
Prepare noodles of choice to al dente, following instructions on package and boiling in heavily salted water.

Wash and cut broccoli into florets. Place in colander and when noodles are done drain over top of broccoli.

While water for noodles is coming to a boil prepare vinaigrette. Place olive oil in large mixing bowl. Whisk in lemon juice until emulsified. Add garlic, dil and salt. Stir well.

Wash and cut asparagus in thirds making sure to cut off tough ends. Bring a med pot of water to boil. Once boiling turn off heat and add cut asparagus. Let sit in hot water for 2-4 minutes or until desired doneness. Time will vary depending on thickness of spears. Drain and add to vinaigrette,

Prepare cold veggies (cucumbers, tomatoes, onion, & olives) and set aside until noodles are cooled off to almost room temperature.

Once noodles are done cooking drain over top of broccoli florets. Add to vinaigrette and stir well. Let sit for about 10 mins, cooling to almost room temp and add cold cut up veggies. Toss well.

This recipe tastes great fresh or chilled.
Notes
*Please use as many organic ingredients as possible.*
Nutrition
Calories:
292
kcal
|
Carbohydrates:
35
g
|
Protein:
7
g
|
Fat:
14
g
|
Saturated Fat:
2
g
|
Cholesterol:
1
mg
|
Sodium:
83
mg
|
Potassium:
346
mg
|
Fiber:
3
g
|
Sugar:
4
g
|
Vitamin A:
817
IU
|
Vitamin C:
62
mg
|
Calcium:
34
mg
|
Iron:
1
mg
This recipe is part of Meal Plan Monday.
If you love the flavor of dill then check out these recipes.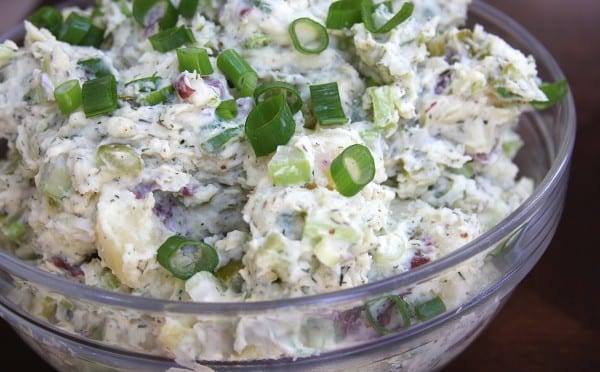 Skinny Red Potato Salad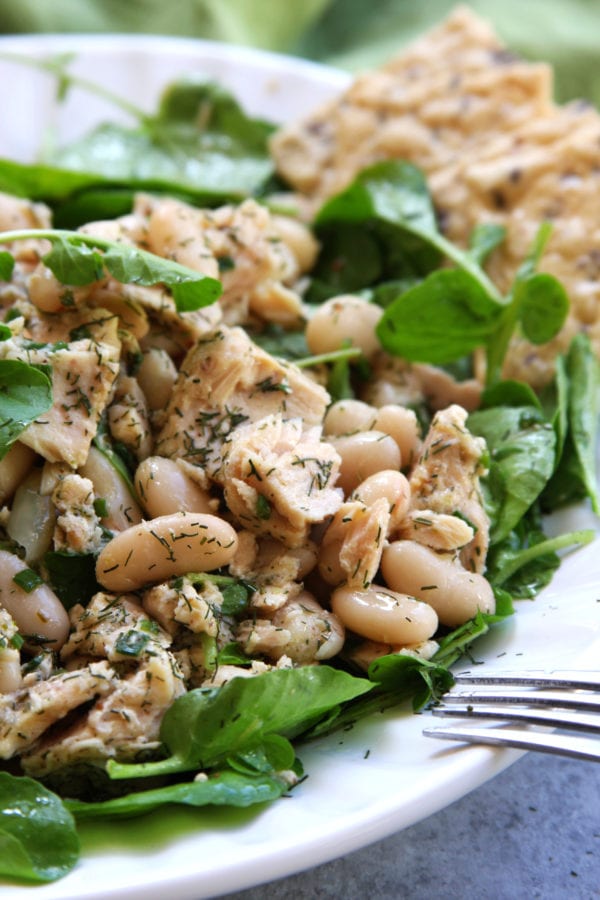 Mediterranean Tuna Salad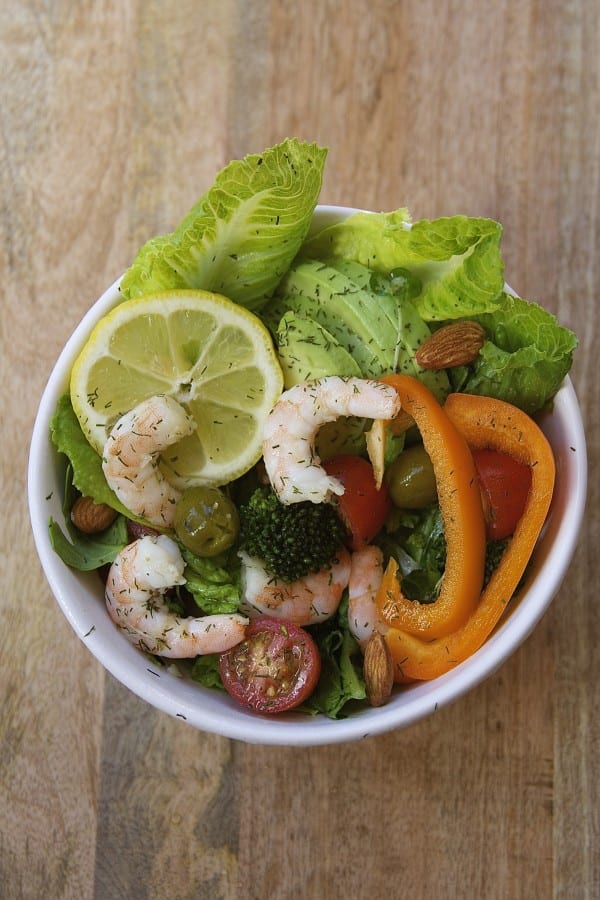 Lemon Dill Shrimp Salad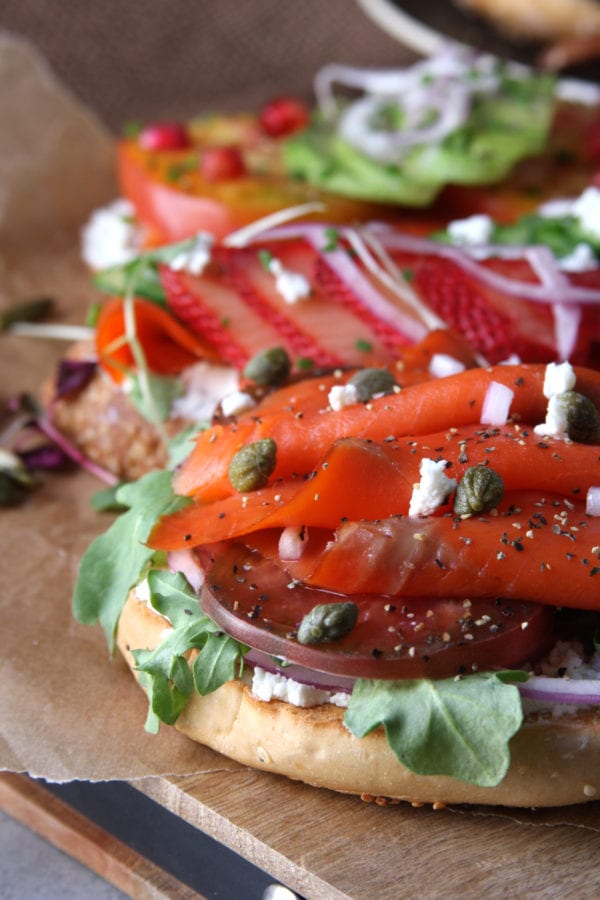 Summer Smoke Salmon Sandwiches with Lemon Dill Cream Cheese