I am definitely a salad girl. To me there is no better meal to feel satisfied while eating such a colorful piece of artwork. This Lemon Dill Shrimp Salad has been my go to meal when life gets a little crazy and energy levels are low. To be honest I have been known to eat this salad 4 or 5 days out of the week with its simple flavor filled salad dressing and the general overall feeling of well being I have after eating it.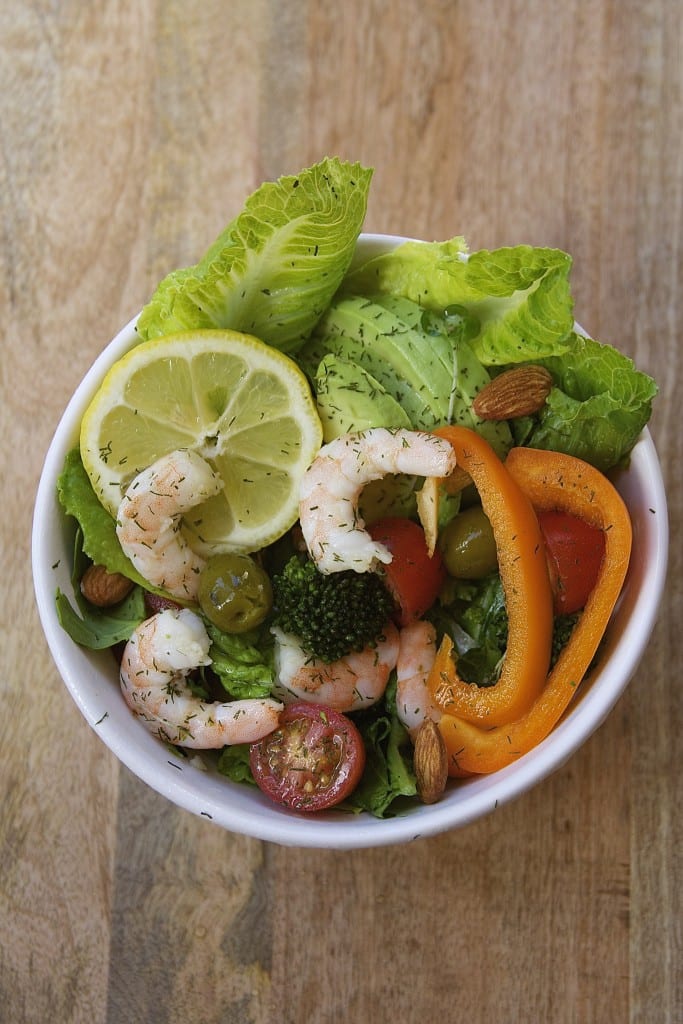 A few years back one of my many New Years resolutions was to stop buying salad dressings. I wanted to have complete control over the ingredients used. I am proud to say I am successful. Now, I will admit that I am a sucker for store bought ranch dressing and every once in a blue moon, I will order a salad with the creaminess of the off the shelf ranch dressing. This is a rarity however. I knew in my heart I needed to get rid of the artificial ingredients, chemicals, high level of sugars, MSG, imbalance of Omega oils and the trans fats that these dressings provided. There are a few salad dressings on the market that I love the taste of and that I feel are highly safe. For the most part though, 95% of my dressings are homemade using as many organic ingredients as possible.
What I believe makes this salad stand out is not only the burst of flavor with every bite, but also the incredible lemon, garlic and dill aroma. Don't be surprised that if you pack this for lunch and once you pour the dressing over your greens that the garlic lovers will come from a far asking what smells so good.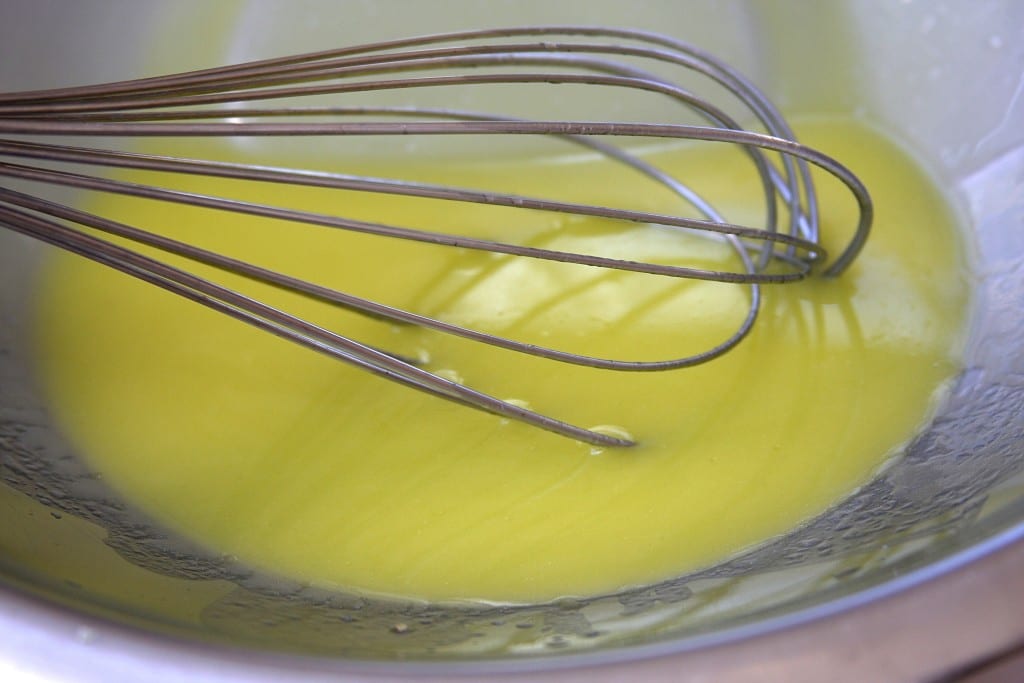 A tip for the consistency of the dressing is for it to look like milky lemon juice. Sometimes lemons can vary on their juice content so you may have to adjust the amount of lemons used.
Once you have the dressing made with the fresh smell of the dill and the oh so wonderful aroma of garlic (can you tell I love garlic?), add the defrosted shrimp and cut up veggies so they can soak up the goodness of these flavors.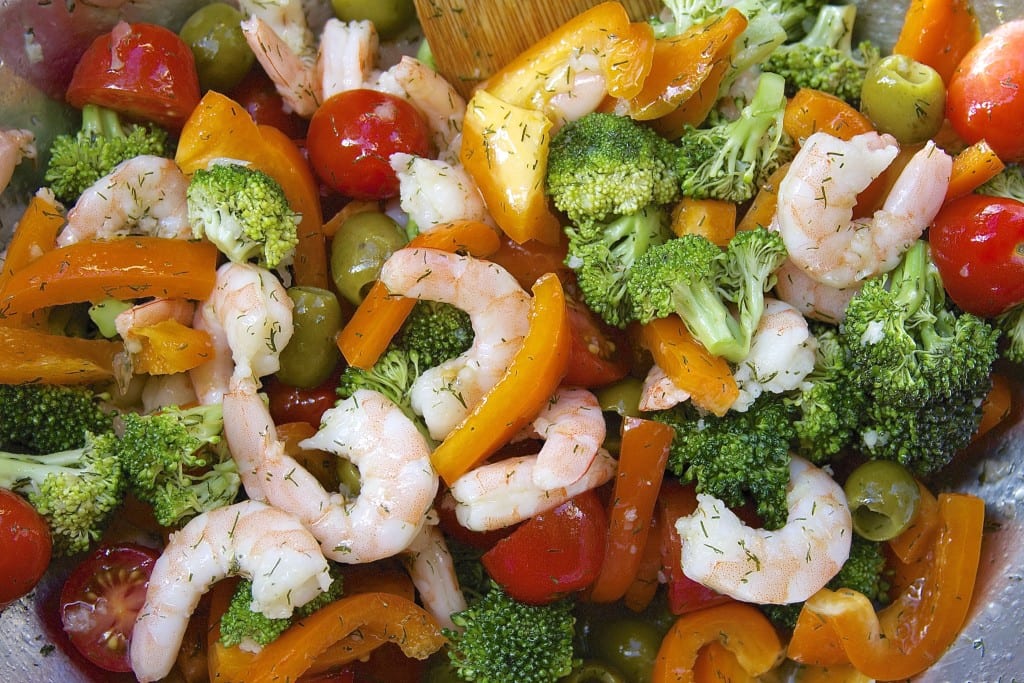 You ask what type of dill I use? Well let me show you.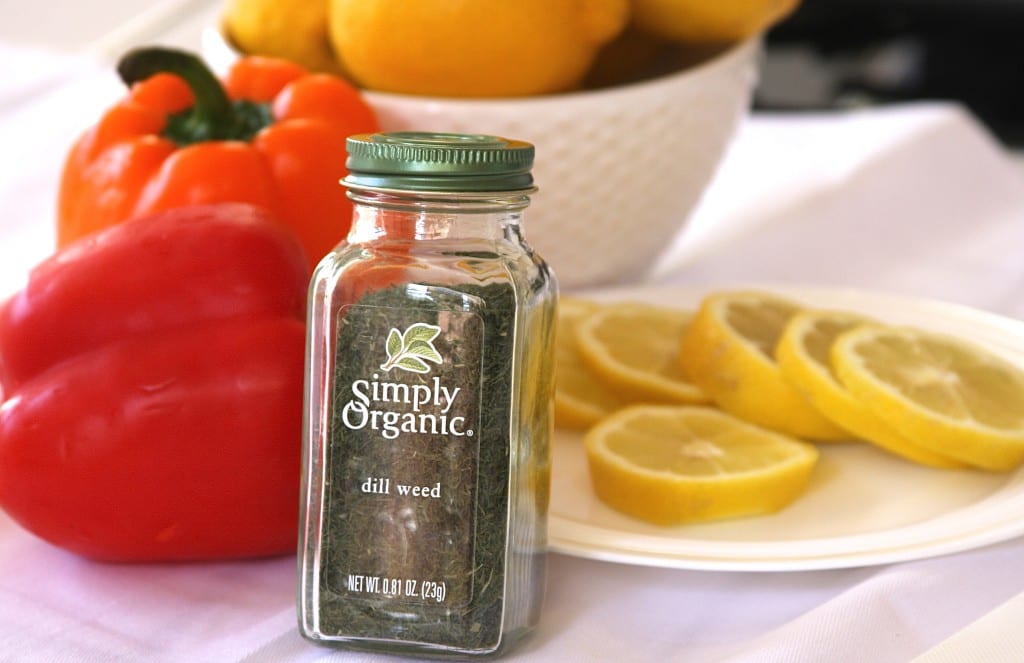 One other important ingredient is the green olives. Trader Joe's has a phenomenal tasting green olive that is a little more tender than a black olive but not tangy like the pimento stuffed olives. I have tried to find green olives that come in a glass jar to avoid BPA (bisphenol A) but haven't as of yet. We are an olive loving family so if anyone has found olives in a glass jar as wonderful as these, please let me know.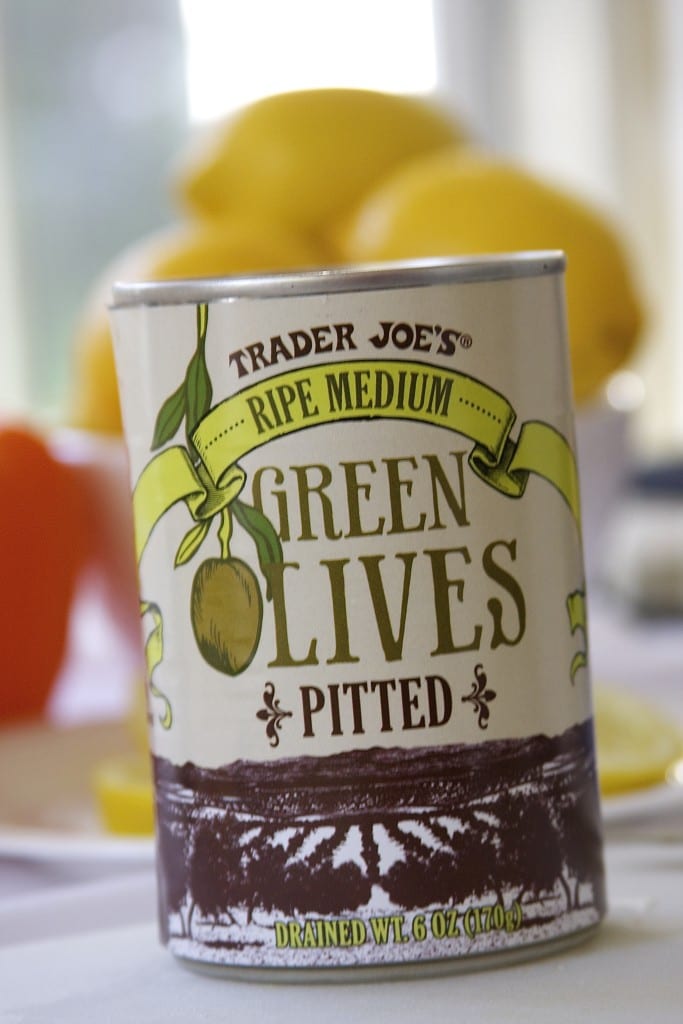 The beauty of this Lemon Dill Shrimp Salad is that you can make it with chicken, salmon or shrimp.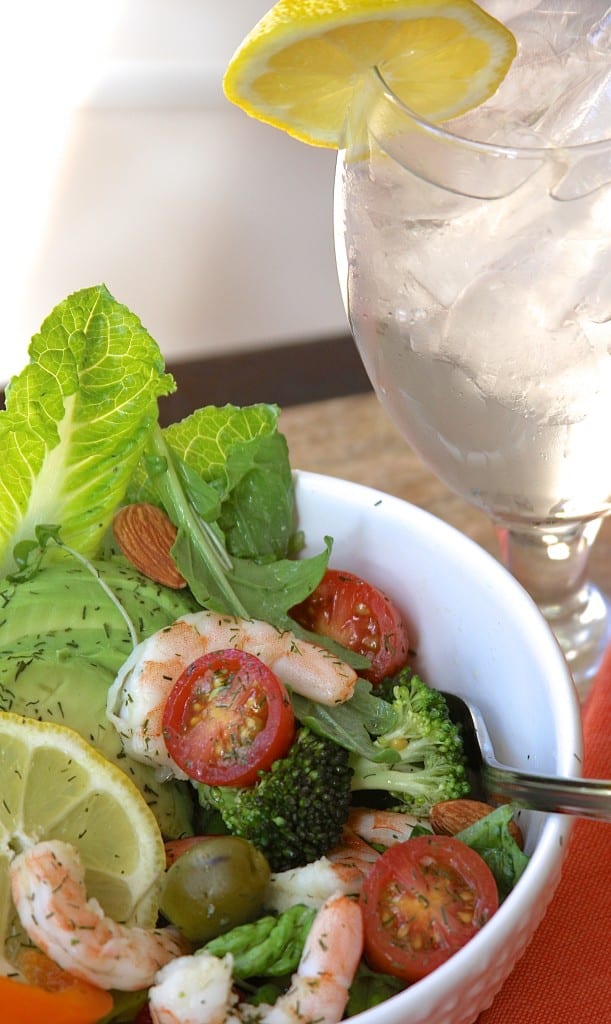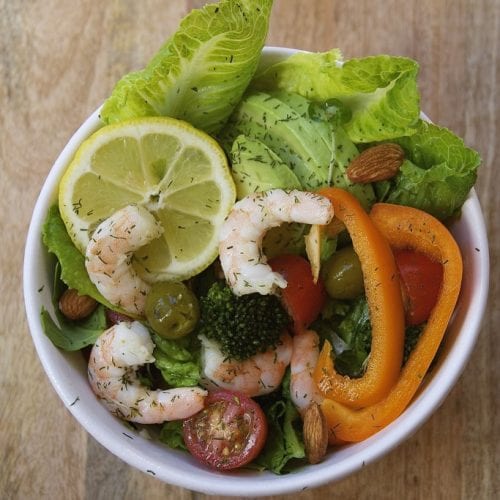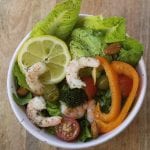 Shrimp Salad with Healthy Homemade Lemon Dill Salad Dressing
A nutritionally dense salad with a healthy homemade salad dressing. Best part is no cooking involved for those hot summer days.
Ingredients
1/2

cup

organic extra virgin olive oil

1- 1 1/2

fresh squeezed lemons

2-3

cloves

of garlic crushed

1

tbsp

dried organic dill

1/2

tsp

salt to taste

2

cups

frozen precooked shrimp

about 32 med size

1/2

can of Trader Joe's green olives

2

cups

broccoli florets

1

medium orange bell pepper cut into strips

1

cup

organic sugar plum tomatoes

or any tomato of preference

1

cup

organic micro greens

or any sprouts of preference

1/2

small organic red onion diced

3

cups

organic arugula

1

medium-large organic romaine lettuce torn into bite pieces

1

large avocado diced into 1/2 inch squares

1/3

cup

whole almonds *optional
Instructions
Salad Dressing Pour olive oil into bottom of large bowl. Squeeze lemons. Slowly pour lemon juice into olive oil mixture while whisking olive oil rapidly. Peel and crush garlic cloves. Add crushed garlic and dill to olive oil/lemon mixture. Salt to taste. Give final whisk.

Main Salad Before making Salad dressing soak frozen shrimp in cold water. Once salad dressing is made drain and rinse shrimp in cold water until completely defrosted. Lightly squeeze shrimp of extra water. Add shrimp to dressing along with olives, broccoli florets, bell pepper strips, tomatoes, micro greens/sprouts and diced red onion. Make sure to wash all veggies before adding. Toss veggies to coat with salad dressing. Rinse and drain arugula. Add to veggie mixture and toss. Rinse individual leaves of romaine lettuce and drain. Tear or cut into bite size pieces. Add to veggie mixture and toss. Add diced avocado and almonds as final step and toss. Enjoy!