Pan Seared Salmon with Orange Ginger Glaze is a citrus lovers delight. This simple recipe makes one of the best healthy dinners perfect for anytime of year.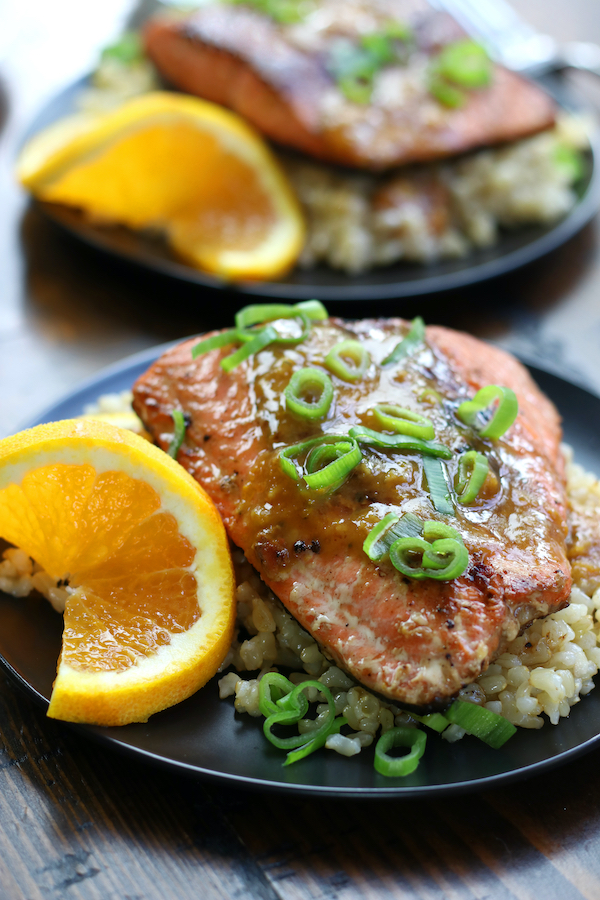 This post may contain affiliate links which I earn a small portion in sales if a purchase is made. Rest assured though, it is never at any additional cost to you.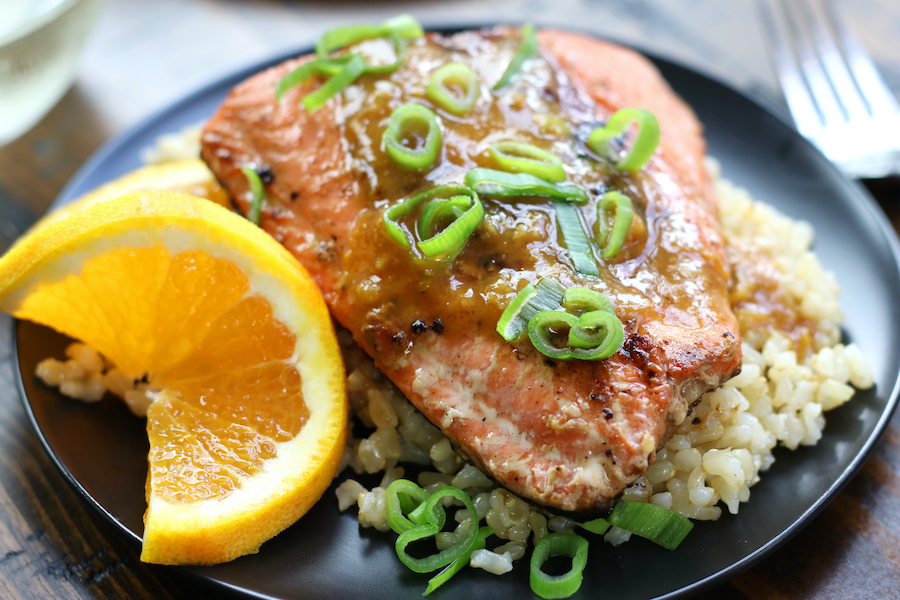 Have you ever asked yourself, why is it so darn hard to eat healthy sometimes? (Ohhh, especially in the crazy upside down year of 2020!)
Friends, if you feel that way you are not alone.
Chances are, if health is on your mind, you already have a ton of knowledge of what you should eat.
And yet, eating healthy still can be a struggle.
Honestly, there are about a gazillion reasons why because we all are unique with our own set of challenges.
However, one of the more common reasons I have seen is because the healthier meals usually are not very comforting.
When stress levels are high it is a normal to want to eat food that is comforting to the soul.
So my question is, why can't dinnertime be comforting to the soul and also be nourishing for the body?
I believe with my whole heart that one way to stay on track with wholesome foods is to make sure that they make your tastebuds happy.
So my friends…If you are a citrus lover, this Pan Seared Salmon with Orange Ginger Glaze will accomplish both.
You will receive the health benefits of eating salmon and the bright and savory glaze will make your tastebuds do a happy dance.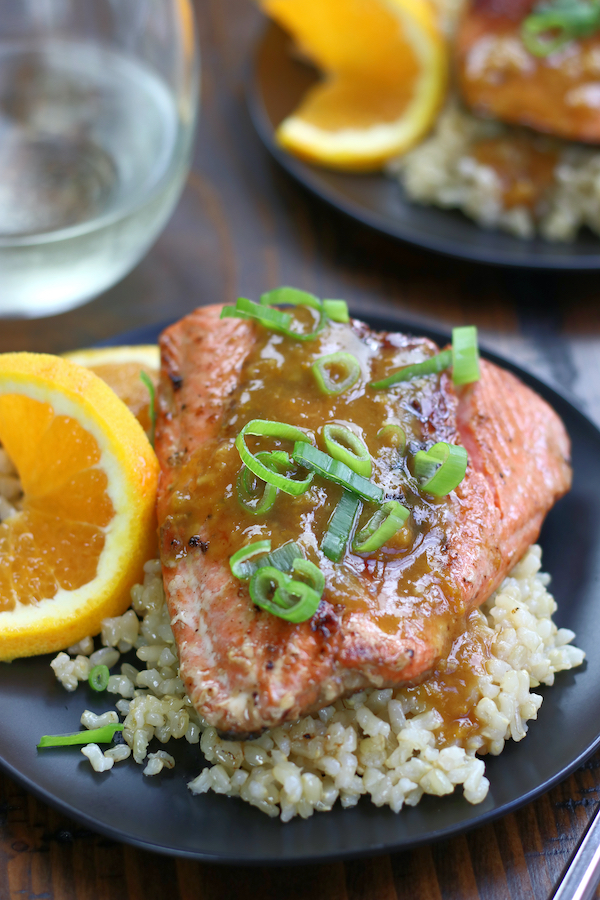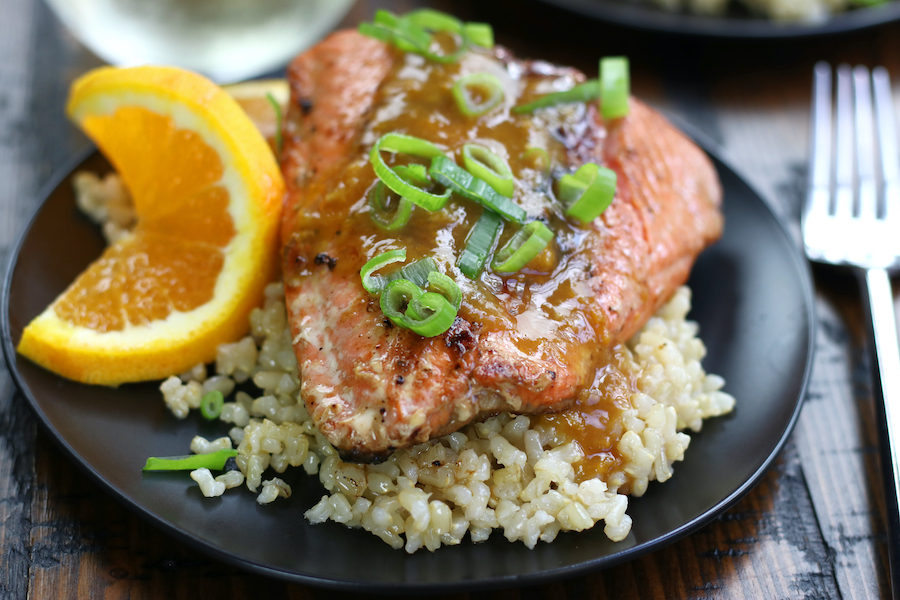 What Is Pan Searing?
Pan searing is a technique usually done on the stovetop with higher heat. Often it is the first step done to meat that creates a beautiful golden crust and deep rich flavors for meals such as Beef and Dumplings and Peposo. It is usually not the complete cooking process of a protein, just the first initial step. However, because salmon is a quick cooking protein, it is all that is necessary.
How To Pan Sear Salmon
For this recipe start by marinating the salmon in a shallow dish with the skin side facing up in the refrigerator for 30 minutes.
Gently scrap off excess marinade using this tool. Generously salt skin side of salmon.
Preheat a large stainless steel or cast iron frying pan over medium/high heat for approximately 2 min.
Add high heat oil and place first salmon piece into frying pan skin side down. Make sure to lay the piece of salmon into the oil moving away from you to help prevent splashing of hot oil. Once the salmon is added to the pan do not touch until it is ready to be turned. (Note: Only sear 2 pieces of salmon at a time. Searing more than that at one time will cause the temperature of the pan to drop making the salmon more vulnerable to sticking.)
Cook on the first side until the salmon is opaque ( lightened in color) halfway up the piece, approximately 3-4 minutes depending on the thickness.
Using a spatula, gently flip the salmon making sure to gently lay the piece moving away from you again. Cook for an additional 3 minutes.
Remove salmon from pan and repeat with remaining two pieces. Serve with Orange Ginger Glaze and garnish with fresh sliced oranges and green onions.
How To Know When the Pan is Hot Enough For Searing
The easiest way to know whether the pan is hot enough to add the oil for searing is to sprinkle the pan with a few drops of water. If hot enough, the water will sizzle and immediately evaporate. If the water does not do that, simply let the pan heat for another minute and then try again.
Orange Ginger Glaze for Salmon
The Orange Ginger Glaze for this recipe acts as both a marinade and a glaze. Have no fears though, bringing the marinade to a boil kills any germs from the salmon. Also, the addition of cornstarch adds in the silky smooth thickness. Here are a few things to keep in mind when making the glaze.
The addition of dijon mustard adds a tasty zippiness to the glaze. Once on the salmon and/or rice it packs in just the right amount of flavor. However, it can be removed for anyone who is not a fan.
This is the best tool for zesting citrus.
To thicken the glaze make sure to make a slurry with either cornstarch or arrowroot. To do so, whisk a small amount of hot marinade into a separate bowl containing the cornstarch until the mixture is thoroughly combined. Slowly whisk the slurry into the saucepan containing the glaze. Continue whisking over medium heat until sauce is thickened, about 1-2 minutes.
Side Dishes and Order of Preparation for Orange Glazed Salmon
Below you will find my favorite side dishes for this Orange Glazed Salmon with the suggested order of preparation for a healthy and no-stress dinner.
Short Grain Brown Rice– This should be started first as it takes approximately 1 hour on the stovetop from start to finish.
Lemon Herbed Vinaigrette on a tossed salad- Make this second and refrigerate until needed.
Whisk together the marinade. While Salmon is marinading in the refrigerator prepare greens for tossed salad and cut garnishes.
Sear salmon and enjoy!
Note: Other vegetable side dishes that would be delicious and healthy are Herbed Barley Salad, Creamy Cucumber and Tomato Salad, Blueberry Basil Chopped Veggie Salad,Light and Easy Ratatouille and Roasted Zucchini Slices.
More Simple and Delicious Salmon Recipes
Panko Crusted Salmon with Dill and Lemon
Simple Strawberry Salmon Salad
If you enjoyed this Salmon recipe please let me know by leaving a comment and review below. Doing so helps to encourage others to make the recipe also. Thank you!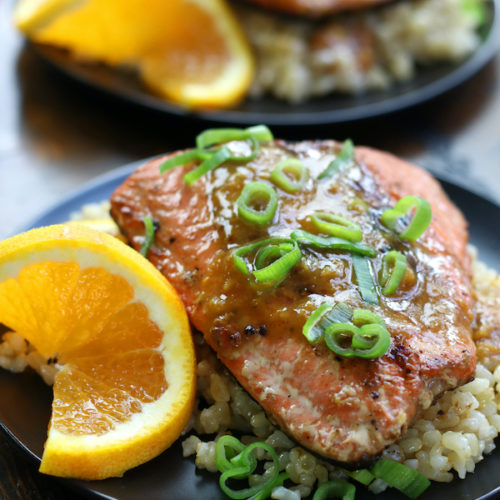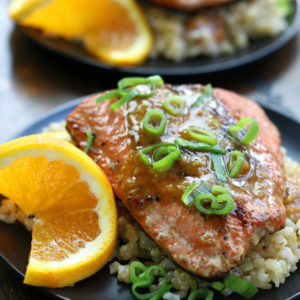 Pan Seared Salmon with Orange Ginger Glaze
What a way to add flavor and comfort to a weeknight! The salmon is extra Tasty because of the marinade that then becomes a glaze. Bright, savory and absolutley delicious! Leftovers are just as amazing the next night or make a great packed work lunch.
Print
Pin
Rate
Ingredients
1/4

cup

fresh squeezed orange juice

1/4

cup

soy sauce

*or Tamari

1/4

cup

dry white wine

*such as sauvignon blanc

2

tbsp

dijon mustard

2

inch piece

ginger

*peeled and grated (or approximatley 4 tsp dried)

1

tbsp

orange zest

*from 2 lg oranges

4

cloves

garlic

*crushed

2

tbsp

honey

4

6 oz

salmon fillets

1/2

tbsp

cornstarch

*or arrowroot

1/4

cup

high heat oil

green onion

*diced for garnish

orange slices

*for garnish
Instructions
Marinade
In a medium sized mixing bowl whisk together the first 8 ingredients.

Pour marinade into a shallow glass roasting pan. Place salmon fillets skin side up into marinade. Marinate for 30 mins in the refrigerator.
Searing Salmon
Pull salmon from refrigerator and gently scrap off excess marinade. Place salmon on a large plate and generously salt the skin side of fillets.

Heat a large frying pan over med/high heat until hot. (To test if the pan is hot enough sprinkle with a few drops of water. The water should sizlle and immediatley evaporate.)

Add oil to pan. Transfer two of the fillets to pan by placing skin side down.(To help prevent splatter lay the piece of salmon into the pan moving away from you.) Once the salmon fillet is placed into the pan do not touch until it is time to turn over.

Cook until salmon has lightened in color halfway up the sides, approximately 3-4 mins.

Using a spatula, gently flip the salmon and cook for an addittional 3 mins. Remove salmon from pan and repeat with last 2 pieces.
Glaze
Meanwhile, transfer marinade into a small saucepan. Place over medium heat and bring to a simmer for 5 mins.

In a small bowl add cornstarch and make a slurry by whisking in about 1/4 cup of hot marinade. Whisk until thoroughly combined.

Slowly whisk slurry into simmering marinade. Contintue cooking and whisking until sauce is thickened, about 1-2 mins.
Garnish
This recipe creates enough glaze for both the salmon and an addittional side dish of rice, quinoa or couscous. Garnish each plate with a slice of orange and diced green onions.
Notes
*Please use as many organic ingredients as possible. 
Nutrition
Calories:
485
kcal
|
Carbohydrates:
14
g
|
Protein:
38
g
|
Fat:
29
g
|
Saturated Fat:
4
g
|
Polyunsaturated Fat:
3
g
|
Monounsaturated Fat:
7
g
|
Cholesterol:
105
mg
|
Sodium:
977
mg
|
Potassium:
760
mg
|
Fiber:
1
g
|
Sugar:
10
g
|
Vitamin A:
130
IU
|
Vitamin C:
11
mg
|
Calcium:
23
mg
|
Iron:
1
mg