Creamy Lemon Dill Salmon Pasta is easy enough for a weeknight and yet so very gourmet tasting. With flavors of lemon, capers, garlic and dill, you are sure to feel like a 30 minute chef.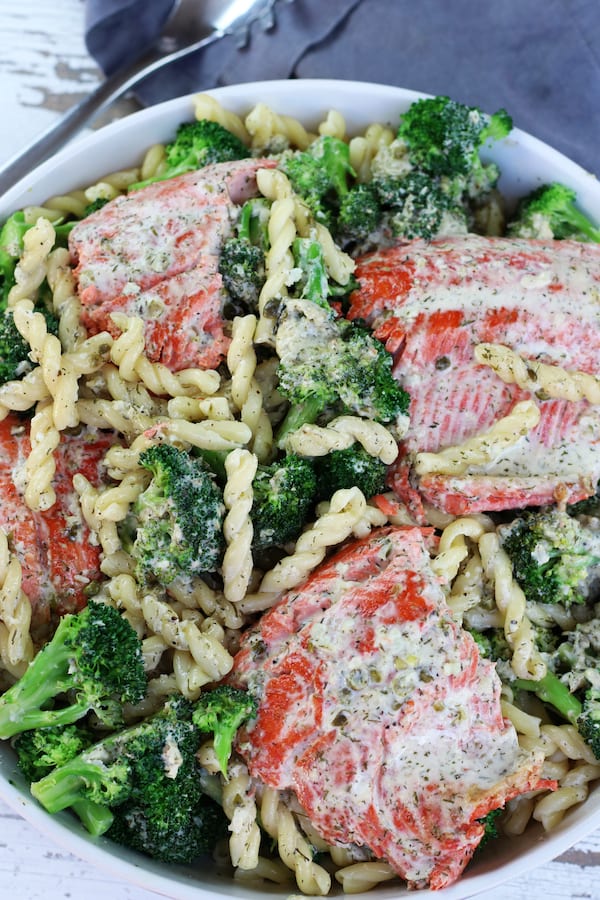 This post may contain affiliate links which I earn a small portion in sales if a purchase is made. Rest assured though, it is never at any additional cost to you.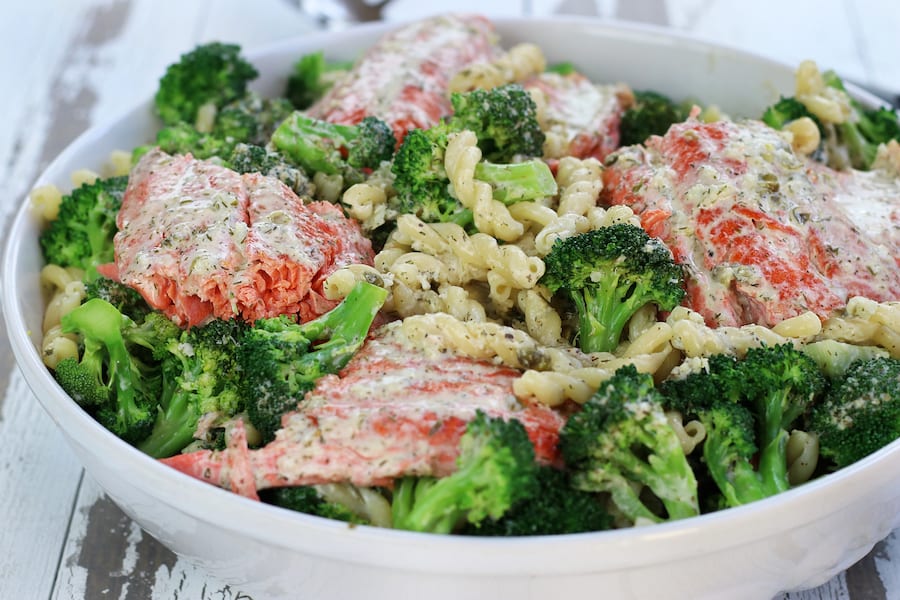 Do you ever have one of those days where you feel like your last nerve has been tapped danced on for hours?
For me, it is my sweet dog doing his job of protecting the house from the roofers installing a new roof.
As proud as I am of my furry boy, the BARKING JUST WON'T STOP.
I will be the first to admit, at the end of BarkFest 2019 I want something completely soul satisfying and incredibly easy to make.
This Creamy Lemon Dill Salmon Pasta is the winner.
It has all my favorite flavors while getting in the healthy elements of broccoli and salmon.
And my friends…it just made me so incredibly happy.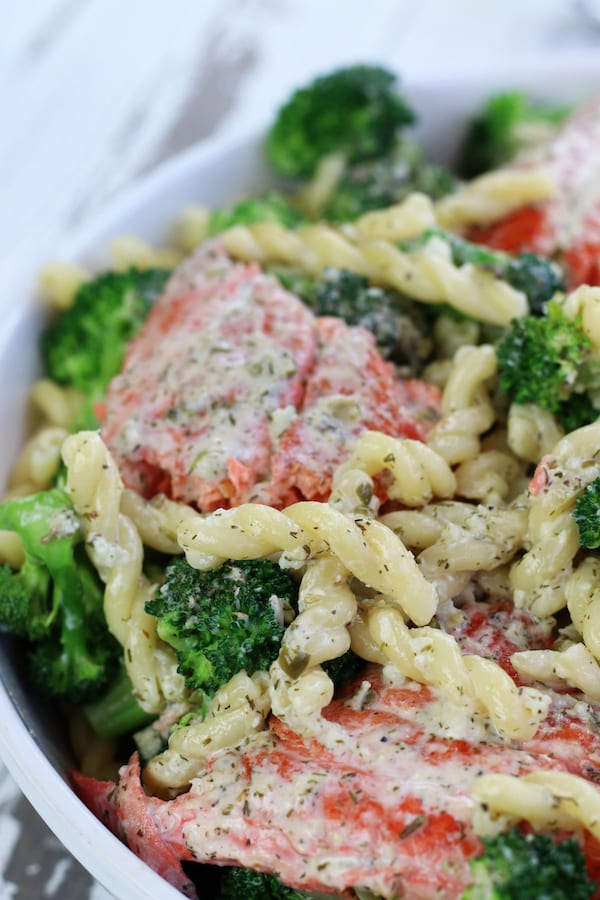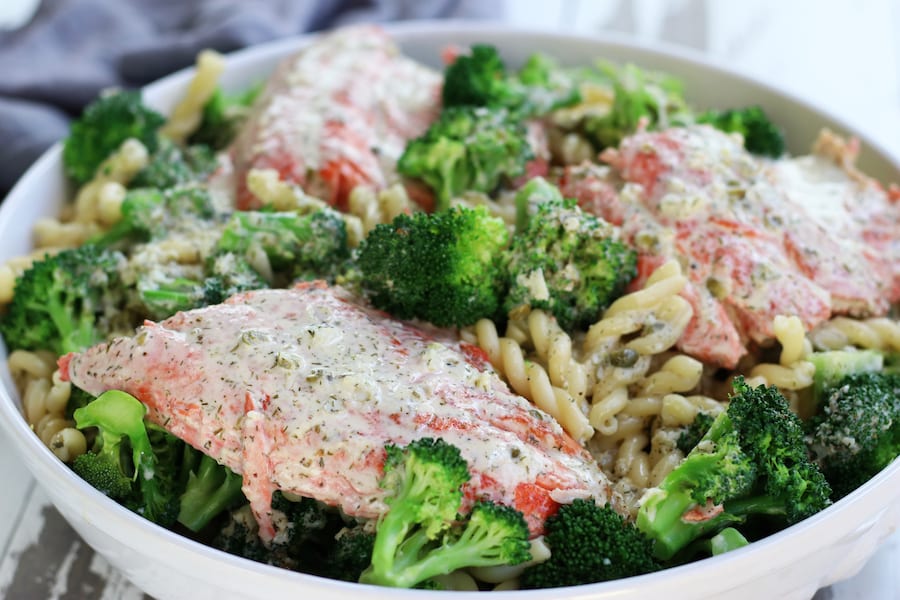 About This Creamy Lemon Dill Salmon Pasta
What is not to love about this Salmon Pasta that come together in under 30 minutes, is incredibly easy to make and tastes so amazing? This dish is perfect for weeknight dinners, date night in or anytime a special celebration dinner is in order but there isn't a lot of time to prepare.
Types of Pasta
The types of pasta to use all comes down to what is your favorite shape. Any type may be used for this recipe but here are some of the more popular shapes.
Gemelli (as seen in photos)
Pappardelle (Ribbon Pasta)
Bucatini (Tubular Pasta)
Farfalle (Bow Tie Pasta)
What are Capers?
Capers are tiny little pea shaped balls that can pack a wonderful bright, salty and acidic punch to recipes. For many, using capers in their cooking can be extremely intimidating but here are some facts and tips to help make it easier.
Capers are tiny unopened flower buds that have been pickled.
They have been described by many as lemony, olivey, salty and acidic.
A small amount usually goes a long way. For this recipe,  1/2 tablespoon minced adds the perfect background flavor.
Capers are often used in cream sauces, with lemon or fish dishes. However, the recipe possibilities know no end.
Best Salmon To Choose
Trying to eat healthy while also keeping the food budget under control can sometimes be extremely challenging, Because of this, my best suggestion is to buy the best quality of salmon that your food budget can afford. With that in mind, wild caught salmon is considered to be generally better for your health.
There are 5 main types of wild salmon but the most common types you will find in the grocery store are either Sockeye or Coho. Of these varieties, choose the cut of salmon fillets or side of salmon.
How to Quickly Blanch Broccoli
One of the quickest ways to perfectly blanch broccoli when making pasta dishes is to simply drain the cooked pasta over the broccoli florets. The broccoli will end up with just the right amount of doneness. Here are the steps to follow.
Wash and cut broccoli into florets.
Place florets in a large colander.
Cook pasta to al dente.
Drain cooked pasta over broccoli.
Using hot pads, carefully lift colander and tilt slightly from side to side until all water has drained from colander.
Once drained, add to cooked cream sauce with salmon.
Cooking Salmon for Salmon Pasta
There are 2 main steps in cooking the salmon for this pasta. Start by searing each side for a few minutes per side and then transferring onto a large plate. If using a salmon fillet, do not worry if the is skin still attached. After searing, let cool for a few minutes and run a few fingers under the skin, lifting and removing it from the fillet. Also for the fillet, cut into serving sized pieces. 
Once the cream sauce is made, add salmon back in. Simmer the sauce with the salmon for an additional 3-4 minutes. Because salmon cooks quickly, the total cooking time will be approximately 7-8 minutes.
How To Make Salmon Pasta With Cream
Cook Pasta following directions on package to al dente.
Prepare broccoli florets and drain cooked pasta over broccoli.
Meanwhile sear salmon over medium heat in olive oil and butter and then remove salmon from pan.
Drain salmon pan of excess oil.
Place frying pan back over medium heat. Add in wine, lemon juice, capers and pepper. Simmer for 2 mins.
 Add in garlic and simmer an additional min.
Stir in heavy cream and bring to a simmer.
Lower heat and sprinkle in parmesan and dill. Stir until parmesan is melted and has blended into sauce.
Add salmon back into pan and cook for an additional 3-4 mins.
Lightened Up Salmon Pasta
To make a lightened up version of this Creamy Lemon Dill Salmon Pasta, substitute the heavy whipping cream for either half and half or whole milk. Although the final product will not be quite as creamy, it will still taste heavenly.
More Delicious Seafood Recipes
Panko Crusted Salmon with Dill and Lemon
Simple Strawberry Salmon Salad
Marinated Grilled Shrimp Kabobs
30 Minute Meals You'll Love
Gnocchi Asparagus and Mushroom Skillet
Mexican Chicken Avocado Sandwich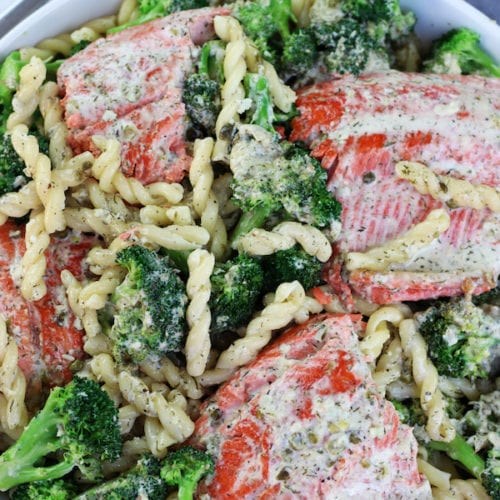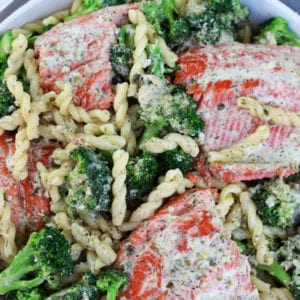 Creamy Lemon Dill Salmon Pasta
Creamy Lemon Dill Salmon Pasta has flaky salmon, a luscious cream sauce, perfectly cooked broccoli, all with your favorite choice of pasta. Not only is this Salmon Pasta easy to make, it also comes together in under 30 minutes!
Print
Pin
Rate
Ingredients
8

oz

pasta of choice

3

cups

broccoli florets

*about one large head of broccoli

1/2

lb

salmon filet

*or side of salmon

1

tbsp

olive oil

1

tbsp

butter

1/4

cup

dry white wine

1

lemon

juiced

*about 2-3 tbsp

1/2

tbsp

capers

1

tbsp

crushed garlic

*about 2-3 large cloves of garlic

3/4

cup

heavy whipping cream

1

cup

finely grated parmesan

1/2

tbsp

dill
Instructions
Bring a large pot of water to boil. Once boiling lightly salt water and cook pasta to al dente (almost done) following direction on package.

Clean and cut broccoli into florets. Add to colander and once pasta is cooked drain pasta over broccoli. (This technique will perfectly blanch the broccoli very quickly and easily)

Meanwhile, prepare garlic, lemon juice, capers, grate parmesan, measure wine and heavy whipping cream.

Place large frying pan over med heat and add butter and oil. When pan has come to heat sear each side of salmon for approximately 2 mins per side. Once seared, remove salmon onto a large plate. At this time if there is salmon skin, carefully remove the skin. (See notes in post and below for tips on how to remove.)

Drain frying pan of excess oil.

Place frying pan back over med heat. Add in wine, lemon juice, capers and pepper. Simmer for 2 mins, making sure to scrape down pan helping the sauce to absorb the browned bits.

Add in crushed garlic and simmer for an additional min.

Stir in heavy creamy and bring back to a simmer over the same med heat.

Once sauce is simmering lower heat and add in parmesan and dill. Continue cooking and stirring on low heat until cheese is melted into sauce.

Once cheese has melted break salmon apart into smaller serving sized pieces if neccessary and add into sauce. Cook salmon in sauce on low heat for 3-4 mins.

Toss in cooked pasta and broccoli and serve immediately.
Notes
*Please use as many organic ingredients as possible. 
Recipe Notes
Generally when cooking pasta it is customary to heavily salt the boiling water. Due to the nature of ingredients for this Salmon Pasta, it is best to lightly salt the boiling water before cooking the pasta.
Al dente means to the tooth or almost done. Pasta is al dente when it is edible but has a slight amount of give when chewed.
Having all the sauce ingredients ready to go before making the sauce will make the process much easier. This tool and this one will make for easy preparation. 
Before searing the salmon it will take approximately 4-5 minutes before frying pan reaches ideal temperature over medium heat. 
If using salmon fillet with the skin attached first sear salmon and then let cool enough to touch without burning your fingers. Lift the edge of skin and run two fingers underneath skin to remove. 
Nutrition
Calories:
641
kcal
|
Carbohydrates:
51
g
|
Protein:
31
g
|
Fat:
34
g
|
Saturated Fat:
17
g
|
Cholesterol:
117
mg
|
Sodium:
525
mg
|
Potassium:
699
mg
|
Fiber:
4
g
|
Sugar:
3
g
|
Vitamin A:
1388
IU
|
Vitamin C:
66
mg
|
Calcium:
379
mg
|
Iron:
2
mg