Clean eating just became so much more fun with this Mexican Chicken Avocado Sandwich. It is like having the best of two worlds, guacamole and a chicken salad sandwich. No more boring lunches!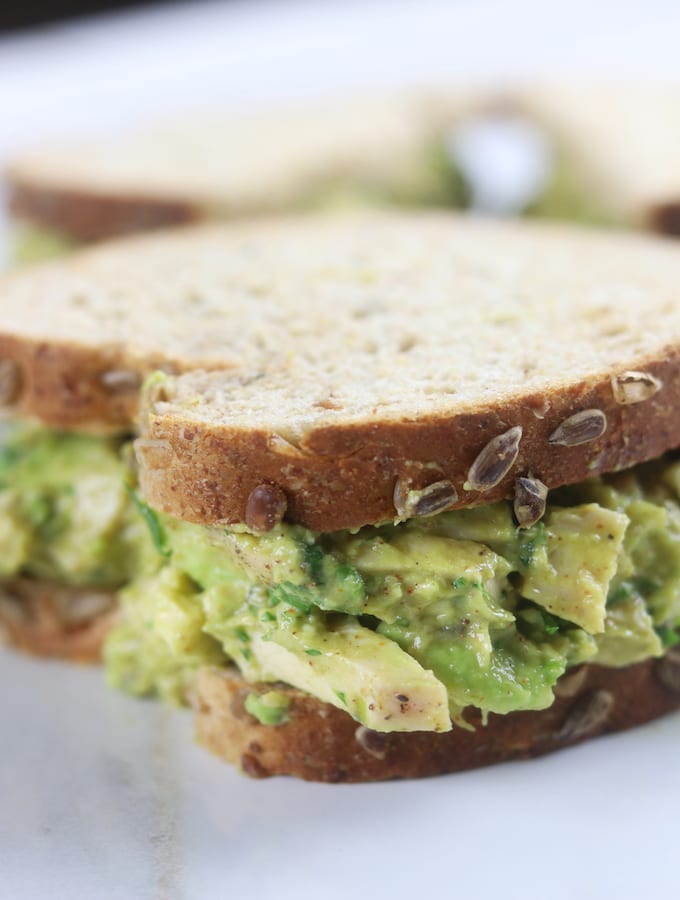 This post may contain affiliate links which I earn a small portion in sales if a purchase is made. Rest assured though, it is never at any additional cost to you.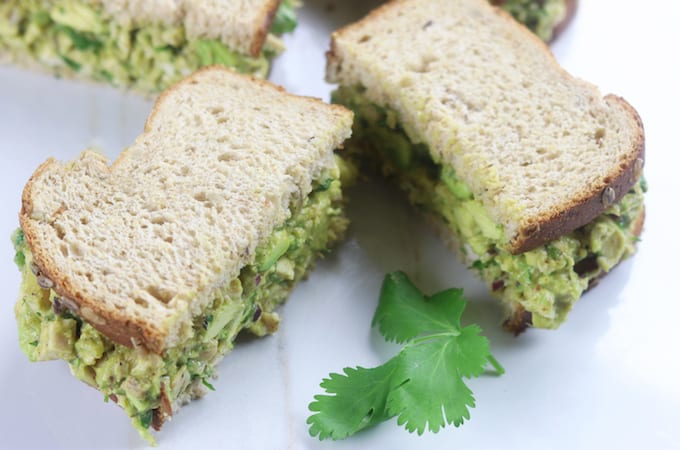 Yesterday was the start of daylight savings time and I have some pretty strong mixed emotions about it.
Firstly, I really hate feeling like a zombie the next day because of lack of sleep and yet I really enjoy having an extra hour of daylight.
Secondly, this means soon I will be melting with long hot summer days and yet spring days in Southern California are absolutely gorgeous.
I think I also grieve the passing of winter.
I know, I know, that sounds absolutely crazy.
Here is the deal, living in San Diego we just don't get that much rain, and rainy days are just so rejuvenating to me.
I sleep better, everything feels so refreshed and the rain just flat out makes me happy.
So while I am dealing with my grief over winter passing I am also preparing myself for what summer will bring.
Light and refreshing meals like this chicken sandwich recipe will be absolutely necessary before we know it.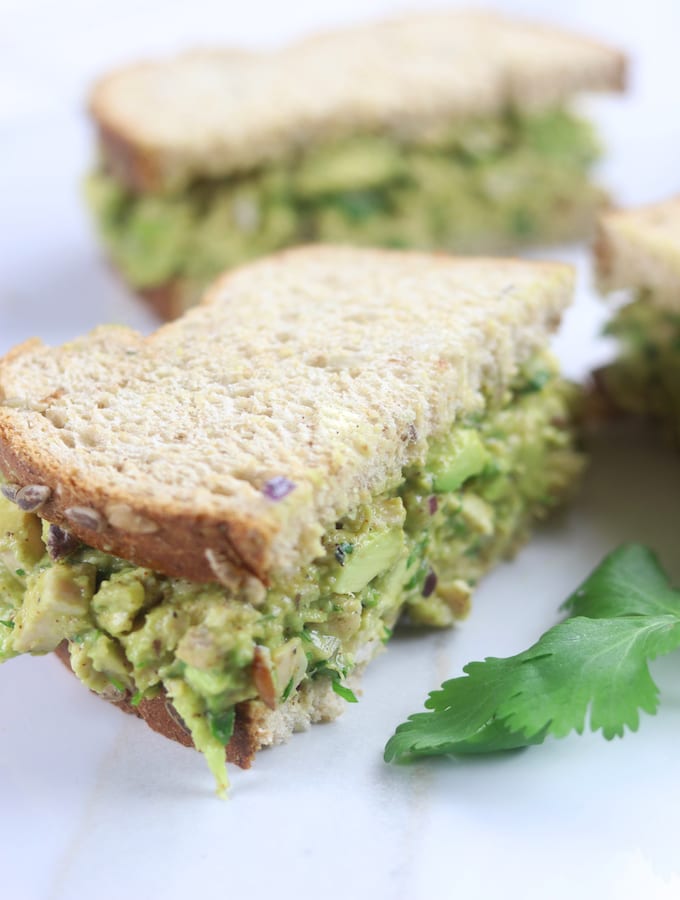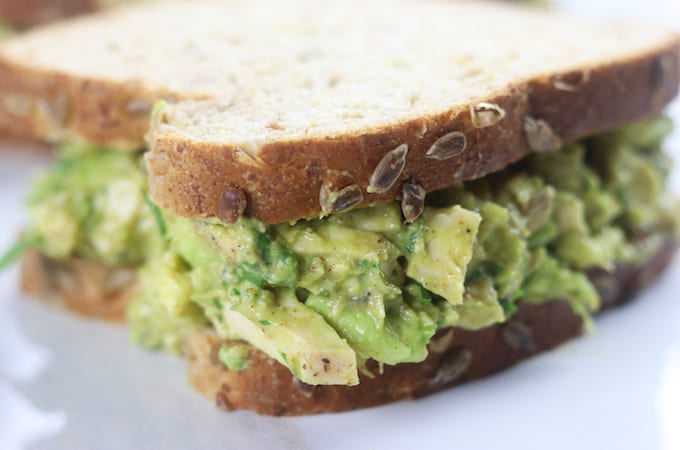 Tips for making the best chicken sandwich recipe
How to cook chicken breasts.
For this chicken avocado sandwich you will need 2 precooked and chilled chicken breasts. To do this:
Preheat your oven to 350℉.
Place the chicken into a medium sized baking pan. Drizzle chicken with oil (I use either avocado or olive) and then salt and pepper.
Bake for approximately 30-40 minutes or until internal temperature reaches 165℉.
Once chicken is done baking remove from oven, let cool to almost room temperature and refrigerate covered until chilled. I really like old fashioned meat thermometers but I love THIS ONE more. (affiliate)
How to roast a jalapeño.
Roasting the jalapeño is an optional step but I love that it gives the sandwich a deeper richer flavor. To roast:
Use a pair of tongs to hold the jalapeño over the smallest gas burner on your stove.
Turn the heat up to the level you are most comfortable with but just note that the lower the flame the longer it will take to roast.
Roast each side until the jalapeño skin starts to darken and pop. Generally this will take about 10 minutes.
Once roasted let it cool for about 5 mins and then dice.
Remove seeds to help keep spice level lower.
USE THESE to help make roasting easier. (affiliate)
For more tips on how to roast a jalapeño check out Creamy Roasted Jalapeño Pasta and Mexican Shrimp and Crab Cocktail.
How to make this recipe into a low-carb meal.
Too make this into a low-carb meal use a large tomato instead of bread. Make sure to core the tomato and then slice almost all the way through having the tomato almost look like an open flower. Place 1 or 2 scoops on top of the tomato and voilà, you have a low- carb lunch. Check out Shrimp Avocado Salad and Lazy Day Chinese Chicken Salad for more low-carb feasts.
Questions about avocados answered
You probably already figured out that this is essentially like a chicken guacamole sandwich and it may sound crazy but let me reassure you, it is so delicious. I used my extremely popular Simple Healthy Guacamole recipe as the base with a few tweaks. Before you can make awesome guacamole you need beautifully ripe avocados. Here are some tip for dealing with avocados.
How do you know when an avocado is ripe?
There are a few easy ways to tell.
When ripe, avocados will give slightly when gently squeezed but you shouldn't be able to make a finger indentation in them.
Often the avocado skin will change from a brighter green color to a deeper green color when ripe.
Lastly, did you know that the avocado stem holds the sneak peak for ripeness? If you try to remove the avocado stem and it is difficult the avocado is not ripe. If it is easy to remove and the flesh reveals a beautifully bright green color than chances are the avocado is perfectly ripe. When the flesh is a dark green color than the avocado is over ripe.
Will Avocados make me fat?
Scientific data actually shows that people who regularly consume avocados also had a higher intake of vegetables and fruits and also a higher quality diet. Interestingly their body weight and waist circumferences were significantly lower. (1) (2)
How do I keep the avocados from turning brown in this chicken sandwich?
The lime juice will absolutely help but here is a trick. If you are making up the avocado chicken salad ahead of time before eating, mix all the ingredients together except the lime juice. Place the avocado mixture in an airtight container and smooth it out so it is flat in the container. Squeeze the lime juice over the top and do not mix it in until serving. Use 2 limes if it looks necessary. This will keep the avocado mixture a beautiful shade of green.
Let's start making this Mexican Chicken Avocado Sandwich!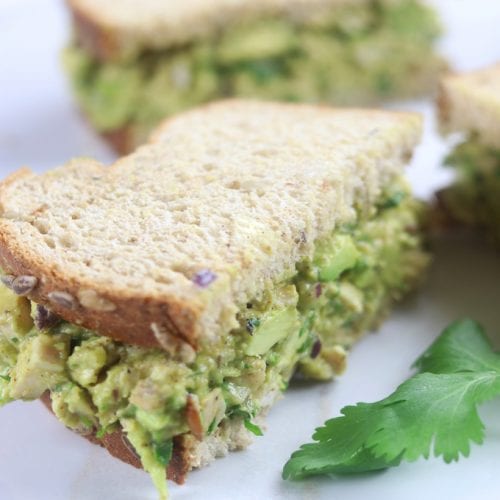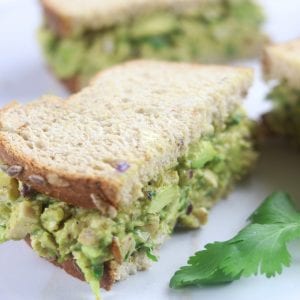 Mexican Chicken Avocado Sandwich
Clean eating just became so much more fun with this Mexican Chicken Avocado Sandwich. It is like having the best of two worlds, guacamole and a chicken salad sandwich. No more boring lunches!
Print
Pin
Rate
Ingredients
2

precooked

chicken breasts (about 1 1/4 lbs before cooking)

*cut into small cubes

3

large

ripe avocados

*peeled and diced

1

lime juiced

*about 2 tbsp

1/4

med

red onion

*finely diced about 1/2 cup

2-3

large

garlic cloves

*minced or crushed

1

roasted jalapeno (remove seeds to lower heat)

*minced, see notes above

1

tsp

sea salt

1/2

tsp

cumin

1

tso

chili powder

1/2

small bunch

cilantro

*chopped about 1/2 cup

favorite slices of bread
Instructions
Place all ingredients except slices of bread in a medium sized bowl. Stir well and serve on your favorite sliced bread. Will last up to two days refrigerated in an air tight container.
Notes
*Please use as many organic ingredients as possible*
Nutrition
Calories:
258
kcal
|
Carbohydrates:
9
g
|
Protein:
20
g
|
Fat:
17
g
|
Saturated Fat:
3
g
|
Cholesterol:
49
mg
|
Sodium:
418
mg
|
Potassium:
487
mg
|
Fiber:
7
g
|
Sugar:
1
g
|
Vitamin A:
241
IU
|
Vitamin C:
11
mg
|
Calcium:
14
mg
|
Iron:
1
mg
Follow along on Facebook and Pinterest for more savory inspirations.
For other delicious quick & healthy lunches check out these recipes: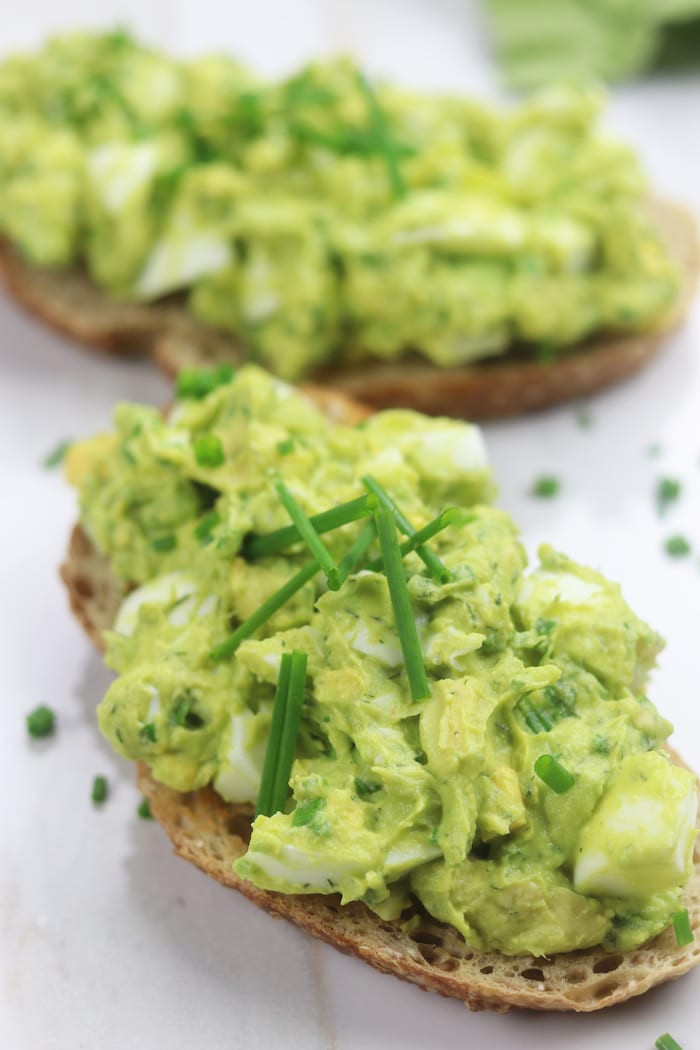 Avocado Egg Salad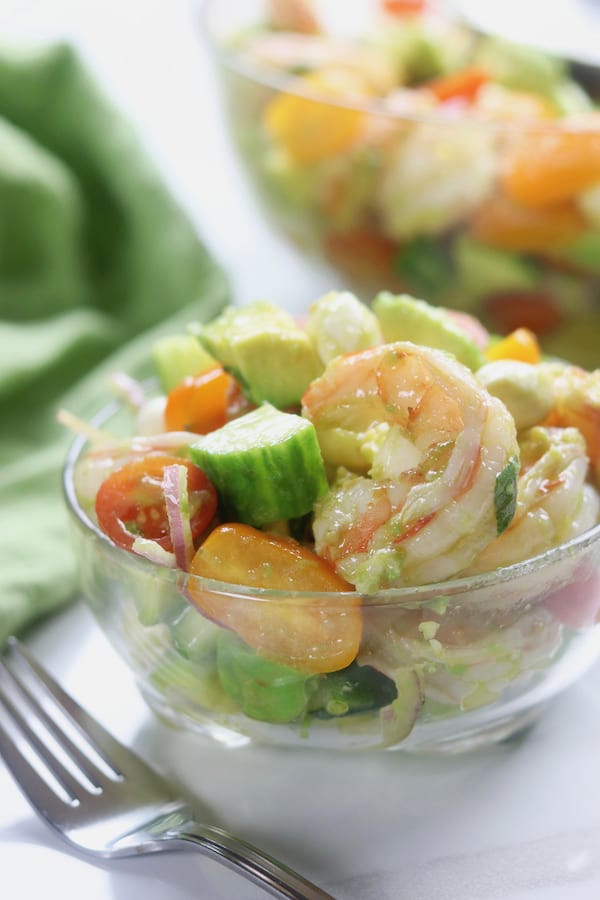 Shrimp Avocado Salad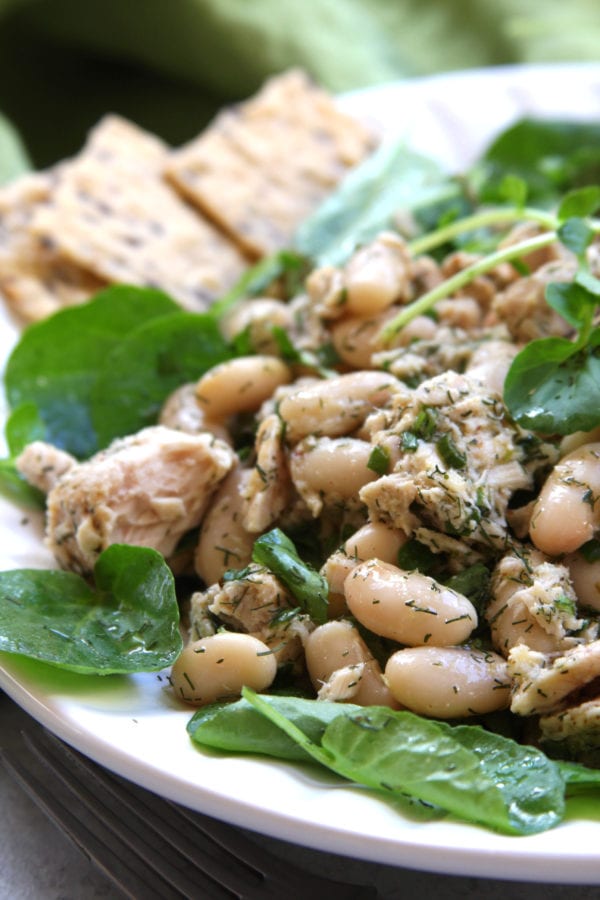 Mediterranean Tuna Salad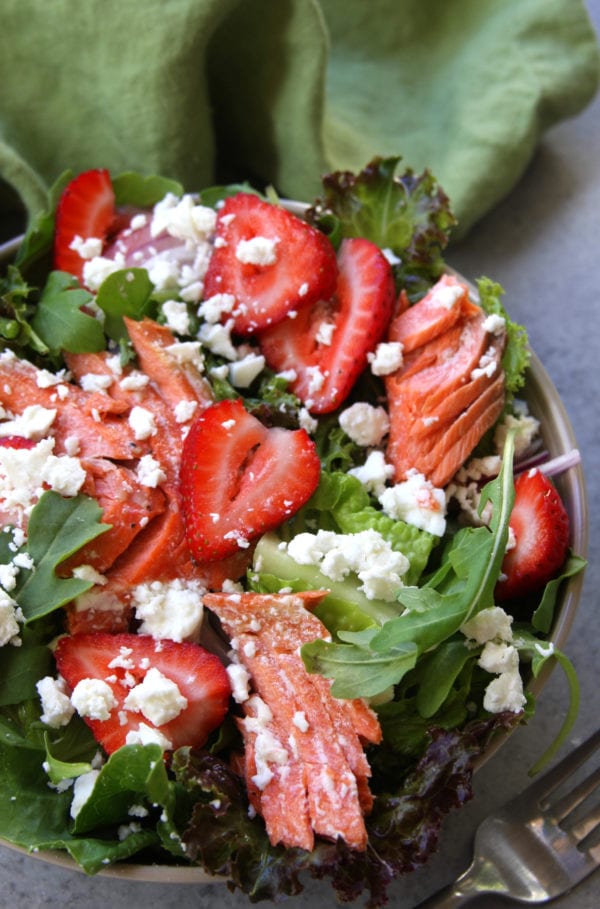 Simple Strawberry Salmon Salad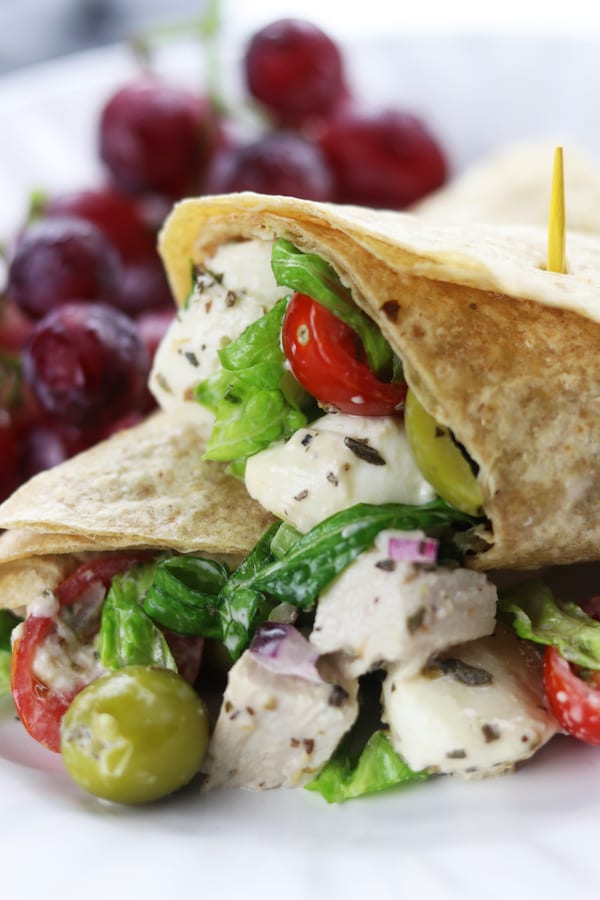 Creamy Italian Chicken Salad Wrap