Here comes the wonderful, holly jolly, dreaded, fear of the scale Holidays. Oh the mixed emotions they bring. On one hand you just want to say the heck with it and enjoy those chocolate dipped bacon cheeseballs (yes that is a joke), and on the other hand if you give in now, fast forward three months and your bathroom scale may take flight through your second story window. That is why I love this Hot or Cold Crab Veggie Dip. It has the creamy decadence of traditional Holiday fare lightened up a bit, and what a sneaky way to get some extra veggies in.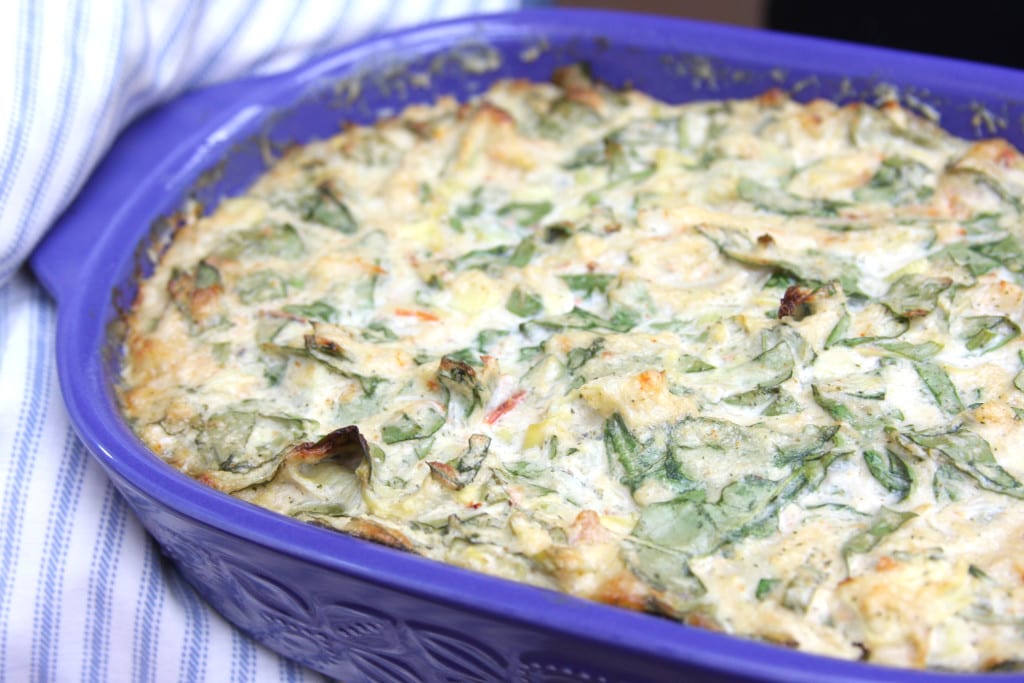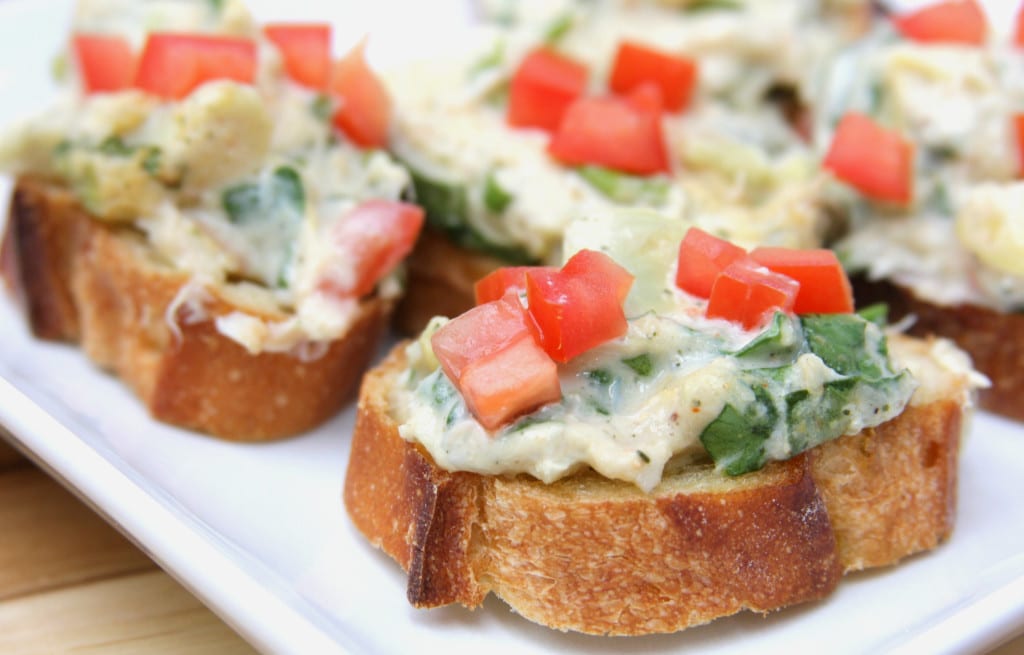 This time of year goes hand and hand with dip. Who doesn't love munching on dip and chips during football games? Of course there are the parties galore happening from Halloween to New Years. I can't forget about the potlucks that either happen at workplaces or churches across America. As a nation, we love to munch this time of year and, as we all know, munching can lead to all kinds of extra calories. I am always on the look out for ways to take some of the classics we love and make them just a bit healthier. With this Hot or Cold Crab Veggie Dip you can make it on the lighter side by doing low fat or fat free cream cheese and greek yogurt or you can do my personal favorite, grass-fed organic dairy products. I love my organic grass-fed cheeses, yogurts and milks for the Conjugated Linoleic Acid (CLA) and omega-3 fatty acids they provide. For another recipe where I use organic grass-fed milk, check out my Creamy Banana Chocolate Pudding recipe. I truly believe the key will be portion control whether you do the low fat version or the higher fat version.
Anytime extra veggies are added, the fiber and nutrition levels start to go up. I was very tempted to sauté mushrooms as a base for this recipe but I figured I might be pushing the whole idea of a crab dip with my husband. I have a limit with him as far as how many extras I can add. I did very well with this version for him. The night I made this I also made salad for dinner. He loved the crab dip so much that he was torn between making the salad his dinner or the dip. If you do decide to try the recipe with sautéed mushrooms, the cheddar cheese amount would need to be increased. The proportions would be an extra cup of shredded cheddar cheese for every 8 oz of veggies. You may also want to add a 1/2 tsp more of Worcestershire and Sriracha sauce along with 1/2 tsp more of dill and Old Bay, if adding mushrooms.
Just as a note, I looked high and low for an organic version of Old Bay Seasoning that I could purchase. Sadly it seems that Old Bay does not make an organic version. There were many different recipes out there for making your own organic version. Seems I may have found a future task to tackle. Also, since I used organic grass-fed cheddar cheese, the cheese is not dyed. If you do decide to use conventional cheddar, your dip will have more of an orange hue to it.
The assembly of this Hot or Cold Crab Veggie Dip is rather simple. You throw the first 10 ingredients in a food processor and blend well.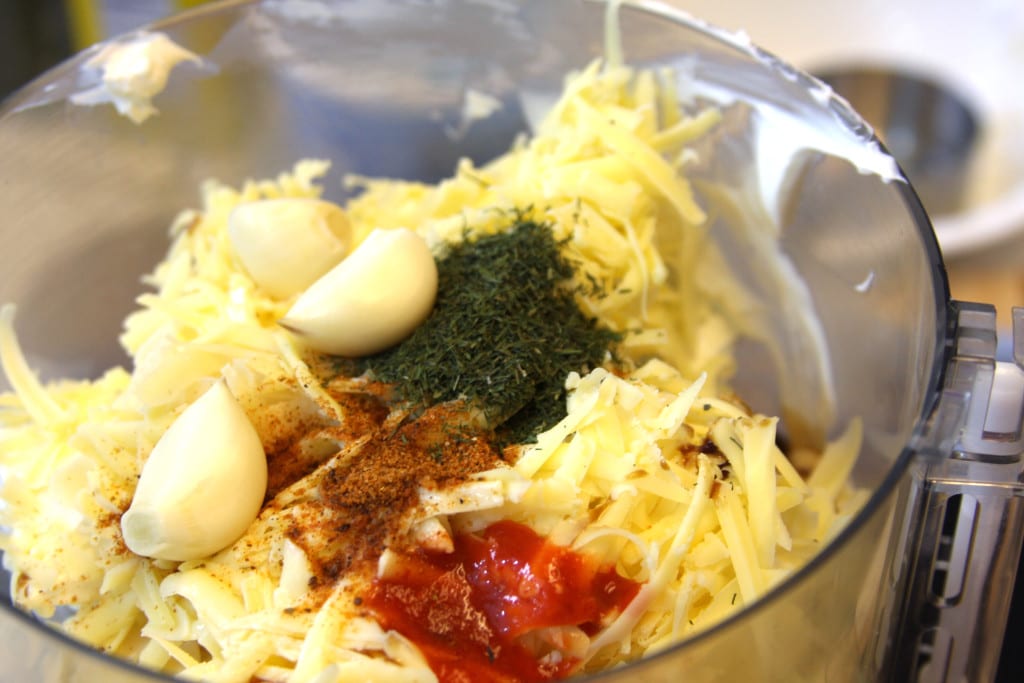 Chop the artichokes and shred the spinach.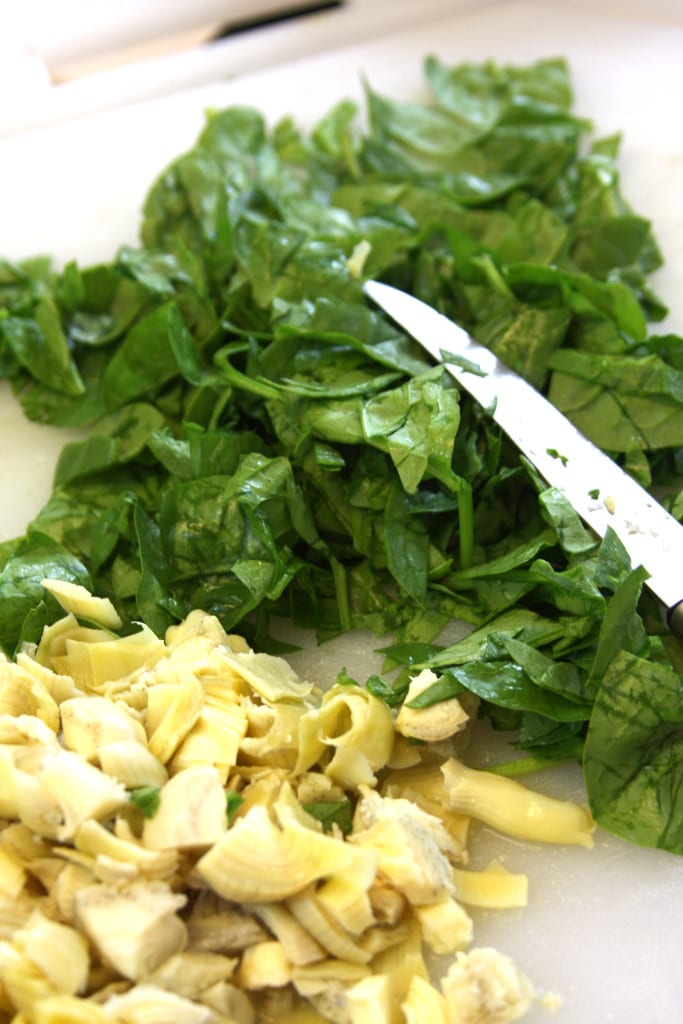 Then throw everything into a large mixing bowl and mix away.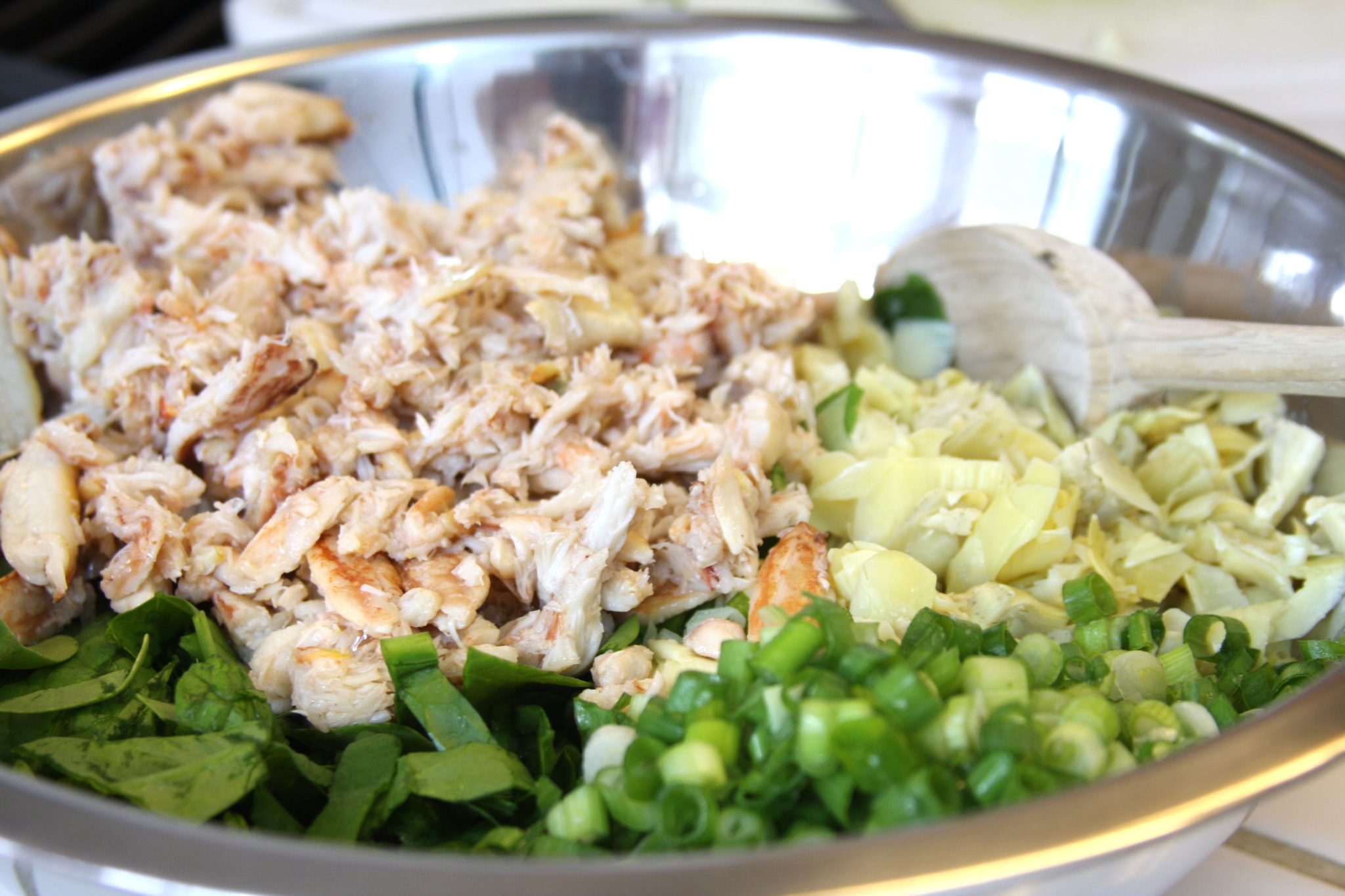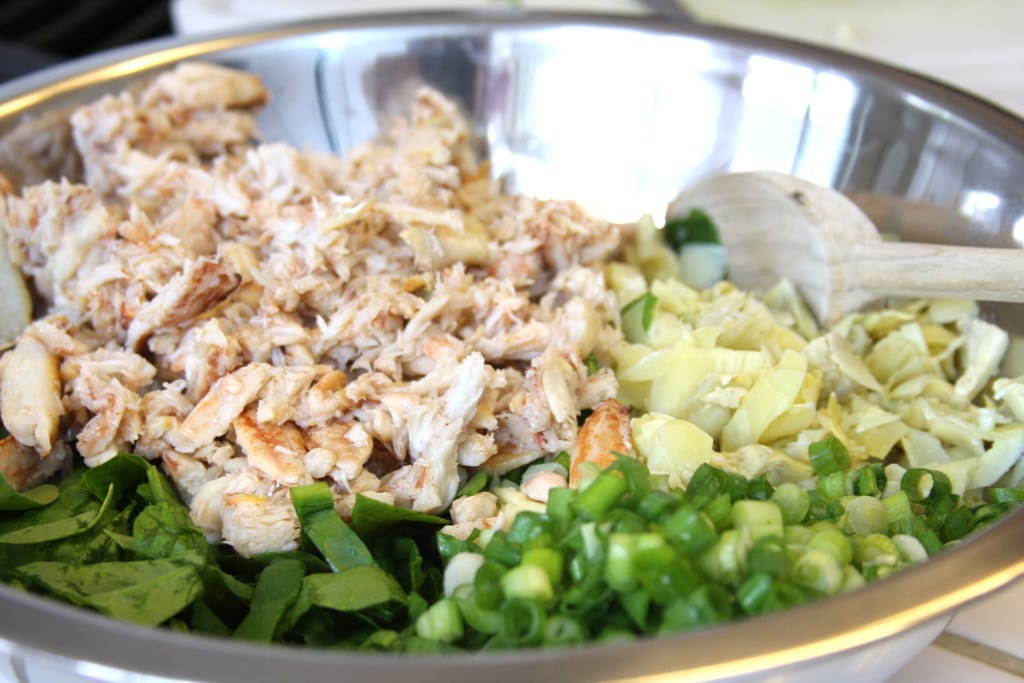 Just like the title, this Hot or Cold Crab Veggie Dip tastes great right out of the oven or after it has chilled. This recipe makes for very flexible party planning. Garnish with diced tomatoes or fresh cut chives.
Enjoy!!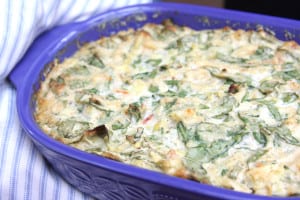 Ingredients
6

oz

or 3/4 cup plain greek yogurt *use non-fat to lighten up on calories

8

oz

cream cheese *use reduced fat to lighten up on calories

1

cup

shredded cheddar cheese

1/2

cup

shaved Parmigiano Reggiano

2-3

med cloves garlic

2

tbsp

lemon juice

1

tsp

Worcestershire

1

tsp

sriracha sauce

3/4

tsp

Old Bay Seasoning

1

tbsp

dried Dill

5

green onions or 3/4 cup diced

1 14

oz

can artichoke hearts

1 6

oz

bag fresh spinach

1 16

oz

can crab meat

2

Roma tomatoes *optional

fresh chives *optional
Instructions
Preheat oven to 350℉.

Place first 10 ingredients in food processor and blend well. Set aside.

Dice green onions, chop artichokes into semi-large chunks and shred spinach into strips with knife. Add to large mixing bowl.

Add crab meat to bowl in addition to content of food processor. Stir until well combined.

Spray a medium sized casserole dish, approximately 9 1/2" x 7 1/2", with non-stick cooking spray.

Bake uncovered for approximately 40 minutes or until cheese is thoroughly melted.

Garnish with diced tomatoes or fresh chopped chives. *optional

Serve hot with sliced baguette or tortillas chips. Tastes wonderful cold also.