Hot or Cold Crab Veggie Dip recipe has the creamy decadence of traditional crab dip but lightened up a bit. This recipe taste great either hot or cold, served with your favorite chips or baguette slices.
This post may contain affiliate links which I earn a small portion in sales if a purchase is made. Rest assured though, it is never at any additional cost to you.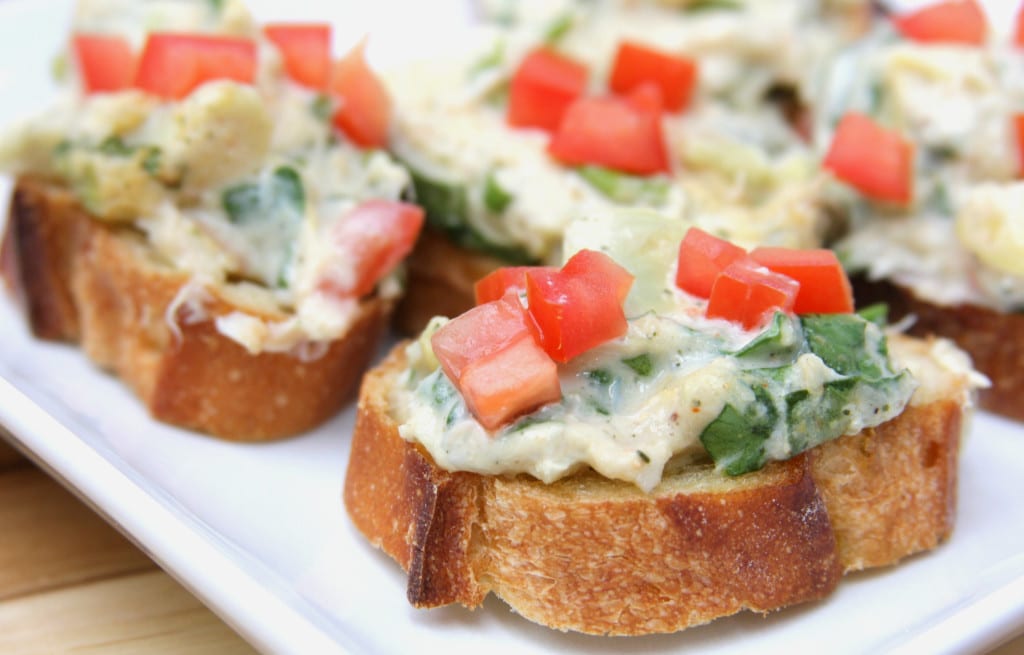 This time of year goes hand and hand with dip. Who doesn't love munching on dip and chips during football games? Of course there are the parties galore happening from Halloween to New Years.
I am always on the look out for ways to take some of the classics we love and make them just a bit healthier. With this Hot or Cold Crab Veggie Dip you can make it on the lighter side by doing low fat or fat free cream cheese and greek yogurt or you can do my personal favorite, grass-fed organic dairy products. I love my organic grass-fed cheeses, yogurts and milks for the Conjugated Linoleic Acid (CLA) and omega-3 fatty acids they provide. For another recipe where I use organic grass-fed milk, check out my Creamy Banana Chocolate Pudding recipe. I truly believe the key will be portion control whether you do the low fat version or the higher fat version.
Anytime we add extra veggies, the fiber and nutrition levels start to go up. I was very tempted to sauté mushrooms as a base for this recipe but I figured I might be pushing the whole idea of a crab dip with my husband. The night I made this I also made salad for dinner. He loved the crab dip so much that he was torn between making the salad his dinner or the dip. If you do decide to try the recipe with sautéed mushrooms, the cheddar cheese amount would need to be increased. The proportions would be an extra cup of shredded cheddar cheese for every 8 oz of veggies. You may also want to add a 1/2 tsp more of Worcestershire and Sriracha sauce along with 1/2 tsp more of dill and Old Bay, if adding mushrooms.
The assembly of this Hot or Cold Crab Veggie Dip is rather simple. You throw the first 10 ingredients in a food processor and blend well.
Chop the artichokes and shred the spinach.
Then throw everything into a large mixing bowl and mix away.
Just like the title, this Hot or Cold Crab Veggie Dip tastes great right out of the oven or after it has chilled. This recipe makes for very flexible party planning. Garnish with diced tomatoes or fresh cut chives.
Serving Suggestions
This dip pairs perfectly with crusty bread, pita chips or crackers for scooping and dipping. You can also stuff it into mini phyllo cups for an elegant presentation. Top with extra crab meat or chopped parsley before serving to dress it up.
Helpful Tips
Make sure to pulse the ingredients in a food processor first to get a smooth consistency before adding the veggies and crab.
You'll want to bake the dip uncovered so the top gets nice and browned.
Bake time can vary based on oven and dish size. Check for doneness at 40 minutes.
For individual ramekins or a smaller dish size, start checking at 25-30 minutes.
The dip can be kept warm in a 200F oven after baking if you won't be serving it immediately.
Variations of Hot or Cold Veggie Dip
There are so many tasty ways to customize this veggie crab dip! Here are some more flavor variation ideas:
Buffalo- Add hot sauce and top with crumbled blue cheese.
Bacon- Top with crispy chopped bacon.
Jalapeño- For extra heat, add in diced jalapeños.
Mexican- Stir in roasted green chiles, cumin and chili powder.
Greek- Use tzatziki instead of cream cheese and add feta.
Italian- Swap in pesto and sun-dried tomatoes.
Smoked Gouda- For a smoky, rich flavor.
Caramelized Onion- Mix in some sautéed onions.
Avocado- Top with diced avocado.
Lobster- Substitute lobster meat for a luxe version.
Crab & Shrimp- Use a blend of crab and cooked shrimp.
Salmon- Swap in flaked cooked salmon for variation.
Sun-dried Tomato- Add chopped sun-dried tomatoes.
Frequently Asked Questions
Can I make this ahead of time?
Yes! Assemble the dip 1-2 days in advance and store covered in the fridge. Bake just before serving.
What can I serve with this dip?
Great options include baguette slices, pita chips, crackers, Naan bread, pretzel crisps, or even raw vegetables. You could also stuff into mini phyllo cups.
Is there a shorter baking time for smaller dishes?
Yes, if using a smaller ramekin size you may need only 25-30 minutes of baking time. Check frequently near the end.
Can I freeze this dip?
You can definitely freeze the assembled but unbaked dip. Thaw overnight in the fridge before baking.