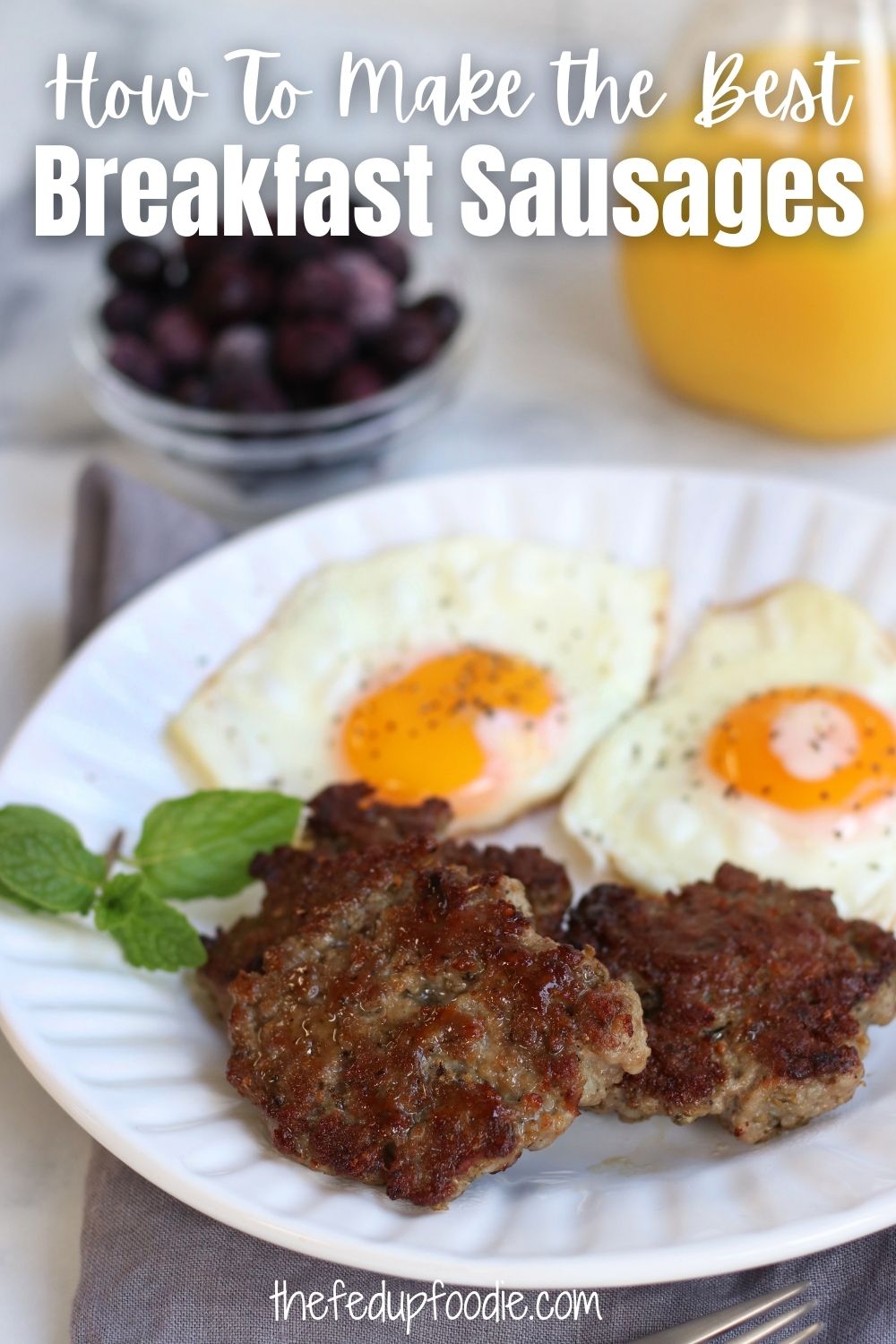 Homemade Breakfast Sausage is freezer friendly, extremely simple to make and extra tasty with a homemade spice blend. Make a double batch and freeze for easy breakfast recipes throughout the month.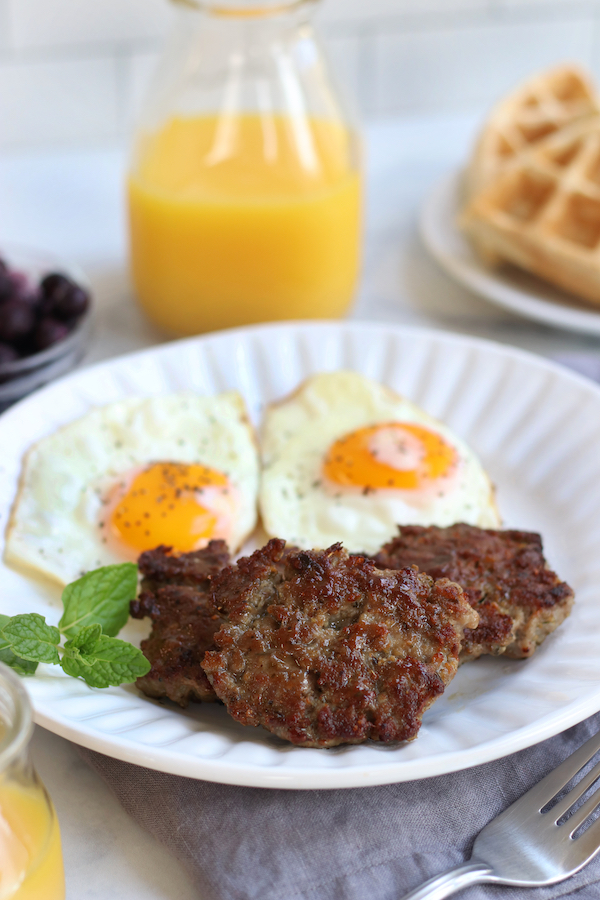 This post contains affiliate links which I earn a small portion in sales if a purchase is made. Rest assured though, it is never at any additional cost to you.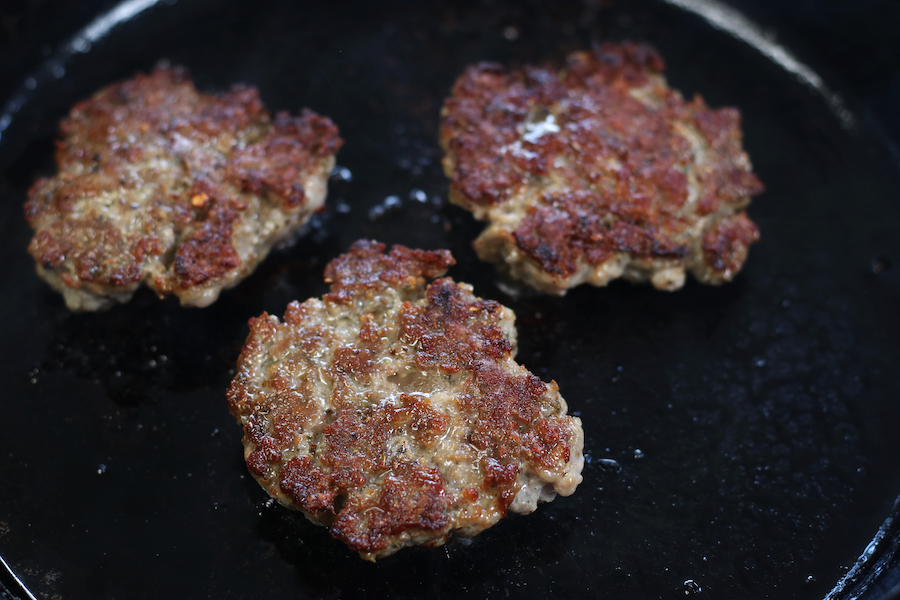 Breakfast Sausage Seasoning
Let's be honest, many home cooks cringe when they see a spice list longer than 3 or 4 spices. I can completely understand. For many it is a fear of whether they will use those spices again in other recipes.
However, as frustrating as it may be, doing your own spice blends can save loads of money in the big picture and can create the most amazing tasting recipes. Additionally, it is a great way to utilize the health benefits of many spices.
Spices Used For Homemade Breakfast Sausage
Here are the spices needed to make this recipe and other recipes they can be used for. Check out my Amazon Store Front for many of the organic spices I use. You will find options in smaller packages and herbs and spices in bulk at some great price points.
Fennel– Homemade Italian Sausage and Bacon Goat Cheese Frittata
Thyme– Hamburger Veggie Soup and One Pan Panko Chicken and Green Bean Salad
Marjoram– Beef and Bean Stew and Mom's Classic Meatloaf
Rosemary– Lemon Rosemary Chicken and Potato Bake and Best Rib Eye Steaks
Oregano– Homemade Chorizo and Spaghetti alla Puttanesca
Sage– Best Turkey Brine
Nutmeg– Witches Brew and Creamy Bowtie Pasta
Red Pepper Flakes– Crispy Sesame Beef and Steak Pizzaiola
Garlic Powder– Asian Stuffed Peppers and Ultra Creamy Nacho Cheese
Onion Powder– Red Potato Salad and Husband Approved Dry Rub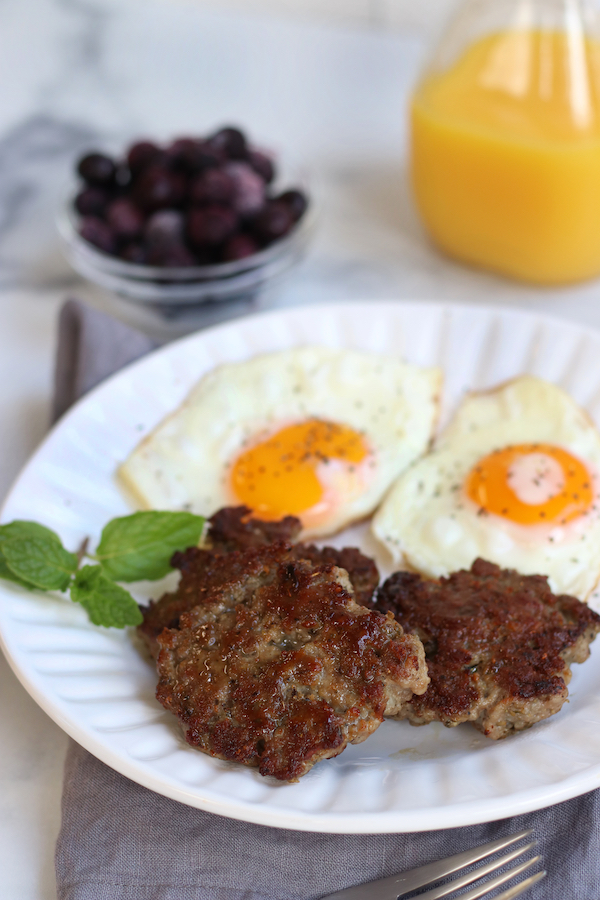 Ground Pork
Nowadays, it is not always easy to find high quality ground pork in the grocery stores. There are a few ways to solve this challenge. Firstly, ground pork can be made by either grinding pork shoulder yourself using a meat grinder, or having your local butcher grind it for you. Another option, use Butcher Box and have them deliver Heritage Ground Pork directly to your doorstep. I have fallen in love with Butcher Box and their pork is a necessity in my freezer.

Butcher Box is a meat delivery service that delivers your choice of grass-fed beef, heritage pork, free-range chicken and wild caught salmon to your doorstep. Shipping is always free and you can cancel at anytime.
How To Make Breakfast Sausage
The beauty of making homemade sausages is that they are extremely easy. Additionally, the quality of homemade outperforms store bought every time. Follows these easy steps for delicious Homemade Breakfast Sausage.
Place ground pork into a medium sized mixing bowl.
Add spices to the pork.
Mix using two forks, a gloved hand or a clean hand, making sure to not over mix.
Cover and let sit in the refrigerator overnight. Letting the sausage sit over night before forming the patties ensures the spice mixture permeates the meat fully.
Using a slightly heaping 1/4 cup, scoop the meat and then flatten and form into 1/4 inch patties between two layers of plastic wrap.
Cooking Breakfast Sausage
Because ground pork has a higher fat percentage, no oil is necessary in cooking the patties. Preheat a cast iron frying pan or large stainless steel pan over medium/high heat. Add patties to the pan, leaving a small space around each patty. Cook for 3-4 minutes per side. Once cooked, the patties should be firm to the touch and/or have an internal temperature of 160℉.
Freeze Sausages For Later Use
Once the sausage patties are formed, cut parchment into 4 inch squares and layer the uncooked sausages between the parchment pieces. Stack sausages in layers in a freezer bag, removing excess air from bag and freeze. Sausages will stay fresh in the freezer for 4-6 weeks. When ready to cook, remove from freezer and cook over medium heat until browned and cooked through, making sure to turn often will cooking.
If you enjoyed these Homemade Breakfast Sausages please let me know by leaving a comment and review below. Doing so helps to encourage others to make the recipe also. Thank you!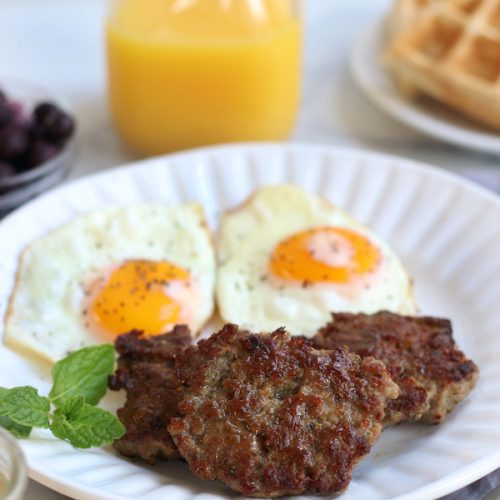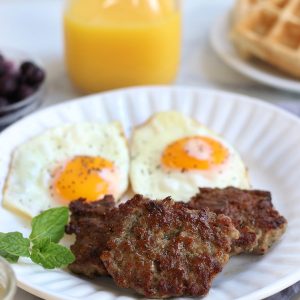 Homemade Breakfast Sausage
Homemade Breakfast Sausage from ground pork and a homemade spice blend creates the most amazing tasting breakfast sausages. Far superior than anything that can be purchased in the grocery stores and so easy to make.
Print
Pin
Rate
Ingredients
1

lb

ground pork

*preferably ground from pork shoulder

1

tbsp

fennel seeds

*see Note 1 below

1/2

tsp

ground rosemary

*see Note 1 below

1/2

tsp

thyme

1/4

tsp

garlic powder

1/2

tsp

onion powder

1/2

tsp

oregano

1/2

tsp

marjoram

1/4

tsp

sage

1/8

tsp

crushed red pepper

1

tsp

salt

1/2

tsp

black pepper

pinch nutmeg

*about 1/16 of a tsp
Instructions
Add ground pork along with all the spices to a medium sized mixing bowl.

Using 2 forks or clean hands, mix until just combined.

Cover bowl with plastic wrap in the refrigerate over night.

Using a slightly heaping 1/4 cup measuring cup, scoop the meat and then flatten and form into 1/4 inch patties between two layers of plastic wrap. 

Heat a cast iron frying pan over medium/high heat. Add sausages to pan leaving a little room inbetween each sausage. Cook for 3-4 mins per side. The sausages will feel firm to the touch when done.
Notes
*Please use as many organic ingredients as possible. 
Recipe Notes
Note 1: When using dried fennel seeds and dried rosemary springs, grind in a small coffee grinder or a mortar and pestle. I keep a small coffee grinder that I use specifically for just fennel and rosemary. 
Note 2: Freshly made Breakfast Sausage will taste best if used within 2 days of mixing of the spices and will last for 4-6 weeks in the freezer if properly stored. 
Nutrition
Calories:
155
kcal
|
Carbohydrates:
1
g
|
Protein:
10
g
|
Fat:
12
g
|
Saturated Fat:
4
g
|
Cholesterol:
42
mg
|
Sodium:
76
mg
|
Potassium:
191
mg
|
Fiber:
1
g
|
Sugar:
1
g
|
Vitamin A:
21
IU
|
Vitamin C:
1
mg
|
Calcium:
22
mg
|
Iron:
1
mg