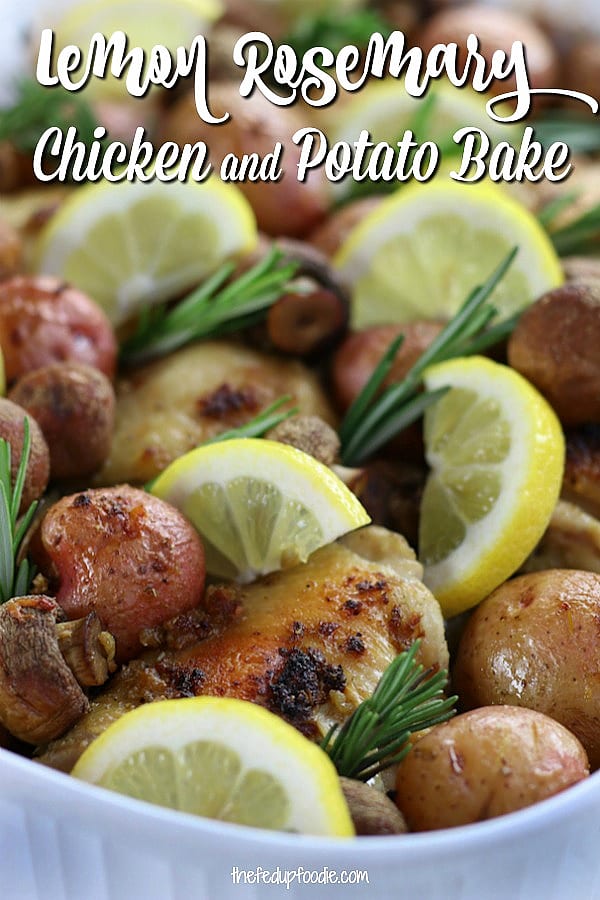 Lemon Rosemary Chicken and Potato Bake is a healthy and easy one-pan meal that the whole family will love. Baked to perfection, the chicken turns out juicy and flavorful. A great meal for Sunday dinner and simple enough for a weeknight.

This post may contain affiliate links which I earn a small portion in sales if a purchase is made. Rest assured though, it is never at any additional cost to you.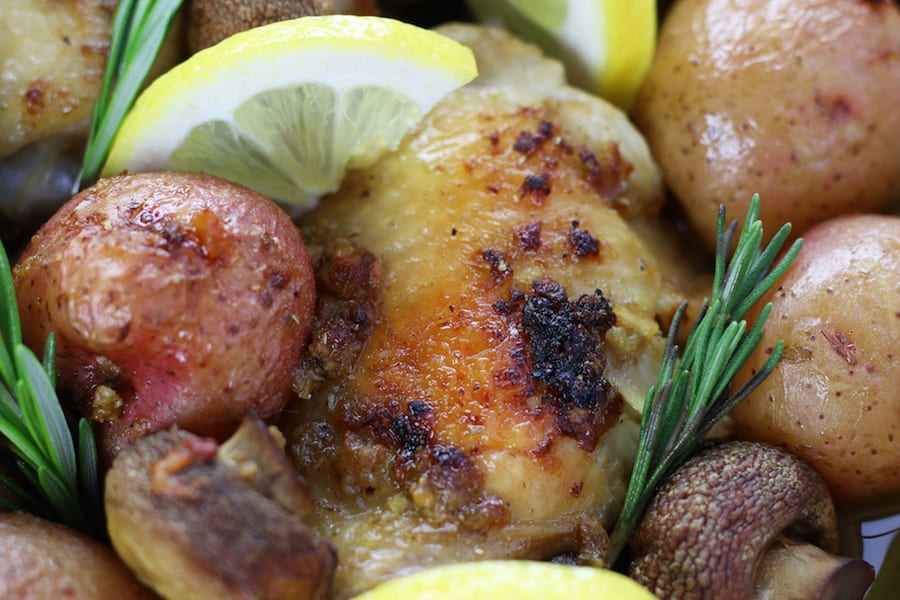 I have a question for you.
Is boredom a huge factor that stands in the way of healthy eating?
If you said yes, you are not alone.
I inwardly chuckle every time I hear an online influencer share the strategy of eating the same thing everyday and then back it up with all kinds of proof as to why it works for healthy eating or weight loss.
Honestly though, I do agree that eating the same thing everyday can help keep people going towards their health and/or weight loss goals, but only in the short term.
An example is my favorite go-to meals of a huge salad with my Simple Herbed Lemon Vinaigrette loaded with all kinds of veggies, nuts and a little bit of meat or cheese.
I choose this not only because it is a wonderful way to fill up on veggies, but also because I truly adore it and can honestly eat it quite often.
However, the challange with the approach of eating the same thing everyday is that chances are, the foods that you are choosing you probably don't adore.
In addition, daily repetition would make most people crazy.
Last but not least, my biggest issue with this approach is it is difficult to get all the vitamins, minerals, phytonutrients, etc. when eating the same thing everyday.
Solution to Boredom with Healthy Eating
Eat a variety of foods (preferably as much organic as you can afford) and eat across the rainbow of colors with fruits and veggies.
Know you and your family's favorite flavors/taste preferences and experiment. There are so many great sites producing delicious healthy recipes that are just so fun to eat. Some of my favorite sites are A Mind "Full" Mom, Fit Foodie Finds and Skinnytaste.
Once you find a meal that works, hold on tight to it. That is what this Lemon Rosemary Chicken and Potato Bake is to my family. We love the flavors and the comfort level it provides. I love it because it is just so simple to put together and feels like we are feasting.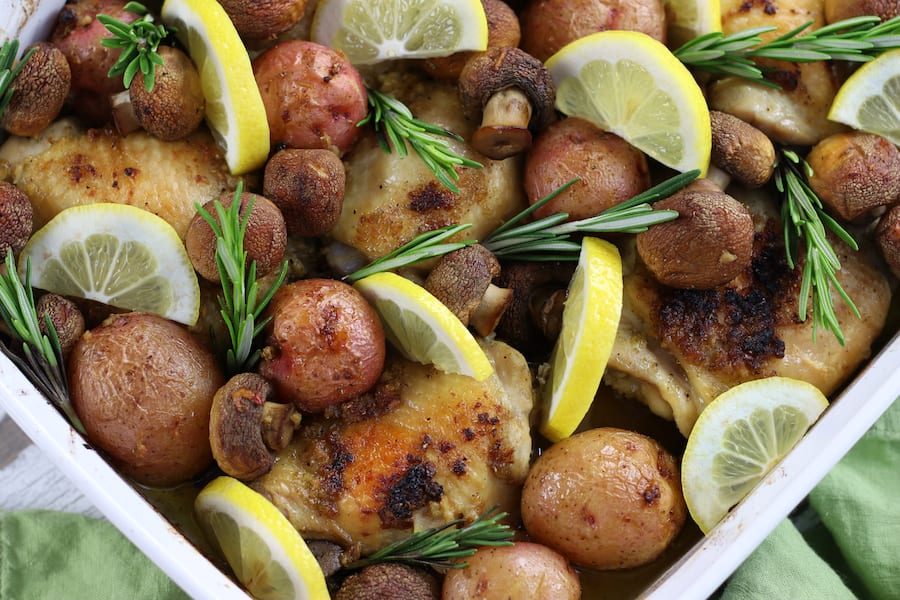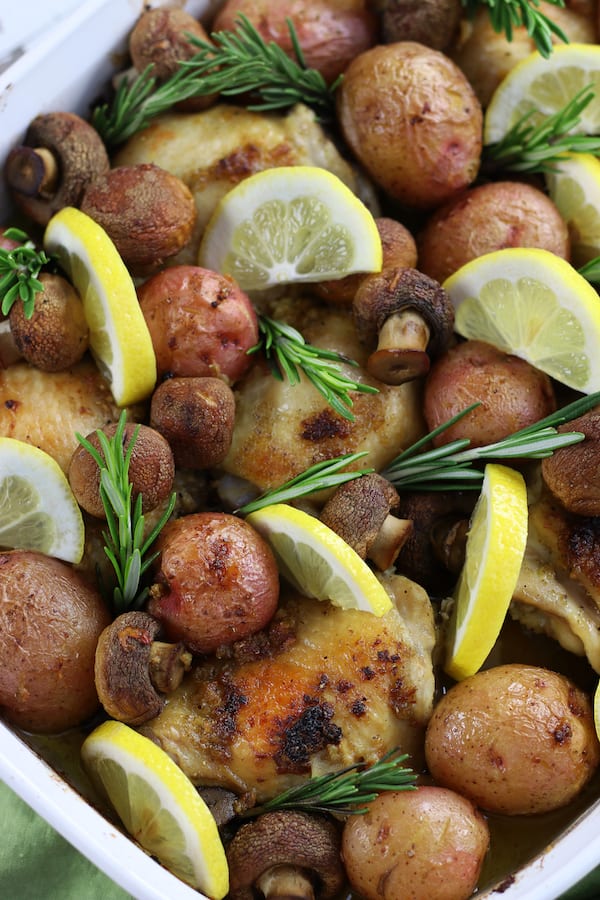 How To Make Chicken and Potato Bake
Whisk oil, lemon zest, lemon juice, rosemary, garlic, salt and pepper together.
Place chicken in large roasting pan. Wash and pierce potatoes. Place in pan with chicken.
Pour oil and lemon mixture over the top of chicken and potatoes. Bake at 400℉ for 20 mins.
Lower temperature to 375℉ and add button mushrooms. Bake until internal temperature of chicken reaches 165℉ and potatoes are tender.
Types of Potatoes For One-Pan Chicken and Potatoes
My personal preference for this Lemon Rosemary Chicken and Potato Bake are baby red potatoes. They work beautifully because they do not need to be cut, just washed and pierced. They also cook to a creamy texture, taking on the flavors of rosemary, lemon and garlic.
If baby red potatoes are not accessible the next best options would be regular sized red skinned potatoes or Yukon gold potatoes that are cut into quarters.
How To Lower Calories of Chicken Potato Bake
To lower the calories on this Lemon Rosemary Chicken and Potato Bake reduce the olive oil to 1/4 cup and remove chicken skins or use boneless skinless chicken thighs.
Pro Tip: Boneless skinless chicken thighs cook faster than their bone-in counterparts. If using boneless skinless chicken, cut baby red potatoes into smaller pieces so cooking times match.
What To Serve With Lemon Rosemary Chicken and Potatoes
Salad with Creamy Lemon Tahini Salad Dressing
More Delicious Dinner Recipes
One Pot Spanish Chicken and Rice
Lemon Chicken Quinoa Meatballs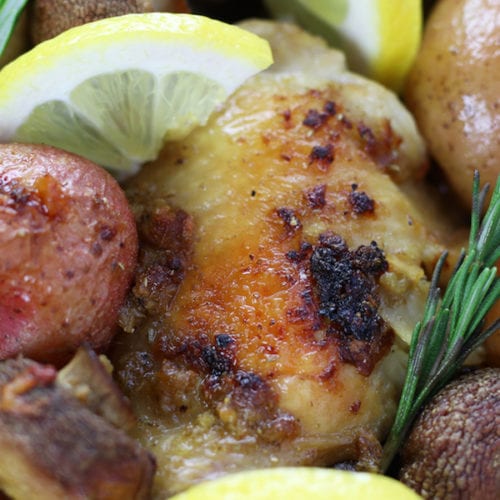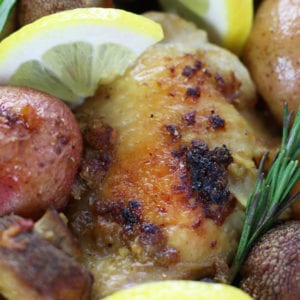 Lemon Rosemary Chicken and Potato Bake
Lemon Rosemary Chicken and Potato Bake is a simple one-pan meal full of the flavors of rosemary, lemon and garlic. Comforting family favorite perfect for relaxed evenings.
Print
Pin
Rate
Ingredients
1/3

cup

olive oil

2

tbsp

lemon zest

*about 2 lemons

2- 2 1/2

tbsp

lemon juice

*juice from one lemon, reserve additional lemon for garnish

1

tbsp

ground dried rosemary

*or 3 tbsp freshly chopped

2

tbsp

crushed garlic

*about 4-5 garlic cloves

1

tsp

sea salt

1/8

tsp

black pepper

3- 3 1/2

lbs

chicken thighs

*skin on and bone-in

1

lb

baby red potatoes

1

lb

button mushrooms
Instructions
Preheat oven to 400℉.

In a medium sized bowl or glass measuring cup whisk together first seven ingredients. Set aside.

Add chicken thighs to a large roasting pan with an even distance between thighs.

Wash and pierce potatoes. Add to roasting pan arranging around thighs. Pour rosemary lemon oil mixture over top of chicken and potatoes making sure all surfaces are covered. Bake uncovered for 20 mins.

Meanwhile, using a damp paper towel to clean off mushrooms of any dirt.

Once 20 mins has elapsed lower temperature of oven to 375℉ and removed roasting pan from oven.

Evenly distribute mushrooms in roasting pan and continue baking uncovered until chicken is cooked through (165℉ internal temperature) and potatoes are tender, about 40 mins more.

15 mins before roasting time is done remove pan from oven and spoon juices over top of mushrooms.

Roasting time will take longer if there is little room between chicken and potatoes. Keep a watchful eye on chicken and potaotes after time has elapsed on the second bake.

Garnish with lemon wedges from reserved lemon (optional).
Notes
*Please use as many organic ingredients as possible. 
Cooking Tips
For extra flavor add an additional 1/2 tbsp of dried ground rosemary and 2-3 more garlic cloves. 
Nutrition
Calories:
586
kcal
|
Carbohydrates:
16
g
|
Protein:
59
g
|
Fat:
32
g
|
Saturated Fat:
7
g
|
Cholesterol:
307
mg
|
Sodium:
406
mg
|
Potassium:
607
mg
|
Fiber:
2
g
|
Sugar:
3
g
|
Vitamin C:
16
mg
|
Calcium:
17
mg
|
Iron:
1
mg