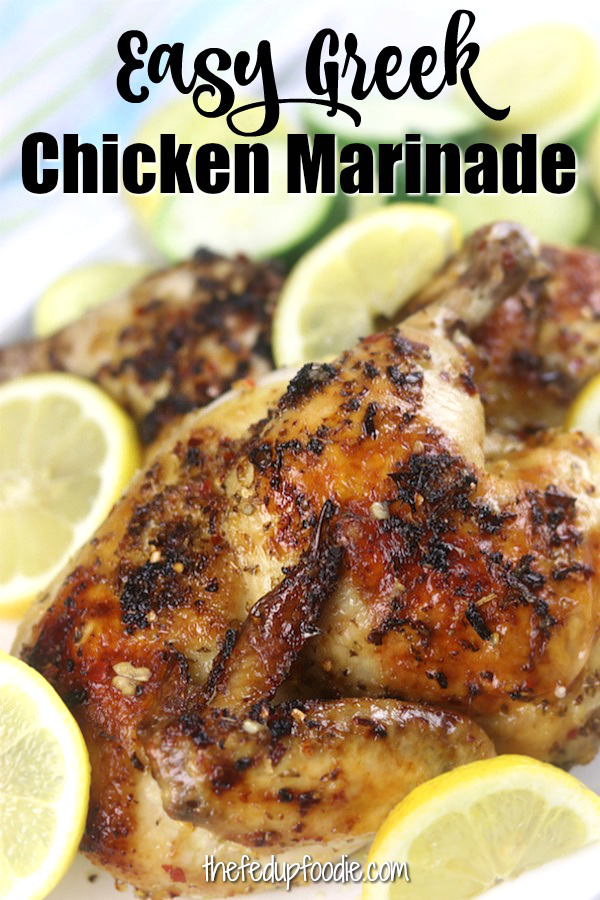 Easy Greek Chicken Marinade creates the best, most tender baked or grilled chicken. Perfect for whole chickens, chicken breasts or chicken kebabs. This marinade bursts with the flavors of lemon, garlic and oregano.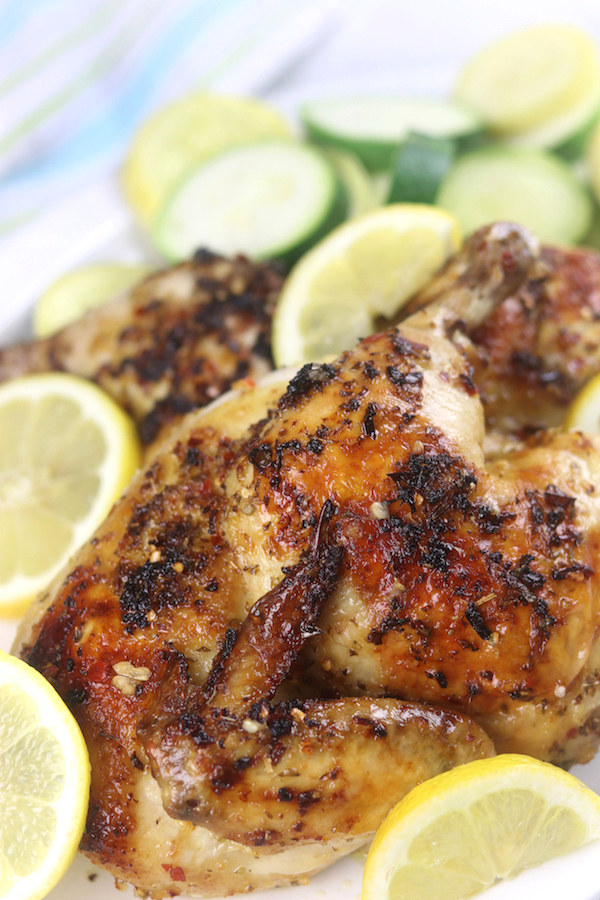 This post may contain affiliate links which I earn a small portion in sales if a purchase is made. Rest assured though, it is never at any additional cost to you.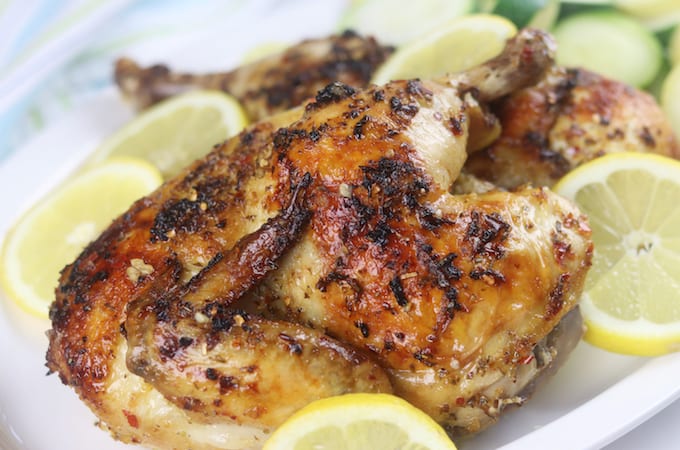 My favorite flavor in this whole entire world, next to garlic, is lemon.
I LOVE LEMON!!!
Don't believe me…check out these 64+ recipes using lemon (or in a few cases lime or orange) and I am just beginning on the lemon recipes.
Probably one of my biggest excitements of the last few months was finally getting a lemon tree in my backyard.
Oh the happiness and the visions of all the amazing lemon recipes that I could make danced in my head.
I have been like a kid waiting for Christmas day waiting on the flowers of the tree to turn to fruit.
Here is the deal, I am not much of a gardener, so the responsibility soley falls on my husband's shoulders.
Being the kind of person that can kill cactus just by looking at it, it's no surprise that I did not know that lemon trees do not bare fruit for 3- 5 years.
Finding out this little nugget of information today was similar to the eight year old being told that there is no Santa…
Or worse…they have to wait 3-5 years to celebrate Christmas. (insert smirking displeased face)
My biggest solace is, thank God, there is no shortage of lemons in Southern California so I can continue to create and enjoy recipes like this Greek Chicken Marinade.
Commonly asked questions about this Greek Chicken Marinade.
How do you cut a whole chicken in half?
Great question! Follow up to step 7 of this article.
Why bother marinating chicken?
Marinating chicken is an extremely easy way of imparting loads of flavor into your poultry. It is actually quite fun to experiment with different flavors when it comes to marinades. Generally marinades consist of an oil, an acid and your favorite flavorings. This particular marinade recipe tends to be more of a Greek lemon chicken but with a few tweaks it can easily become Asian or Latin.
Does the chicken have to marinade over night?
No, but I highly recommend it for whole or half chickens (even thighs) that still have the skin attached. For boneless skinless chicken breasts marinating anywhere from 4-12 hours should suffice.
Should I really use 10 cloves of garlic?
Absolutely! Of course for those who hate garlic this will be a more challenging recipe. Garlic imparts such wonderful flavor and permeates the meat beautifully. Don't worry about it being too much because this really makes this Greek chicken recipe glorious. For another incredibly delicious recipe using a ton of garlic check out this Asian Chicken Sriracha Bowl.
Can you use this marinade on beef, pork or lamb?
Yes! There are a few marinating times to take note of though.
For beef, marinate at room temperature for 1 hour.
For pork, marinate in the refrigerator for 2-12 hours. Preferably no longer than 12 hours.
For lamb, marinate in the refrigerator for 1-4 hours.
What if I hate oregano? What other herbs can I use?
Thyme, rosemary or basil would all pair well in this marinade either combined together or as a stand alone herb. Just as a note, this recipe is using dried herbs.
Will the red chili pepper flakes make this recipe too spicy?
I tend to lean towards milder foods and to me this Greek marinade was just perfect with the chili pepper flakes but you could always use THIS instead. (affiliate)
Is this Easy Greek Chicken Marinade Whole30 or Paleo friendly?
Yes! This chicken marinade falls perfectly into both the Whole30 and Paleo diet approaches.
Tips to making this the Best Chicken Marinade:
Can I add more oregano in the marinade?
Absolutely! If you love oregano like we do, adding up to 2 tbsp of dried oregano (1/3 cup fresh) will give this a more concentrated Mediterranean chicken taste.
You mention congealed olive oil in the recipe. What do you mean?
After your chicken has marinaded overnight in the refrigerator you will notice that the olive oil will solidify together as seen in the video below. By spreading this on the chicken halves it is one of the tricks to helping create the golden crust.
How would I cook chicken breasts with this recipe?
It is important to note that this marinade is enough for 1 large chicken or about 6-7 chicken breasts. Most people will generally cook 2-4 chicken breasts for a normal weeknight dinner. If that is the case then you will want to half the marinade recipe.
For Baking- Marinate your chicken breasts covered in the refrigerator for 4-12 hours. Preheat oven to 400℉ and remove chicken from marinade an onto a separate baking dish. Bake for 30-40 mins or until center reaches and internal temperature of 165℉.
Pro Tip- Bring the leftover marinade to a rapid boil for 1 full minute and use as a sauce for the cooked chicken. As long as the marinade reaches a temperate of 165℉ for a minute or so, it is a safe and flavorful way to make the chicken breast even more tasty.
For Slow Cooking- For slow cooking I would skip marinading the chicken breasts prior to cooking. Instead I would follow these instructions with this Greek marinade.
For Instant Pot Cooking- Similar to the slow cooking approach, skip marinading prior to cooking. This article from A Mind "Full" Mom is full of extremely helpful tips for cooking your chicken breasts with Instant Pot. Just substitute the pineapple juice, garlic and salt with this Easy Greek Chicken Marinade.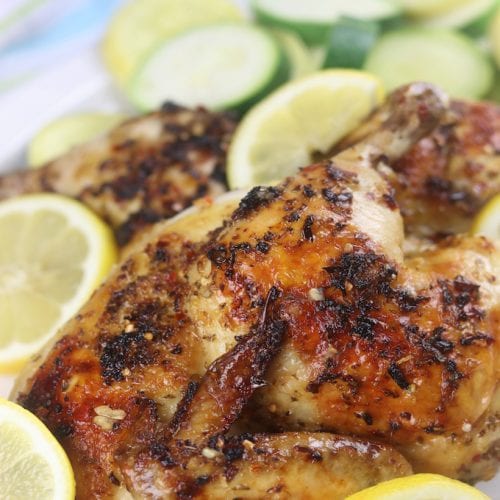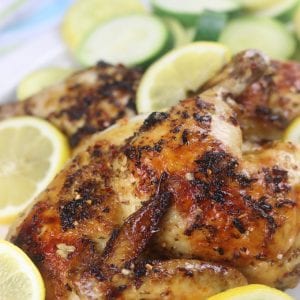 Easy Greek Chicken Marinade
Easy Greek Chicken Marinade creates the best, most tender baked or grilled chicken. Perfect for whole chickens, chicken breasts or chicken kebabs. This marinade bursts with the flavors of lemon, garlic and oregano.
Print
Pin
Rate
Ingredients
For the Marinade
2-3

tbsp

lemon zest

*about 3-4 large lemons

2/3

cup

lemon juice

*about 3-4 juicy large lemons

10

large cloves

garlic

*crushed or minced

1

cup

extra virgin olive oil

1

tbsp

dried oregano

1

tsp

red chili pepper flakes

1/2

tsp

sea salt
For the Chicken
1

large

chicken

*cut into half (see notes above in post)
Instructions
Whisk together all ingredients for marinade. Set aside.

Place chicken in a nonreactive dish or bowl. Pour marinade over chicken making sure all surfaces are covered with marinade. Cover and marinate in the refrigerator for 12-24 hours.

Preheat oven to 425℉. Place chicken halves into a baking or roasting pan with skin side up making sure there is room between the two halves. Spread the congealed olive oil from the marinade evenly over chicken halved.

Bake uncovered for 60-70 mins or until internal temperature read 165℉. Since oven times vary keep a watchful eye on the chicken starting at the 45 min marker.
Notes
*Please use as many organic ingredients as possible. 
Nutrition
Calories:
193
kcal
|
Carbohydrates:
3
g
|
Protein:
14
g
|
Fat:
14
g
|
Saturated Fat:
4
g
|
Cholesterol:
57
mg
|
Sodium:
171
mg
|
Potassium:
179
mg
|
Fiber:
1
g
|
Sugar:
1
g
|
Vitamin A:
115
IU
|
Vitamin C:
10
mg
|
Calcium:
23
mg
|
Iron:
1
mg
Follow along on Facebook and Pinterest for more savory inspirations.
If you love Mediterranean food then check out these recipes: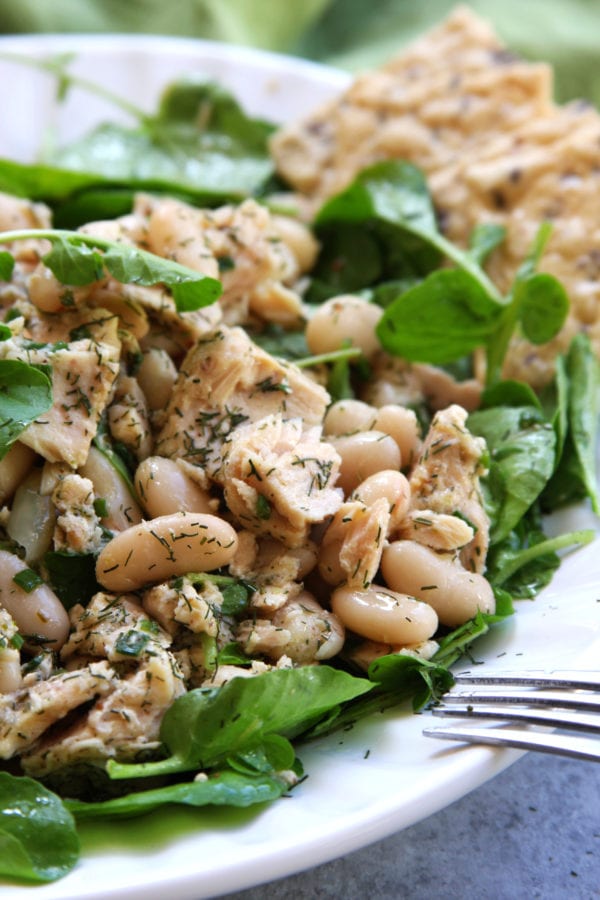 Mediterranean Tuna Salad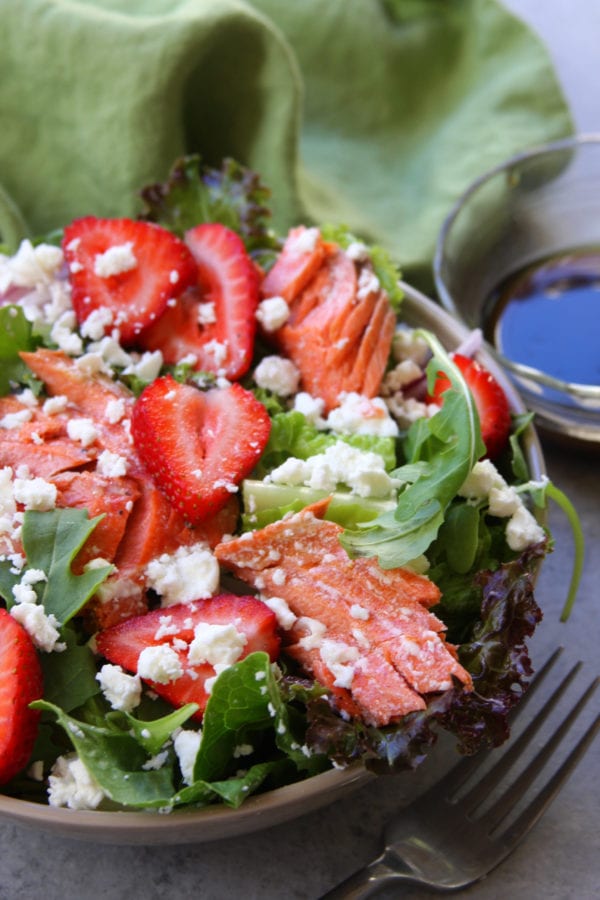 Simple Strawberry Salmon Salad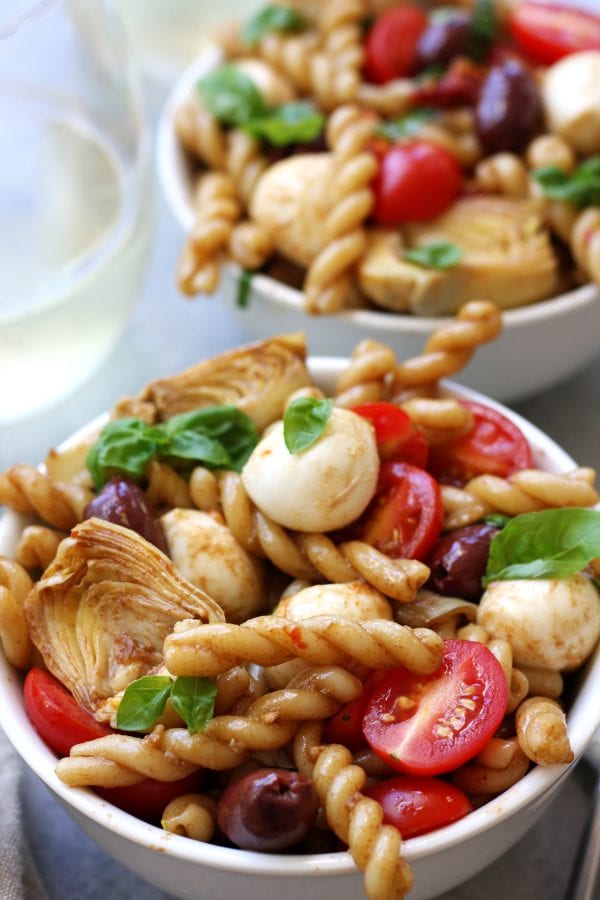 Mediterranean Delight Pasta Salad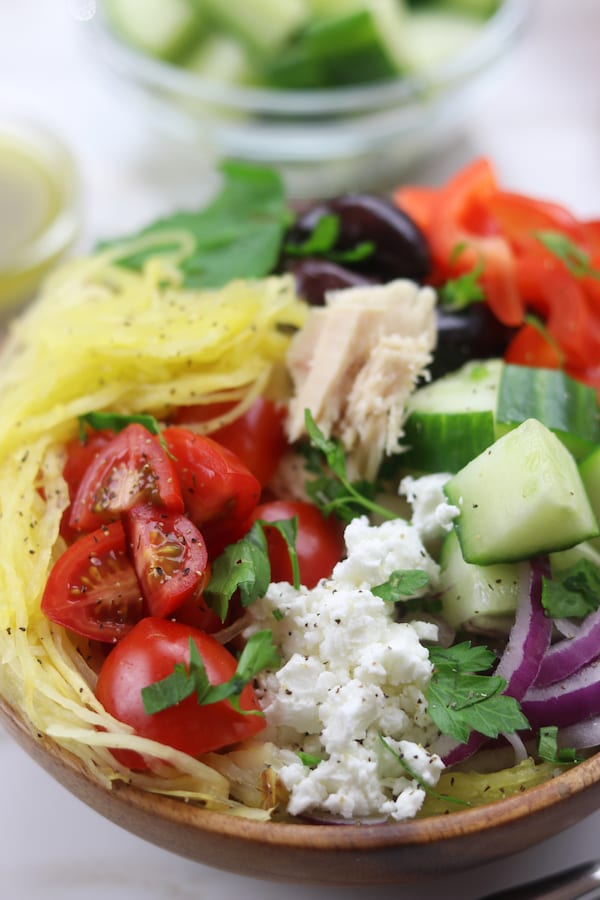 Spaghetti Squash Greek Bowls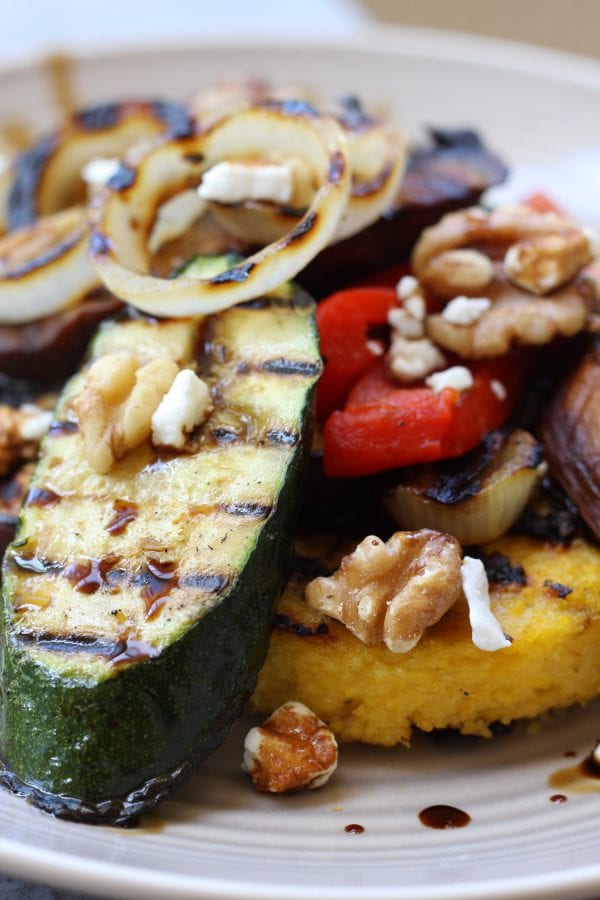 Rustic Grilled Polenta & Vegetables