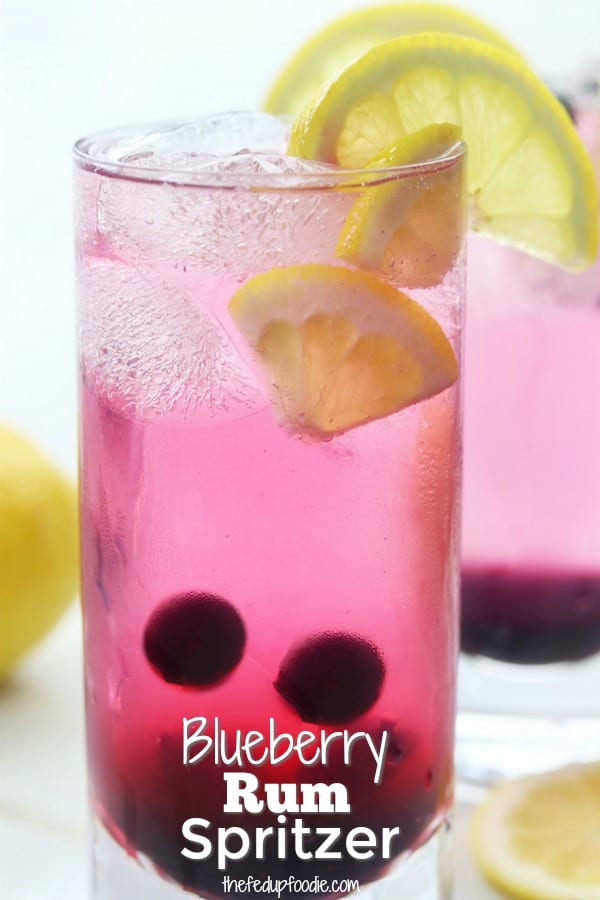 Fun drinks are a requirement for surviving summer and this Blueberry Rum Spritzer absolutely falls into the category of easy and fun alcoholic drinks to make. It is light and refreshing with loads of blueberry flavor and a hint of lemon. So delicious, it is sure to top your list of best alcoholic drinks.
Traditionally Spritzers are a mixture of wine and club soda and definitely fall within the category of easy drinks to make. This Blueberry Rum Spritzer is a fruity twist on the classic spritzer using white rum.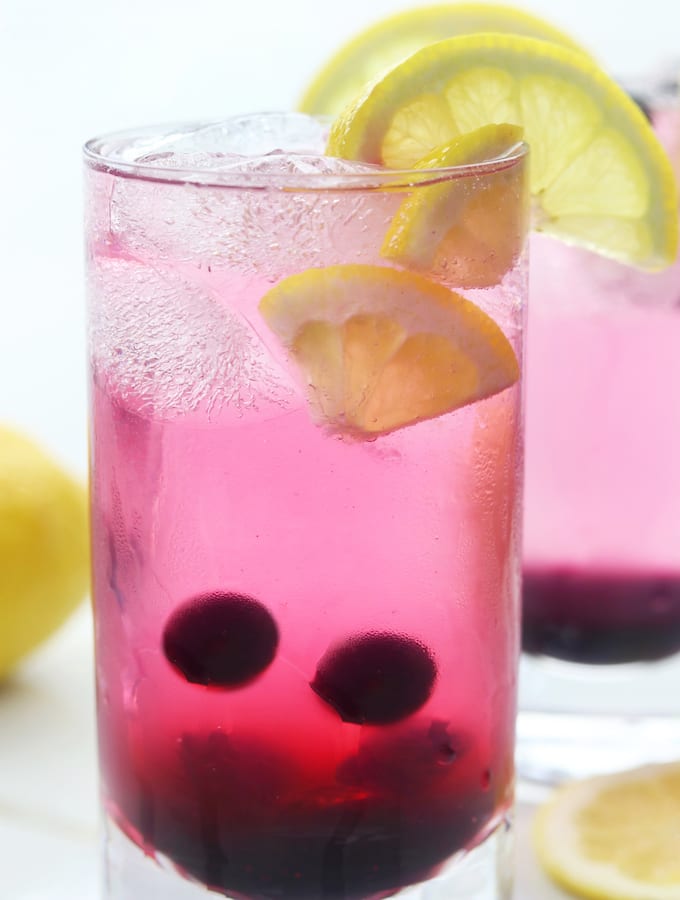 This post may contain affiliate links which I earn a small portion in sales if a purchase is made. Rest assured though, it is never at any additional cost to you.
If you decide to visit Southern California in months of May or June, come with a light sweater because we still have chilly nights and sometimes cooler days.
If you visit in the months of July- September and sometimes October, be prepared for HOT, HOT days…
The closer you are to the ocean it does get a little bit better but basically you are probably going to need icy cold fruity drinks to survive these months.
What's better than an icy cold drink on a hot summer day? Summer alcoholic drinks! ????
You would never guess by this post that I am not a big drinker. Come summertime though, when I am sweating bullets, I crave one or two easy alcoholic drinks to get me though the dog days of summer. The last two summers I have thoroughly enjoyed Frozen Watermelon Mojitos and Rainbow Tequila Sangria. Not surprising, I already have a freezer full of Homemade Limoncello. To be completely honest with you, I have had my eye on trying a Skinny Blood Orange Margarita.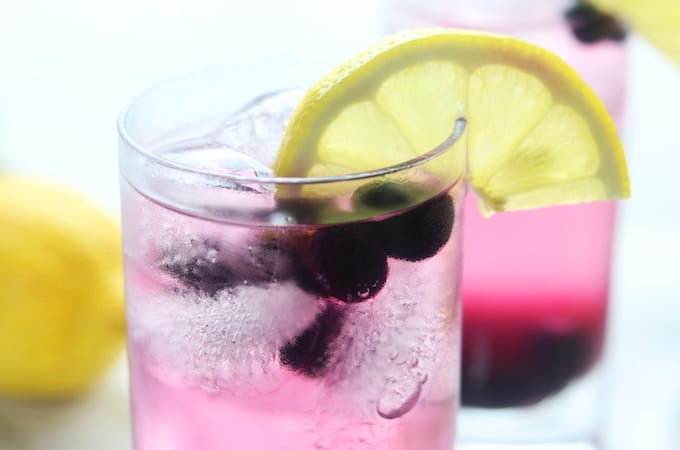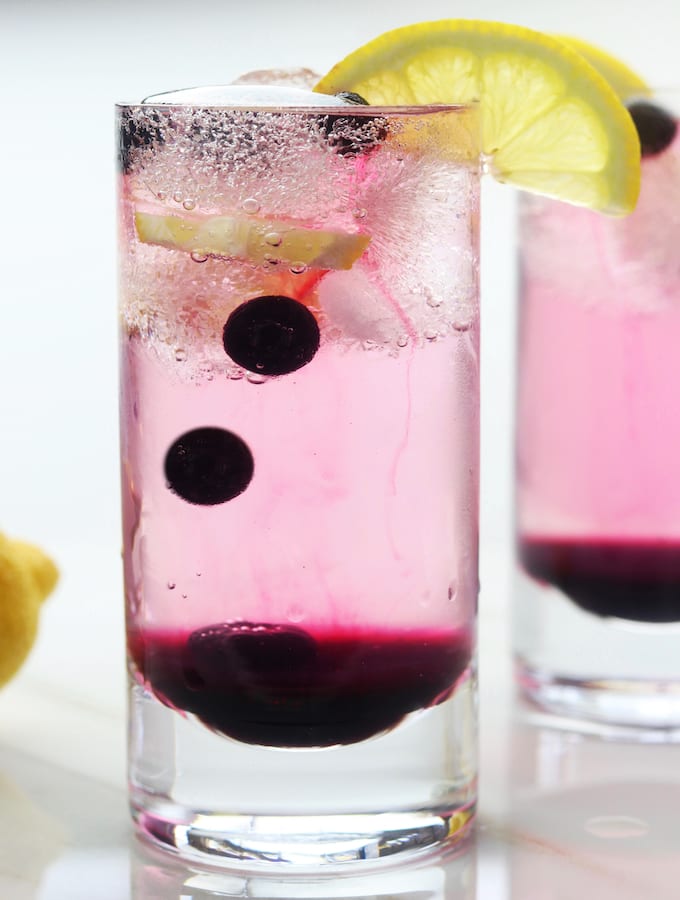 How to make Simple Syrup without sugar?
The easiest and best way to make simple syrup without sugar is to use raw honey. For this summer cocktail substitute 1 cup of organic cane sugar for 1 cup of raw honey. Prepare the simple syrup the exact same way as the recipe below, bringing the blueberries, honey and water to a simmer (or gentle boil) until the blueberry's begin to soften and pop.
Frequently asked questions about making these Rum Drinks.
How do I store the Blueberry Simple Syrup?
Preferably in a glass container like a mason jar.
How long will the Blueberry Simple Syrup last?
About 1 week in the refrigerator kept covered.
Should I use fresh or frozen blueberries?
You really can use either. I used frozen organic blueberries from Costco. Just keep in mind if you use frozen over fresh, the cooking time will increase to the 20 mins rather than 15.
Where do I find the mesh strainer featured in the video?
Many cooking ware stores will carry them but THESE are a great value for a set of three. I use this one kitchen tool multiple times every week from straining items, using it as a sifter or for extracting juice from berries. (affiliate)
How much simple syrup for each spritzer?
About 1-2 tablespoons works well although this recipe makes enough simple syrup for a few drinks to be made on the sweeter side.
Club Soda, Seltzer Water or Sparkling Water, which do I choose?
It is absolutely crazy how confusing choosing water can become. This article helps to break down the differences. For this Blueberry Rum Spritzer, choose the type that you most enjoy. My personal preference is lemon sparkling water.
Can I make this with Vodka instead of Rum?
Absolutely! Blueberry Vodka drinks are wildly popular and you would just simply replace the rum with your favorite vodka.
What if I don't drink the full drink? Will it last in the refrigerator?
Yes and no. The day I filmed the video for this summer cocktail was a warm day and I had to make several. I didn't want to throw it out as it was not the 5 o'clock hour yet. THIS miracle worker is what kept our drinks cold and with ice up to 2 days later. (affiliate)
Can this be made as a nonalcoholic drink?
Absolutely! I made one for our resident little one with just ice, blueberry syrup and sparkling water. They taste just as yummy!
Let's start making this fun cocktail!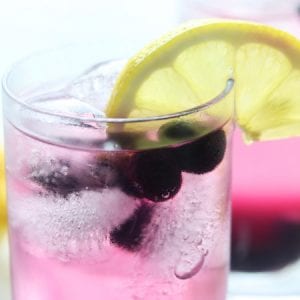 Blueberry Rum Spritzer
This Blueberry Rum Spritzer absolutely falls into the category of easy and fun alcoholic drinks to make. It is light and refreshing with loads of blueberry flavor and a hint of lemon.
Print
Pin
Rate
Ingredients
For the Blueberry Simple Syrup
1

cup

blueberries

1

cup

organic cane sugar

*see notes above for using honey

1

cup

water

2

tsp

lemon juice
For the Spritzers
60-80

homemade

ice cubes

*or 5-10 lb bag of ice

750

ml

bottle of white rum

*this will allow 1-2 shots per glass

fresh or frozen blueberries

*as garnish

2

fresh lemons cut into smaller wedges

*as garnish

10-12

12 oz cans

sparkling water

*chilled (I used lemon flavored)
Instructions
For the Blueberry Syrup
Place blueberries, sugar and water in a medium sized sauce pan over low heat until sugar is dissolved, stirring often about 5 mins.

Raise heat to medium/high and continue stirring often. Cook until blueberries soften and begin to break apart, about 15-20 mins.

Take off heat and stir in lemon juice.

Place a mesh colander over a large glass bowl and pour blueberry mixture through colander. Using a large wooden spoon break apart cooked blueberry extracting as much blueberry juice from them as possible.

Refrigerate Blueberry syrup covered in a glass container until thoroughly chilled, about 6 hours.
For the Spritzers
Place desired amount of ice in each glass. Pour 1-2 shots of rum over ice. Add in 1-2 tbsp of blueberry syrup over rum and ice. Pour in 8-12 oz of sparkling water. Garnish with lemon wedges and blueberries.
Notes
*Please use as many organic ingredients as possible.*
Nutrition
Calories:
259
kcal
|
Carbohydrates:
22
g
|
Protein:
1
g
|
Fat:
1
g
|
Saturated Fat:
1
g
|
Sodium:
3
mg
|
Potassium:
11
mg
|
Fiber:
1
g
|
Sugar:
21
g
|
Vitamin A:
8
IU
|
Vitamin C:
2
mg
|
Iron:
1
mg
Follow along on Facebook and Pinterest for more fun summer recipes.
If you love fruit recipes then check these out: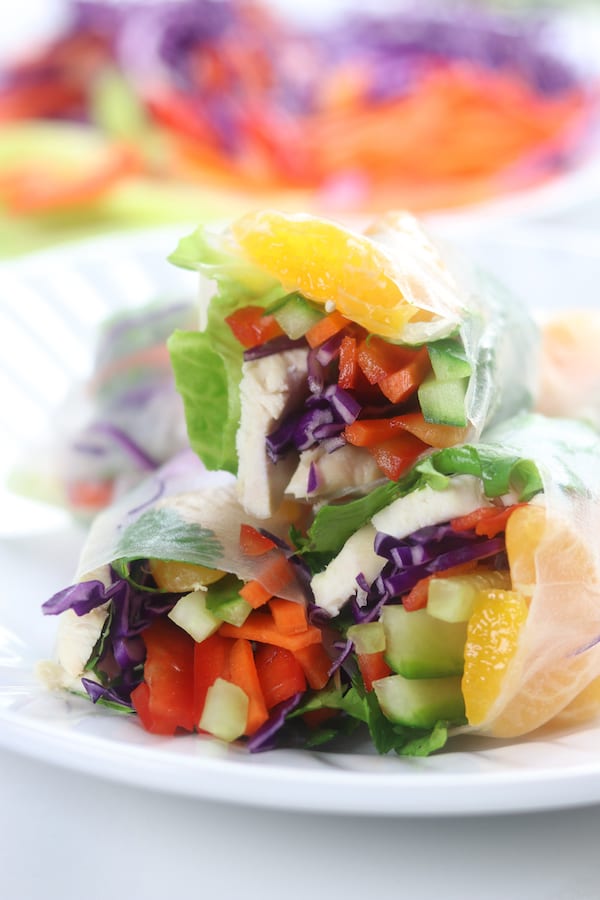 Chinese Chicken Spring Rolls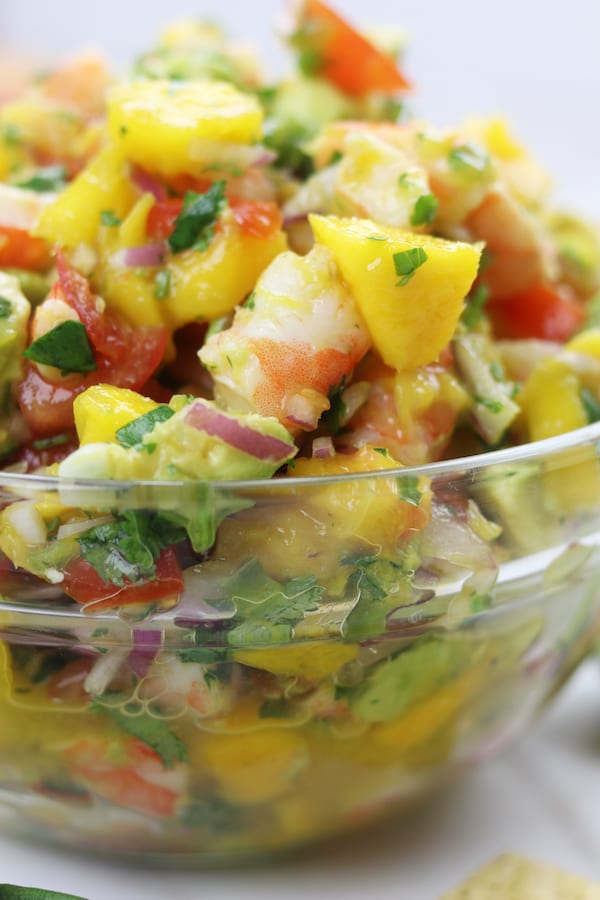 Mango Shrimp Salsa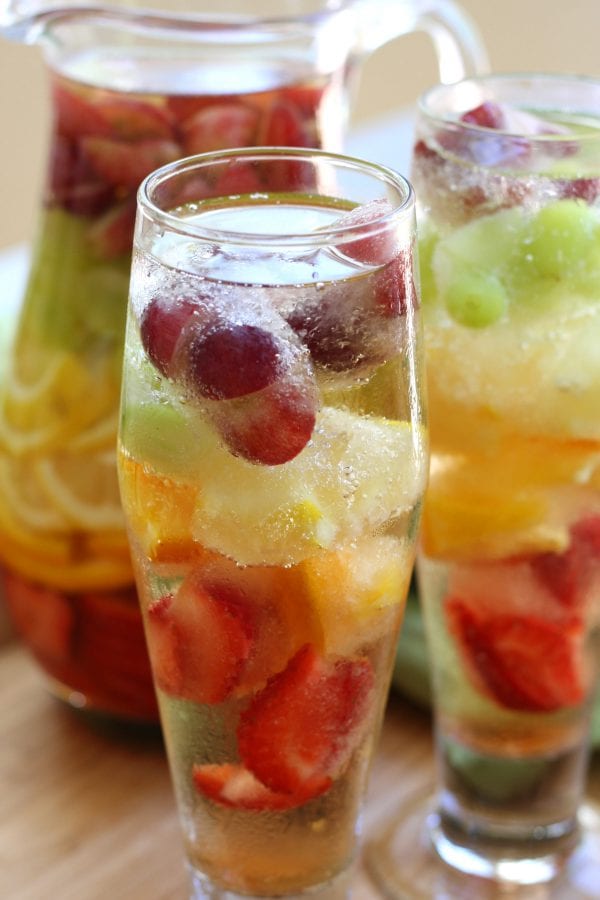 Rainbow Tequila Sangria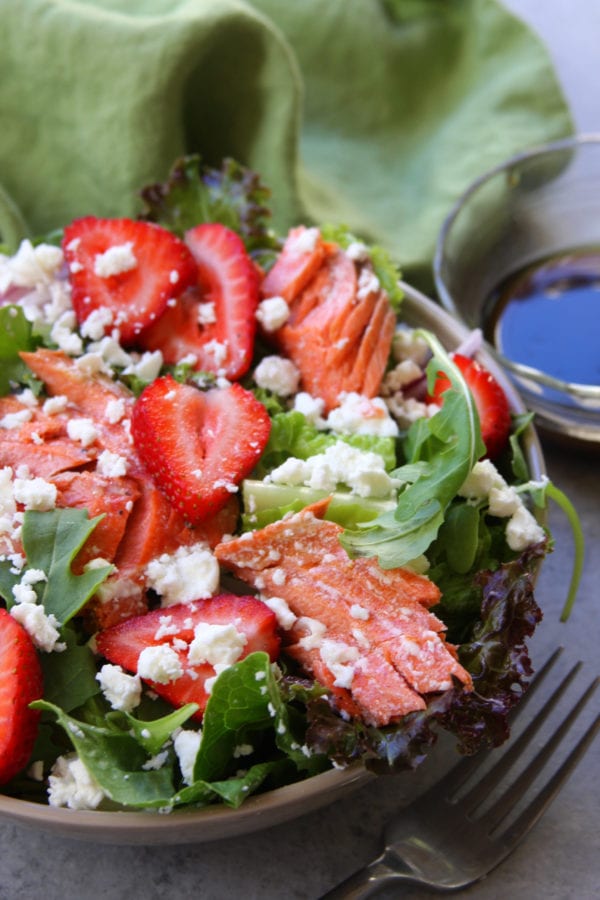 Simple Strawberry Salmon Salad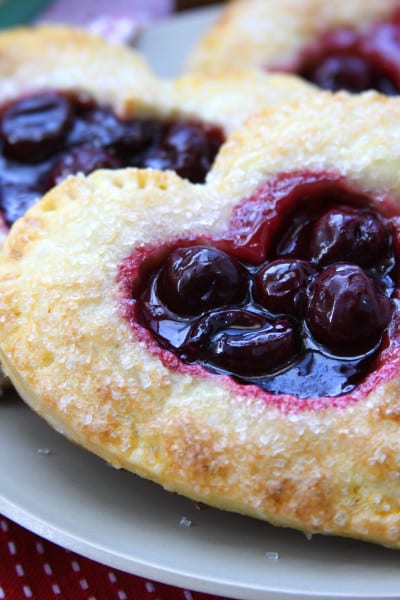 Cherry Heart Pies