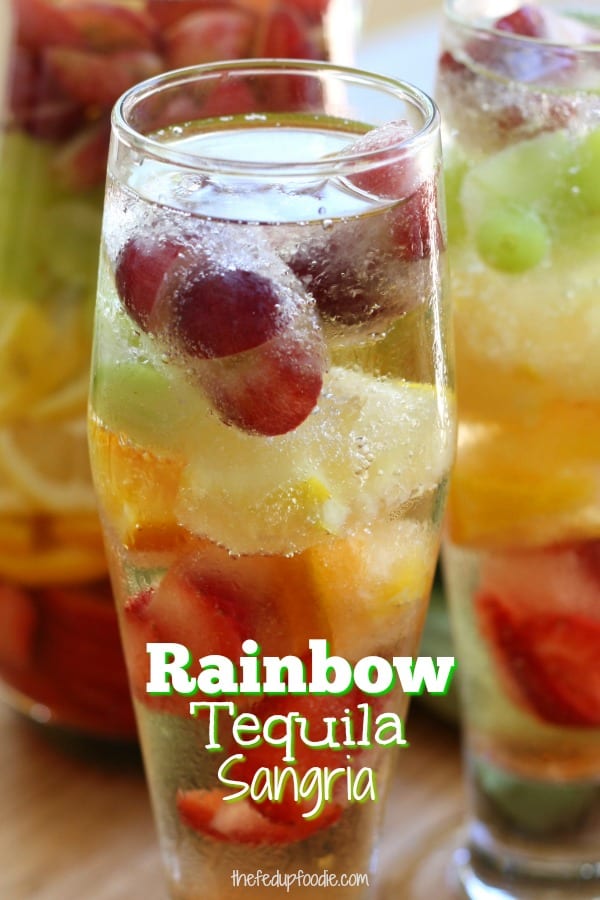 Rainbow Tequila Sangria is a refreshing adult cocktail that is as much fun to look at as it is to drink. Strawberries, citrus, red and green grapes all mingle with crisp sauvignon blanc and your favorite tequila to produce the happiest way to celebrate summer.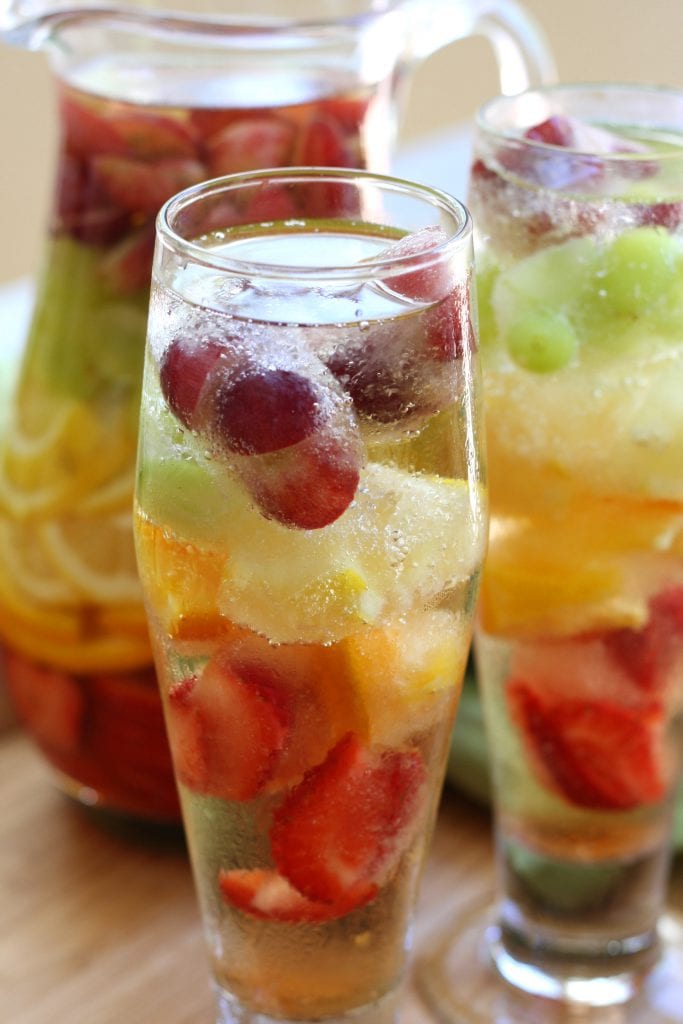 This post may contain affiliate links which I earn a small portion in sales if a purchase is made. Rest assured though, it is never at any additional cost to you.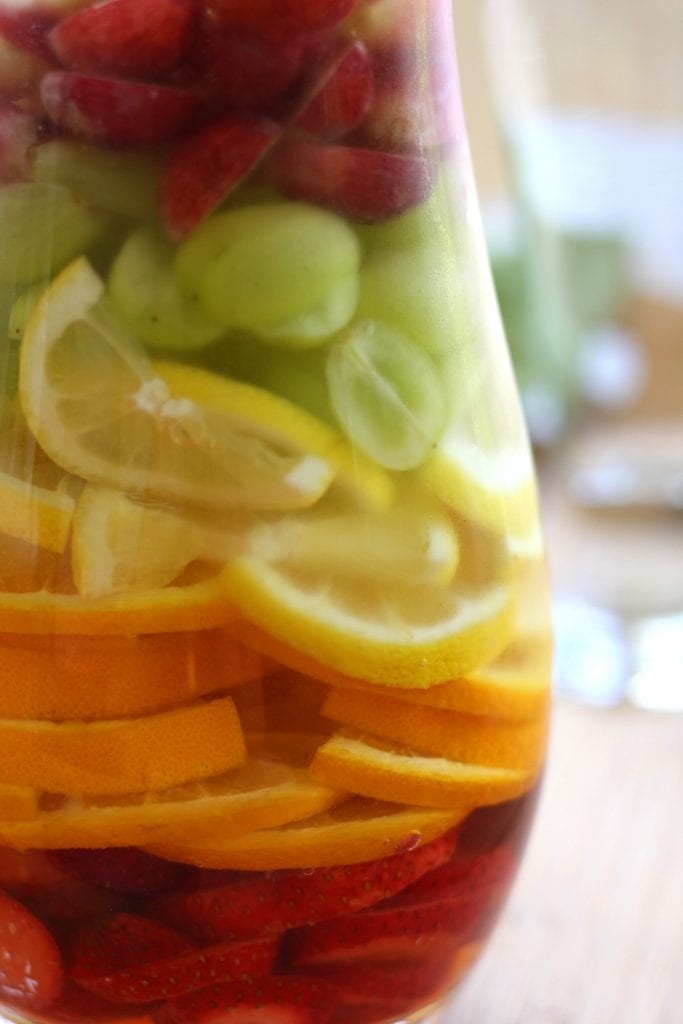 It happens every year during late August. The heat of summer starts to weigh us down and visions of cozy sweatshirts and pumpkins start dancing in our heads. We want cold crisp chilly days and we want it now. I know I have been singing the "I hate August" song one too many times to my husband. You know the song. It is the one you sing just trying to stand as you peel your sticking skin that clings for dear life to your leather couches. You just hope and pray that there is still some skin left on the back of your thighs, thighs that were exposed only because of raging temperatures. All the while your husband sits, stifling laughs at the dramatic pain and agony scene unfolding in your living room. Yes my friends, that is our house in August. I am definitely not in the happiest of moods at this time of year. Well, that is until my Rainbow Tequila Sangria came into existence. It was created out of pure survival mode using some of both my husband and my favorite things. It was refreshing and happy, a welcomed relief!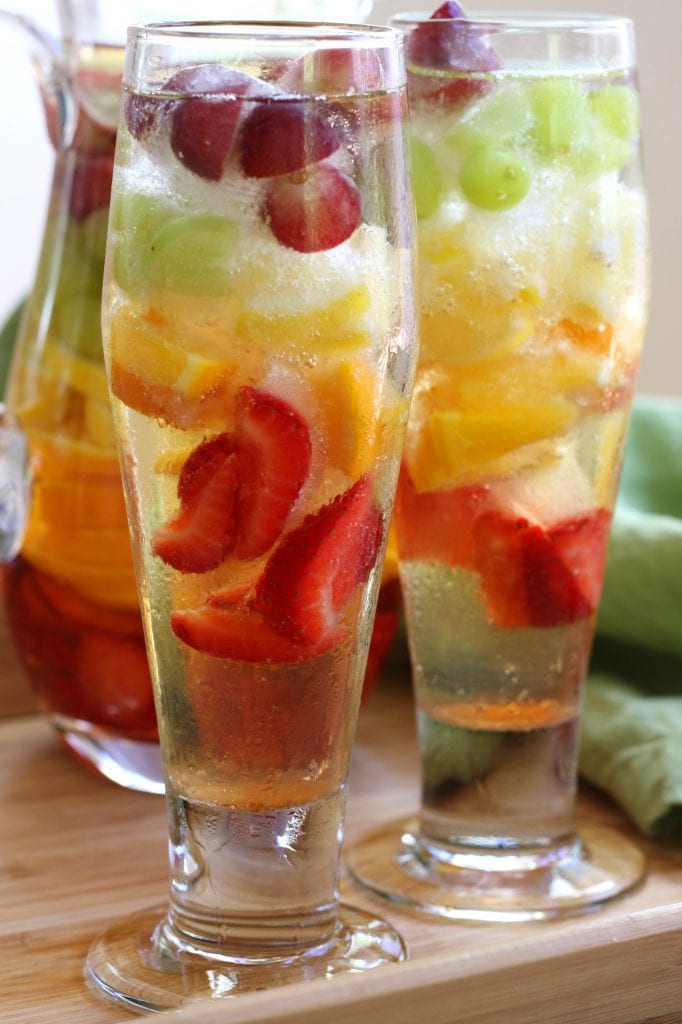 Tips about Rainbow Tequila Sangria:
Make sure to have plenty of ice cubes for this Rainbow Tequila Sangria, they are so worth it. Cut the strawberries, oranges and lemons into small wedges and the grapes in half. Place about 4-6 small pieces into each slot of the ice cube trays and fill with white grape juice. The grape juice does double duty as a natural sweetener and as the ice cubes.
Placing cut fruit in the pitcher is optional but it definitely gives the WOW factor and eating the cut fruit soaked in this fruity drink is a ton of fun also. My biggest suggestion is to work with two pitchers. A medium sized glass pitcher you place the cut fruit in and a larger pitcher that you mix the sangria in. The fruit filled pitcher will probably not hold all the sangria but you can fill as you go.
Remember to make your ice the day before to allow enough time for the juice to freeze. Use 4 ice cubes trays for a single batch. If you are doing a double batch, double the ice also and start very early the day before on the first batch of ice. That gives you time to put together the second batch to freeze over night.
You can assemble the fruit pitcher a few hours before serving but keep the ice in the freezer just before serving. If you have the available space, refrigerate your glasses for an extra cool and crisp drink.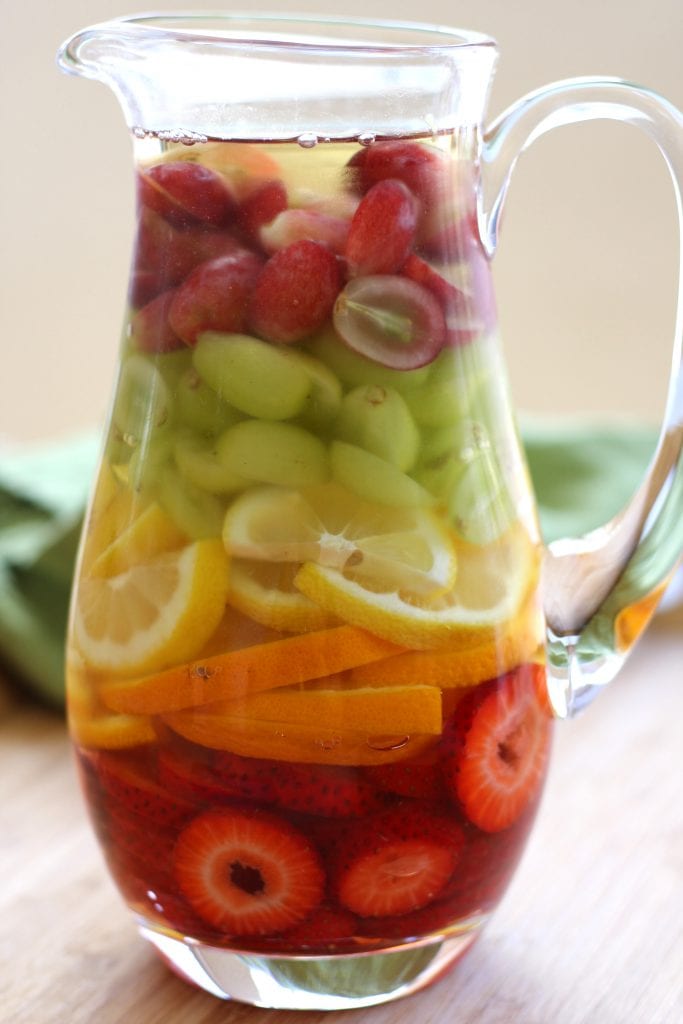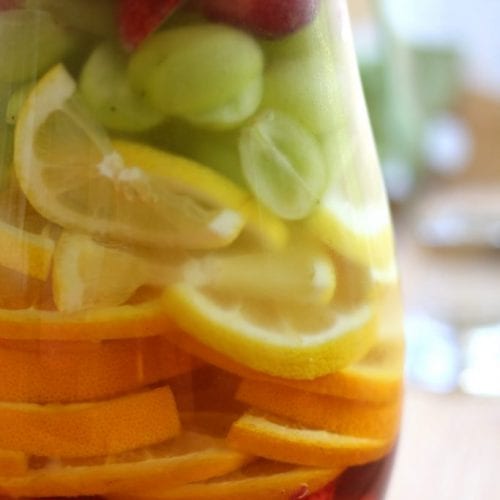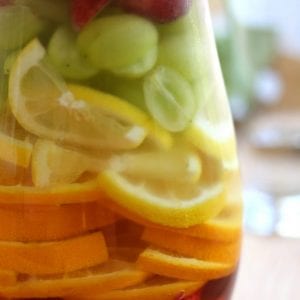 Rainbow Tequila Sangria
A refreshing adult beverage sweetened naturally with white grape juice and is as fun to look at as it is to drink.
Print
Pin
Rate
Ingredients
For the Rainbow Ice
4

ice cube trays

2-3

cups

white grape juice *depending on amount of fruit used

*depending on amount of fruit used

1

cup

strawberries

*cored & cut into 1/8 pieces

1

med orange

*cut into small slices

1-2

lemons

*cut into small slices

1

cup

green grapes

*cut in half

1

cup

red grapes

*cut in half
For the Sangria
1

bottle sauvignon blanc

1

cup

tequila

1

cup

white grape juice

1-2

cups

sliced strawberries

1-2

med

oranges

*cut into lg slices

2-3

lemons

*cut into lg slices

1

cup

green grapes

*cut in half lengthwise

1

cup

red grapes

*cut in half lengthwise

the amount of fruit vary based on preferences
Instructions
For the Rainbow Ice- Prepare ice the day before serving by washing and cutting fruit. Place 5-6 pieces of each type of cut fruit into the slots of the ice molds. You will want about 10-12 ice cubes of each color. Fill the molds with white grape juice almost to the top of molds. Freeze for 8 hours or until completely frozen. Once frozen remove & place into plastic container. Store in freezer until ready to serve.

For the Sangria- Use 2 separate pitchers, one for serving and one for mixing. Mix together wine, tequila and grape juice in the mixing pitcher and chill in refrigerator. In a medium sized glass pitcher place cut strawberries as the bottom layer, then oranges, lemons, green grapes and finishing with red grapes. Pour sangria over fruit and chill for a few hours before serving. Refill sangria into fruit pitcher as needed.

For Serving- Place desired amount of ice cubes in a tall glass and pour sangria from fruit pitcher over the top.
Notes
*Please use as many organic ingredients as possible.*
Nutrition
Calories:
282
kcal
|
Carbohydrates:
49
g
|
Protein:
2
g
|
Fat:
1
g
|
Saturated Fat:
1
g
|
Sodium:
10
mg
|
Potassium:
514
mg
|
Fiber:
4
g
|
Sugar:
40
g
|
Vitamin A:
165
IU
|
Vitamin C:
69
mg
|
Calcium:
59
mg
|
Iron:
1
mg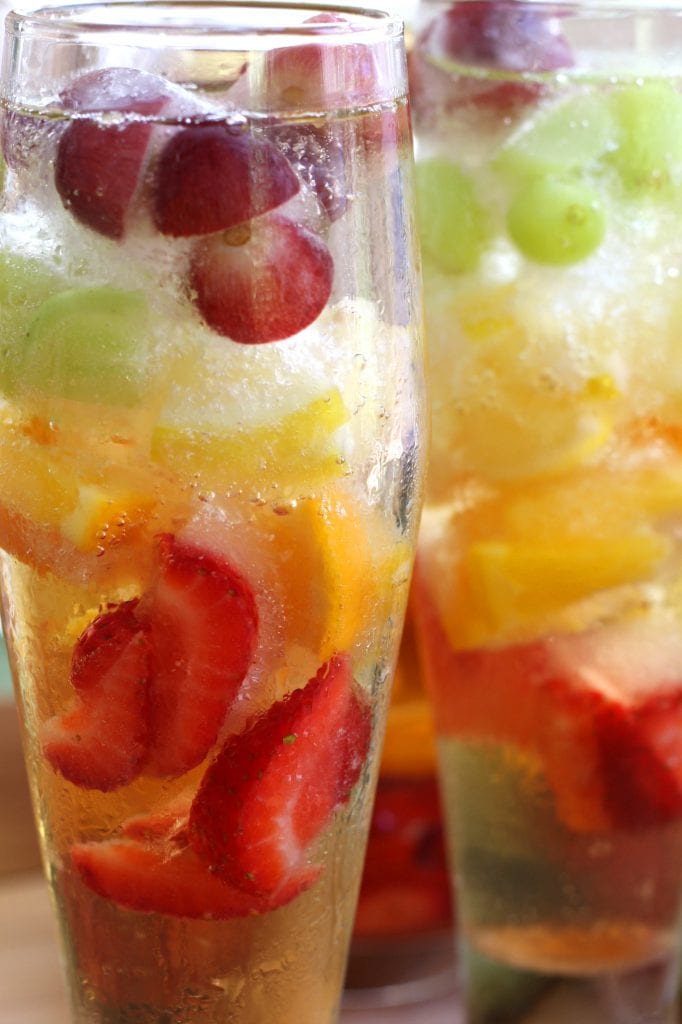 This post is a part of Food Network's Summer Soiree Recipes. Here are more cocktail recipes to enjoy:
Devour: Get Bowled Over by These Spiked-Punch Recipes
Creative Culinary: Bourbon Peach Smash Cocktail
The Lemon Bowl: Strawberry Mojitos
Healthy Eats: 5 Lighter-Than-Usual Cocktails Starring Summer Fruit
A Mind "Full" Mom: Tipsy Orange Julius
Feed Me Phoebe: Watermelon-Cucumber Kombucha Coolers
Taste with the Eyes: Evolving Manhattan Cocktail with Luxardo Ice Sphere
In Jennie's Kitchen: 14 Drinks to Celebrate Summer
FN Dish: End-of-Summer Swigs You'll Want to Make by the Pitcher
If your looking for other delicious adult beverages than check out these recipes.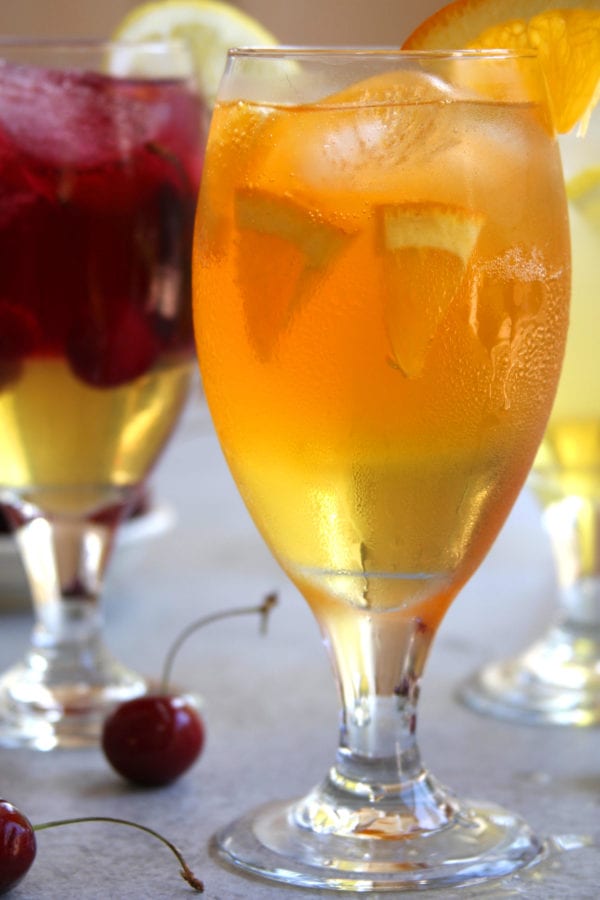 Skinny Limoncello Sparklers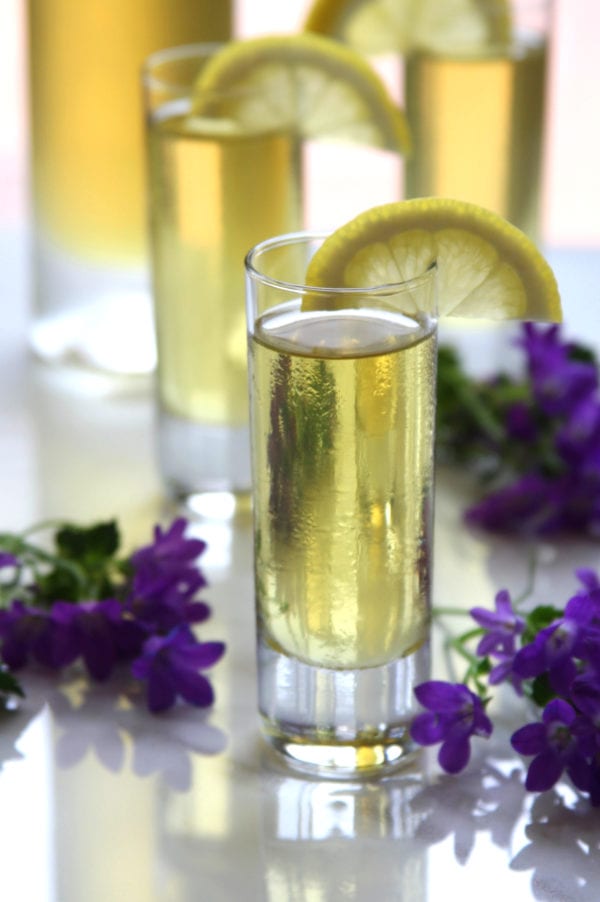 Homemade Limoncello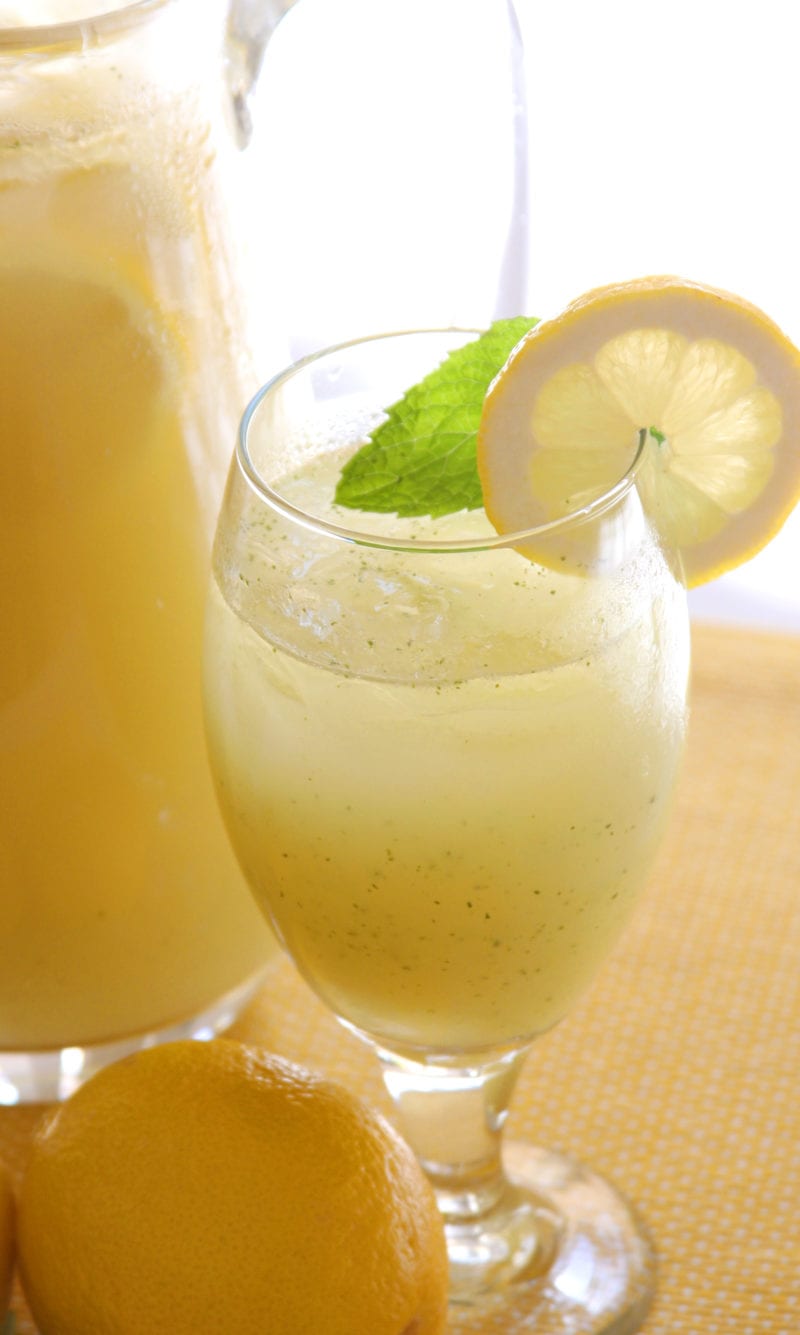 Vodka Honey Lemonade