Rosemary Fennel Shrimp is a unique and distinctive seafood appetizer or companion to pasta with succulent shrimp, aromatic rosemary, the slight licorice taste of fennel seed and refreshing lemon. Perfect for sharing with love ones with a glass of chilled white wine and crackly French bread.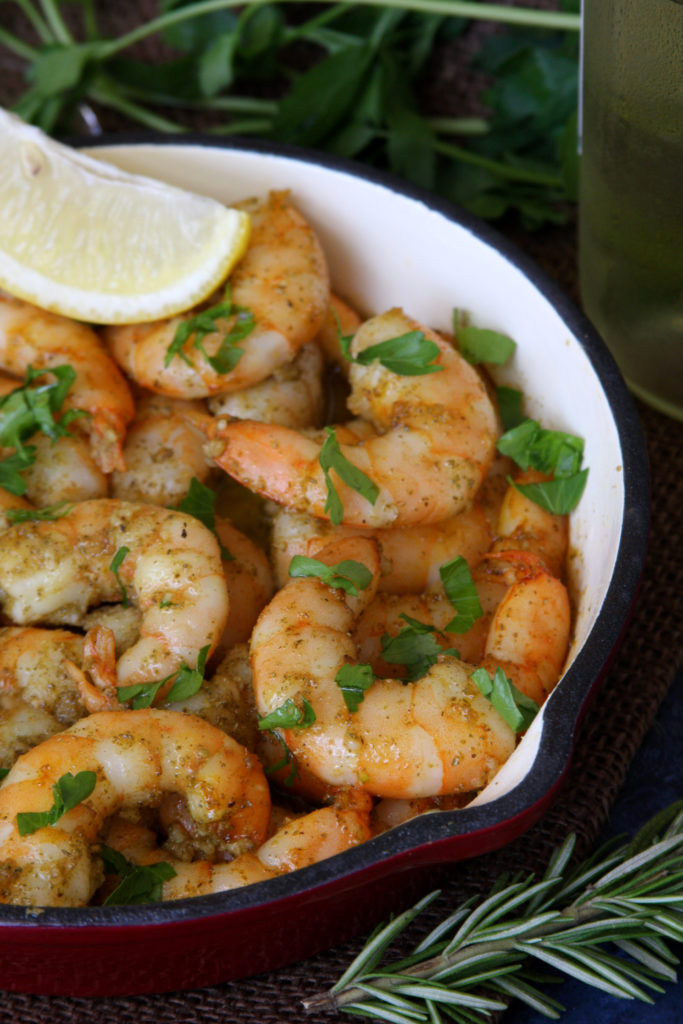 This post may contain affiliate links which I earn a small portion in sales if a purchase is made. Rest assured though, it is never at any additional cost to you.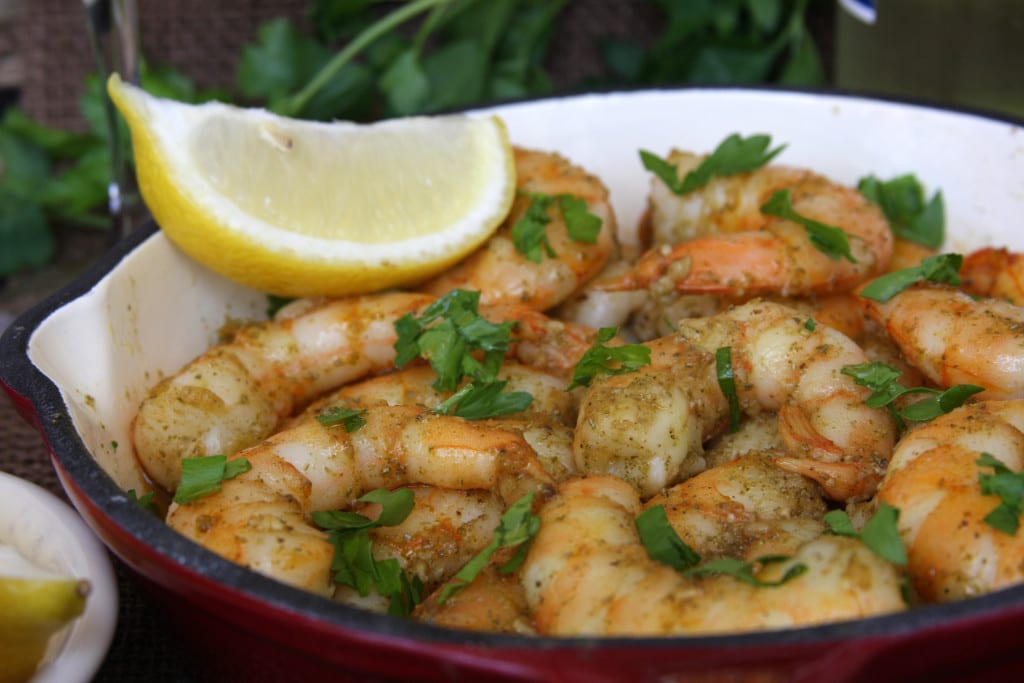 One of the more enjoyable elements of cooking is making food for love ones that causes them to slow down as they take in the flavors and textures. When you love to cook, seeing friends and family enjoying each others company while they share a meal of your creation does the heart good. Listening to cheerful, casual conversation while they ask for seconds and thirds reassures me that I hit a home run. As enjoyable as it is to cook for others, sometimes making a meal that is just for yourself is a wonderful way to recharge. One of my guilty pleasures that I do once in a billion years is having appetizers and a glass of wine for dinner. Who can beat biting into the crunch of a fresh baguette with a slice of creamy havarti and crisp grapes? Or what about the comforting appeal of an antipasto plate with the buttery olives and decadent Italian meats? Really, who doesn't love appetizers? We all have our favorites, the ones that put a smile on our face just thinking about them. When I created this Rosemary Fennel Shrimp recipe I wanted it to be similar to the beloved classics, but with a twist. The aromatic piney taste of the rosemary with the light licorice flavors of the fennel play so nicely with the zesty burst of lemon. If you are looking for a unique appetizer and you love fennel, then these shrimps are for you.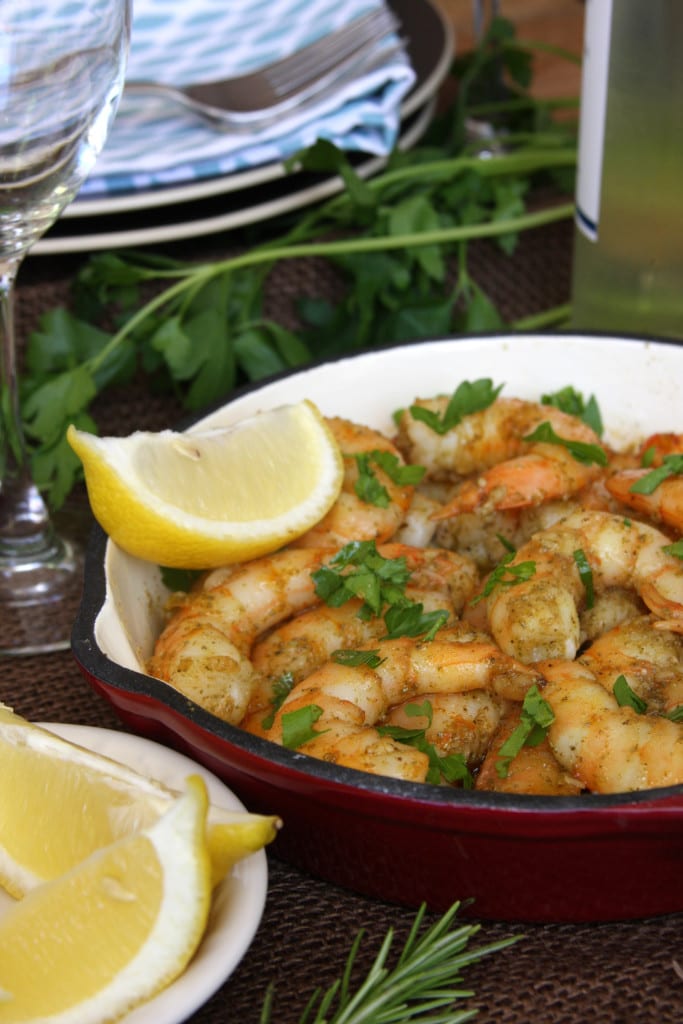 Tips about Rosemary Fennel Shrimp:
So you buy some gorgeous uncooked jumbo shrimp and can hardly wait to get them all cleaned up and dressed with the scrumptious flavors. As your unpacking them it hits you. That fishy smell. EEEK…. How do you get the fish smell out and the flavor in? Brining can be the game changer. Fill a large bowl halfway with cold water. Add 2 tbsp sea salt for every lb of shrimp to the water. I also like to add the juice of 1-2 lemons . Add the shrimp to the water with a few ice cubes to keep the shrimp nice and icy cold. Defrost in the refrigerator for 1-2 hours. Through the power of osmosis the sea salt will help to add moisture back into the shrimp and the lemon juice will help to mellow out the fishy smell.
For this Rosemary Fennel Shrimp recipe I used dried rosemary and fennel seeds, ground both in a small coffee grinder. If you prefer fresh herbs, use 1 1/2 tbsp rosemary finely chopped and omit the fennel seed. Rosemary on its own is wonderful on shrimp. Fennel just gives it an interesting twist.
When baking shrimp, place in a single layer to ensure even cooking. If you have a pretty cast iron pan use it to bake the shrimp. It looks great for serving also.
These handsome little shrimp go beautifully with my Tomato Caper Pasta recipe and a glass of chilled white wine. Add in a loaf of crispy, crackly French bread and you will have a dinner made in heaven.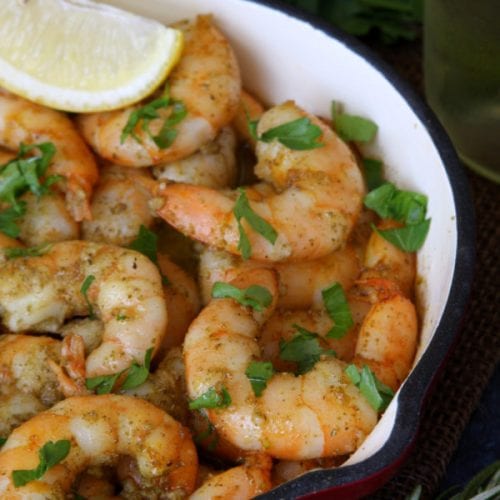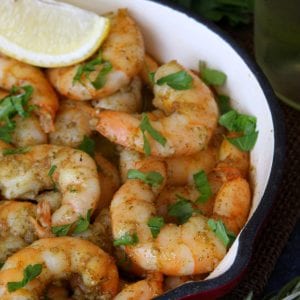 Rosemary Fennel Shrimp
Unique and distinctive seafood appetizer with aromatic rosemary and a light licorice flavor of fennel seed.
Print
Pin
Rate
Ingredients
Brine
2

tbsp

sea salt

1- 1 1/4

lb

raw jumbo shrimp

juice of 1-2 lemons

4-5

ice cubes

cold water
Shrimp
1/4

olive oil

2

garlic cloves

*minced or crushed

1/2

tsp

fennel seed

*ground

1 1/2

tsp

dried rosemary

*ground

1/2

tsp

sea salt

1

lemon

*cut into wedges

garnish with Italian parsley *optional

*optional
Instructions
For the Brine- Fill a large bowl halfway with cold water. Add 2 tbsp sea salt and the juice of 1-2 lemons . Add the shrimp and a few ice cubes to water. Defrost in the refrigerator for 1-2 hours. Drain, peel and devein shrimp.

For the Shrimp- Preheat oven to 350℉. In a medium size bowl combine oil, garlic, rosemary, fennel and salt. Add in shrimp and toss well. Place in a single layer in a medium size frying pan. Bake at 350℉ for 12-15 mins or until shrimp turn from grey to a white/pink color.

Garnish with fresh squeezed lemon slices and Italian (flat leaf) parsley.
Notes
*Please use as many organic ingredients as possible.*
Nutrition
Calories:
179
kcal
|
Carbohydrates:
2
g
|
Protein:
35
g
|
Fat:
2
g
|
Saturated Fat:
1
g
|
Cholesterol:
429
mg
|
Sodium:
3842
mg
|
Potassium:
161
mg
|
Fiber:
1
g
|
Sugar:
1
g
|
Vitamin A:
9
IU
|
Vitamin C:
17
mg
|
Calcium:
259
mg
|
Iron:
4
mg