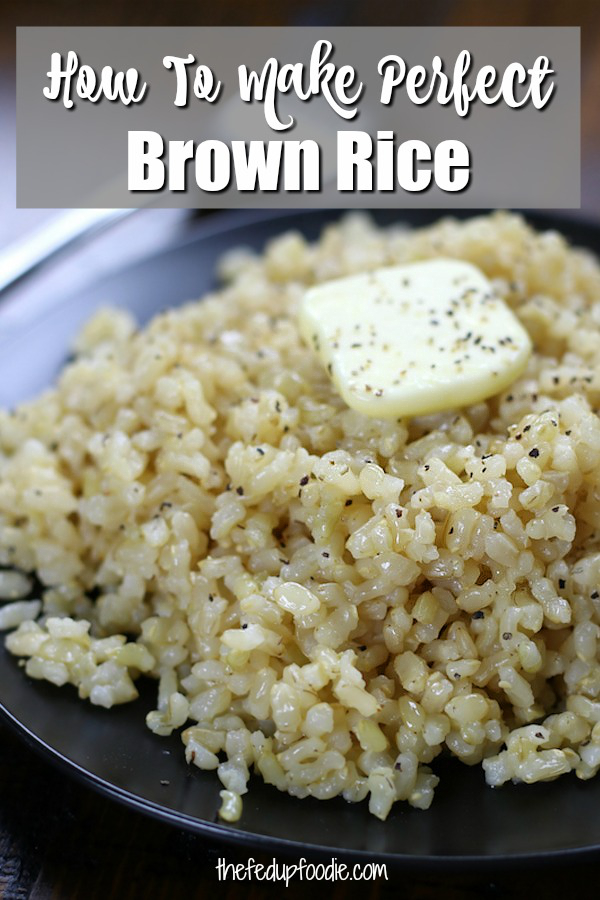 Learn the secrets to perfectly cooked Short Grain Brown Rice that is fluffy, chewy with a slight nutty taste. This no-fail technique works each and every time.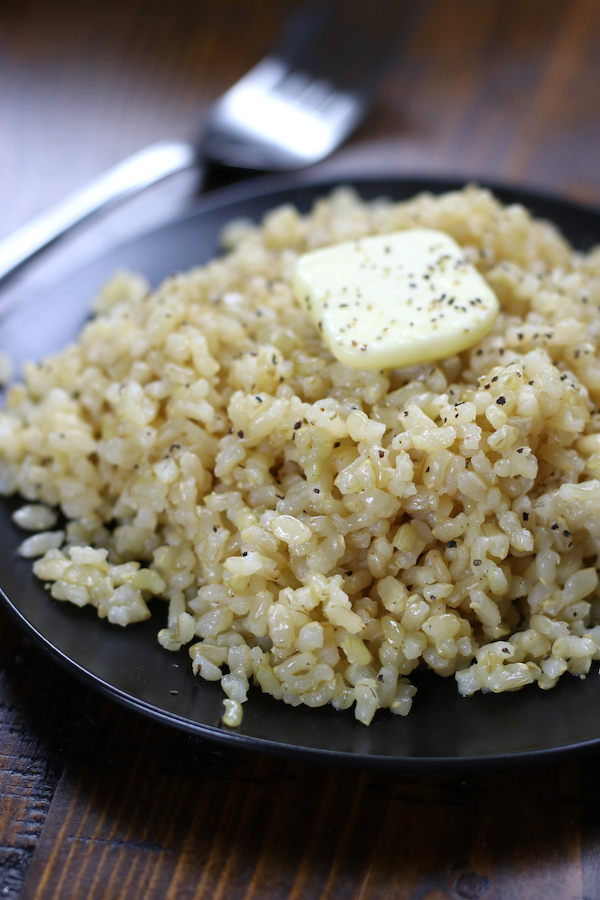 This post may contain affiliate links which I earn a small portion in sales if a purchase is made. Rest assured though, it is never at any additional cost to you.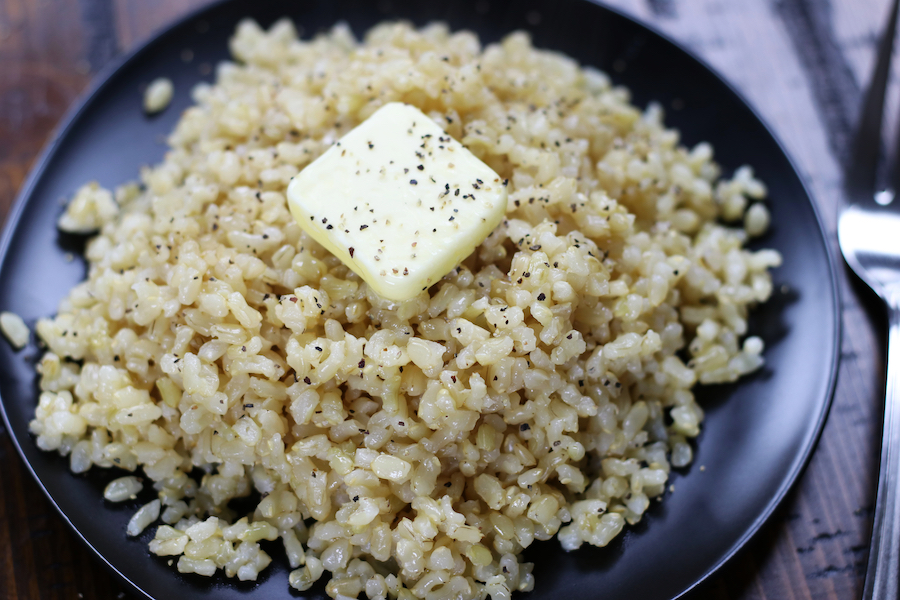 One of the biggest challenges that my readers have shared with me is how to cook rice that isn't either crunchy and undercooked or on the opposite end, mushy.
I have heard so many say that even with a rice cooker, the rice never turns out they way they would like it, light and fluffy with a perfect texture.
Often they feel silly for investing in a rice cooker that pretty much has just one purpose.
After years of experience and many failed attempts in the beginning, I'm sharing with you the secrets to obtaining perfect cooked short grain brown rice.
Once you learn these techniques, there will be no need for a rice cooker that just collects dust in your cupboards.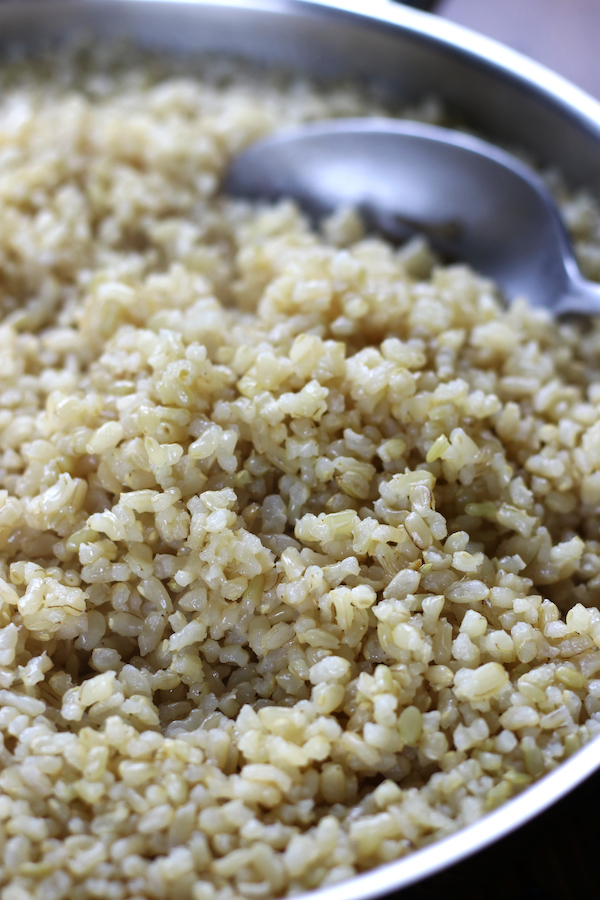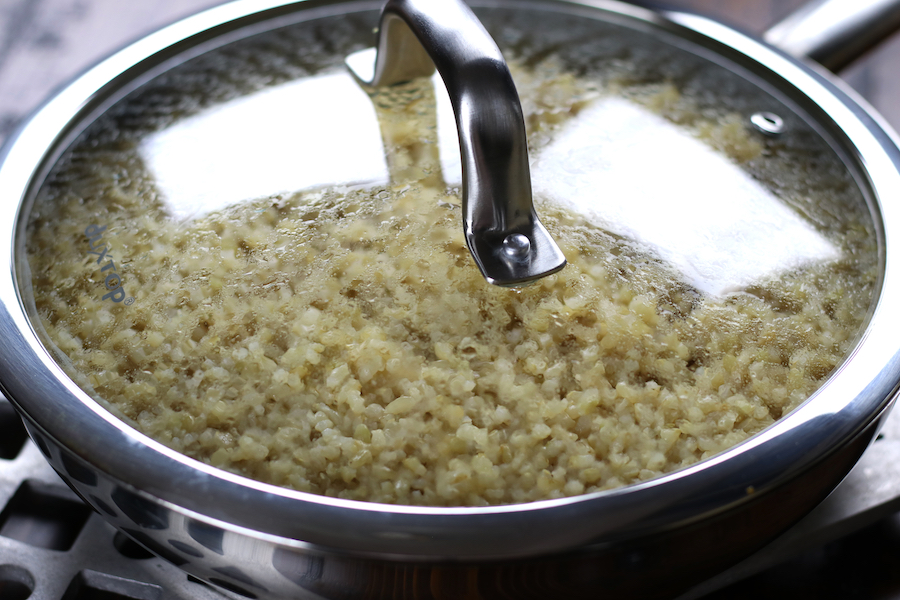 Brown Rice Nutrition
If looking for a bigger impact with healthful eating, switching out white rice for brown rice is an excellent way to go. With its bran and germ still intact, brown rice is a good source of B complex, magnesium, manganese, fiber, antioxidants, minerals and vitamins.
Why Choose Organic Brown Rice
For many, the number one reason to choose organic brown rice over conventional rice is the reduction of pesticide residue consumption. Once ridiculed by many, the concern over the consumption of chemicals in our food is now be given more and more attention. My personal stance, buy as much organic as can be afforded.
The best deal I have found on organic short grain brown rice has been at Costco. However, this comes in second place as far as value and affordability.
Is Rice a Grain?
Yes, brown rice is a whole grain that is a perfect gluten free alternative for those with celiacs disease. Whether choosing short grain brown rice or long grain brown rice, both are also a much better alternative to white rice as a grain choice for those with diabetes.
How To Cook Brown Rice
To begin with, measure and rinse the rice well using this tool. Let drain. Place the rice, fat source and broth in the pan.
Place frying pan on medium sized stovetop burner over high heat and bring to a boil.
Once boiling cover and lower heat to lowest setting.
Cook until water is absorbed, about 45 mins.
Take off heat and let sit covered for 10 mins.
Fluff and serve immediately.
5 Tips For Perfect Brown Rice
Use a quality 9-10 inch stainless steel frying pan with a glass lid. The frying pan allows the rice to cook in a thiner layer, thereby cooking more evenly. Additionally, the glass lid allows you visually see when all the liquid has been absorbed into the rice without having to lift the lid. Not removing the lid will help the rice to cook more efficiently. If needed, here is a quality set of stainless steel pots and pans with glass lids.
Add a fat source of your choosing. Apparently there is all kinds of information floating around about how adding fat lowers the calories of rice. Is that true? I have no idea. What I do know though is that a healthy fat such as grass-fed butter, olive oil, coconut oil or avocado oil makes the rice taste better but also have a better texture.
Once the fat source, rice and liquid is added to the pan, bring to a full boil on high heat and then cover and lower to the lowest heat. In addition, use a medium sized burner on your stovetop. The smallest burner does not pit our enough heat and the largest burner puts out too much heat.
As tempting as it is, do not stir the rice and keep it covered until all the liquid has absorbed.
Once you have perfect the process of cooking short grain brown rice, do not change your approach. Use the same pan and the same burner every time.
How Long To Cook Short Grain Brown Rice
Short grain brown rice takes approximately 45 mins to cook once covered on low heat and 10 minutes to rest, covered off heat.
Flavor Variations
There are a million different ways to change up the flavor of home cooked brown rice. To start, here are just a fun few flavor variations. Please note though that the amount and types of spices comes down to personal preferences and the fat source amount are the same as the recipe. Also, additional salt and pepper may be desired.
Butter (or coconut oil), juice of lemon and 1/2 tsp turmeric, 1/4 tsp black pepper and 1 tsp smoked paprika.
Olive oil and 2 tsp Italian seasoning.
Toasted sesame oil by itself or with 2 tsp ground ginger and 1/2 tsp Chinese 5 spice.
Avocado oil, juice of 1-2 limes and 1 tsp coriander.
How To Freeze Brown Rice
Making a larger batch of brown rice and then freezing in 1 cup portions can make for quick and simple meal preparation on busy nights. To do so, simply cook the rice following the directions below. Once cooked, let cool to room temperature and then divide into 1 cup portions and freeze using freezer bags.
When ready to use either let defrost in refrigerator for about 8 hours or heat in a covered microwave safe container with 1/2 tbsp of water on power level 8 starting with 4 minutes. Stir and then add additional time at the same power level working in 1 minute increments until desired heat has been achieved. Once heated, serve immediately.
What To Serve With Brown Rice
Cilantro Lime Mexican Roast Chicken
Cashew Eggplant Chicken Stir Fry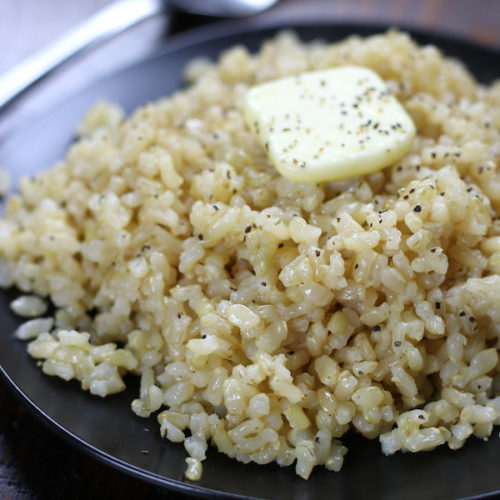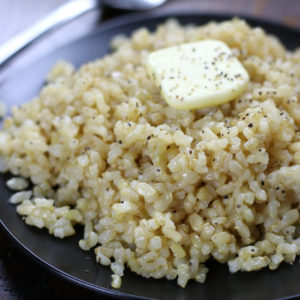 Short Grain Brown Rice
This recipe creates perfectly cooked Short Grain Brown Rice on the stovetop that is fluffy, chewy with a slight nutty taste. Super simple recipe that goes great as a side dish with all kinds of main dishes.
Print
Pin
Rate
Ingredients
1

cup

short grain brown rice

1 1/2

tbsp

butter

*or fat source of choice

1 3/4

cup

broth

*chicken, beef or vegetable broth
Instructions
Measure rice and rinse well in a fine mesh strainer. Let drain.

Place a 9-10 inch stainless steel frying pan (with accompanying glass lid) on high heat on a medium sized stovetop burner. Add butter and melt.

Once butter is melted immediately add rice and broth. Bring to a boil. Do not stir rice.

Once boiling, cover rice with glass lid and lower temperature down to lowest heat. Let cook until all liquid has absorbed, about 45 mins. You will know the liquid has been absorbed once it no longer bubbles. It is best to let the rice cook 5 mins past that point.

Take off heat and let sit covered for an addittional 10 mins. Fluff with a fork and serve immediately.
Notes
*Please use was many organic ingredients as possible. 
Nutrition
Calories:
224
kcal
|
Carbohydrates:
39
g
|
Protein:
4
g
|
Fat:
6
g
|
Saturated Fat:
3
g
|
Cholesterol:
11
mg
|
Sodium:
451
mg
|
Potassium:
134
mg
|
Fiber:
2
g
|
Sugar:
1
g
|
Vitamin A:
352
IU
|
Calcium:
17
mg
|
Iron:
1
mg