Cilantro Lime Mexican Roast Chicken recipe creates crazy delicious, tender and juicy chicken. Works great as the main dish or as the protein in many Mexican dinners.

This post may contain affiliate links which I earn a small portion in sales if a purchase is made. Rest assured though, it is never at any additional cost to you.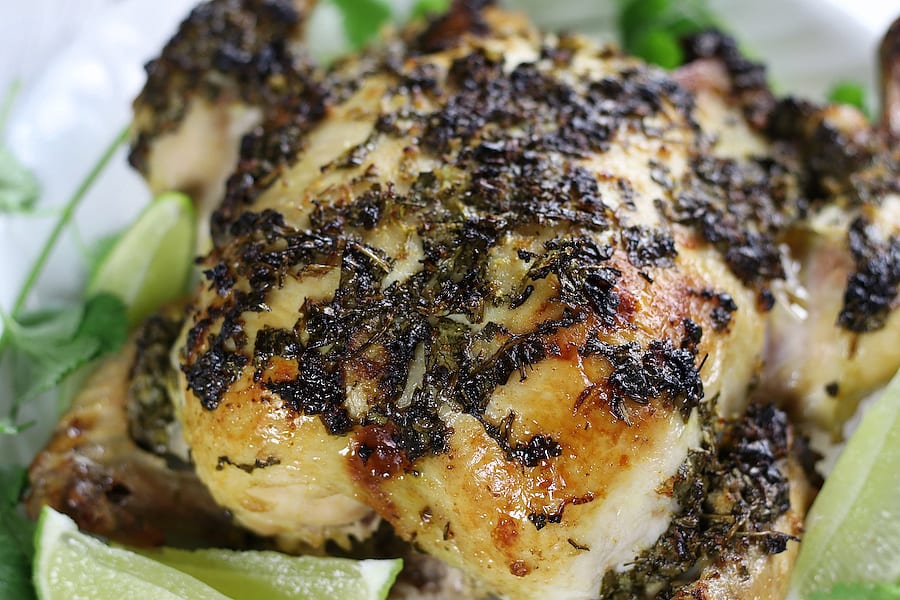 Why Buy Whole Chicken
Did I ever tell you how much I love the ease and simplicity of having a whole roasted chicken for dinner?
For many it feels very awkward even thinking about what to do with a whole chicken.
I think because of this, the trend the last few decades has been all about cooking chicken breasts.
If your new to cooking a whole chicken let me introduce you to the beauties that is the whole chicken.
You can make many meals off of one bird thereby keeping the food budget down.
Roasting a whole chicken tends to create super juicy meat because of the chicken skin.
All kinds of flavor can be imparted into a whole chicken by either marinating, brining or placing an herb rub under the skin. Some of my favorite flavorful whole chicken recipes are Rosemary Lemon Garlic Chicken, Greek Chicken and Instant Pot Cherry Chicken.
A whole chicken is perfect for a Sunday dinner because it can feed many people (depending on the size of the bird) and it is super easy to make.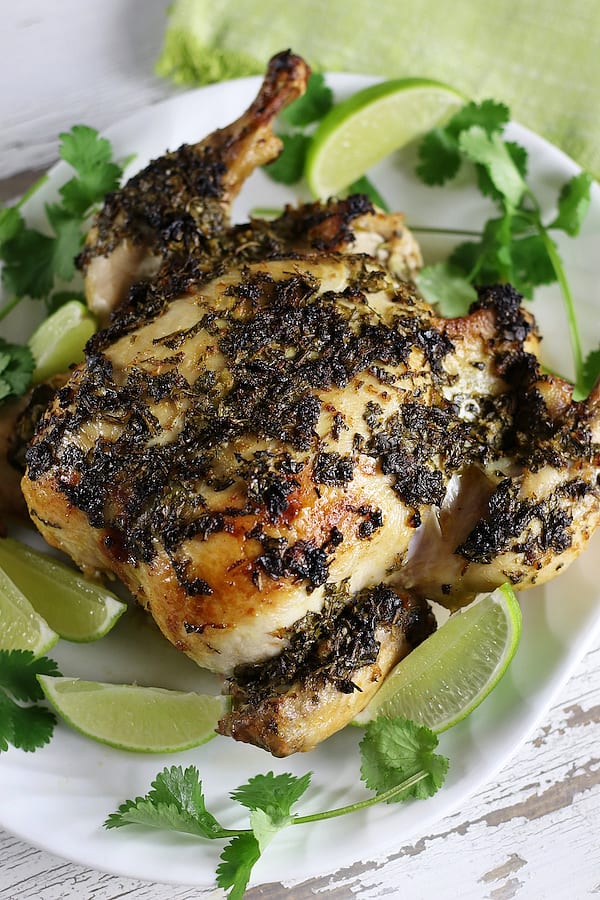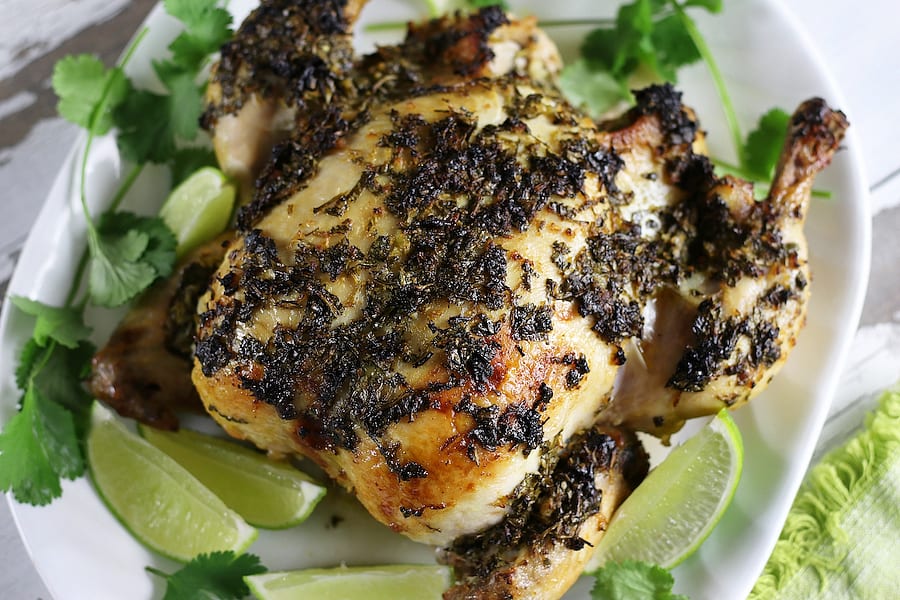 How To Marinate Cilantro Lime Mexican Roast Chicken
The beauty of this cilantro lime marinade is that it is extremely easy to make. Simply whisk together the olive oil, lime juice, salt crushed garlic and coriander. Wash and chop the cilantro and then stir into the marinade.
Finding a container to accommodate both the whole chicken and the marinade can be a bit tricky. What works perfectly for me every time is this container. I mix the marinade in it and then submerge the chicken, bottom side down, into the container. Make sure to spoon marinade over the top chicken and into its cavity. Cover with plastic wrap and refrigerate. Halfway through marinating flip the chicken over to ensure the other is fully submerged.
One other option for marinating the whole chicken is to use 2 Gallon Freezer Bags, and to turn the chicken over halfway through marination. Just as a side note, the 2 gallon sized bags are not always easy to find at the store and the gallon size will be too small.
Brining vs Marinating
Both brining and marinating involve similar actions of soaking the chicken in a flavorful liquid. The main difference between the two, a brine tends to be more of a water, salt and spice mixture that helps increase moisture and tenderness. However a marinade has oil, acid, herbs, spices, aromatics and sometimes sugar that not only increases moisture and tenderness of the meat, but also can pack a huge punch with flavor.
This Mexican Chicken Marinade using olive oil for its fat, lime juice for the citrus, garlic for the aromatics and cilantro and coriander for the herbs and spices. I have found sugar not to be necessary, but can definitely be added.
Whole Chicken Marinating Times
I highly recommend marinating this no less than 12 hours, preferably 24 hours. If you have the time, 48 hours will dramatically increase the flavor that is infused into the meat. I love whisking up the marinade on a Friday afternoon and roasting this chicken for Sunday dinner.
How To Make A Spicy Garlic Lime Chicken
For those who love spicy foods you have a few options to help really kick up the heat. For a more mild heat dice up 1-2 fresh jalapeños or for a stronger heat 2 or more habaneros diced with the seeds. Also, adding 1/2-1 full tablespoon of chipotle powder will help to increase the spicy factor.
Roasting Cilantro Lime Whole Chicken
For whole chickens in the 4-5 lb range a smaller roasting pan is all that is needed. To roast, preheat oven to 350℉. Place the marinated chicken, breast side up, into the roasting pan. The most important step, spread congealed olive oil over the top of the chicken. This helps to create a beautifully golden crust.
Pro Tip: Congealing means the olive oil will have separated from the lime juice and solidified together with the fresh cilantro. The cilantro will darken in baking. If this bothers you simply remove before serving.
Roasted Chicken Calories
Anyone getting ready for the bathing suit weather that is right around the corner generally finds keeping track of total calories consumed an important step to help prepare. Here is a breakdown in supporting those weight loss goals.
Leg Calories
4 oz portion from the chicken drumstick or leg of this Cilantro Lime Mexican Roast Chicken is approximately 216 calories.
Breast Calories
4 oz portion of the chicken breast is approximately 188 calories and a 6 oz portion is approximately 284 calories.
Thigh Calories
4 oz portion of chicken thigh is approximately 236 calories.
Pro Tip: 1 oz of meat is about the size of a tube of lipstick and 4 oz it a touch bigger than a deck cards.
What To Do With Leftover Chicken
This Mexican Roast Chicken is extremely versatile as a main dish, as are the leftovers. Here is a breakdown of options.
Commonly Asked Questions About Cilantro Lime Mexican Roast Chicken
What should the final temperature of this whole roasted chicken be?
The internal temperature of the chicken at its thickest part should be 165℉.
What is the best way to test for the final temperature?
This video is the perfect visual breakdown for checking the roasted chicken's final temperature and this gadget will make it 10 times easier.
How do I reheat the leftovers?
Reheating leftover chicken can be done by slicing and placing on a microwave safe plate. Reheat on power level 8 for 1-3 minutes. It is always better to start with less time and add more if needed.
If microwaving is not an option, preheat oven to 350℉ and place chicken pieces in a small roasting pan. Cook for 15-25 minutes or until chicken pieces are heated through.
More Healthy and Fun Mexican Recipes
One Pot Spanish Chicken and Rice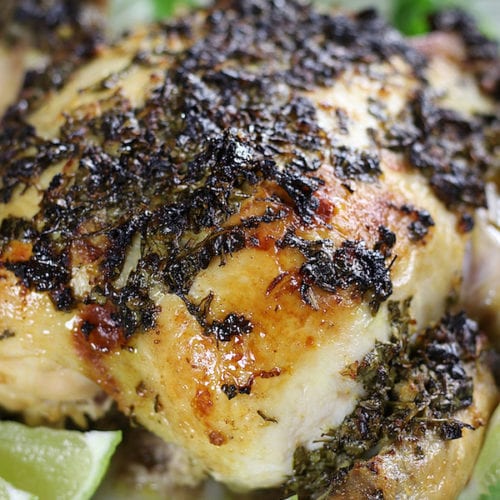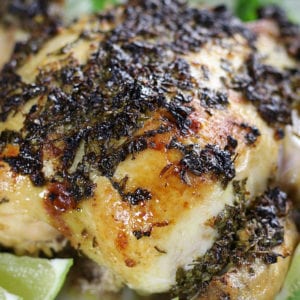 Cilantro Lime Mexican Roast Chicken
Juicy, tender and bursting with flavor! This Cilantro Lime Mexican Roast Chicken is so good on its own as a main dish or served as the protein in many Mexican inspired meals.
Print
Pin
Rate
Ingredients
1

cup

olive oil

1 1/2

cups

lime juice

*about 12 limes, heavier limes will be juicer

12-14

large

garlic cloves

*crushed or minced

1 1/2

tsp

sea salt

2

tsp

coriander

1

bunch

fresh cilantro

*roughly chopped

4-4 1/2

lb

whole chicken
Instructions
Whisk together first 6 ingredients in a large and deep glass container.

Drain chicken of excess juice and remove packaging and gizzards from inner cavity of chicken. Place chicken into marinade. Spoon marinade over top of chicken and into cavity. Cover with plastic wrap and refrigerate while marinating. Turn chicken halfway through marination. Marinate for at least 12 hours, preferably 24-48 hours.

Preheat oven to 350℉.

Remove chicken from marinade and drain of excess juice. Place in a small roasting pan. Spread congealed olive oil containing chopped cilantro evenly over the top of chicken.

Bake for 1 1/2 hours or until internal temperature reaches 165℉.

Remove from oven and let rest for 7-10 minutes and slice to serve.
Notes
*Please use as many organic ingredients as possible. 
Nutrition
Calories:
408
kcal
|
Carbohydrates:
7
g
|
Protein:
31
g
|
Fat:
28
g
|
Saturated Fat:
8
g
|
Cholesterol:
122
mg
|
Sodium:
699
mg
|
Potassium:
419
mg
|
Fiber:
1
g
|
Sugar:
1
g
|
Vitamin A:
361
IU
|
Vitamin C:
24
mg
|
Calcium:
40
mg
|
Iron:
2
mg