Rosemary Lemon Garlic Chicken is special enough for a Holiday and easy enough for a weeknight. Special prep method allows for a deeper infusion of aromatics and makes the leftovers taste even more delectable.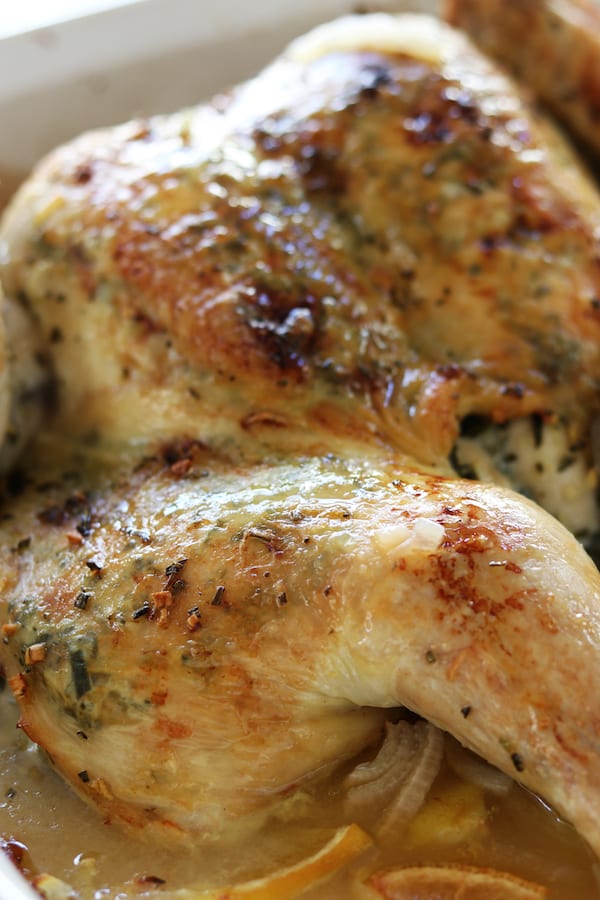 This post may contain affiliate links which I earn a small portion in sales if a purchase is made. Rest assured though, it is never at any additional cost to you.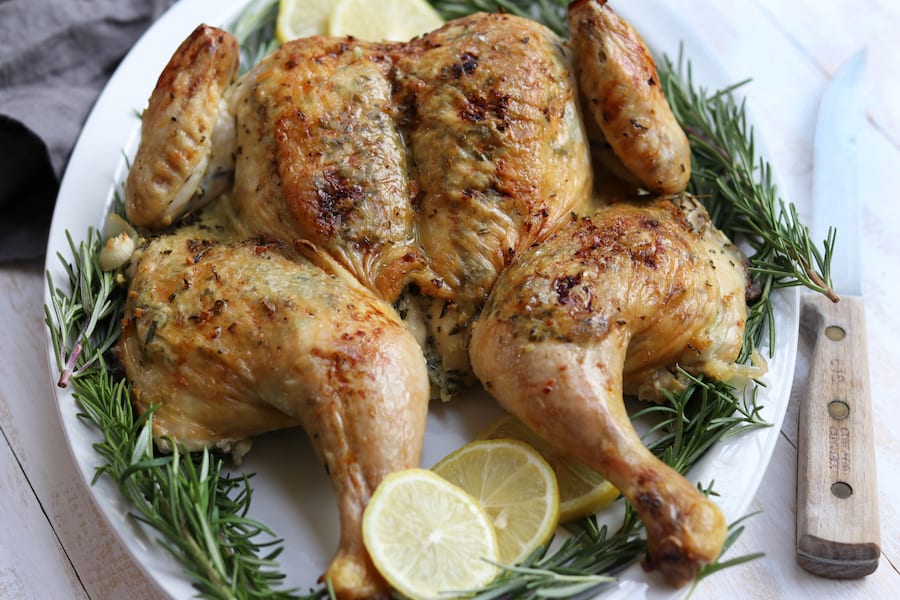 The inspiration for this Rosemary Lemon Garlic Chicken came from a few different places. First off, if you haven't visited Hey Grill, Hey and Susie's awesome grilling techniques, you are missing out. She is an expert with meats and needless to say, grilling. Watching her Spatchcock Smoke Roasted Turkey video made me so intrigued with this cooking method. Around the same time my brother starting talking about the same cooking method and on the heels of that, Ina Garten did it with her Roasted Lemon Chicken recipe. With so many people talking about and doing this new hot cooking method I knew I needed to try it. This Rosemary Lemon Garlic Chicken takes the classic flavors of the Mediterranean with a fun and faster cooking approach.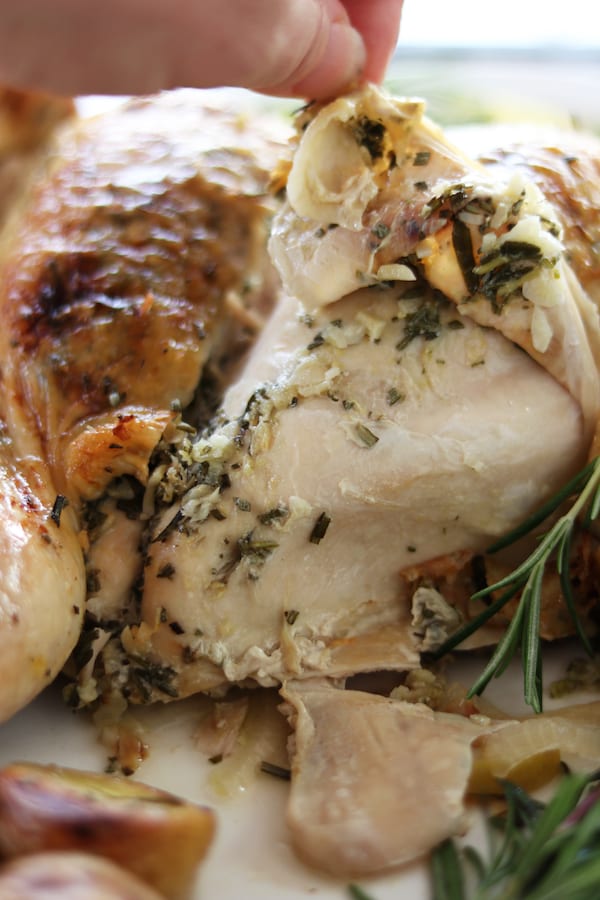 Tips about Rosemary Lemon Garlic Chicken:
To answer the very first question you may be asking, spatchcock technique is basically butterflying (cutting the backbone out) a whole chicken

and roasting it breast side up at a higher temperature.

You can either have your butcher cut the backbone out or it can be done with a sharp pair of kitchen scissors by cutting down one side of the spine and then repeating with the other side. (affiliate) Pro Tip: Keep in mind that you will want to flatten the chicken even more by turning the chicken breast side up and pressing down on breast meat until you hear a crack. Also make sure to tuck wings in to prevent burning.
Don't throw out the backbone but instead save it to make an awesome homemade broth later. Just throw it in a freezer bag and save for when you have enough to boil into a rich broth.
My favorite part of the spatchcock roasting method is being able to really get the rosemary, lemon and garlic deep under the skin. The result, an incredibly flavorful and juicy bird.
The addition of onion, lemon slices and lemon juice under the chicken creates a wonderful dipping juice and imparts even more flavor into the meat.
I LOVE, LOVE, LOVE using the leftovers to make Pecan Cranberry Chicken Salad.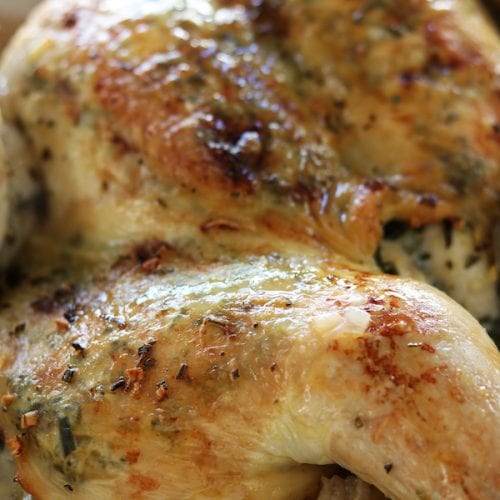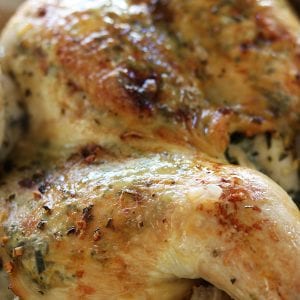 Rosemary Lemon Garlic Chicken
Tender, flavor infused chicken special enough for a Holiday but simple enough for a weeknight meal.
Print
Pin
Rate
Ingredients
2 1/2

lb

whole chicken

1

med brown onion

2

lemons

4-5

garlic cloves

3

fresh rosemary sprigs

1/3

cup

olive oil

salt & pepper
Instructions
Preheat oven to 425℉.

Zest lemons. Cut 1 into thin wedges and juice the other. Set lemon juice & slices aside. Mince garlic and rosemary. Mix together zest, rosemary and garlic- set aside.

Peel and slice onions. In a large baking or roasting pan layer onion and lemon slices.

Place chicken on cutting board breast side down. With a sharp pair of kitchen shears cut along one side of back bone and then along other side to completely remove spine. Turn chicken over and press down on breast meat until you hear a crack. Tuck wings tips under body of chicken.

Place chicken on top of lemon and onion slices, breast side up. Carefully loosen skin from meat. Gently place rosemary, garlic, zest mixture in between skin and meat making sure to cover as much of the chicken as possible.

Drizzle olive oil over the top of chicken and message into skin. Salt and pepper.

Bake in a 425℉ oven for approximately 25-30 mins. Halfway through baking add lemon juice to the bottom of the roasting pan and continue baking.

Cooking time is an approximation and meat should reach an internal temperature of 165℉ using a meat thermometer.
Notes
*Please use as many organic ingredients as possible.*
Nutrition
Calories:
242
kcal
|
Carbohydrates:
4
g
|
Protein:
13
g
|
Fat:
19
g
|
Saturated Fat:
4
g
|
Cholesterol:
51
mg
|
Sodium:
49
mg
|
Potassium:
192
mg
|
Fiber:
1
g
|
Sugar:
1
g
|
Vitamin A:
95
IU
|
Vitamin C:
17
mg
|
Calcium:
20
mg
|
Iron:
1
mg
This recipe is part of Meal Plan Monday.