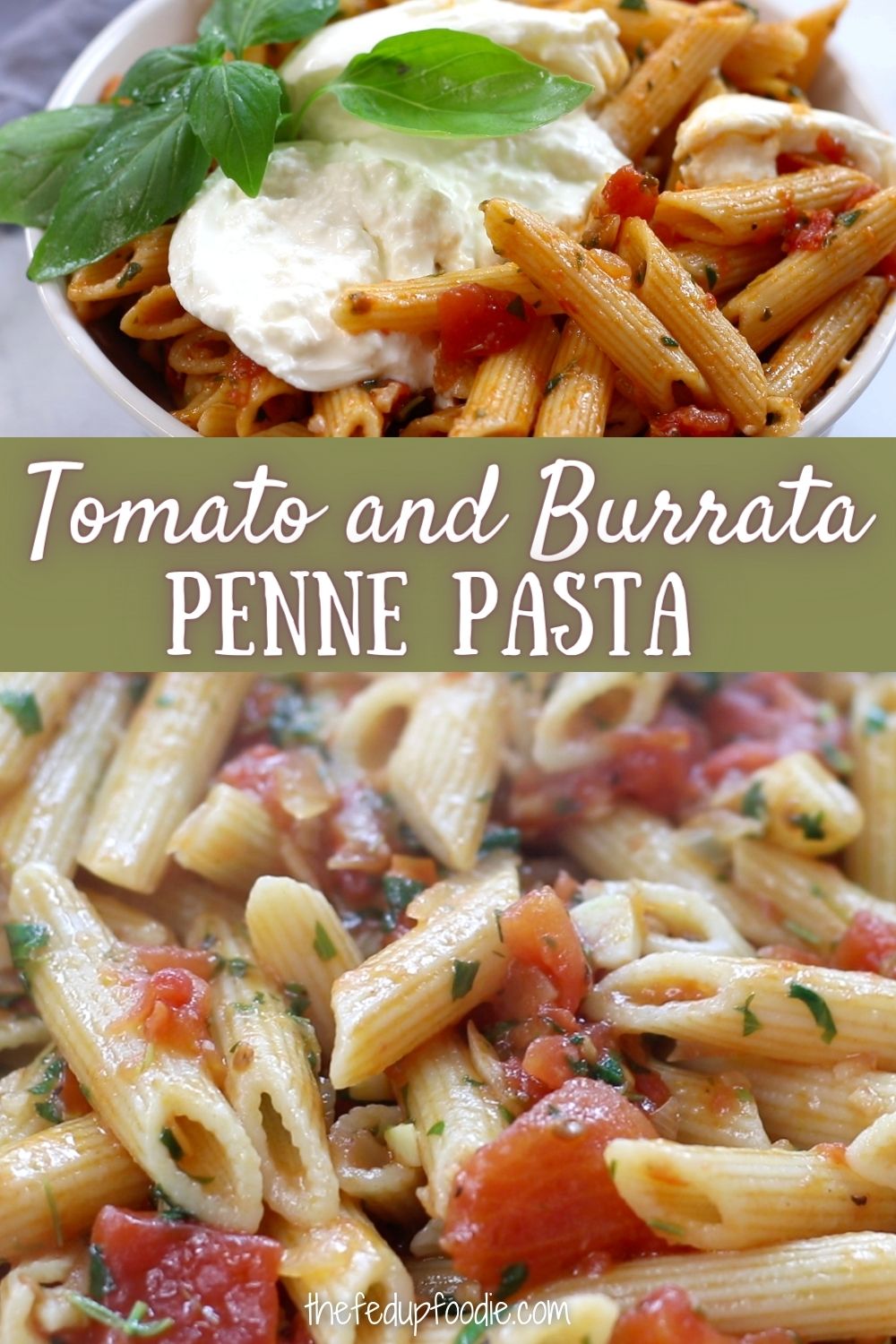 Tomato and Burrata Penne Pasta is a quick and light homemade Italian meal that the whole family will adore. So easy and delicious with fresh herbs and al dente pasta. Top with creamy burrata and you will feel like your eating dinner at an Italian sidewalk cafe.
Serve this delicious Italian pasta with Homemade Garlic Bread, Italian Sautéd Spinach or a side salad with a simple Lemon Vinaigrette as a complete meal. Also, we love having Italian Lemon Pound Cake or Sgroppino for dessert when feasting on Italian cuisine.

This post may contain affiliate links which I earn a small portion in sales if a purchase is made. Rest assured though, it is never at any additional cost to you.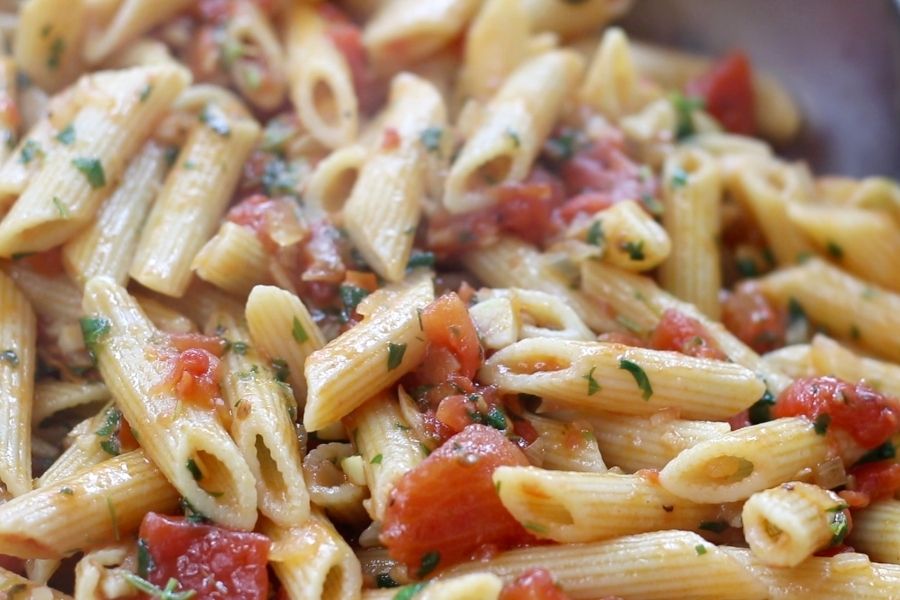 Ingredients Needed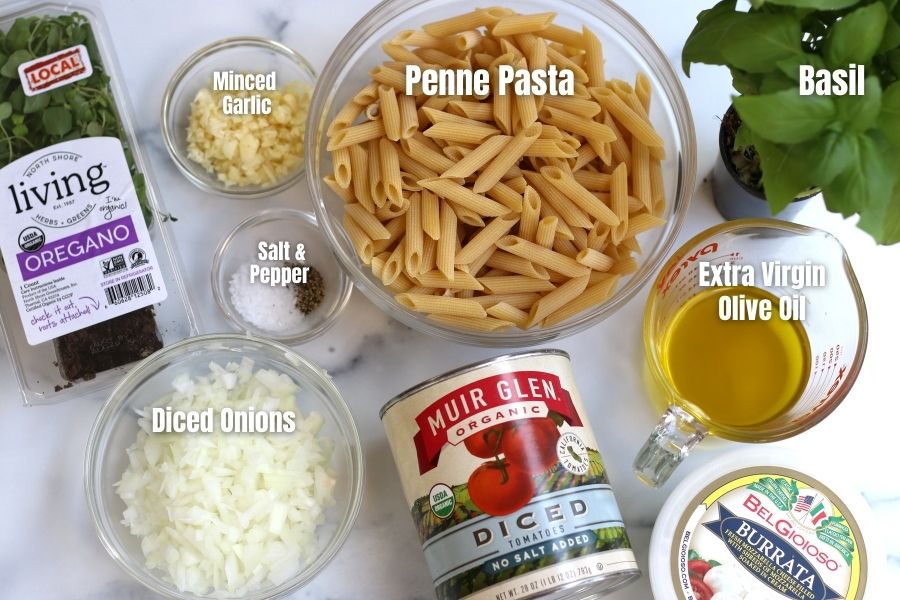 Penne Pasta– Penne noodles are a pasta shape that most grocery stores will carry. However, Cavatappi and Rigatoni also work well with this recipe.
Extra Virgin Olive Oil– There is nothing like using a good quality olive oil in your pasta for both the flavor and health benefits. You will know you have a good quality olive oil when the estate name or mill name is on the bottle along with a harvest date. Olive oil does not have a long shelf life, so the harvest date should be relatively close to the day you purchase.
Brown Onion– Also known as a yellow onion.
Garlic Cloves– Depending on the size of the garlic cloves, approximately 4-6 will be needed to achieve 2 tablespoons of minced garlic.
Canned Diced Tomatoes– As far as canned diced tomatoes I adore Muir Glen because of their quality. Cento San Marzano canned tomatoes are exceptional also. With whole canned tomatoes the easiest way to process them is opening the can and then carefully inserting a clean pair of kitchen shears into the can to cut the whole tomatoes.
Fresh Oregano and Basil– If at all possible use fresh basil and oregano because they add incredible flavor. However, I have used dried herbs many times when making this pasta and it is still very tasty.
Salt and Pepper
Burrata Cheese– Without the cheese this pasta is still scrumptious. Yet with the creamy burrata cheese, it is over the top delicious.
How to Make Tomato and Burrata Penne Pasta
Bring a large pot of water to boil. Once boiling heavily salt the water and cook to al dente following the instructions on the package.
Meanwhile, heat a large frying pan over medium-high heat with 2 tablespoons of olive oil. Add onions and sauté until softened, about 3-4 minutes.
Add garlic to onions and continue sautéing another 2 minutes.
Raise heat to high and add in diced tomatoes.
Sprinkle in salt and pepper and cook the tomatoes stirring frequently until they have softened, about 7-8 minutes.
Within the last few minutes of simmering add in an additional 2 tablespoons of olive oil and the fresh herbs.
Once the herbs have cooked for a few minutes take sauce off of heat and add in the al dente pasta.
Add burrata to pasta and serve individual portions with the desired amount of cheese for each serving.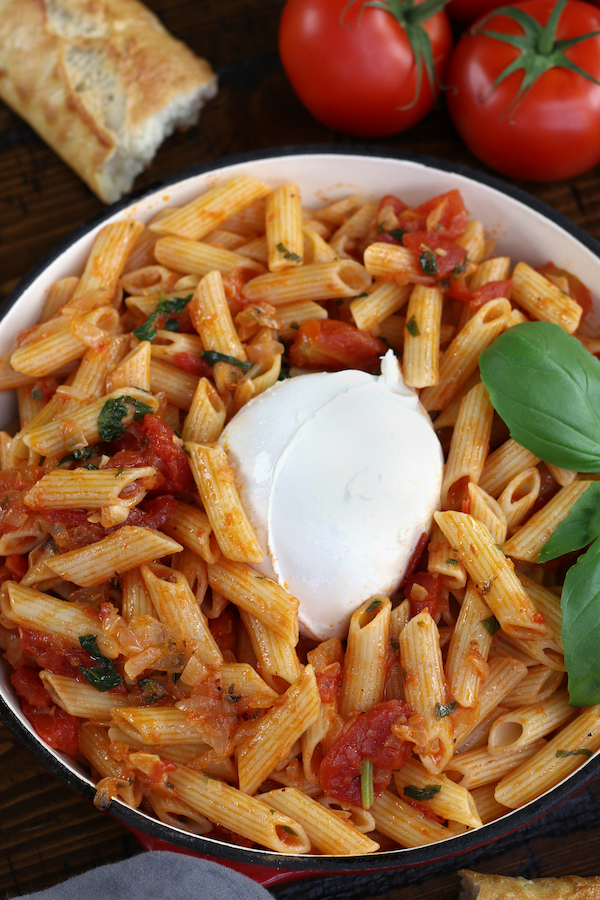 Using Fresh Tomatoes Instead of Canned
To make enough sauce for 1 lb of pasta follow these steps:
Bring a large pot of water to a boil and prepare a large bowl of ice water. The ice water will shock tomatoes after being boiled to stop the cooking process.
Score the bottoms of 12 large Roma tomatoes (15-18 if small) or vine ripened tomatoes. Place tomatoes into boiling water for 1-2 mins or until skin starts to become loosened.
Remove tomatoes from boiling water and place directly into ice bath using this tool. Let tomatoes sit in ice bath long enough to cool completely, approximately 5 minutes.
Remove from ice bath, peel skin and dice tomatoes.
Follow remaining steps of recipe below.
Burrata Cheese
What is Burrata?
Burrata is a soft, creamy cheese made from mozzarella and has a fresh cream filling. It literally melts in your mouth and accompanies this pasta dish extremely well. For this recipe I used an 8 oz Burrata ball but I highly recommend using up to 16 oz (or 2- 8oz balls) if members of your family adore mozzarella.
Where to Buy Burrata Cheese
Larger grocery stores will carry burrata in their gourmet cheese section where other fine cheeses and meats are sold. If you live in a smaller community, your best bet would be to find an Italian deli. Amazon does sell it, however it is extremely expensive to order through them.
Variations
This pasta as written, is amazing. However, there are lots of fun ways to make it more personalized to your taste preferences. Here are just a few ideas.
White Wine– Add in a 1/2 cup after sautéing both the onion and garlic.
Red Chili Pepper Flakes– Stir in at the same time as the salt and pepper.
Parmigiano-Reggiano– Instead of using burrata, grate fresh Parmigiano-Reggiano over the top.
Shrimp– Sauté in the olive oil on medium heat before the onions for approximately 3 minutes per side. Once cooked remove from pan and set aside. Add the cooked shrimp at the very end once the pasta is taken off of the heat.
Cubed Chicken Pieces– Salt and pepper the chicken and then cook in olive oil over medium-high heat until browned, approximately 5-7 minutes. Remove from the pan and continue with sautéing onions. Add chicken pieces back onto sauce before adding fresh herbs.
Italian Sausage– Cook over medium-high heat with one tablespoon of olive oil until browned, about 8-9 minutes. Removed from pan with a slotted spoon. Add an additional 1-2 tablespoons of oil and precede with sautéing the onions. Add the browned sausage into the tomatoes at the same time as the salt and pepper.
Canned Clams– Open cans and drain of excess liquid. Add at the same time as the fresh herbs.
Commonly Asked Questions
What does al dente pasta mean?
It is Italian for "to the tooth" and it means cooking the pasta to the point that it has a slight bite to it. In other words, the pasta is tender but will have a slight firmness when chewed.
Should I rinse the pasta?
There is quite a bit of debate about whether to rinse pasta or not. There are times when it is beneficial, such as when cooking Asian noodles. However, when making hot pasta it is advisable to not rinse because that will wash away both the salt that flavors the noodles and the starchy film that helps the sauce adhere to the pasta.
Can dried herbs replace fresh herbs?
Absolutely! For a more intense Italian flavor use 2- 2 1/2 tablespoons of both dried basil and oregano to replace the fresh herbs or 1 tablespoon of each for those who enjoy a lighter herb flavor.
How do I freeze this penne pasta dish?
Leftovers will freeze beautifully in individual glass freezer containers for up to 3 months or in the refrigerator for 3-4 days.
More Delicious Pasta Recipes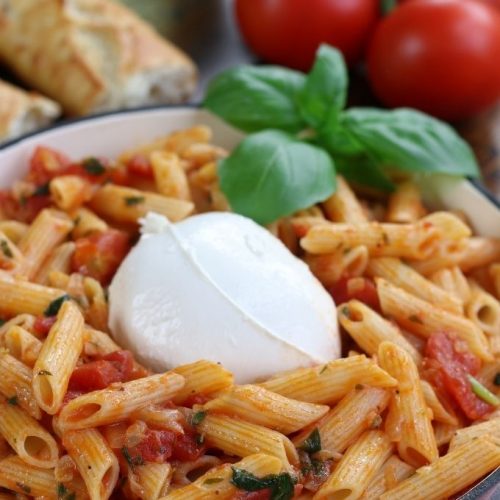 Tomato and Burrata Penne Pasta
Tomato and Burrata Penne Pasta is a quick and light homemade Italian meal that the whole family will adore. So easy and delicious with fresh herbs, al dente pasta and creamy burrata.
Print
Pin
Rate
Ingredients
For the Pasta
1

lb

penne pasta

5-6

quarts

water

*See Note #1 below
For the Sauce
1

med

brown onion

*diced, about 1 cup

2

tbsp

minced garlic

*about 4-6 garlic cloves

4

tbsp

extra virgin olive oil

*divided

1

28 oz can

diced tomatoes

*with juice

1/2

cup

fresh oregano

*roughly chopped

3

springs

fresh basil

*roughly chopped or torn, about 1/2 cup, See Note #3 below for amounts of dried herbs

salt & pepper

*to taste, See Note #2 below

2

8oz

Burrata balls
Instructions
Pasta
Bring a large pot of water to boil. Once boiling, add in salt and pasta. Cook to al dente following instructions on package making sure to stir occassionally. Drain and set aside.
Sauce
Meanwhile, heat a large frying pan over medium high heat. Add 2 tbsp oil and sauté onions until softened, about 3-4 mins. Add in garlic and continue sautéing until onions reach semi-translucent stage, about another 2 mins.

Raise heat to high and stir in diced tomatoes along with juice. Sprinkle in salt and pepper. Stirring frequently, cook tomatoes until they have softened, about 7-8 mins.

Add in the remaining olive oil and fresh herbs. Continue simmering for 2 minutes.

Take off heat and stir in al dente pasta. Add burrata. Serve desired amount of cheese per portion.
Notes
Recipe Notes Note #1- Cooking the pasta in heavily salted water helps to flavor the pasta without the risk of too much sodium.  Note #2- Use approximately 1/2- 1 teaspoon of salt and 1/8 teaspoon of black pepper.  Note #3- Use 2- 2 1/2 tablespoons of both dried oregano and basil to replace the fresh herbs. If sensitive to either of these herbs knock the amount down to 1 tablespoon. 
Nutrition
Calories:
386
kcal
|
Carbohydrates:
62
g
|
Protein:
11
g
|
Fat:
11
g
|
Saturated Fat:
2
g
|
Cholesterol:
1
mg
|
Sodium:
6334
mg
|
Potassium:
256
mg
|
Fiber:
4
g
|
Sugar:
3
g
|
Vitamin A:
94
IU
|
Vitamin C:
2
mg
|
Calcium:
118
mg
|
Iron:
3
mg