A fusion of Latin and Italian cuisine, this Prawn and Chorizo Pasta is packed with flavorful comfort. Bright, savory and slightly spicy, this recipe is special enough for a holiday and yet simple enough for a weeknight.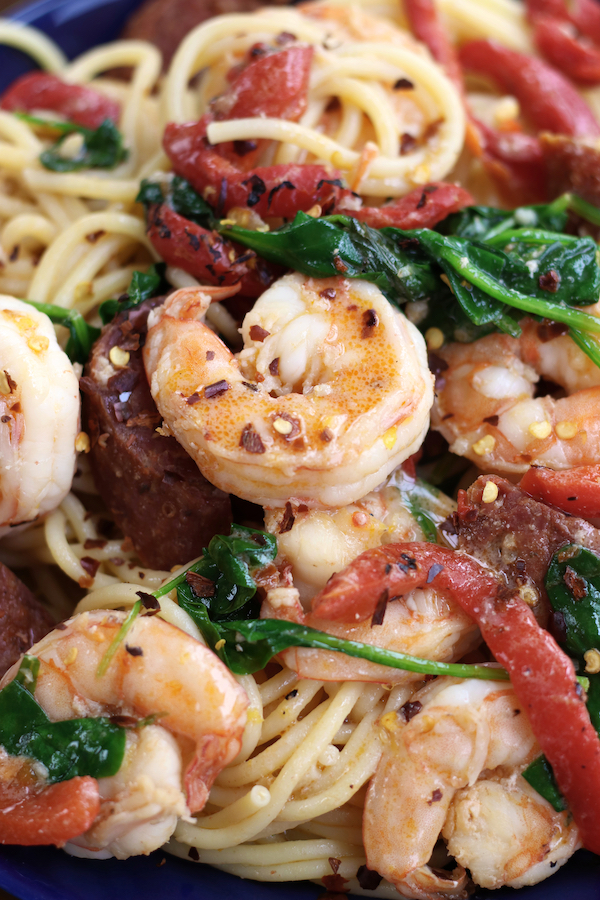 This post may contain affiliate links which I earn a small portion in sales if a purchase is made. Rest assured though, it is never at any additional cost to you.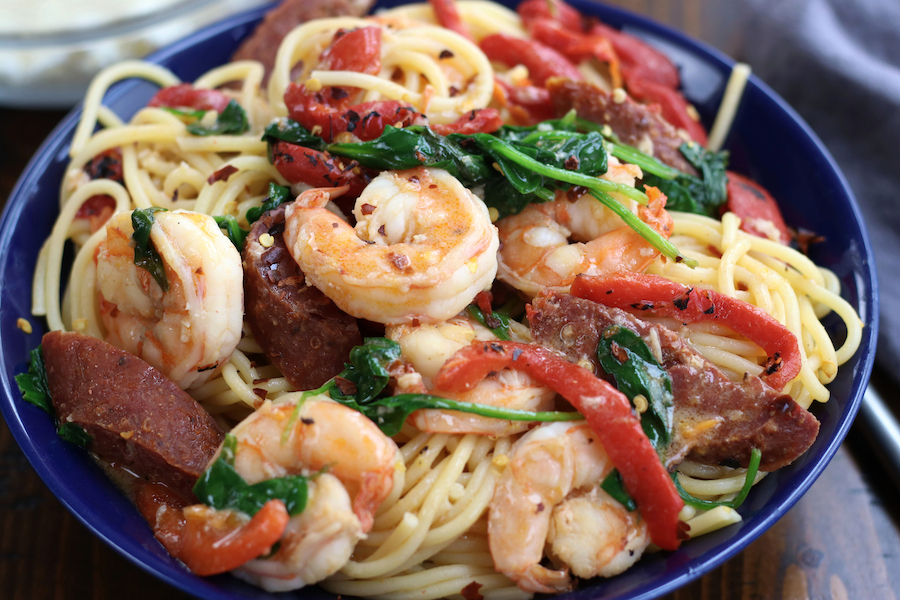 Want to know a secret?
Pretty sure that pasta is one of my brother's and my love languages. We adore pasta in any way shape or form.
A sure fire way to make our Italian hearts happy is to serve us dishes like Lemon Garlic Pasta or Gnocchi Asparagus and Mushroom Skillet for dinner.
Also, we both love that pasta recipes like Spaghetti alla Puttanesca and Tomato Caper Pasta because they are incredibly simple and yet special enough for the holidays.
Interestingly though, both of our mates were not overly excited about pasta until us. Fast forward to today and I can barely finish making recipes like my Bacon Belly Button Pasta Salad before everyone starts attacking it with a fork.
This Shrimp and Chorizo Pasta is no exception. With all the layers of flavors it has moved to the top of the list of comfort foods.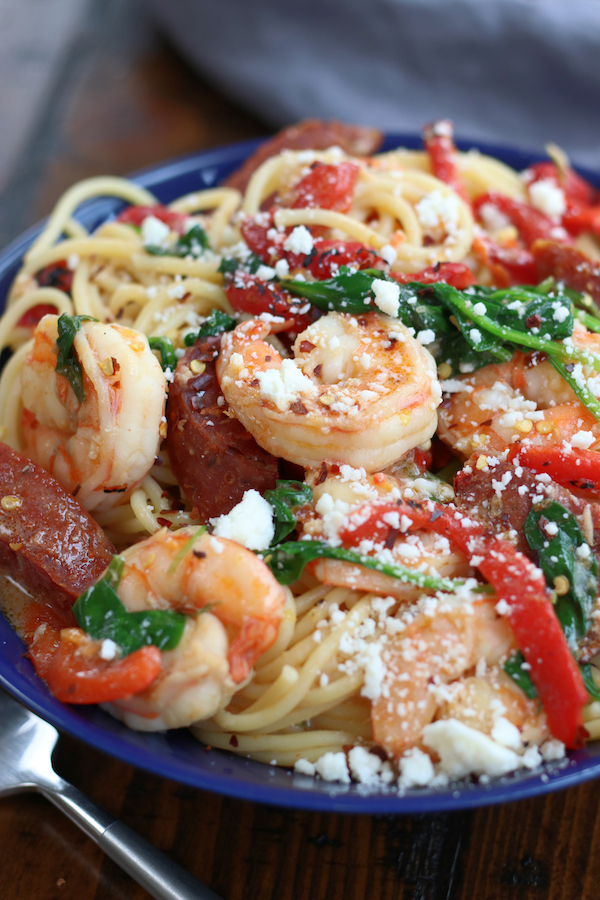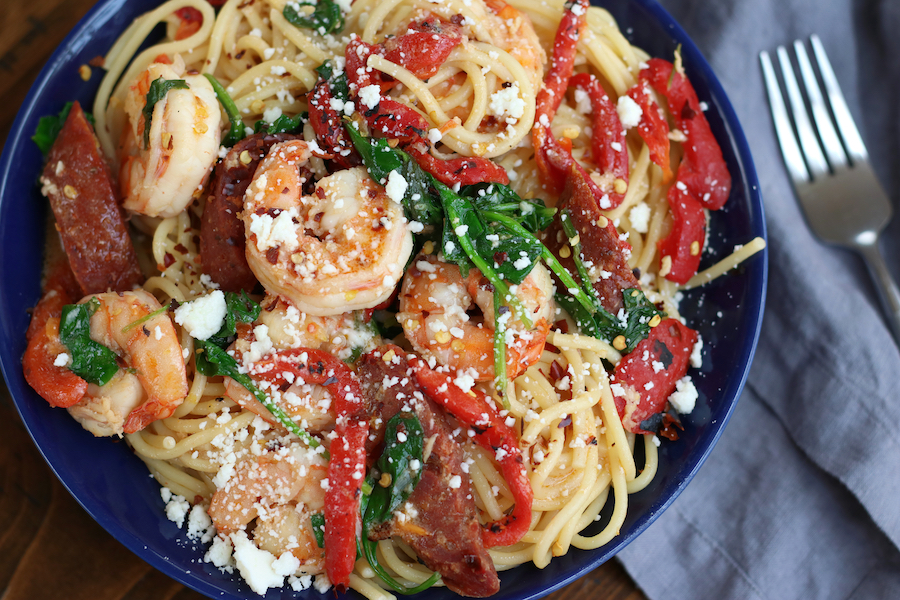 What are Prawns
Prawns are crustaceans that are very similar to shrimp in taste, texture and often size. However, they are not the same animal. Interestingly though, they are so similar that they can often be used interchangeably in recipes. For this pasta dish, either may be used and most readers in the U.S. will find shrimp to be much more readily available.
Size of Shrimp to Use
The sizing of shrimp come in both names like Jumbo and Extra Jumbo. However, this is not always consistent from one shrimp brand to another. What is consistent in sizing is the number count assigned to the shrimp. For example, 16/20 count means that there are 16-20 shrimp per pound. The smaller the number, the larger the shrimp. 13/15 count would mean that there are 13-15 shrimp in 1 pound or in other words, colossal shrimp. For this recipe 16/20 count or 21/25 count work beautifully.
Pro Tip: Buying 16/20 count wild caught shrimp can be expensive. However, Sprouts Farmers Market often puts these shrimp on sale at least once a month and sometimes twice a month. To help keep costs down, watch the ad and the ask for the frozen 2 pound bag rather than what is displayed at the seafood counter.
Prawn and Chorizo Combination
The act of cooking the prawns (or shrimp) in the chorizo drippings creates amazing flavorful shrimp. This is in part due to the rendered fat from the chorizo and all the incredible spices that chorizo contains. Because either style of chorizo may be used for this recipe (see directly below), it is important to note that the Mexican style chorizo will be a little more challenging to remove from the frying pan. This tool will allow for much easier removal.
Types of Chorizo
For this recipe, either Salami Style (as seen in photos) or Mexican Style Chorizo may be used. Although different, both have wonderful flavors that help to create a delicious pasta dish. However, here are a few things to consider for each type of Chorizo.
Salami Style- Salami style chorizo is a dry, Spanish style meat made with chopped and cured pork. Because of this, it can be sliced into chunks that hold their shape. However, some brands tend to be on the saltier side. For anyone who is trying to watch their sodium levels, this is not the ideal salami to use.
Mexican Style- Mexican style chorizo is made from fresh ground pork and must be cooked before eating (unlike the salami style that can be eaten without cooking). It is predominately seasoned with dried ground chilies and smoked paprika. If purchasing in the store, you will find it in a casing similar to Italian Sausage. It can either be cut in the casing and then cooked or removed and cooked into crumbles.
Pro Tip: Did you know that making Chorizo at home is extremely easy and allows you to use quality ingredients?
Prawn and Chorizo Pasta with Lemon, Spinach and Roasted Red Bell Pepper
I am extremely passionate about sneaking in nutrition to my family in ways where they do not feel like I am shoving healthy eating down their throats. Any opportunity I can find to squeeze in more veggies or add in more nutrient dense ingredients I will take. You can see this reflected in recipes like my Super Healthy Broccoli Salad, Creamy Pesto Vegetable Pasta and Guacamole Chickpea Salad Sandwich. This Prawn and Chorizo Pasta is no exception. The addition of roasted red peppers and spinach adds in a wonderful flavor and a healthy dose of nutrition.
Levels of Spiciness
The addition of crushed red chili pepper flakes adds in layer of heat that makes this pasta even more interesting. However, if you are spice-sensitive it is best to lower the crushed red chili pepper flakes down to 1/2 tsp or eliminate it all together. Additionally, if using Mexican chorizo or a hotter version of chorizo, it is best to proceed cautiously with the crushed red chili pepper flakes. Although, if you love spice, kick up to 2-3 tsp.
Pasta Variations
In all honesty, any type of pasta can be used for this recipe. In addition to spaghetti, some of my favorite pastas to use are linguine, fusilli, bucatini and I cannot forget my all-time favorite, Pici Pasta.
When To Serve Prawn and Chorizo Pasta
This pasta dish is so easy it can be done on a weeknight. However, it does feel a little more elegant than your average weeknight meal. Because of this, this recipe would be wonderful for a date night in or a holiday where non traditional types foods are served. For us, this would be perfect on New Years Eve or Valentines Day.
What To Serve with This Pasta Dish
This pasta dish is wonderful on it's own. However, the addition of Italian Sautéed Baby Spinach, Roasted Zucchini Slices or Strawberry Walnut Salad can be a fun way to increase veggie consumption. Also, a crusty baguette or garlic bread is the perfect side dish for a special occasion.
If you enjoyed this pasta dish please let me know by leaving a comment and review below. Doing so helps to encourage others to make the recipe also. Thank you!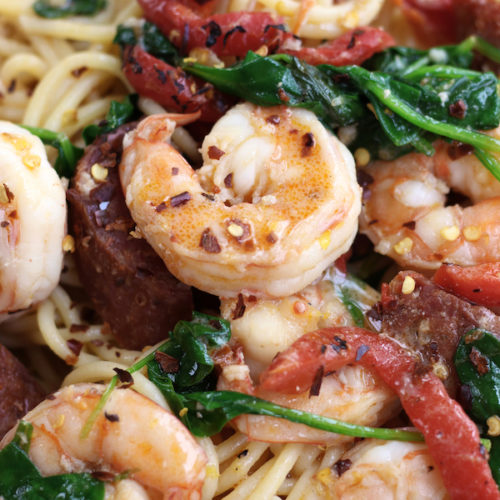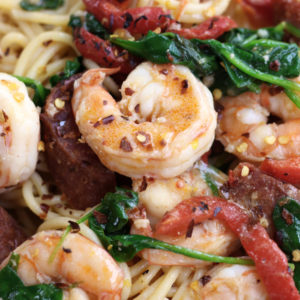 Prawn and Chorizo Pasta
Cooking the shrimp in the chorizo's drippings adds an extra layer of wonderful flavor to this Prawn and Chorizo Pasta. All the flavors then marry beautifully with the addittion of garlic, lemon and sherry. This meal is simple enough for a weeknight and special enough for a Holiday.
Print
Pin
Rate
Ingredients
1

lb

spaghetti noodles

*or pasta of choice

2

tbsp

olive oil

1

lb

Chorizo (either Salami style or Mexican Style)

*Mexican Style Chorizo recipe

2

lbs

jumbo raw shrimp 16/20 count

*peeled and deveined

1

tsp

crushed red chili pepper flakes

1

tsp

sea salt

*or pink himalayan salt

1/2

tbsp

lemon zest

*about 2 sm lemons or 1 lg

6

cloves

garlic

*crushed

1/3

cup

lemon juice

1/2

cup

sherry

16

oz

roasted red bell peppers

*cut into strips

8

oz

baby spinach

garnish with Cotija Cheese
Instructions
If using frozen shrimp, defrost in a colander placed over a large bowl over night or in a bowl of water placed in the refrigerator for 2-3 hours. Peel off outer shell and using a small pairing knife carefully devein. Give each shrimp a final rinsing and place back into a clean colander/bowl to drain of excess water. Refrigerate until needed.

Bring a large pot of water (approximately 5 qts) to a boil for the pasta. Once boiling, heavily salt the water and cook to al dente following instructions on the package.

If using Salami Style Chorizo, cut into bize size pieces (see recipe notes for Mexican Style Chorizo instructions). Heat a lg frying pan over med/high heat. Add oil and salami. Fry on both sides for 2-3 mins until browned and fat has rendered. Remove chorizo from pan using tongs and place pan back on heat.

To the chorizo drippings add cleaned shrimp. Sprinkle in salt and crushed red chili pepper flakes. After 2-3 mins add in garlic and lemon zest and continue cooking for another few mins. Pour in sherry and lemon juice and add in chorizo. Stir well.

Once most of the pink has dissappeared from the shrimp add in spinach and roasted red peppers. Stirring occassionally cook until spinach has wilted, about 3-4 mins.

Toss in noodles and garnish with cheese.
Notes
*Please use as many organic ingredients as possible. 
Recipe Notes
This recipe is a quick under 30 mins meal. However, the cleaning of the shrimp is what takes the most time. If cleaning and deveining smaller shrimp allow for extra time. 
Cotija cheese is a Mexican cheese that is salty and crumbles well. Use sparingly for anyone who is sensitive to sodium. 
Instructions for Mexican Chorizo- Heat a large frying pan over medium/high heat. Add oil and chorizo. Remove from casing and break up sausage with a spatula as it is being cooked. Cook for approximately 5-6 mins and the remove with a slotted spoon leaving the fat drippings in the pan. Proceed cooking the shrimp as written in the recipe. 
Nutrition
Calories:
562
kcal
|
Carbohydrates:
49
g
|
Protein:
40
g
|
Fat:
20
g
|
Saturated Fat:
6
g
|
Cholesterol:
321
mg
|
Sodium:
2380
mg
|
Potassium:
488
mg
|
Fiber:
3
g
|
Sugar:
2
g
|
Vitamin A:
3257
IU
|
Vitamin C:
44
mg
|
Calcium:
233
mg
|
Iron:
5
mg