Incredibly easy to make and so full of flavor, these Roasted Zucchini Slices are as healthy as they are delicious. Flavors of garlic, thyme and parmesan. We love zucchini cooked like this.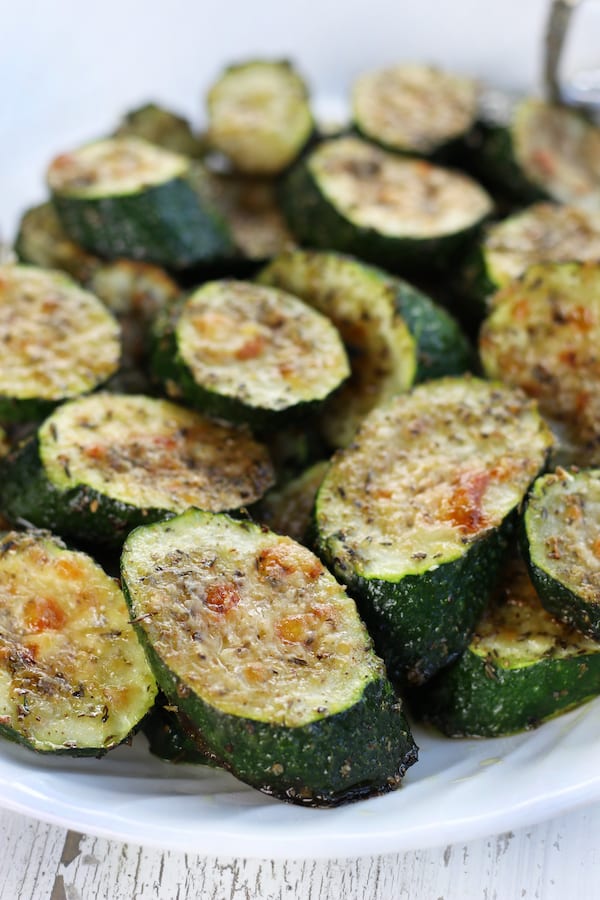 This post may contain affiliate links which I earn a small portion in sales if a purchase is made. Rest assured though, it is never at any additional cost to you.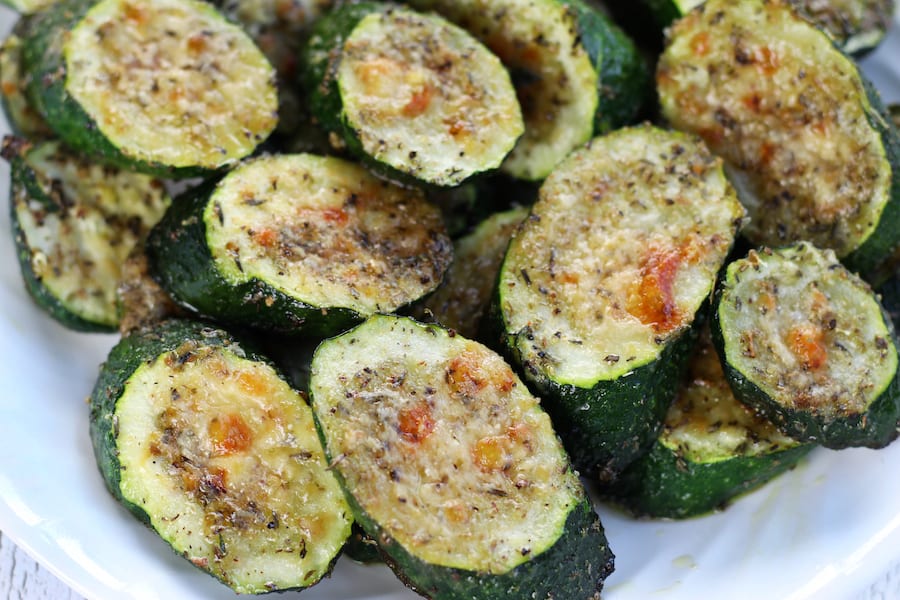 Zucchini season is upon us my friends and I am always amazed by the super creative and ingenious creations people come up with to utilize this popular veggie.
But here is the deal, while everyone else out there is making recipes like zucchini wedding cake and zucchini cream puffs, I am just over here still enjoying the simplicity of Roasted Zucchini.
Done with herbs, spices, parmesan and oil, these Roasted Zucchini Slices make an easy and delicious side dish next to all kinds of main dishes.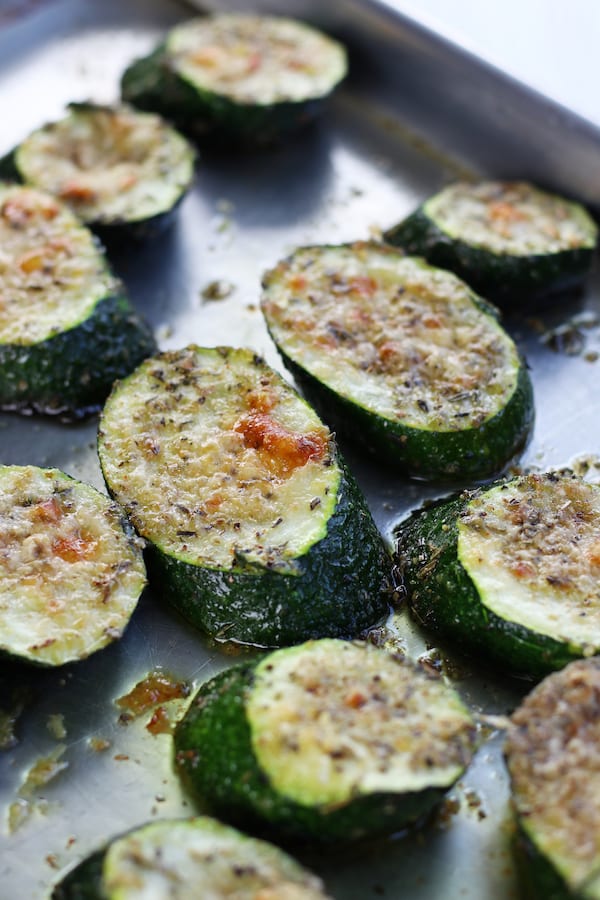 Zucchini Season
Here in the U.S. zucchini is in season from June to late August, however many will still find it available year round from imported sources. Needless to say, summertime is the perfect time to utilize cooking with zucchini.
How to Pick Zucchini
If you are fortunate enough to have a friend or family member gift you zucchini from their garden then these tips may not apply as much to you. When purchasing zucchini in the store look for these traits.
Small zucchini, about 6-8 inches will be the sweetest.
Look for dark green smooth skin (shriveled skin is not a good sign).
Zucchini should be heavy for its size.
How to Store Zucchini
When bringing zucchini home from the grocery store do not wash them. Store them in the produce drawer in an open produce bag or even better, these bags. Zucchini will generally last about a week, uncut and uncooked. Once cooked, use a within a day or two.
Zucchini Nutrition
Low in calories and high in antioxidants, vitamins and minerals are just some of the benefits to incorporating zucchini into your summer diet.
For those trying to lower blood sugar levels, replacing pasta with zucchini noodles while following a low carb diet may help immensely. Additionally, the fiber in zucchini may help to increase insulin sensitivity while also helping to stabilize blood sugar levels.
Protein
For each cup of cooked zucchini there is 1 gram of protein. Although modest in protein levels, it is important to remember that the average adult only needs 0.8 grams of protein for each kilogram of body weight.
Calories
My favorite part of zucchini outside of how tasty they are in this Roasted Zucchini Slices recipe is that they only have 17 calories for 1 cup cooked.
For this Roasted Zucchini Slices recipe there are approximately 145 calories per serving.
How to Cut Zucchini for Roasted Zucchini Slices
Before cutting, make sure to wash thoroughly and then cut off both ends of zucchinis. To make slices, carefully cut zucchinis diagonally with your chefs knife at a 45 degree angle in about 1 inch thickness. The reason for this cut is more surface area for the spices and parmesan to adhere to and it is creates a beautiful zucchini slice that is quite impressive.
How Long to Roast Zucchini Slices
Total roasting time will depend on how accurate the oven temperature is and how firm you prefer your zucchini. Because of this total roasting time will take from 15-19 minutes.
Additional Tools for Roasting Zucchini
What to Serve with Roasted Zucchini Slices
More Delicious Vegetable Recipes
Balsamic Grilled Brussel Sprouts
Blueberry Basil Chopped Veggie Salad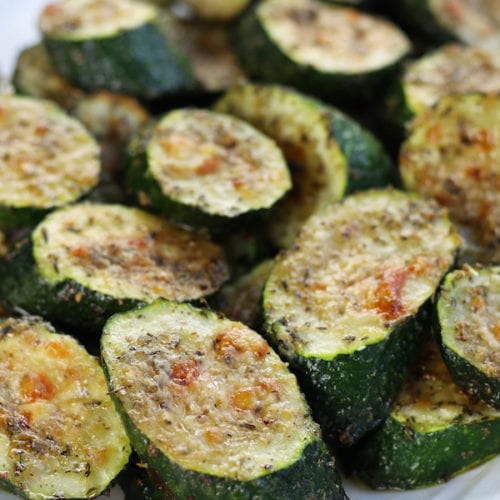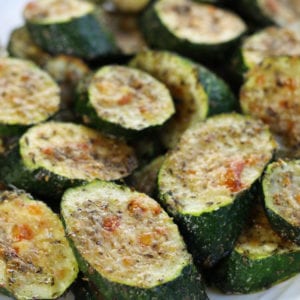 Roasted Zucchini Slices
Incredibly easy to make and so full of flavor, these Roasted Zucchini Slices are as healthy as they are delicious. Flavors of garlic, thyme and parmesan. We love zucchini cooked like this.
Print
Pin
Rate
Ingredients
4

med sized

zucchini

3

tbsp

high heat oil

1/2

tsp

garlic powder

1

tsp

oregano

1/2

tsp

thyme

1/4

tsp

black pepper

1/8

tsp

cayenne pepper

1

tsp

sea salt

1

cup

finely grated parmesan
Instructions
In a mixing bowl whisk togther oil, spices and salt.

Wash and cut ends off of zucchini. Using a chefs knife carefully cut 1 inch zucchini slices at a 45 degree angle.

Toss zucchini in oil making sure to coat all sides and lay slices flat onto a sided cookie sheet.

Grate parmesan and sprinkle over tops of zucchini slices.

Roast for 15-19 mins or until desired doneness.
Notes
*Please use as many organic ingredients as possible. 
Nutrition
Calories:
130
kcal
|
Carbohydrates:
1
g
|
Protein:
6
g
|
Fat:
11
g
|
Saturated Fat:
3
g
|
Cholesterol:
11
mg
|
Sodium:
655
mg
|
Potassium:
15
mg
|
Fiber:
1
g
|
Sugar:
1
g
|
Vitamin A:
148
IU
|
Vitamin C:
1
mg
|
Calcium:
203
mg
|
Iron:
1
mg