Tips and tricks for making the best Crispy Oven Baked Pork Chops. This recipe is special enough for a dinner party but easy enough for a weeknight dinner. An absolute family favorite.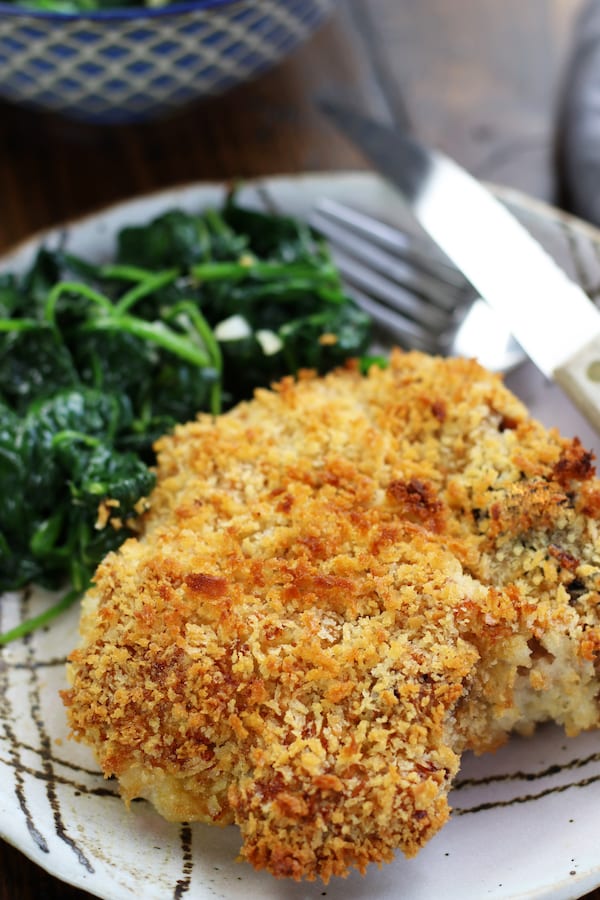 This post may contain affiliate links which I earn a small portion in sales if a purchase is made. Rest assured though, it is never at any additional cost to you.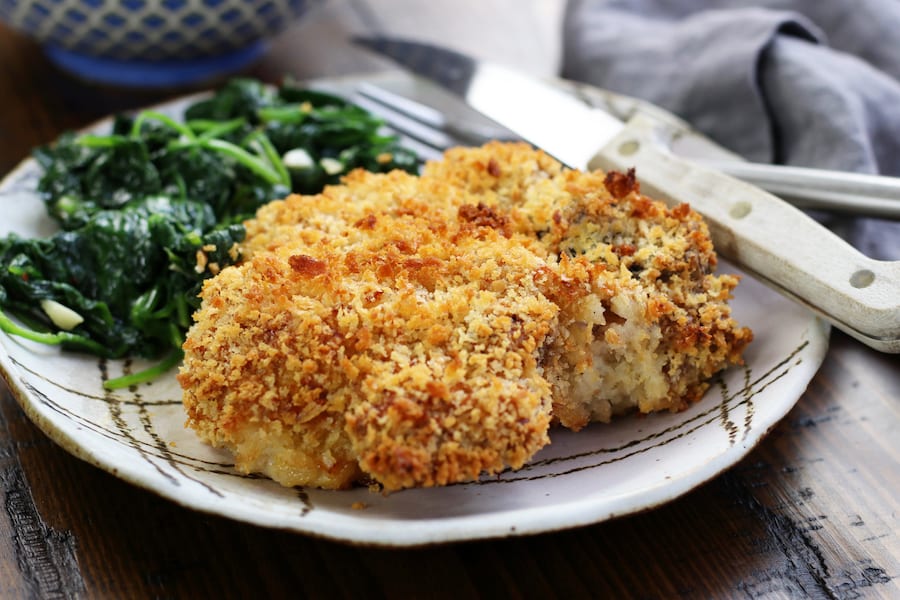 So what do you do when you really love fried food but want to eat healthier?
This is a dilemma that my husband and I come up against every so often.
We both enjoy the comfort element of foods like fried chicken but my word, we definitely need to be careful.
One of the answers I have found is baking with panko.
If done correctly, it can create a light and crispy crust, mimicking being fried but not as heavy.
It absolutely satisfies the craving for fried foods.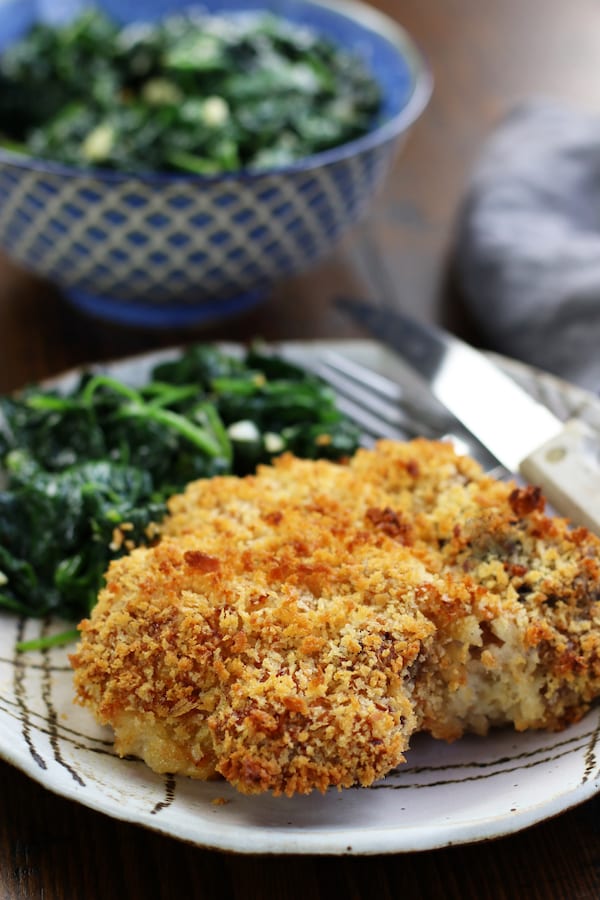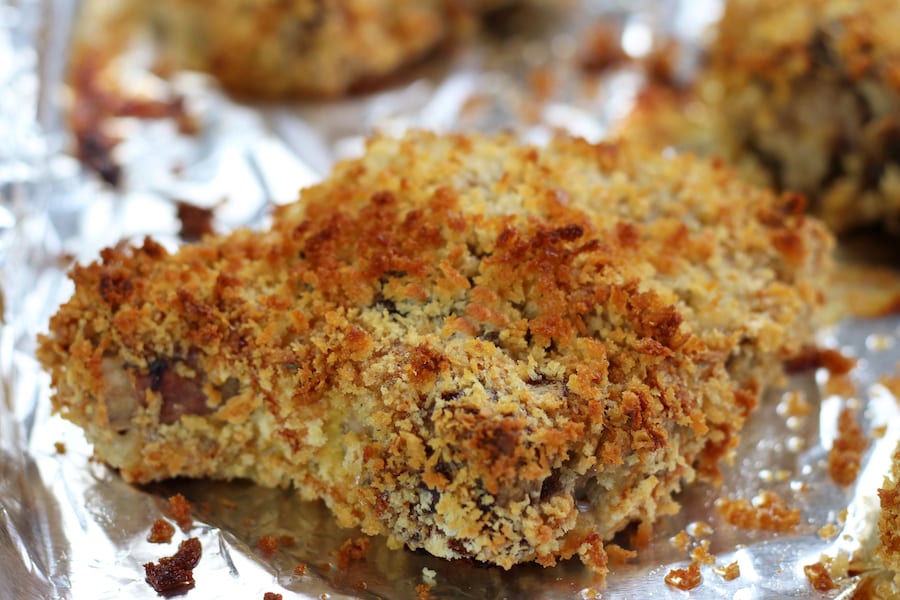 What is Dredging in Cooking
Dredging is the act of coating food with both wet and dry ingredients, making food crispy when baked or fried. The wet ingredients generally consist of eggs or buttermilk. Dry ingredients are flour, herbs, spices, breadcrumbs or Panko.
How To Dredge Pork Chops
Using three separate shallow dishes or plates, mix flour and spices in one dish, whisk eggs in another and place Panko in third dish. (It's a good idea to arrange from left to right with the prepared cookie sheet at the end.)
Dry Pork chops using paper towels.
Dip into flour mixture and then into egg mixture.
Repeat, dipping the chop back into flour and egg mixture (helps to create extra crispy crust).
Place double dipped pork chop into Panko, making sure to thoroughly coat.
Panko vs Breadcrumbs
As a home cook, the most important element to take note of with the difference between Panko and breadcrumbs is texture. Panko is lighter and flakier than traditional breadcrumbs. Both are absolutely fine to use in this recipe and the choice comes down to personal preference.
Why Double Dip When Dredging
Double dipping the chops into flour and then the egg mixture and repeating helps to create an extra crispy and heftier coating that mimics being fried. It is an optional step but makes for an extremely delicious final product.
How Long to Bake Pork Chops in the Oven
Cooking pork chops in the oven is a fast and effective way to get dinner on the table quickly while making everyone happy. Here are a few tips for baking:
Make sure oven is preheated to 425℉.
Cover cookie sheet with aluminum foil and spray with a healthy cooking spray.
Dredge chops and heavily spray tops with the same healthy cooking spray.
Bake for 15-20 minutes or until internal temperature reaches 145℉. Juices from pork chops should run clear when cut into.
Antibiotic Free Pork
There is growing concern for many Americans about antibiotic resistance and how harmful to our health. My biggest suggestion is to buy the best quality of meat you can afford, preferably raised without antibiotics. If within your budget, the best quality of meat that can be purchased within the western half of the United States is from Primal Pastures.
More Delicious Panko Recipes
Sticky Chinese Chicken Fingers
Broiled Scallops with Lemon Parmesan Panko
Fried or Baked Crispy Chicken Strips
One Pan Panko and Green Bean Salad
Crispy Panko Shrimp with Cocktail Sauce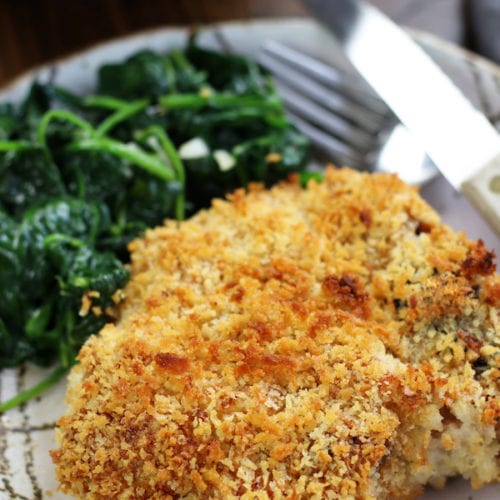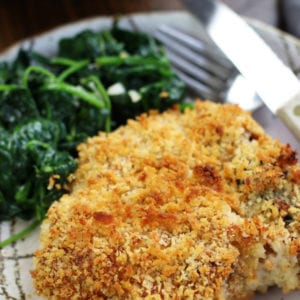 Crispy Baked Pork Chops
Breaded Baked Pork Chops with an extra flakey and crunchy crust that mimics being fried but is much lighter. My family loves the crunch!!
Print
Pin
Rate
Ingredients
4

3/4 inch

bone in pork chops

3/4

cup

flour

1/2

tsp

garlic powder

1/2

tsp

onion powder

1/4

tsp

black pepper

1/2

tsp

sea salt

1/2

tsp

smoked paprika

1/2

heaping tsp

thyme

3

lg

eggs

2

cups

panko

*or breadcrumbs
Instructions
Preheat oven to 425℉. Line a sided cookie sheet with aluminum foil and spray with cooking spray.

Line up 3 seperate shallow dishes. In the first, mix together flour and spices. Whisk the eggs in the second dish and place Panko in third.

Pat pork chops dry using paper towels. Dredge first chop into flour mixture making sure to cover all sides. Then dip into egg mixture, again making sure to cover all sides.

Dredge same chop back into flour and egg mixture (double dipped) and then into Panko. Cover all sides of chop with Panko and place onto prepared cookie sheet.

Repeat steps with all chops. Once dredged, spray the tops of the chops heavily with cooking spray.

Bake in middle of oven for 15-20 minutes or until internal temperature reaches 145℉.
Notes
*Please use as many organic ingredients as possible. 
Nutrition
Calories:
418
kcal
|
Carbohydrates:
40
g
|
Protein:
30
g
|
Fat:
14
g
|
Saturated Fat:
5
g
|
Cholesterol:
73
mg
|
Sodium:
512
mg
|
Potassium:
84
mg
|
Fiber:
2
g
|
Sugar:
2
g
|
Vitamin A:
123
IU
|
Calcium:
58
mg
|
Iron:
3
mg