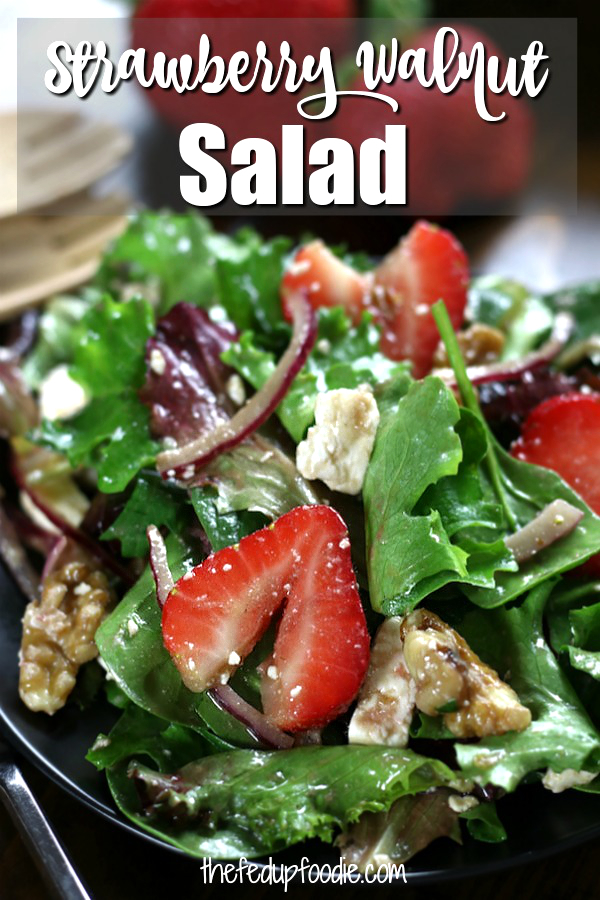 Strawberry Walnut Salad is an irresistible side that comes together quickly and is a perfect addition to all kinds of get togethers. Sweet strawberries, toasted walnuts, tangy feta and spring mix salad are tossed in a simple balsamic vinaigrette.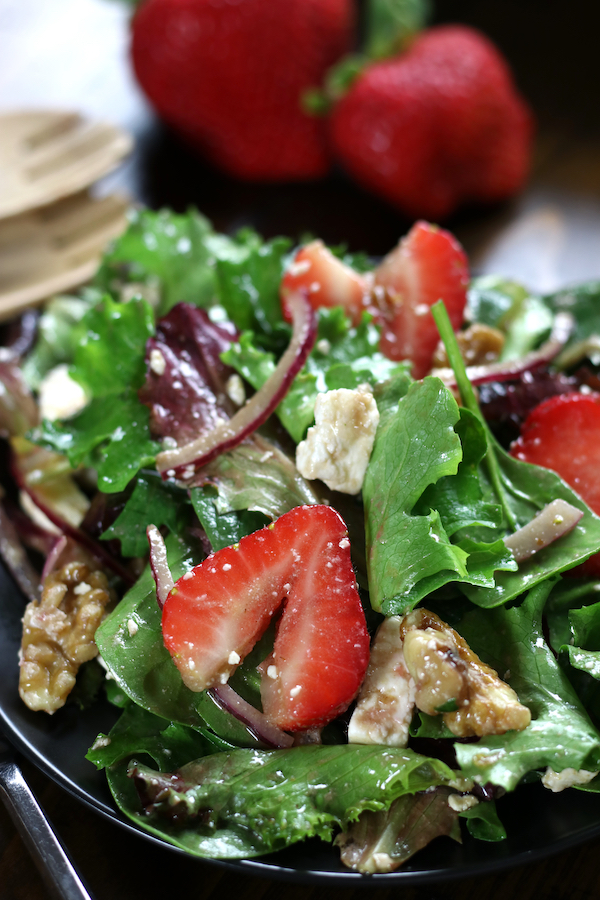 This post may contain affiliate links which I earn a small portion in sales if a purchase is made. Rest assured though, it is never at any additional cost to you.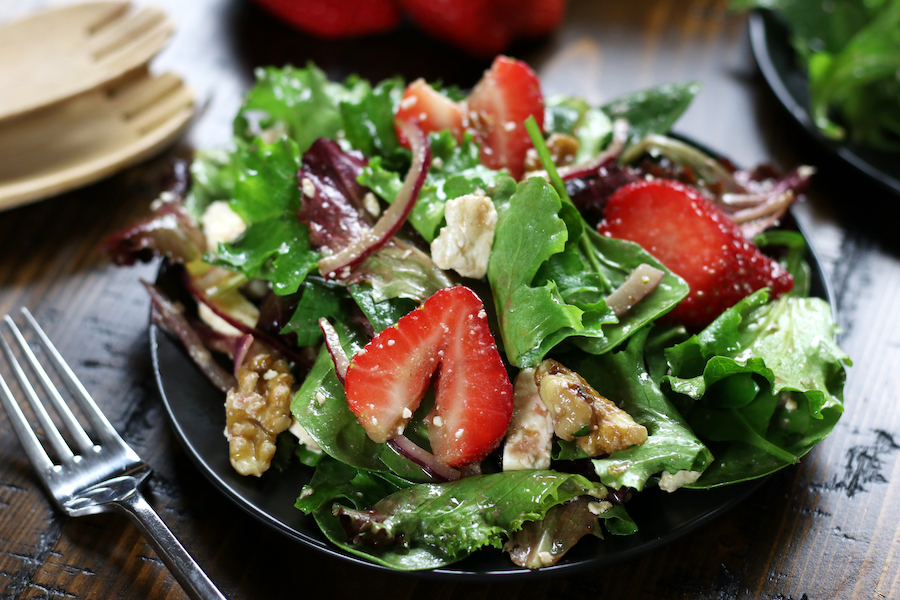 Are you a salad lover but hate the way your own salads turn out?
That was me all throughout my 20's.
I grew up eating big homemade salads with my family during the warmer months. We would make these glorious do it yourself salad bars but more like the "at home" version. It wasn't unusual to find albacore, dried fruits, nuts, cheese and all kinds of veggies that we then would toss with a homemade dressing. It was pure heaven!
Then, when I started making salads for myself I struggled living up to what my parents so effortlessly pulled off in the salad department. Everything I made tasted like weeds.
That is, until I started experimenting more. I learned that I loved flavorful salad dressings like my Simple Herbed Lemon Vinaigrette, Cilantro Lime Salad Dressing and Creamy Lemon Tahini Salad Dressing.
Another huge lesson learned, textures can make or break a salad. Having crisp veggies combined with the crunch of a nut and the creaminess of cheese can make a boring salad fun.
In addition to having a delicious dressing and interesting textures, incorporating a small amount of sweet, saltiness and a fair amount of acidity can really seal the deal on an awesome salad.
All of these approaches can be seen in this very simple and delicious Strawberry Walnut Salad.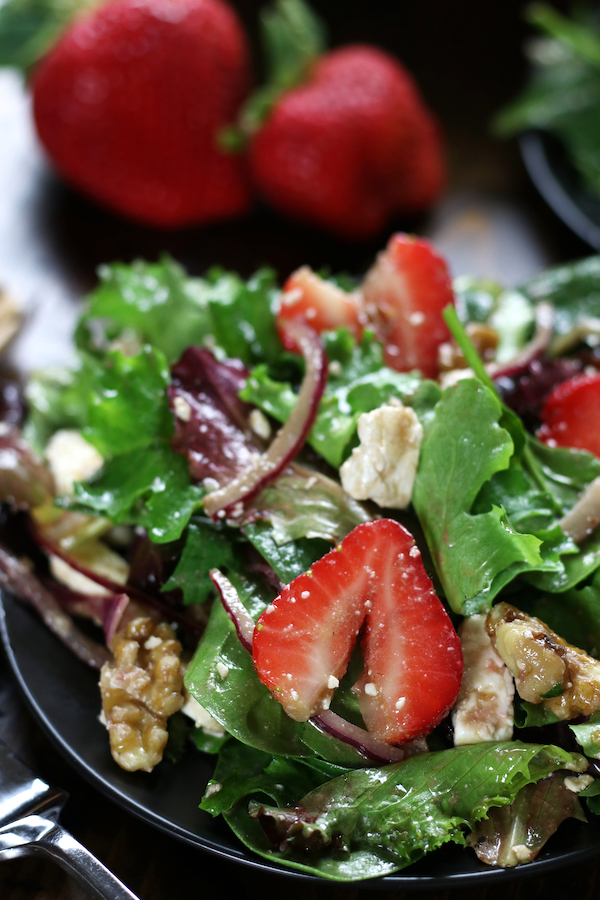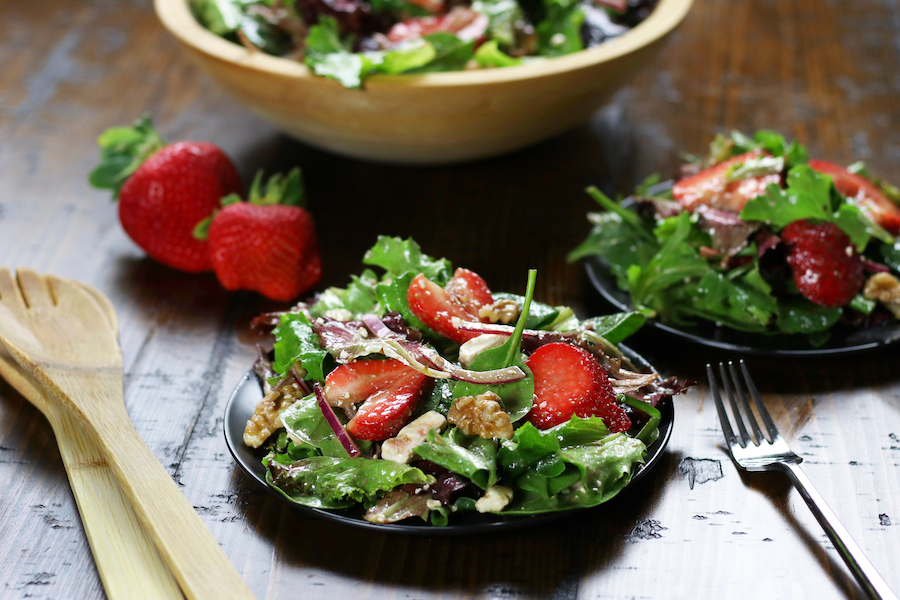 Walnut Benefits
If there is one nut to start incorporating into your diet, that would be walnuts. Not only are they part of the Mediterranean Diet, they also have several science-based health benefits. If you're not a huge walnut lover, one of the easiest ways to incorporate them into your diet is by tossing a few into salads.
Strawberry Benefits
Not only are strawberries high in vitamins and antioxidants, eating them has been associated with a reduced risk of many chronic diseases.
Organic Strawberries
In complete honesty, there was a time that I shied away from eating all forms of strawberries. I had read that even organic strawberries were extremely heavy in pesticides. However, not willing to give up one of my favorite fruits, I dug deeper. Thankfully, because of nonprofit corporations such as Environmental Working Group and their work, I now feel confident eating organic strawberries.
Mixed Greens
Pre-packed Spring mix salad was used for this Strawberry Salad because off the variety of lettuces in Spring mix work well with strawberries and walnuts. However, spinach romaine, red leaf, green leaf and arugula would all be delicious options on their own or mixed together.
How To Make Toasted Walnuts
Toasting walnuts is a wonderful way to amp up the nutty flavor for salads. Thankfully, it is very simple to do. Just follow these steps:
Preheat oven to 350℉.
Arrange walnuts in a single layer on a cookie sheet (highly recommend a healthier brand like this).
Bake for 8-10 mins or until walnut pieces are lightly golden brown and smell amazing. Remove from oven and let cool to room temperature on the cookie sheet. Pro Tip: Start watching them around the 5 min mark as walnuts can burn very quickly.
Storing Toasted Walnuts
Once the toasted walnuts have completely cooled to room temperature store extras in a ziplock bag or airtight container. If stored properly they will last anywhere from 2-4 weeks.
Best Balsamic Vinegar
A really good balsamic vinegar can make all the difference in recipes like a vinaigrette or a glaze. Quality really does matter, however it can be very confusing when buying balsamic. There are a few things to keep in mind when choosing balsamic vinegar for your recipe.
Avoid balsamic vinegars with added caramel coloring and sweetener. Keep in mind that most balsamic vinegars in the grocery store are imitation balsamic. However, with the addition of caramel coloring and sweetener, it becomes extremely apparent in the taste.
Ideally, there should only be two ingredients on the label, cooked grape must and vinegar. However, the highest quality of balsamic vinegar from Modena, Italy will only have the ingredient of cooked grape must. (This is a good mid-range balsamic and this is an acceptable imitation balsamic.)
More Family Favorite Cold Side Dishes
Bacon Belly Button Pasta Salad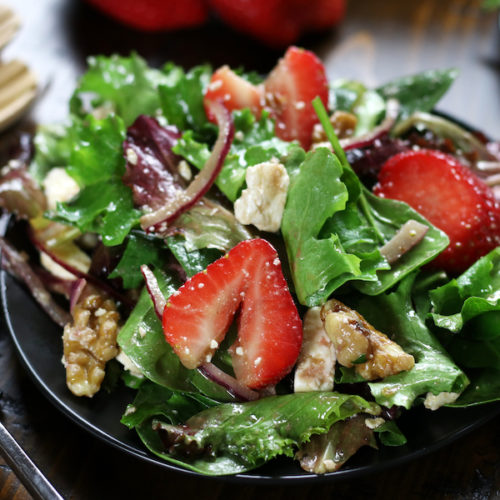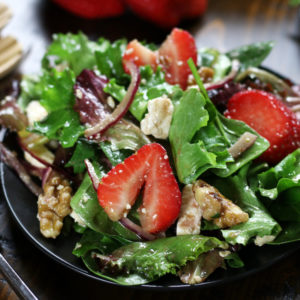 Strawberry Walnut Salad
So easy to make and completely irrisitable. Strawberry Walnut Salad is great for potlucks, BBQ's, Spring dinners or as a meal for salad lovers.
Print
Pin
Rate
Ingredients
Balsamic Vinaigrette
1/4

cup

extra virgin olive oil

1/4

cup

balsamic vinegar

1

tbsp

honey

1

tbsp

dijon mustard

2

cloves

garlic

*crushed or minced

salt & pepper

*to taste
Spring Mix Salad
10

oz

Spring mix

*about 2 bags

1/2

med

red onion

*sliced thinly

4

oz

feta

*crumbled or diced

1 1/2

cups

walnuts

*toasted

2

cups

strawberries

*sliced
Instructions
Toasted Walnuts
Preheat oven to 350℉. Place walnuts in a single layer on a cookie sheet. Bake for 8-10 mins, keeping a watchful eye that they do not burn.

Remove from oven and let cool to room temperature.
Balsamic Vinaigrette
In the bottom of a large mixing bowl whisk together oil and balsamic until emulsified. Whisk in remaining ingredients.
Spring Mix Salad
Add Spring mix and addittional salad ingredients. Toss well.
Notes
*Please use as many organic ingredients as possible.
Recipe Notes
Keep a watchful eye as walnuts cook. They are done once they have turned a light golden brown and you can smell them. Walnuts can go from being done to burnt very quickly.
Garlic is optional and should not be used if anyone is sensitive to garlic.
The amount of salt and pepper is based on personal preferences. However, I have found a 1/2 tsp sea salt and a 1/4 tsp black pepper to work well for this size of salad. 
Nutrition
Calories:
275
kcal
|
Carbohydrates:
11
g
|
Protein:
6
g
|
Fat:
24
g
|
Saturated Fat:
4
g
|
Cholesterol:
13
mg
|
Sodium:
192
mg
|
Potassium:
230
mg
|
Fiber:
2
g
|
Sugar:
6
g
|
Vitamin A:
462
IU
|
Vitamin C:
30
mg
|
Calcium:
105
mg
|
Iron:
1
mg