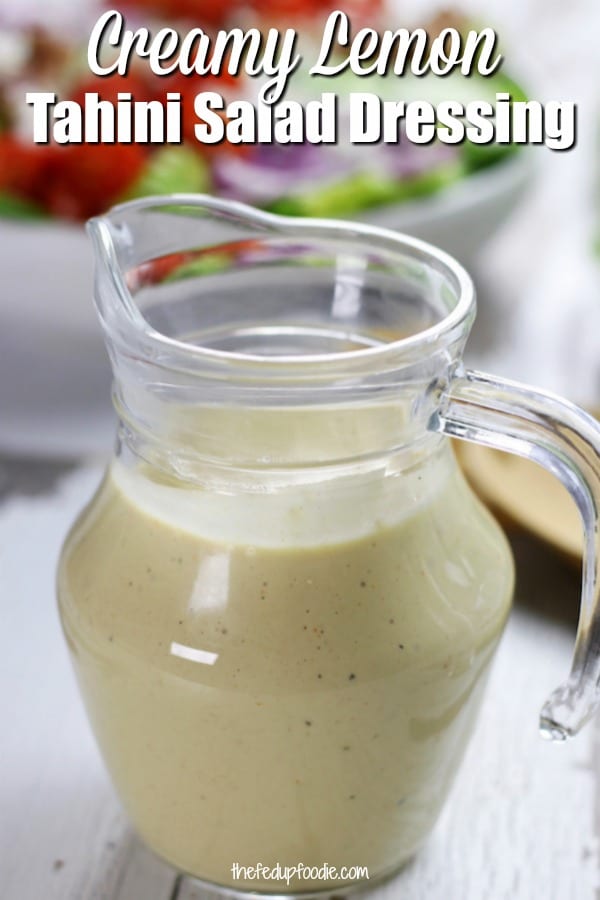 Always a favorite, this Creamy Lemon Tahini Salad Dressing recipe is a healthy way to liven up green salads in an incredibly flavorful way.

This post may contain affiliate links which I earn a small portion in sales if a purchase is made. Rest assured though, it is never at any additional cost to you.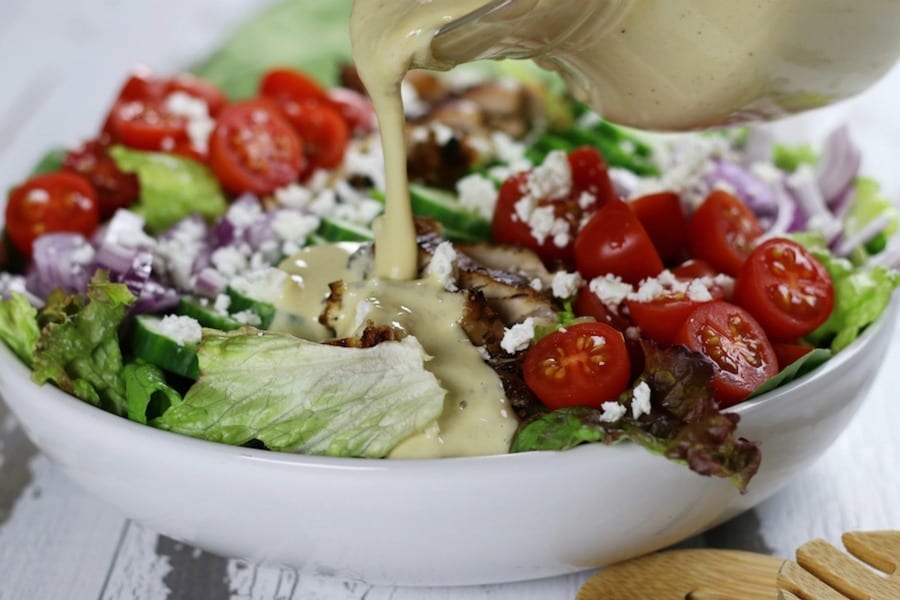 Yesterday was my birthday and I took the entire day off, something I haven't done in an extremely long time.
I read, I watched the last two episodes of a show I love, I rested and I ate.
I told my husband that after Valentines day it is back to basics with healthy eating because, man do I ever feel it from not eating well.
The one element that I hate about getting older is that every bad decision made is felt in aches and pains almost immediately.
What I do love about aging is the wisdom that comes with it.
Wisdom in knowing that eating meals with loads of veggies will help me to feel 1,000 times better fairly quickly.
First recipes on my menu plan that will help me to get back to feeling like myself again are my Carrot Cucumber Asian Slaw, Mediterranean Tuna Salad and Egg Roll In a Bowl.
Next week it will be my Super Healthy broccoli Salad, Shrimp and Broccoli Stir Fry and loads of salads with this very tasty Creamy Lemon Tahini Salad Dressing.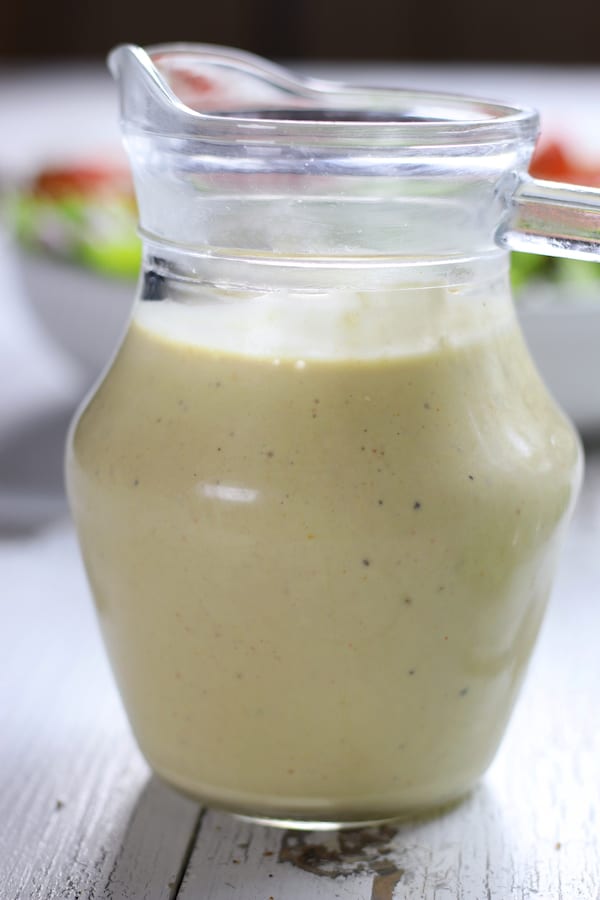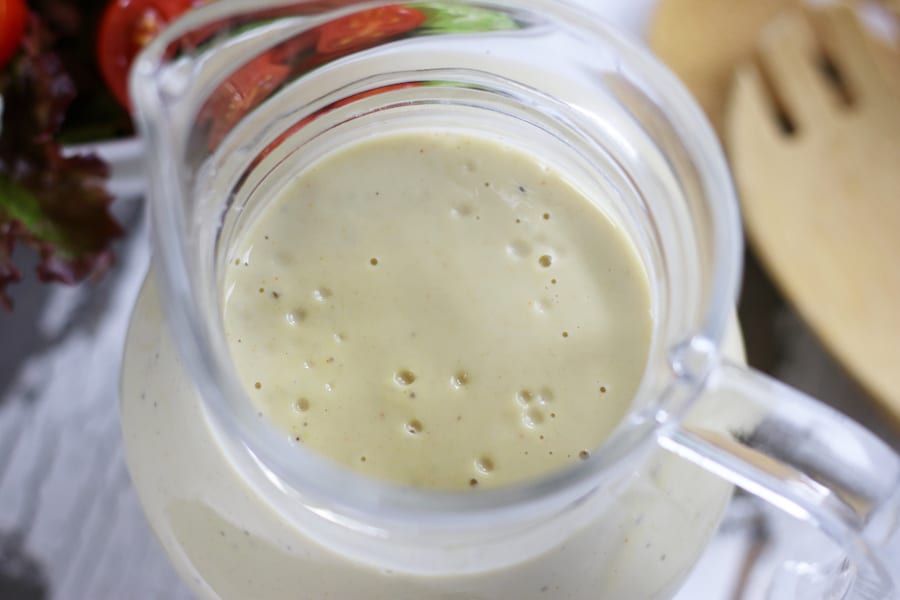 Making Organic Salad Dressing On a Budget
A few years back I promised myself to completely eliminate prepackaged salad dressings. I was on a mission to clean up my diet to help balance out my hormones and I have been 99% successful (I still buy Sprouts Organic Ranch Dressing). What I have learned by making my own salad dressings, not only can I control the quality of ingredients thereby positively affecting my health, but I also can keep the long term cost down. Here are a few tricks that have helped in keeping costs under control while eating organic.
Budget Save Tips
I buy organic extra virgin olive oil in bulk from Costco. This truly is the most economical way for me to keep my budget down, as most salad dressings use olive oil as the base. As a second option, this is what I buy if I want an extremely high quality oil at a fairly good price.
Living in San Diego I am fortunate enough to have purchased my first lemon tree this last year. With being an extreme lemon lover this one purchase will, in the big picture, keep my budget down. But if you don't live in an area that can sustain a lemon tree you have probably noticed that individual lemons are expensive little suckers. My best recommendation is to buy the larger bags and to not worry about purchasing organic unless you are using the zest. I juice the lemons using this tool for a quick and painless job. The juice is then stored in this container for up to 2 weeks.
For the other items in this Tahini Salad Dressing I buy the organic store brand with the exception of honey. Most organic store brands are just as good as their name brand competitors but the honey I buy local and in raw form.
Other Uses for Creamy Lemon Tahini Salad Dressing
With this Tahini Salad dressing being so full of flavor it works well for these other uses:
Over roasted vegetables.
In place of mayonnaise for tuna or chicken salad sandwiches.
On top of Greek nachos.
Used as a dip with veggies.
In place of hummus in Instant Pot Greek Chicken Wraps.
As a dipping sauce for lettuce wraps.
Frequently Asked Questions About This Lemon Tahini Salad Dressing
What is tahini made of?
Tahini is simply ground sesame seeds. Most health food stores and larger grocery stores carry tahini in their Asian food section. It also can be made by grinding the sesame seeds using this tool.
Is this salad dressing low carb?
Each serving of this dressing has 2 grams of carbohydrates. When portion controlled properly yes, it can fit perfectly into a low carb diet approach.
Is this salad dressing Paleo?
Yes, this organic salad dressing falls within the Paleo approach as long as a product similar to this is used.
Can I use this Tahini Salad Dressing for weight loss?
After almost a decade of counseling and helping clients to reach their weight loss goals I feel very strongly that yes, this Tahini Salad Dressing can be used for weight loss. What I have seen time and time again, having a slight deficit of total calories from what you burn each day will yield the best results. In addition, making those calories highly nutritious will help you to feel like the best version of yourself. Portion control this salad dressing, keep your calories slightly below what you burn and always check with your health care provider for the safest weight loss.
Do I need any special tools to make this Creamy Lemon Dressing?
Just a whisk and a bowl for mixing and an airtight container for storage.
More Delicious and Fun Salad Dressings
Creamy Low Carb Ranch Dressing
Healthy Caesar Dressing and Salad
Simple Herbed Lemon Vinaigrette
Chinese Chicken Salad Dressing
Balsamic Blueberry Vinaigrette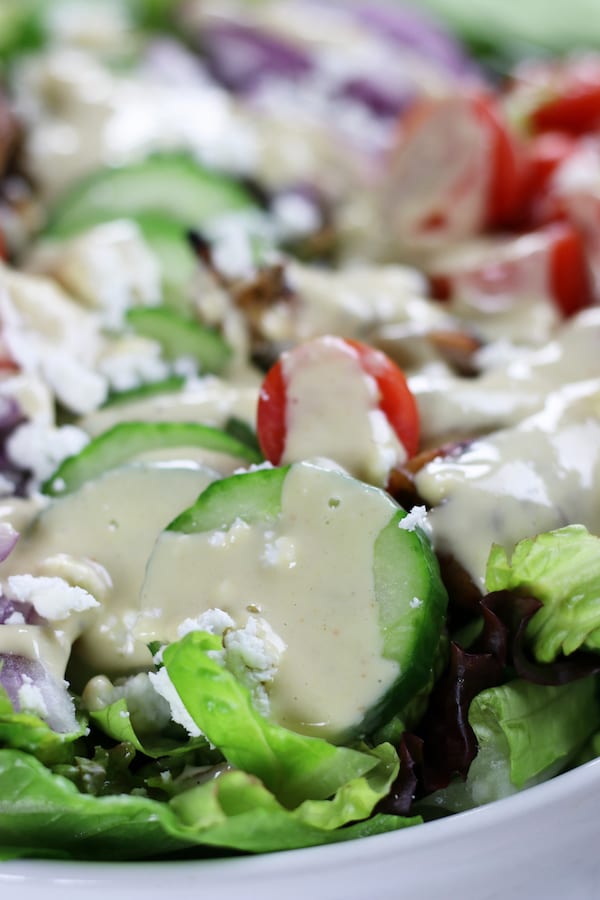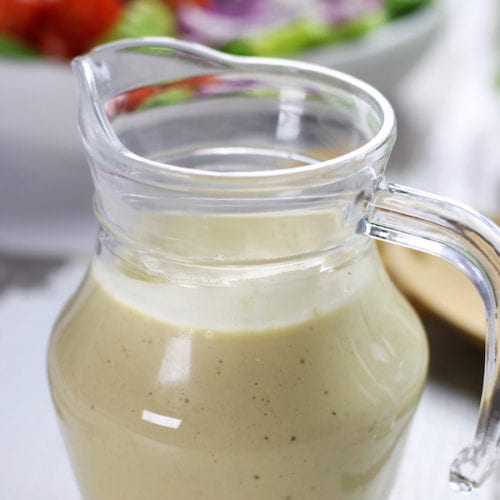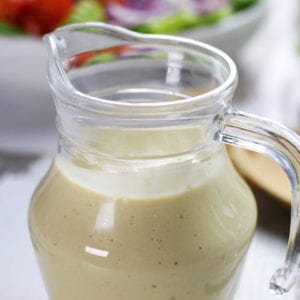 Creamy Lemon Tahini Salad Dressing
So creamy and refreshing! This Creamy Lemon Tahini Salad Dressing makes salads, roasted veggies, wraps, etc. completely irresistible.
Print
Pin
Rate
Ingredients
1/2

cup

tahini

1/2

cup

extra virgin olive oil

1/2

cup

lemon juice

*about 1 juice lemon or 2 regular lemons

1/4

cup

water

4 large

cloves

garlic

*crushed or minced

1

tsp

sea salt

1/8

tsp

black pepper

1/8

tsp

cayenne pepper

2

tsp

dijon mustard

1/2

tbsp

honey

*optional
Instructions
Whisk all ingredients together in a large mixing bowl until creamy and smooth. Store in an airtight container.

Serving size is 2 tbsp.
Notes
*Please use as many organic ingredients as possible.
**Stays fresh for 7-10 days when stored in an airtight container. 
Nutrition
Calories:
109
kcal
|
Carbohydrates:
3
g
|
Protein:
1
g
|
Fat:
11
g
|
Saturated Fat:
1
g
|
Sodium:
156
mg
|
Potassium:
45
mg
|
Fiber:
1
g
|
Sugar:
1
g
|
Vitamin A:
12
IU
|
Vitamin C:
3
mg
|
Calcium:
12
mg
|
Iron:
1
mg