Fresh, flavorful and just so much fun to eat! This Chunky Guacamole Salsa recipe has all the elements that make guacamole and salsa so mouthwatering. It's easy, fast and livens up many different dinner meals.

This post may contain affiliate links which I earn a small portion in sales if a purchase is made. Rest assured though, it is never at any additional cost to you.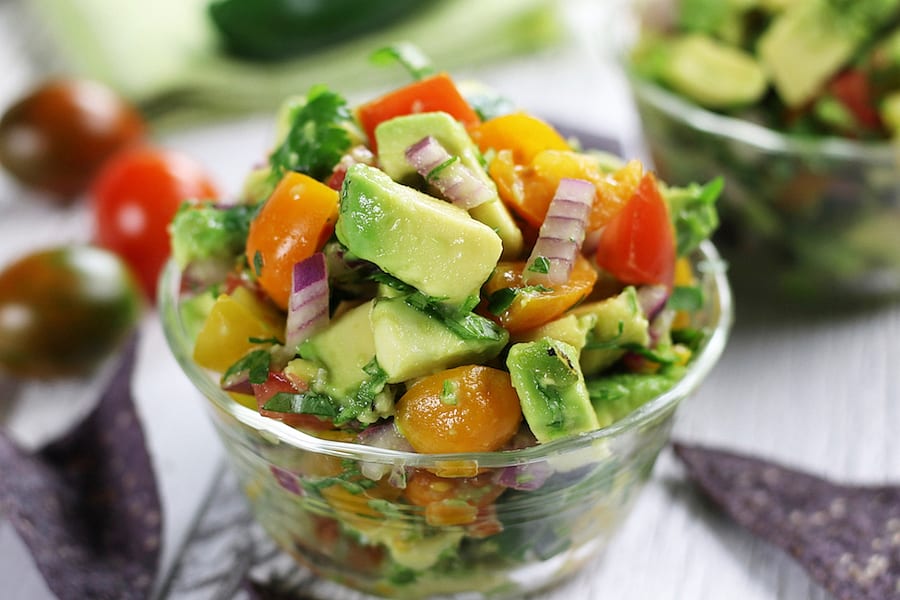 Want to know how to get a picky kiddo to eat something healthy?
Make this Chunky Guacamole Salsa recipe and serve it with some healthy chips.
They think they are getting away with murder but little do they know the tomfoolery that is being played on them.
Honestly though, I have been at my wits end more often than I care to talk about trying to find healthy food that our resident little one will not only eat, but like.
Thank God I was able to get her to adore these Grilled Rosemary Lamb Chops because of her love of steak.
I also had a high amount of success with these Blueberry Oatmeal Yogurt Muffins.
What wasn't as successful with her was my Pumpkin Gnocchi Soup. We figured this out when my husband and I were thoroughly enjoying our bowls, but she decided to state her dislike by projectile 'whoknowwhating' across the room. (I apologize for that image but I am sure every parent right now feels my pain.)
Through all the ups and downs of trying to get the little peanut to eat better, I know I can always count on this Guacamole Salsa to save the day.
Just the mention of it and her eyes light up. Even better, it feels her belly with something wholesome.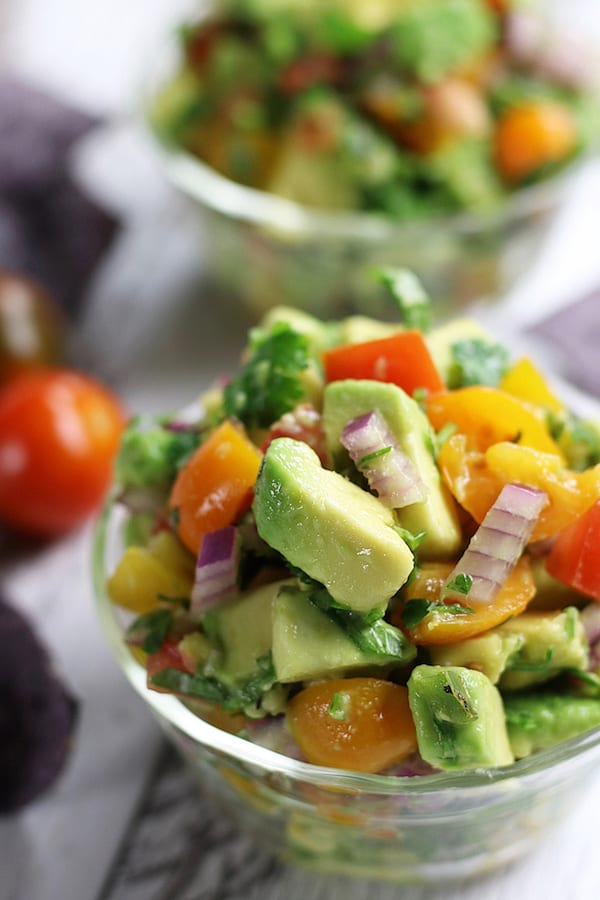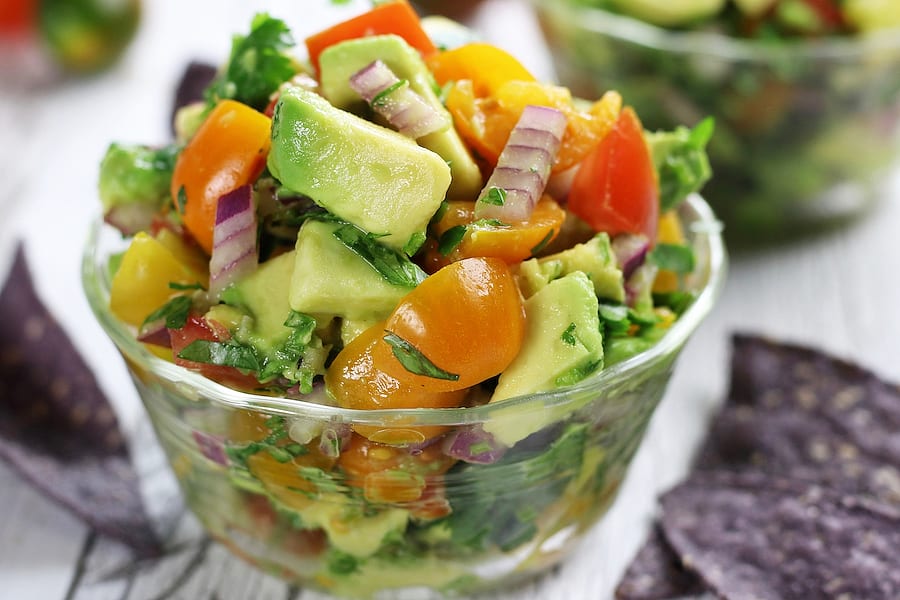 What To Use Avocado Salsa With (aka Guacamole Salsa)
Here is where is becomes even more fun! The beauty of this homemade condiment, it makes so many different meals healthier and tastier.
With chips. (I am so good at stating the obvious.)
In tacos.
On top of nachos.
On top of scrambles eggs.
Inside of shredded chicken wraps.
On top of grilled or baked salmon.
On top of grilled or baked chicken breasts.
Ahi tuna (sushi grade) added to it for a light lunch.
On toast with lox or smoked salmon.
On top of Sweet Potato Latkes.
Avocado Salsa vs Guacamole
I am sure by now you are wondering what is the difference between this avocado salsa and my Simple Healthy Guacamole or Pico de Gallo. Basically it is the union of the two recipes with just a few very small changes. The avocados for this Guacamole Salsa were ripe, but definitely on the firmer side. Also, yellow tomatoes are added for a cheerful color burst because we eat as much with our eyes as we do our mouths.
Popular Additions For Easy Avocado Salsa
There are certain recipes where it is so important to follow the directions exactly. This is not one of those recipes. Being creative and tailoring it to your taste preferences can be a fun way to sneak more wholesome foods into loved ones. Here is a list of fun additions. Just note though, many of these options can turn this into more of an Avocado Relish recipe.
bell peppers
corn
jicama
black beans
chicken
shrimp
Olive oil blended with lime juice to make a vinaigrette.
red wine vinegar
strawberries
mangos
pineapple
Tips For Making This Guacamole Salsa Recipe
Avocados that are ripe, but on the firmer side, will work best for this salsa. The best way to control this is to buy a bag of unripe avocados. Place them in a paper bag with bananas, closed by rolling the top of the bag down. (Bananas release a gas that help to ripen avocados.) It will generally take about 2-3 days for the avocados to become ripe enough for this salsa. You will know the avocados are ready when the stem can be removed with minimal effort, but the avocados are still firm to the touch.
To keep the avocados chunky and not smashed, cut all your veggies first and stir well. Stir in the cut avocados last.
A good quality chef's knife will make life 1,00% easier with recipes that require a lot of chopping.
Being the bonafide lemon and citrus lover that I am, I highly recommend one of these when working with citrus!
Frequently Asked Questions About Guacamole Salsa Recipe
How long does avocado salsa last in the refrigerator?
If ripe, but firmer avocados are used, this salsa will last for 3 days in an airtight container and still taste amazing.
What is the easiest way to roast the jalapeño for this salsa?
I have found holding the jalapeño over the gas burner using long handled tongs is the easiest way to roast. Here is an option for oven roasted jalapeños.
Is this Guacamole Salsa Spicy?
No, I purposely made this salsa not to be spicy. However, not removing the jalapeños seed will increase heat.
How do you make this salsa recipe very spicy?
To make this recipe very spicy do not remove jalapeño seeds and add 1-2 fresh habaneros diced finely. Also. 1 tbsp of chipotle powder can be added for additional heat.
Can this Avocado Salsa recipe be blended?
Yes! Blending this recipe is a super fast way to make it since it eliminates all the chopping. The end result would be incredibly tasty with chips. Because this creates about 6-8 cups of salsa, this processor would work best.
Are avocados with brown streaks still good?
Many people still use avocados with brown streaks for various recipes. I personally dislike the tase of avocados at this stage.
More Delicious Mexican Food Recipes
Lightened Up Salsa Verde Chicken Enchiladas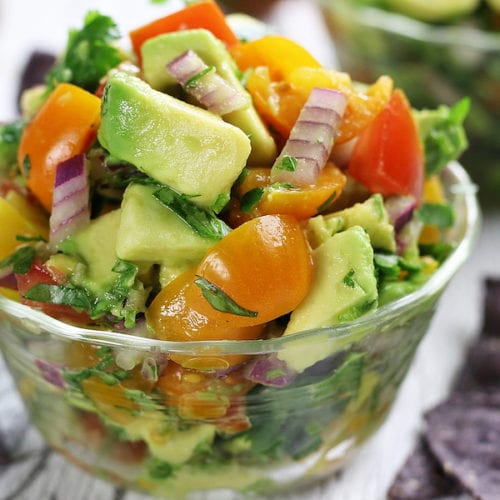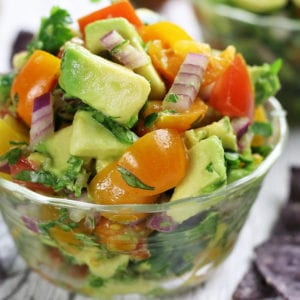 Chunky Guacamole Salsa
Fresh and super tasty! Our family can make a meal out of this Chunky Guacamole Salsa with chips.
Print
Pin
Rate
Ingredients
1/2

med

red or white onion

*diced, about 1 cup

3-4

cloves

garlic

*crushed or minced

1

bunch

cilantro

*chopped

2

Roma tomatoes

*diced

8

oz

yellow cherry tomatoes

*diced

1

med

jalapeño

*roasted & diced. Remove seeds for less heat.

6

tbsp

lime juice

*about 2-3 limes

5

med

avocado (ripe but still firm)

*diced

salt & pepper to taste
Instructions
Prepare first 7 Ingredients and add to a large mixing bowl. Stir well. Add in diced avocado, salt and pepper and stir until just combined.
Notes
*Please use as many organic ingredients as possible.
Nutrition
Calories:
284
kcal
|
Carbohydrates:
18
g
|
Protein:
4
g
|
Fat:
24
g
|
Saturated Fat:
4
g
|
Sodium:
23
mg
|
Potassium:
177
mg
|
Fiber:
11
g
|
Sugar:
2
g
|
Vitamin A:
262
IU
|
Vitamin C:
12
mg
|
Calcium:
11
mg
|
Iron:
1
mg