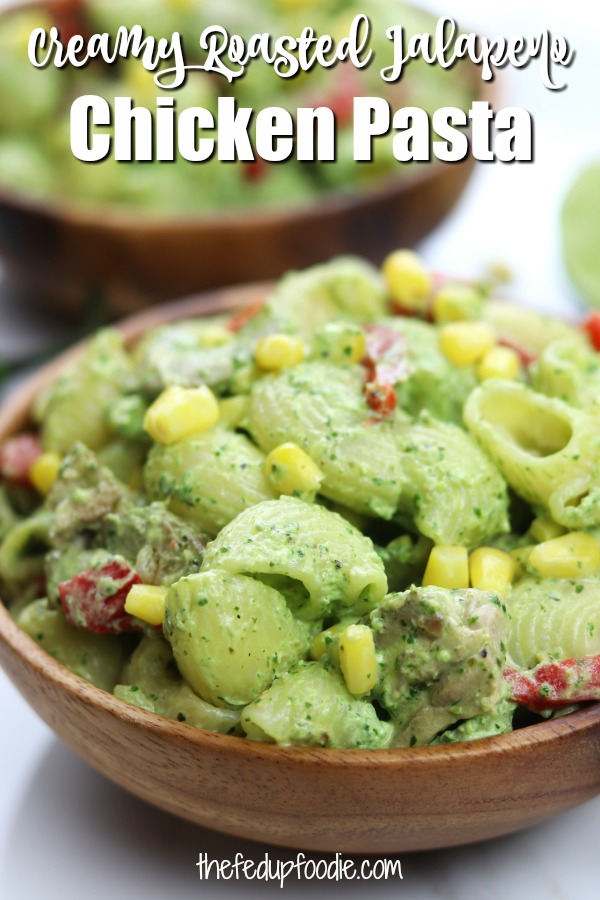 Creamy Roasted Jalapeño Pasta is a wonderfully comforting meal with marinated chicken, the crispness of cilantro and a slight smoky spiciness of jalapeño.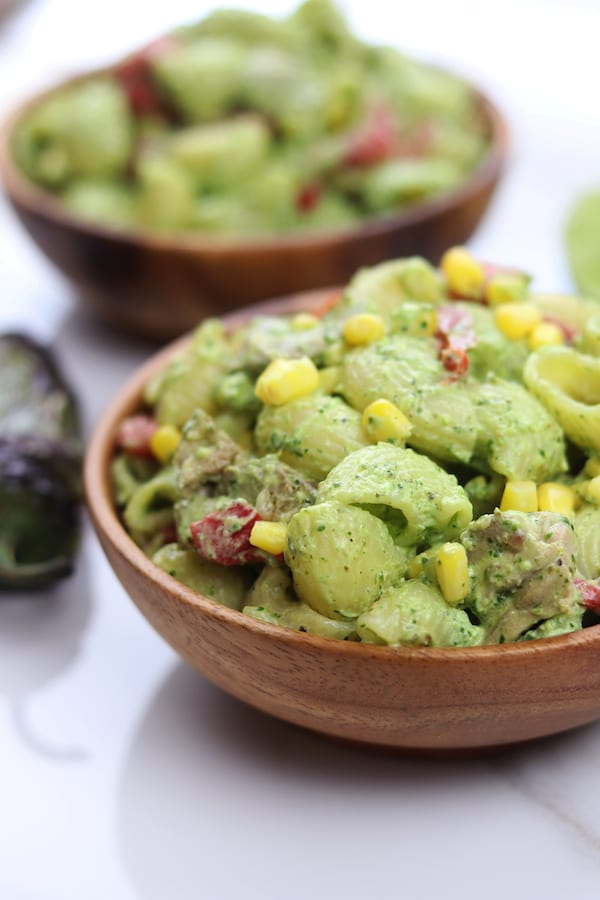 This post may contain affiliate links which I earn a small portion in sales if a purchase is made. Rest assured though, it is never at any additional cost to you.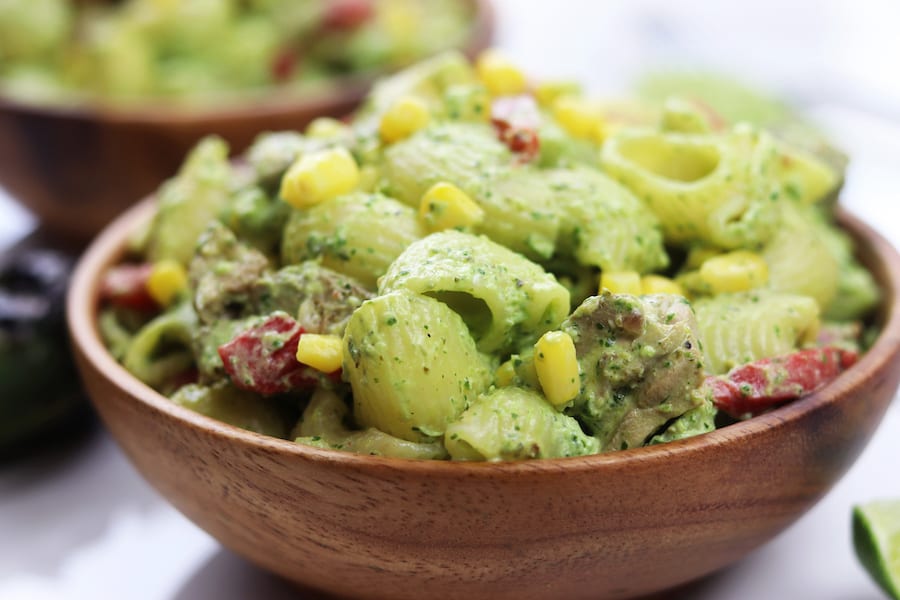 While I was filming the video for this Creamy Roasted Jalapeño Pasta recipe and frying the chicken, my husband was on a conference call.
Paul is very dedicated to his career so when he told me that he was just about to say "the heck with this call, I am going downstairs" because the incredible smell of the chicken cooking was completely enticing him, I knew I had a great dish.
Just the chicken itself is enough to make anybody weak in the knees.
Add in the creamy sauce bursting with the freshness of cilantro and with hints of smoky jalapeño and you can expect that your family will come running to the table…Yes I mean RUNNING.
This is the kind of meal you make when you have had a long, hard week at work and you just want to be surrounded by glorious smells, beautiful food and a great tasting bowl of "this will make it all better".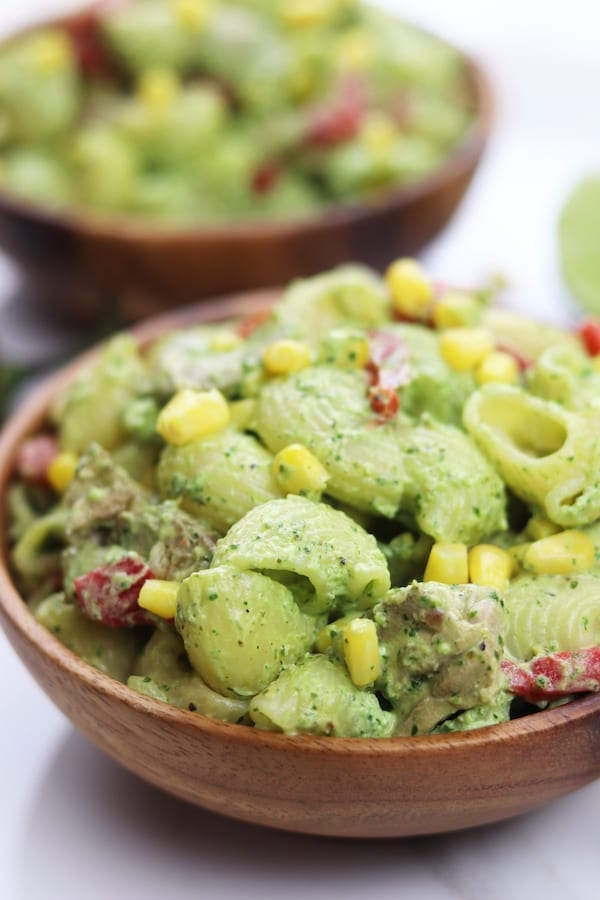 Tips about Creamy Roasted Jalapeño Pasta:
I roasted my jalapeños over an open flame on my stovetop. I adore this method but you can also roast on a cookie sheet in an 425℉ oven for 12-16 minutes making sure to turn your jalapeños once.
Marinating the chicken is an optional step but one I really recommend. I marinated the chicken thighs for 1 full day and OH MY GOSH does it create wonderful tasting meat.
I used the jalapeño seeds in my marinade. By the time the chicken is cooked and added to the sauce the spice level was extremely mild. If your jalapeños are extra spicy or your worried about it being too much heat, just discard them all together.
You can use either plain Greek yogurt or really good sour cream for the sauce. I recommend full fat versions of both for the wonderful creaminess it provides because let's be honest, this is a comfort food meal. If you opt for the Greek yogurt approach the sauce will have just a touch more of a zing to it.
Adjust the heat of your sauce by adding in the seeds to make it spicer. I didn't use the seeds in the sauce for the delicate mouths in my house.
Check out this food processor if you are looking for mid cost range but really good quality. (affiliate)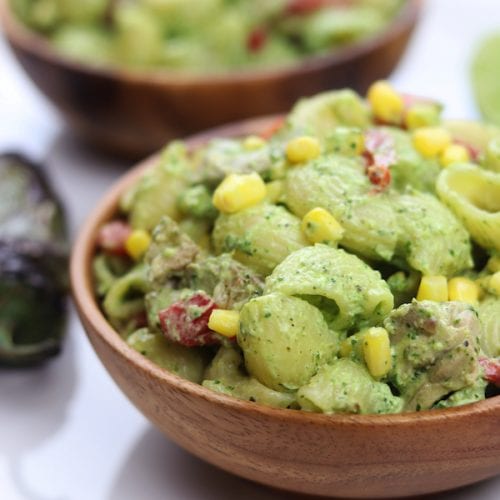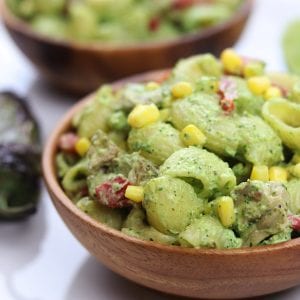 Ingredients
1- 1 1/3

lbs

boneless skinless chicken thighs

2

tbsp

oil for frying
Chicken Marinade
1/4

cup

olive or avocado oil

2

limes juiced

*about 3 tbsp

3-4

garlic cloves

*peeled

1

small bunch cilantro

1

lg

roasted jalapeños
Pasta Sauce
12

oz

full fat sour cream or Greek yogurt

1

lime juiced

1

small bunch cilantro

3

garlic cloves

*peeled

1-2

roasted jalapeños

*remove seeds for less heat

1

tsp

salt
Pasta
1

lb

pasta

2

tbsp

salt

10

oz

frozen corn

12

oz

jar roasted red bell peppers

*drained & cut into strips
Instructions
Using a long handle pair of tongs roast 2-3 jalapeños over a medium low flame until pepper is tender and skin is blistered (for oven roasting see above tips). Cut off tops and refrigerate 2 of the peppers until needed for sauce. Combine all ingredients for marinade in a food processor and blend well. Place chicken thighs in a large ziplock bag or glass container. Pour marinade over and mix well so that marinade covers all chicken. Marinade in refrigerator for 3-24 hours.

Combine all ingredients for pasta sauce in the same food processor and process until smooth. Place in refrigerator until needed.

Cook pasta according to directions on the package to al dente in salted water (2tbsp). Place frozen corn in colander and pour drain pasta over corn.

Meanwhile, while the water for the pasta is coming to a boil, Preheat oven to 350℉ & heat a frying pan over medium/high heat. Add oil and fry marinated chicken thighs for 7-8 minutes per side. Place in oven to finish the cooking process. Bake for 10 mins or until chicken reaches an internal temperature of 165℉. Remove from oven & cut into cubes.

Add prepared sauce to a large pan and heat over medium heat for about 8-10 minutes. Add chicken, pasta, corn and red bell peppers. Stir well.
Notes
*Please use as many organic ingredients as possible.* If you enjoy your sauce a little thiner add the juice of 1 additional lime or 1 to 2 tbsp pasta water to the sauce before adding pasta.
Nutrition
Calories:
550
kcal
|
Carbohydrates:
56
g
|
Protein:
42
g
|
Fat:
17
g
|
Saturated Fat:
3
g
|
Cholesterol:
134
mg
|
Sodium:
444
mg
|
Potassium:
785
mg
|
Fiber:
4
g
|
Sugar:
5
g
|
Vitamin A:
1397
IU
|
Vitamin C:
61
mg
|
Calcium:
85
mg
|
Iron:
2
mg
The recipe is part of Meal Plan Monday.
Follow along on Facebook and Pinterest for more savory inspirations.
If you love comforting pasta dishes than check out these recipes.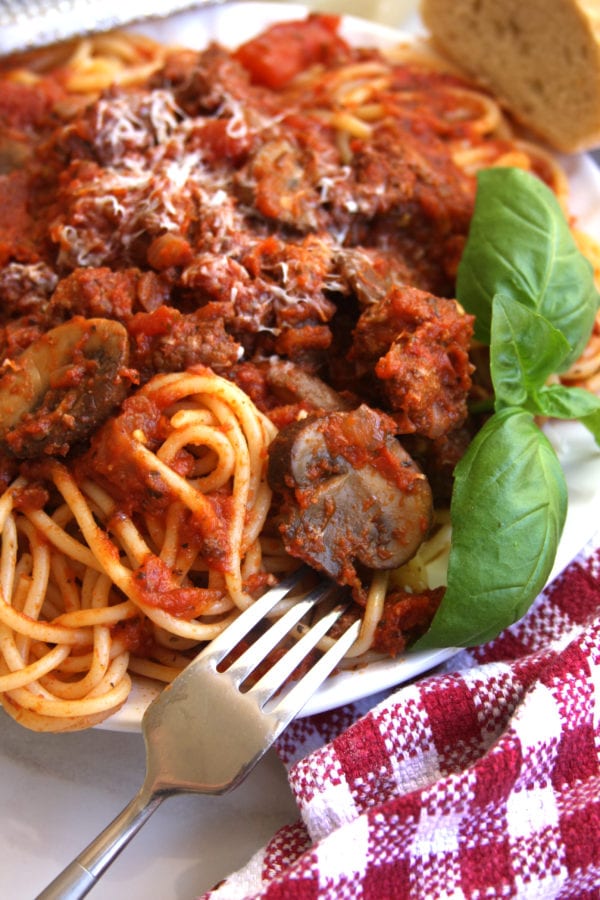 Classic Spaghetti Sauce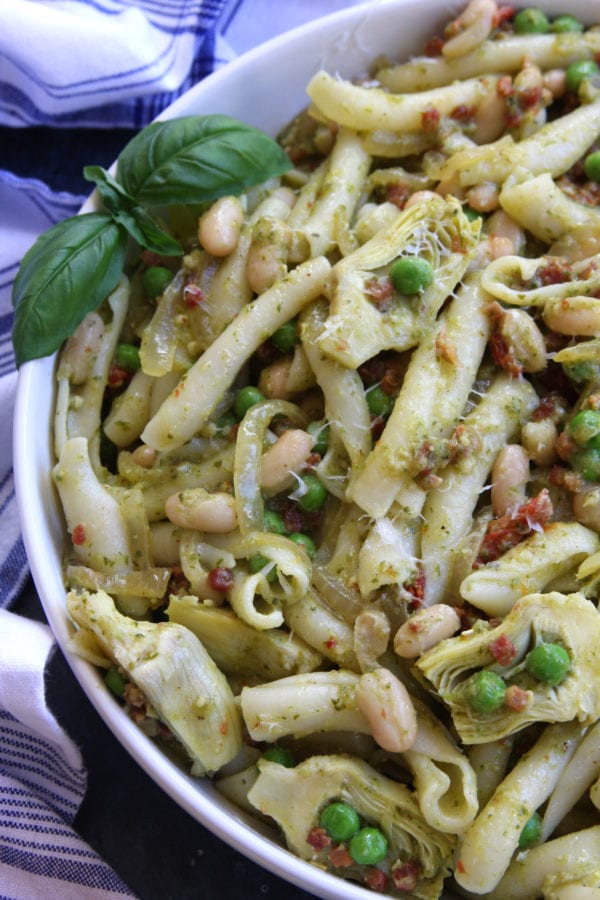 Hearty Tuscan Pasta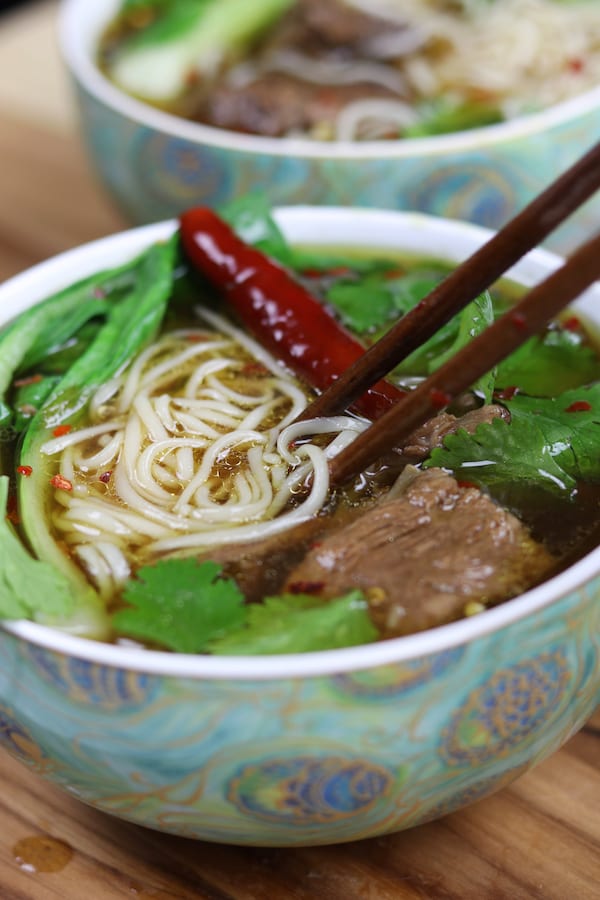 Beef Asian Noodle Soup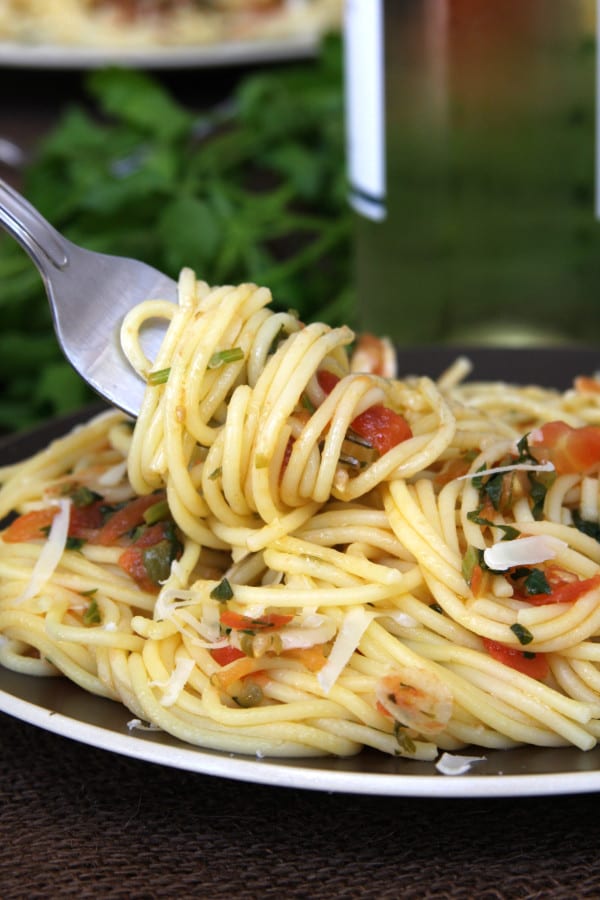 Tomato Caper Pasta