This recipe creates the best Homemade Flour tortillas that are soft and flavorful. Made with a healthy oil, use these Tortillas as bread, alongside any classic Mexican dish or as a snack. They are just so delicious!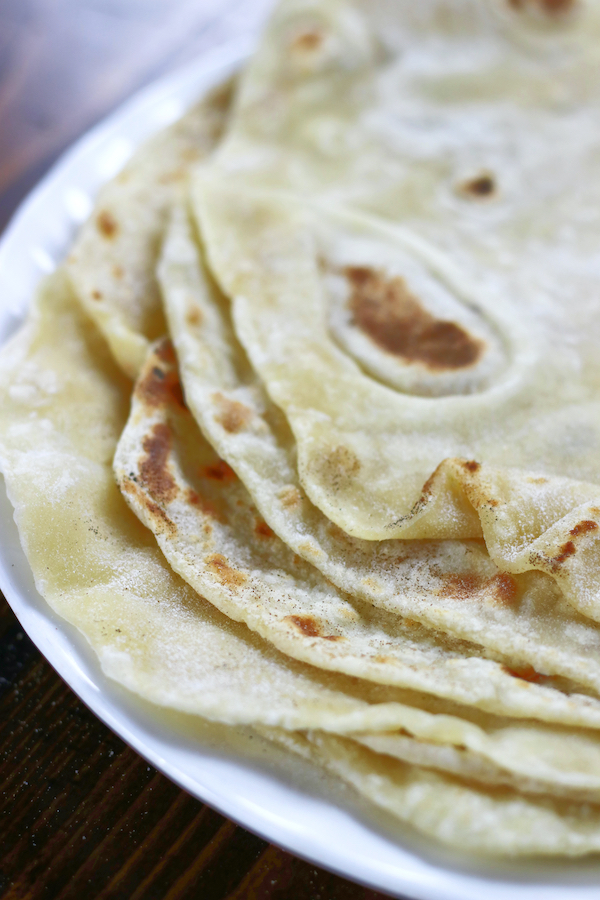 This post may contain affiliate links which I earn a small portion in sales if a purchase is made. Rest assured though, it is never at any additional cost to you.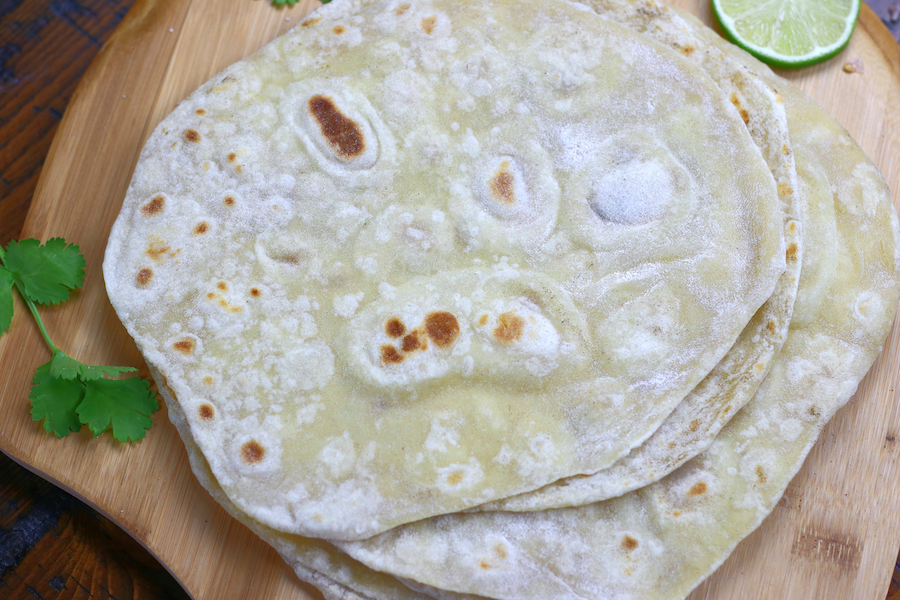 For quiet awhile I have been buying uncooked organic flour tortillas from Costco to make my Black Bean Burritos.
It felt like a really easy way to achieve the homemade taste of fresh flour tortillas, while making it just a little easier to prepare a big batch of freezer burritos.
That is until 2020 hit and life went upside down.
You know the season of never knowing what you would be able to find at the store.
Because of this, we made practically everything from scratch.
I have to admit that one of the biggest blessings of this crazy year has been sinking my teeth into a hot Homemade Flour Tortilla. OH MY YUM!!!!
There is nothing quite like it!
Plus, I love being able to use quality ingredients and know that there are no yucky preservatives. Also, they are so stinking easy to make. Talk about making my hybrid Tree Hugging Heart happy!!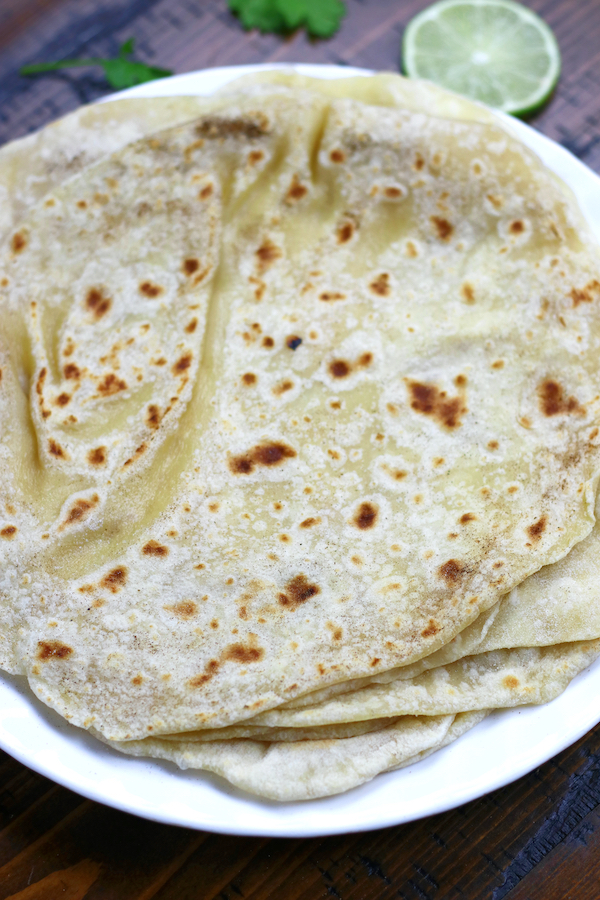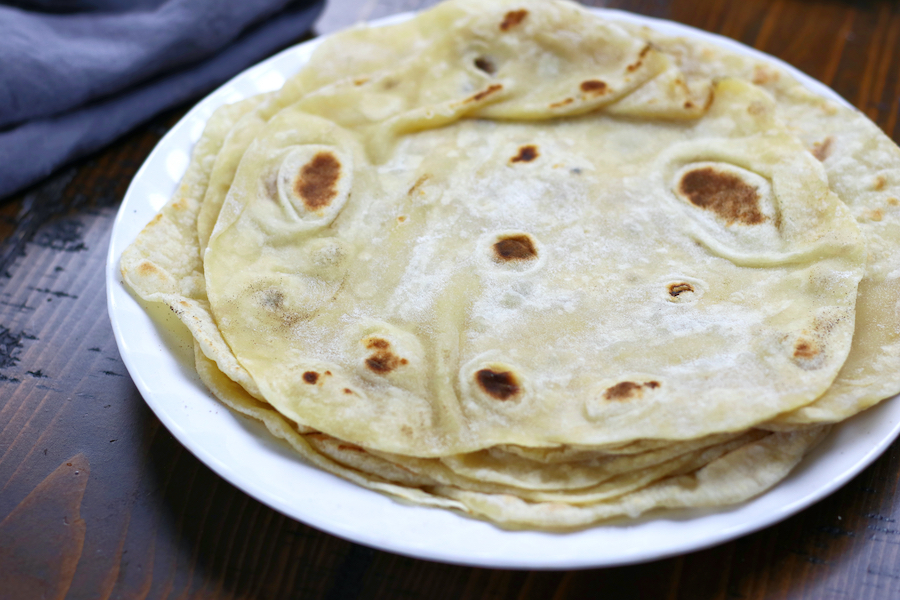 Suggested Ingredients for Healthier Flour Tortillas
As a side note, completely authentic Flour Tortillas are traditionally made with lard. If using this fat source lower the amount to a 1/4 cup and use hands to work into crumbles in the flour mixture. Also, try to purchase the best quality, ideally from pasture raised pigs. Below are the ingredients used to make Healthier Flour Tortillas:
Helpful Tools
Having the correct tools makes an already easy recipe 10 times easier. These are the tools that are extremely helpful in making Homemade Flour Tortillas.
Flour Tortillas Size
Each dough ball will be enough to roll out into an approximate 8 inch tortilla. This size works well for fajitas, carnitas and small burritos. For a 6 inch tortilla simply do not roll the tortillas as thin. 6 Inch tortillas will work perfectly for soft tacos.
Commonly Asked Questions
Are Flour Tortillas Vegan?
Yes, if using olive or avocado oil. If lard is used they are no longer Vegan.
Can you freeze Flour Tortillas?
Absolutely! Simply let the tortillas cool compleltey and then place them stacked in a gallon sized freezer bag to freeze. If you will need only 1 or 2 tortillas at a time, make sure to place a layer or parchment between each tortilla for easy removal when frozen (Note: a single tortilla will defrost on the counter within a half an hour) . Since Homemade Tortillas do not have all the preservatives that store bought tortillas do, they will last approximately 3-4 months in the freezer and still taste amazing whereas store bought will last up to 6 months.
Is a Tortilla considered to be a bread?
Since tortillas do not contain yeast many would say that they are not a bread. However, Flour Tortillas are a fun substitute for many recipes that bread would be used for. They make great wraps, sandwiches and are so delicious heated in a skillet with a little bit of butter.
How long do Homemade Flour Tortillas last?
Homemade Flour Tortillas will last for approximately 4 days when stored in an airtight bag in the refrigerator and still taste great. Past 4 days they will start to taste stale, however they may still be edible up to 7 days.
What To Serve With Tortillas
Mexican Chicken Avocado Sandwich (as a wrap)
More Delicious Mexican Side Dishes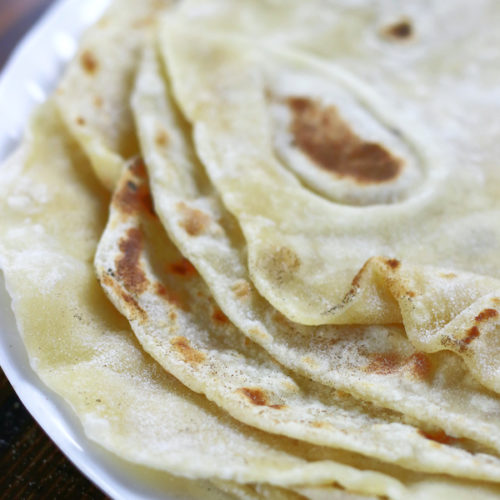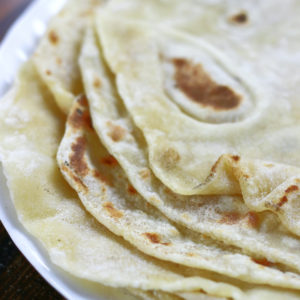 Homemade Flour Tortillas
There is nothing like a Homemade Flour Tortilla when it is warm, soft and flavorful. These tortillas are perfect for making Carnitas, Soft Tacos, Quesadillas or wraps.
Print
Pin
Rate
Ingredients
4

cups

all purpose flour

2/3

cup

olive oil

1 1/2

cups

water

1

tsp

salt
Instructions
Mixing the Dough
In a large mixing bowl stir together flour and salt.

Add water and oil to flour and stir until well combined.
Knead the Dough
Turn the dough onto a lightly floured surface.

Knead dough until soft and smooth, approximately 2-3 mins.
Resting the Dough
Form the dough into even ball.

Cover with a clean kitchen towel and let rest for 10-15 mins.
Forming the Tortillas
Using a large knife or bench scraper, evenly cut dough ball in half. Roll each half into a ball shape again.

Cut each ball into 8 pieces (16 total).

Lightly flour hands. Working with one dough ball at a time, form into disks.

Roll out disk using a lightly flour rolling pin.

The shape of the tortilla will look rustic (not an even circle) and will be approximatley 8 inches in diameter.
Cooking the Tortillas
Heat a cast iron or heavy bottomed stainless steel pan over med/high heat. As each tortilla is rolled out immediately add directly onto pan (no need for any oils for cooking sprays).

Cook on the first side until tortilla begins to bubble, about 1- 1/2 mins.

Turn over and cook other side of tortilla for about the same amount of time. A cooked tortilla will have light to darker golden spots on both sides.

To keep tortillas soft transfer to a tortilla warmer once cooked or stacked on a plate( if using a plate, cover tortillas with a clean dish towel). Serve warm.
Nutrition
Calories:
193
kcal
|
Carbohydrates:
24
g
|
Protein:
3
g
|
Fat:
9
g
|
Saturated Fat:
1
g
|
Polyunsaturated Fat:
1
g
|
Monounsaturated Fat:
7
g
|
Sodium:
147
mg
|
Potassium:
34
mg
|
Fiber:
1
g
|
Sugar:
0.1
g
|
Calcium:
6
mg
|
Iron:
2
mg